After the Keystone XL Approval, Here's What's Next for the Climate Movement
The battle is far from over—and has already transformed the way environmental campaigns are waged.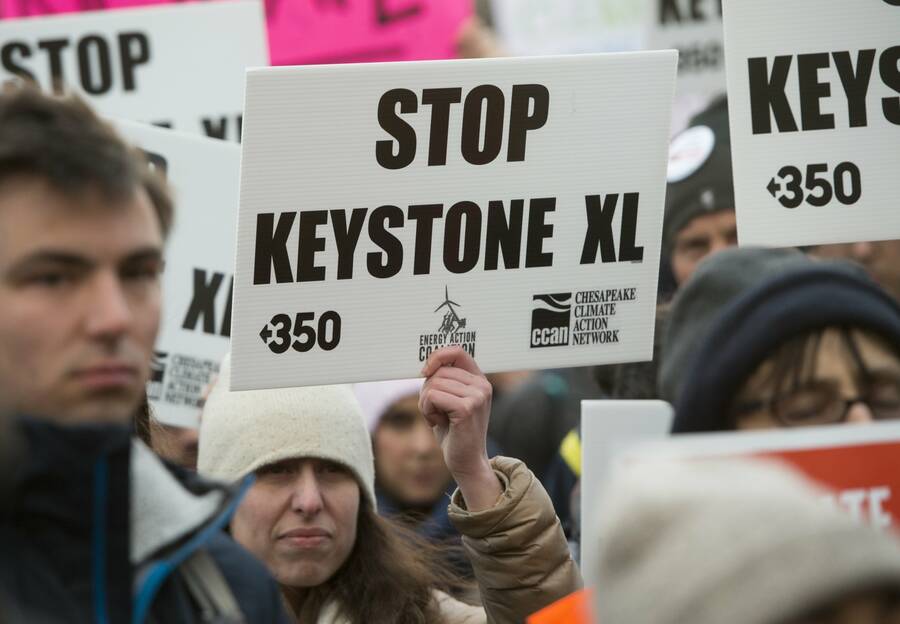 After months of pub­lic hear­ings and delib­er­a­tion, Nebraska's Pub­lic Ser­vice com­mis­sion on Novem­ber 20 approved a route for the Key­stone XL pipeline in a 3 – 2 deci­sion. The years-run­ning fight against the con­tro­ver­sial infra­struc­ture project, how­ev­er, is far from over: Orga­niz­ers up and down the project's route are already lin­ing up to stop it, whether in courts or on con­struc­tion sites. And whether Key­stone XL ends up get­ting built or not, the bat­tle against it has already changed the way Amer­i­cans relate to the fos­sil fuel industry.
By naming an enemy, the battle against TransCanada in the Great Plains defined the terms of the debate and drew a firm line in the sand: Either stand with a multinational corporation out to wreck the planet or with the people whose lives they stand ready to destroy.
Last Monday's out­come wasn't an ide­al result for either side. The con­fines of what the com­mis­sion was allowed to con­sid­er in its deci­sion were strict. Com­mis­sion­ers were barred from con­sid­er­ing either the eco­nom­ic via­bil­i­ty of the project — whether Tran­sCana­da actu­al­ly wants to build it — as well as envi­ron­men­tal harm from oil spills. Just days before the rul­ing, the orig­i­nal Key­stone pipeline blurt­ed 200,000 gal­lons of crude oil into South Dakota.
The deci­sion wasn't a total win for Tran­sCana­da. While the points where the pipeline could enter and leave Nebras­ka remain the same, the route the PSC approved dif­fers sig­nif­i­cant­ly from the one the com­pa­ny first float­ed, and involves six coun­ties that weren't includ­ed on the route before. It remains to be seen what kinds of addi­tion­al per­mit­ting will be required before con­struc­tion can begin, and what sort of con­sul­ta­tion either the state, the com­pa­ny or fed­er­al gov­ern­ment will need to engage in before there's an offi­cial green light to start building.
The Cana­da-based oil com­pa­ny isn't like­ly to see oppo­si­tion to their now-trade­mark project stop any­time soon. Before the rul­ing came down, mem­bers of the Sioux Nation gath­ered in South Dako­ta to sign a his­toric treaty, pledg­ing to resist the pipeline. ​"Noth­ing has changed at all in our defense of land, air and water of the Oceti Sakowin Lands," pipeline fight­er Faith Spot­ted Eagle told that gath­er­ing. ​"If any­thing, it has become more focused, stronger and more adamant after Stand­ing Rock."
At least 8,000 peo­ple have also already pledged to risk arrest to get in TransCanada's way, through a doc­u­ment being cir­cu­lat­ed by envi­ron­men­tal groups.
Tran­sCana­da faces legal chal­lenges over the Key­stone XL else­where along its pro­posed route as well. Montana's ini­tial envi­ron­men­tal review of the pipeline is being chal­lenged in court, with crit­ics alleg­ing the process that led the way for its approval wasn't thor­ough enough. Two days after the PSC issued its deci­sion, a fed­er­al judge rebuffed Tran­sCana­da and the White House by rul­ing that a law­suit against the Trump administration's approval of the pipeline could pro­ceed, erect­ing yet anoth­er bar­ri­er to its construction.
For these and oth­er rea­sons, the busi­ness press has been cool on the pipeline's prospects. Oil mar­kets have shift­ed dra­mat­i­cal­ly since the project was pro­posed, and the kinds of fuel prices that made the pipeline a prof­itable invest­ment almost a decade ago — when the project was first float­ed — are a thing of the past.
For that and a host of oth­er rea­sons, includ­ing oppo­si­tion along the pro­posed route and else­where, Tran­sCana­da has been famous­ly ambiva­lent about the project. As of this sum­mer, the com­pa­ny said it would decide whether to invest in the Key­stone XL by December.
Report­ing on Monday's rul­ing, the vice pres­i­dent from Moody's Investors Ser­vices told Reuters, ​"While today's Key­stone XL pipeline approval is an impor­tant mile­stone, it does not pro­vide cer­tain­ty that the project will ulti­mate­ly be built and begin oper­at­ing." Bloomberg not­ed that the PSC's deci­sion ​"could throw more uncer­tain­ty into the mix."
Even Tran­sCana­da itself demurred about Key­stone XL's future. ​"As a result of today's deci­sion, we will con­duct a care­ful review of the Pub­lic Ser­vice Com­mis­sion's rul­ing while assess­ing how the deci­sion would impact the cost and sched­ule of the project," said Russ Girling, Tran­sCanada's pres­i­dent and chief exec­u­tive offi­cer, in a statement.
What­ev­er the fate of the Key­stone XL project ends up being, the fight over the pipeline has changed the way cli­mate and envi­ron­men­tal cam­paigns are waged.
The Key­stone bat­tle gave the cli­mate fight a much-need­ed shot in the arm fol­low­ing the col­lapse of both UN cli­mate nego­ti­a­tions in Copen­hagen in 2009 and Wax­man-Markey, the doomed cap-and-trade trad­ing bill filled with give­aways to pol­luters. Big green groups had invest­ed in these behind-closed-doors process­es for years, all while the physics behind glob­al warm­ing seemed to be look­ing bleak­er by the week. A 2013 post-mortem of Wax­man-Markey by polit­i­cal soci­ol­o­gist The­da Skocpol found that sev­er­al of the groups push­ing for that leg­is­la­tion sys­tem­at­i­cal­ly dis­in­vest­ed from grass­roots orga­niz­ing, dou­bling down on lob­by­ing staff in Wash­ing­ton for the sake of get­ting a bill passed by any means necessary.
In con­trast to the top-down strate­gies employed before it, the big suc­cess­es in the Key­stone fight stemmed from the not-always-easy alliances between tra­di­tion­al­ly dis­parate groups: Indige­nous com­mu­ni­ties and white ranch­ers work­ing with larg­er green groups work­ing with stu­dent activists and even elect­ed offi­cials, all while lawyers waged a legal bat­tle in court rooms dot­ted all around the Great Plains and beyond. All at once, the Key­stone fight became one over native sov­er­eign­ty, against emi­nent domain and for clean water and the future of life on earth. The bat­tle against the Key­stone XL pipeline has almost always been about much more than a sin­gle oil pipeline. And though it was hard­ly the first such fight, Keystone's promi­nence made it pos­si­ble to start see­ing envi­ron­men­tal­ism at a nation­al scale as a move­ment with room for peo­ple who aren't hip­pies and tree huggers.
By nam­ing an ene­my, the bat­tle against Tran­sCana­da in the Great Plains defined the terms of the debate and drew a firm line in the sand: Either stand with a multi­na­tion­al cor­po­ra­tion out to wreck the plan­et or with the peo­ple whose lives they stand ready to destroy. Unlike Wax­man-Markey-style cap-and-trade, a pol­i­cy dif­fi­cult to grasp for even pol­i­cy wonks, what pipeline fight­ers want­ed was clear and made intu­itive sense to the Amer­i­can pub­lic, be it clean water or the right not to have land tak­en away for the ben­e­fit of a for­eign corporation.
Just a few years ago, main­stream envi­ron­men­tal­ism — dic­tat­ed by a hand­ful of envi­ron­men­tal NGOs — was vir­tu­al­ly syn­ony­mous with cor­po­rate-friend­ly push­es to change light­bulbs and bike more. While a strain of lifestyle activism remains in the cli­mate move­ment, even orga­ni­za­tions with mul­ti-mil­lion dol­lar bud­gets — like 350​.org—have been inject­ed with an anti-cor­po­rate zeal. That's the result both of tim­ing — Occu­py Wall Street kicked off with­in months of hun­dreds get­ting arrest­ed in Wash­ing­ton D.C. to protest Key­stone XL — and ample pres­sure from the grass­roots, par­tic­u­lar­ly those liv­ing along the pipeline's path. This trend even led a lega­cy green like Sier­ra Club to change its pol­i­cy in par­tak­ing in civ­il disobedience.
Two mas­sive waves of arrests pro­pelled hun­dreds of col­lege stu­dents (myself includ­ed) into years of cli­mate orga­niz­ing, and a new under­stand­ing of what it meant to low­er emis­sions. In that sense, anti-Key­stone orga­niz­ers also helped put the extrac­tion — and the out­sized respon­si­bil­i­ty of coal, oil and nat­ur­al gas com­pa­nies — at the cen­ter of the con­ver­sa­tion about cli­mate change, prompt­ing a shift away from talk of recy­cling and the sausage-mak­ing behind cli­mate policymaking.
On the heels of COP23, there's a dan­ger of slip­ping back­ward on the progress the Key­stone XL fight made to the cli­mate fight more broad­ly. The self-appoint­ed offi­cial face of the resis­tance to Trump's cli­mate poli­cies in Bonn ear­li­er this month — con­vened under the ban­ner ​"We Are Still In" — con­tains a throw­back to cor­po­rate-friend­ly envi­ron­men­tal­ism. Large­ly bankrolled by for­mer New York City May­or Michael Bloomberg, this con­tin­gent fea­tured a rotat­ing cast of cor­po­rate exec­u­tives from Wal­mart to big banks to the country's largest elec­tric util­i­ty. Voic­es from fights like Key­stone were almost total­ly absent, and sev­er­al peo­ple who'd worked against that pipeline and oth­er fos­sil fuel infra­struc­ture dis­rupt­ed Cal­i­for­nia Gov. Jer­ry Brown's open­ing remarks over his sup­port for frack­ing. Through­out the week, Brown tout­ed California's cap-and-trade pro­gram — draft­ed in part by the fos­sil fuel indus­try itself — as a mod­el cli­mate pol­i­cy for states around the country.
Besides the wind he's putting behind the wings of the fos­sil fuel indus­try, Trump is dan­ger­ous because he sets such a low bar for what con­sti­tutes lead­er­ship on cli­mate change. For that, we might do bet­ter to look toward tribes and ranch­ers along the Keystone's route than Bloomberg, Al Gore or any num­ber of self-appoint­ed bil­lion­aire cli­mate saviors.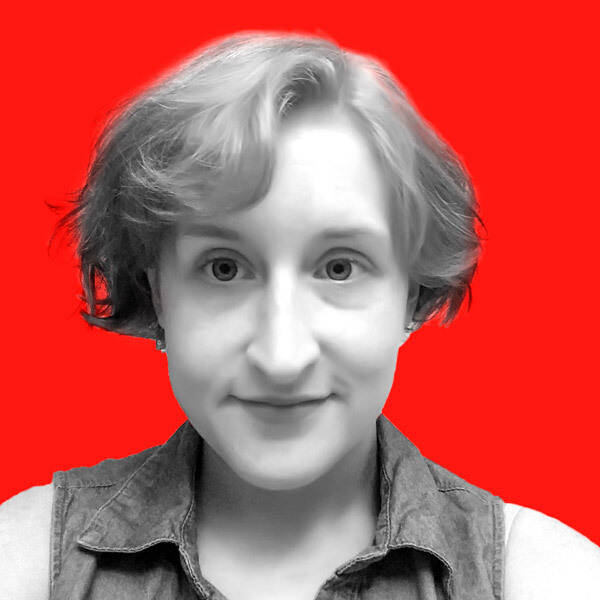 Kate Aronoff
is a Brook­lyn-based jour­nal­ist cov­er­ing cli­mate and U.S. pol­i­tics, and a con­tribut­ing writer at The Inter­cept. Fol­low her on Twit­ter @katearonoff.