Kim Stanley Robinson Makes the Socialist Case for Space Exploration
In an interview, the leftist sci-fi author argues that democratic space science is crucial to saving Earth.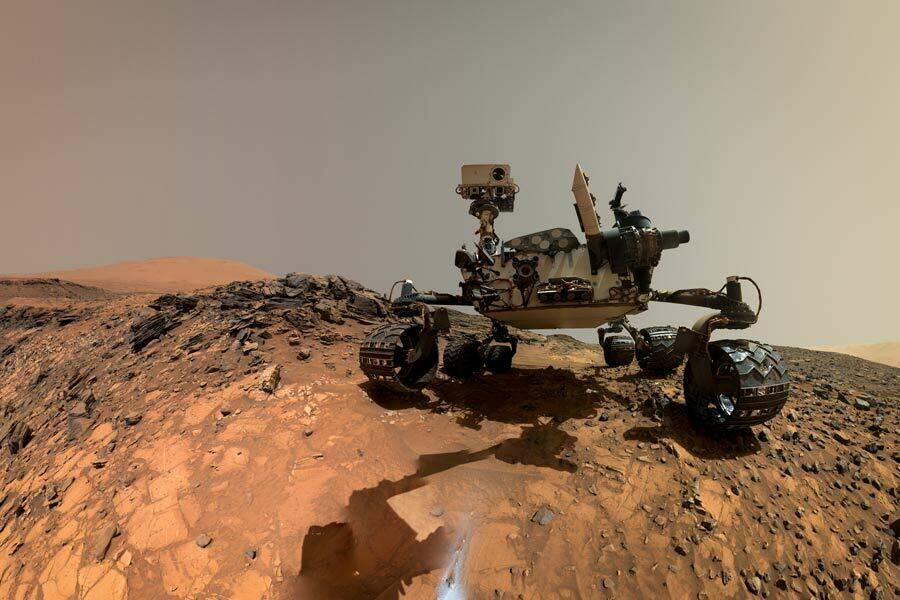 There's some­thing about Mars. It tick­les the imag­i­na­tion like no oth­er plan­et; in our sto­ries about it, fact and fic­tion tend to blur. Nine­teenth-cen­tu­ry astronomers believed they saw canals on Mars, proof of intel­li­gent life. In 1938, an Orson Welles radio play con­vinced some lis­ten­ers that a Mar­t­ian inva­sion had kicked off a war of the worlds. NASA and its robots feed us tan­ta­liz­ing tid­bits sug­gest­ing liq­uid water in some dis­tant past, and the pub­lic runs with it: In 1999, 35 per­cent of respon­dents told Gallup they believe there's cur­rent­ly life on Mars.
Life began somewhere—it might only take heat, water and some minerals. So it might have begun in many places, maybe even everywhere all the required elements exist.
And now, a bil­lion­aire intends to set­tle the red plan­et with­in a decade. On Feb­ru­ary 6, Elon Musk's SpaceX cor­po­ra­tion blast­ed a Tes­la Road­ster into orbit, a test of the Fal­con Heavy rock­et — the most pow­er­ful on the mar­ket. The launch became the sec­ond-most livestreamed video in YouTube his­to­ry, and the rocket's suc­cess — along­side Musk's sub­se­quent pub­lic­i­ty tour — set off renewed excite­ment about space trav­el. When I've spo­ken to left-lean­ing friends and fam­i­ly about all this, most aren't sure what to think. Many social­ists are skep­ti­cal of the union­bust­ing Musk — Kate Aronoff, on InThe​se​Times​.com, said it was time to ​"nation­al­ize" the entre­pre­neur and put his space pro­gram in pub­lic hands. Oth­ers oppose throw­ing mon­ey into space so long as inequal­i­ty remains at home. As poet Gil Scott-Heron wrote in 1970, ​"I can't pay no doc­tor bill. / (But Whitey's on the moon)."
But not all on the Left are anti-space. In the 2015 Jacobin piece ​"Democ­ra­tize the Uni­verse," Nick Levine argues that a col­lec­tive­ly owned space min­ing indus­try could be a tool for wealth redis­tri­b­u­tion, while avoid­ing the harms of min­ing Earth. The late Stephen Hawk­ing, a vocal pro­gres­sive, sug­gest­ed that humans must leave the nest if we want to sur­vive cli­mate change.
For the layper­son, it's hard enough to know whether these futur­is­tic visions are even plau­si­ble. Pars­ing the polit­i­cal impli­ca­tions feels out of our wheelhouse.
The same can­not be said for Kim Stan­ley Robin­son. The award-win­ning sci­ence-fic­tion writer — an ant­i­cap­i­tal­ist him­self — spent more than a decade research­ing and writ­ing his Mars tril­o­gy, a cen­turies-span­ning epic sketch­ing out a pos­si­ble future of Mars set­tle­ment. Sci-fi mae­stro Arthur C. Clarke called 1993's Red Mars, the first in the series, ​"The best nov­el on the col­o­niza­tion of Mars that has ever been writ­ten. … It should be required read­ing for the colonists of the next century."
The next cen­tu­ry has arrived, and the colonists are get­ting their plans in order. In These Times spoke with Robin­son about Mars, our own frag­ile plan­et and his hopes for a robust space sci­ence program.
In Red Mars, the first mis­sion to set­tle Mars launch­es in 2026. SpaceX is hop­ing to send the first crewed mis­sion to Mars before that. Did you expect the real world to move this quickly?
I am sur­prised by the speed of SpaceX's accom­plish­ments. We need­ed a big boost­er like the Fal­con Heavy, and I expect it will get put to good use — mean­ing not just SpaceX using it, but oth­er enti­ties doing inter­est­ing things like send­ing lan­ders to the moon or to aster­oids. But Elon Musk's Mars plan is still a sci­ence fic­tion sto­ry, in the same way that grant pro­pos­als and fundrais­ing pitch­es are sci­ence fic­tion sto­ries. They're set in the future, and they hope to bring that future into being by telling the sto­ry in advance. So as far as set­tling Mars, I didn't have any expec­ta­tions then, and I still don't. All these projects are con­tin­gent on human deci­sions. The tech­ni­cal prob­lems are only one aspect, and the oth­er aspects, includ­ing fund­ing, are unpredictable.
Is there a dan­ger to putting a bil­lion­aire in charge of space exploration?
It's a mis­take to say a bil­lion­aire is in charge of space explo­ration. Land­ing peo­ple on Mars will require an actor net­work that includes Mars itself, the space between, the laws of physics and many parts of human civ­i­liza­tion both pub­lic and pri­vate: sci­en­tists, work­ers, politi­cians and more.
No one actor in this net­work can do it just because they have a pas­sion for it. It would have to be done on the cheap, and this would cre­ate unac­cept­ably high risks for the astro­nauts involved. Land­ing peo­ple on Mars is hard­er than many peo­ple seem to think; robot lan­ders have only a 50 per­cent suc­cess rate, and human lan­ders would be much hard­er. As the 2020s pass with noth­ing much hap­pen­ing in the Mars way, the dif­fi­cul­ty will become more obvi­ous. Although prob­a­bly the sto­ries will con­tin­ue full speed ahead.
Some on the Left sug­gest that putting resources into space takes away resources from the social good here at home. Do they have a point?
No. Space sci­ence is an Earth sci­ence. Our cur­rent pres­ence in space is all about sci­ence and com­mu­ni­ca­tions. Com­mu­ni­ca­tions satel­lites are a big part of our civ­i­liza­tion right now, and most­ly in a good way.
Space sci­ence is impor­tant because we live on a plan­et that we are impact­ing in unex­pect­ed ways, so we need to know more about plan­ets to help fig­ure out what to do about that. A good exam­ple of this is when we found out we were cre­at­ing a hole in our atmosphere's ozone lay­er, and man­aged to stop cre­at­ing that hole before we all died from it. How did we do that? By send­ing orbiters to Venus and Mars and study­ing their atmos­pheres.
There are many oth­er exam­ples of this kind of use­ful knowl­edge, because com­par­a­tive plan­e­tol­ogy is a real thing. Earth is a plan­et, and we depend com­plete­ly on it for our exis­tence. Now that we're dam­ag­ing it in very dan­ger­ous ways, we have to invent a sus­tain­able rela­tion­ship with it. In that project, space sci­ence is use­ful. It isn't a cure-all, not even close, and should only be fund­ed in pro­por­tion to its use­ful­ness. But it is useful.
At the recent SXSW fes­ti­val, Elon Musk men­tioned that hav­ing a reserve pop­u­la­tion in out­er space — on the moon or on Mars — could be help­ful in case World War III dev­as­tates human­i­ty. Is this a viable solu­tion? Or might the rich leave for space while the rest of us suffer?
Bil­lion­aires mov­ing to space is not just sim­i­lar to a sci-fi plot — it is a sci-fi plot, and not very realistic.
It has to be said: There is no Plan­et B. It's here for us, or nowhere. But real­ly, that is very obvi­ous. Very few peo­ple actu­al­ly believe that set­ting up a small set­tle­ment on Mars is an ade­quate safe­guard or mit­i­ga­tion for the dam­age we are doing here on Earth. Those who do are fool­ing themselves.
Mars and all the rest of out­er space are spec­tac­u­lar­ly unsuit­ed as anoth­er bas­ket to put our eggs in. The rich can always just move to Mal­ibu or Davos and hire guards. That's the out­er space being referred to.
Will humans live off-plan­et in our life­times? If so, what will it look like — social­ist utopia or min­ing camps?
As efforts to return peo­ple to the moon inten­si­fy, I think Musk might get SpaceX involved with that project, which is achiev­able and afford­able now. As for Mars, it will con­tin­ue to be what we might call ​"the hard­est place we might be able to get to," thus an inter­est­ing tech­no­log­i­cal chal­lenge, but very expen­sive and time-con­sum­ing, and maybe not impor­tant enough to pur­sue any­time soon.
When we do land on Mars (as with the moon), our bases there will prob­a­bly resem­ble our cur­rent sta­tions in Antarc­ti­ca, at McMur­do and the South Pole. Sci­en­tists and sup­port peo­ple will prob­a­bly do a stint on Mars and then go home, which means around five years spent off Earth, doing sci­ence and lov­ing life. That will be great when it hap­pens — much clos­er to social­ist utopia than min­ing camp!
After that's gone on for a few years, most peo­ple on Earth will prob­a­bly pay about as much atten­tion to Mars as they do to the base now at the South Pole — which is to say, none. If you doubt this, think about the lat­er Apol­lo mis­sions. Or the peo­ple on the space sta­tion right now.
So how should pro­gres­sives think about SpaceX?
They should be grate­ful that at least one bil­lion­aire is inter­est­ed in space sci­ence. Actu­al­ly there's more than one.
But I think it's legit­i­mate to go fur­ther and ask, ​"Why are there peo­ple as rich as this any­way?" Why aren't there pro­gres­sive tax­es on both income and cap­i­tal assets, as econ­o­mist Thomas Piket­ty sug­gest­ed, such that the rich­est peo­ple max out at a cer­tain nice­ly high num­ber, beyond which wealth is passed through to the col­lec­tive that made it? Peo­ple and cor­po­ra­tions could be taxed at the high rates we had under the Eisen­how­er Admin­is­tra­tion, for instance, with per­haps the addi­tion­al perk that indi­vid­u­als could choose which gov­ern­ment pro­grams some por­tion of their tax­es would go to — a kind of direct democ­ra­cy sup­port for the dif­fer­ent func­tions of gov­ern­ment. If the var­i­ous agen­cies' fund­ing was part­ly a mat­ter of pop­u­lar ​"vote by tax­es," rather than entire­ly the result of Con­gress' cor­rupt­ed appro­pri­a­tion process, then it would be inter­est­ing to see how much mon­ey NASA end­ed up with, as well as the Nation­al Sci­ence Foun­da­tion (NSF), Nation­al Insti­tutes of Health (NIH) and so on.
If you were pres­i­dent, would your bud­get pro­pos­al put mon­ey toward these agencies?
I would look at the rel­a­tive worth of each agency and how much of a bud­get increase it could han­dle. My pro­pos­al would sug­gest that NASA be fund­ed at about $100 bil­lion a year (cur­rent­ly it's $20 bil­lion), tak­en out of the Pen­ta­gon bud­get (cur­rent­ly $770 bil­lion a year), because many of the same indus­tries sup­port and are sup­port­ed by both agen­cies. I'd fund NSF at $200 bil­lion a year (cur­rent­ly $7 bil­lion), and the Depart­ment of Ener­gy at $100 bil­lion. NIH $200 bil­lion a year. Then I'd let the sci­en­tists fig­ure out how best to spend that mon­ey. They would have to scram­ble at first to find enough wor­thy projects — a good prob­lem to have.
Putting humans on Mars would be low on my list. Our robots are doing fine there. I'd like to see robot­ic explor­ers sent to the moons of Jupiter and Sat­urn first.
What does post-cap­i­tal­ist space explo­ration look like?
It looks like NASA. It's gov­ern­ment, explor­ing a com­mons of sorts, doing it in the usu­al ​"of the peo­ple, by the peo­ple and for the peo­ple" way.
Your Mars tril­o­gy gets into the ethics of col­o­niz­ing Mars — some char­ac­ters want to ter­raform it to fit human needs, oth­ers want to leave it in its orig­i­nal state.
Col­o­niza­tion is not the right word here, sig­ni­fy­ing as it does impe­ri­al­is­tic pow­er rela­tions between humans, or per­haps, at a stretch, between liv­ing beings. Space is life­less, so when we set­tle out there it's bet­ter to use the words inhab­i­ta­tion or set­tle­ment.
It's true that the life­less­ness of Mars is less cer­tain than it was when I was writ­ing my tril­o­gy. Mars was then wide­ly assumed to be a dead rock. Ques­tions con­cern­ing the ethics of ter­raform­ing in the book were some­what eso­teric, hav­ing to do with the intrin­sic worth of rockscapes. Some of my char­ac­ters felt strong­ly about this, but I thought on bal­ance that ter­raform­ing Mars would be a good thing.
Now, the pos­si­bil­i­ty that there might be bac­te­ria liv­ing under the Mar­t­ian sur­face has been raised. There are pieces of Mars on Earth, and pieces of Earth on Mars, and some bac­te­ria are so hardy that they might sur­vive the tran­sit between plan­ets and remain deep under the Mar­t­ian sur­face. Also, life began some­where — it might only take heat, water and some min­er­als. So it might have begun in many places, maybe even every­where all the required ele­ments exist.
So now gov­ern­ments and inter­na­tion­al treaties and the U.N. have put plan­e­tary pro­tec­tion pro­to­cols in place, and it's a mat­ter of intense debate as to whether we should even land on Mars, or on Jupiter's Europa, or Saturn's Ence­ladus, or on oth­er plan­ets and moons where there appears to be liq­uid water that could sup­port bac­te­r­i­al life. Robot­ic lan­ders on Mars are ster­il­ized as much as pos­si­ble, but they still have bac­te­ria on their inte­ri­or sur­faces. Peo­ple who want des­per­ate­ly to go to Mars don't talk about this much.
Places like the moon and the aster­oids, and most bod­ies in the solar sys­tem, are almost cer­tain­ly dead rocks. I think sta­tions on these would be great.
To piv­ot from Mars to Earth: In books like New York 2140 you've looked at how human­i­ty might respond to cli­mate change. When did that issue first get on your radar?
In the process of research­ing my Mars tril­o­gy through the late 1970s and 1980s, I became more and more aware of the accel­er­at­ed cli­mate change humans were caus­ing by burn­ing car­bon into the atmos­phere. When I went to Antarc­ti­ca in 1995, all the sci­en­tists down there were talk­ing about it, and many of them were study­ing it. Almost every­thing I've writ­ten since then has tak­en cli­mate change on Earth as an unavoid­able civ­i­liza­tion­al challenge.
I'm not that sur­prised by our rel­a­tive lack of action. It's hard to change habits, and our car­bon-burn­ing tech­no­log­i­cal base is mas­sive and cre­ates cer­tain path depen­den­cies. So change can be slow. But it can be fast, too, and since 2004 we've seen a huge rise in aware­ness of this prob­lem. It's now the cen­tral issue of our time, and deal­ing with it will change human his­to­ry, because it will take invent­ing a post-cap­i­tal­ist polit­i­cal-eco­nom­ic order to cope successfully.
The Paris Accord was a huge thing, of world his­tor­i­cal impor­tance — by which I mean, if there are peo­ple thou­sands of years from now writ­ing a world his­to­ry, the Paris Accord will get a men­tion. The Accord only gets us halfway there, but the first half is impor­tant, and would cre­ate momentum.
Of course, the Paris Accord is only an agree­ment, with no good enforce­ment mech­a­nism. There are worse forces than Trump con­spir­ing to undo or ignore it, and to con­tin­ue to burn fos­sil fuels and cast us heed­less­ly and irrev­o­ca­bly into a mass extinc­tion event that will ham­mer humanity.
This is the big bat­tle of our time. So I think it's very impor­tant that all pro­gres­sives ful­ly under­stand that in this con­text, sci­ence itself is a left­ism, in that it push­es for social jus­tice and sus­tain­abil­i­ty prac­tices. But sci­ence, like all oth­er left­isms, can be bought by cap­i­tal or defeat­ed in polit­i­cal bat­tle. We pro­gres­sives have to rec­og­nize our allies in this bat­tle and band togeth­er with them.
How should the broad anti-cap­i­tal­ist move­ment approach cli­mate and oth­er green issues?
Left­ists and envi­ron­men­tal­ists are close allies in the same cause. There is no con­tra­dic­tion between the two: They both are or should be anti-cap­i­tal­ist. Envi­ron­men­tal­ism is not anti-human, as some left­ists have main­tained. Human­i­ty is enmeshed with the larg­er bios­phere so com­plete­ly that tak­ing care of the envi­ron­ment is tak­ing care of our extend­ed body.
How can sci­ence fic­tion help us con­front these issues?
Lit­er­a­ture is where we find or cre­ate the mean­ing of life. And sci­ence fic­tion is just the future-ori­ent­ed wing of lit­er­a­ture. That's anoth­er very ancient exer­cise of the human mind, that imag­in­ing of the future. Prophe­cy, plan­ning: any time we think about the future we're doing sci­ence fiction.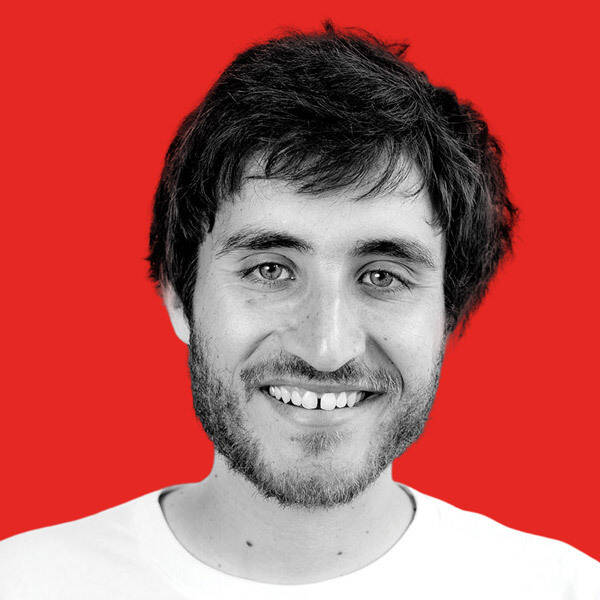 Day­ton Mar­tin­dale is a free­lance writer and for­mer asso­ciate edi­tor at In These Times. His work has also appeared in Boston Review, Earth Island Jour­nal, Har­bin­ger and The Next Sys­tem Project. Fol­low him on Twit­ter: @DaytonRMartind.