Know Your Billionaire: Jeff Bezos
The richest man in the world wants you to work as much as he does—for one millionth of the pay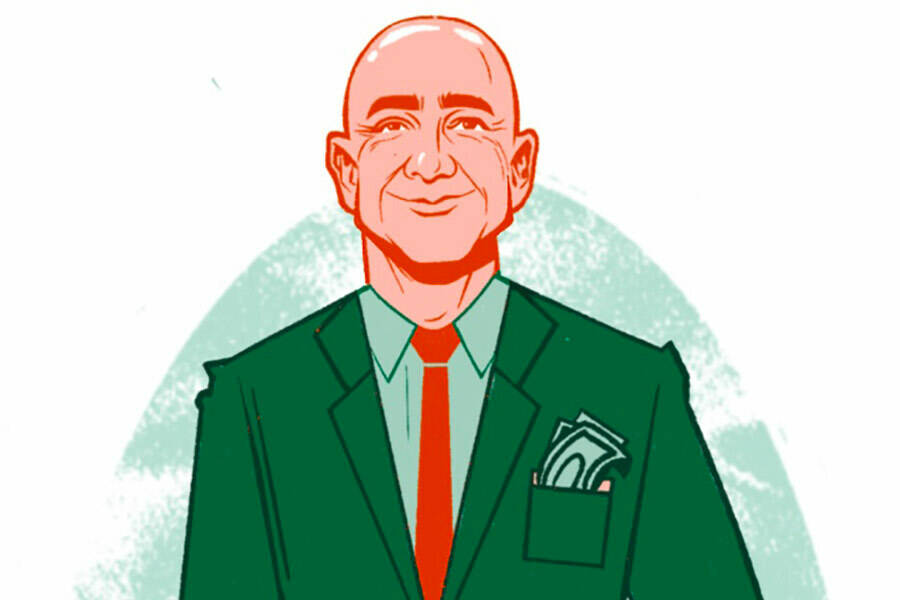 "Is Jeff Bezos a hor­ri­ble boss and is that good?" That was the ques­tion posed by Forbes mag­a­zine in 2013, a sen­ti­ment that helps explain why Amazon's founder and CEO is detest­ed by the Left for his oli­garchic ambi­tions, while simul­ta­ne­ous­ly admired by America's cap­i­tal­ist class for his busi­ness suc­cess. Iron­i­cal­ly, Bezos is also loathed by Pres­i­dent Don­ald Trump, while cel­e­brat­ed by many lib­er­als for so-called resistance.
But with Bezos and his $115 bil­lion for­tune lay­ing claim to the title of rich­est man on Earth, and with Ama­zon play­ing an increas­ing­ly influ­en­tial role in pub­lic life, it is worth ask­ing: What does Jeff Bezos stand for?
A gift­ed child born to a teen mom, Bezos grew up not know­ing his bio­log­i­cal father, who was once one of the top-rat­ed uni­cy­clists in Albu­querque, N.M. Instead, Bezos was raised by the man his moth­er soon mar­ried: Miguel Bezos, who had fled Cuba and the Com­mu­nist rev­o­lu­tion, which had shut­tered the elite pri­vate Jesuit school he attend­ed, as well as his family's lumberyard.
Jour­nal­ists have spec­u­lat­ed whether Bezos' near-patho­log­i­cal com­pet­i­tive­ness is a prod­uct of his ear­ly aban­don­ment, sim­i­lar to that of fel­low tech over­lord Steve Jobs. No doubt equal­ly for­ma­tive was Bezos' adop­tive father, who told Brad Stone, author of The Every­thing Store: Jeff Bezos and the Age of Ama­zon, that their home life was ​"per­me­at­ed" by com­plaints about total­i­tar­i­an gov­ern­ments of both the Right and the Left.
Bezos envi­sioned the con­cept of an ​"every­thing store" while work­ing for a Wall Street hedge fund in the 1990s. He opened Ama­zon in 1994 as an online book­shop, a prag­mat­ic start­ing point. Bezos gave the com­pa­ny his own $10,000 cash injec­tion, took out inter­est-free loans, and received $245,000 from his par­ents and fam­i­ly trust.
Many of Amazon's con­tro­ver­sial labor prac­tices can be traced to these ear­ly years as a plucky start-up. Amazon's small team ran on tire­less ambi­tion to live up to the company's cus­tomer-focused promise — key to its even­tu­al mar­ket dom­i­na­tion. Stone reports that, to meet Bezos' ​"get big fast" direc­tive, employ­ees devot­ed them­selves com­plete­ly, work­ing long, unusu­al, fren­zied hours. One ear­ly ware­house work­er who biked to work sim­ply for­got about his improp­er­ly parked car, even­tu­al­ly dis­cov­er­ing it had been tick­et­ed, towed and sold at auction.
Such a relent­less pace is one thing for a small group of true believ­ers but is quite anoth­er when applied to low-wage work­ers just mak­ing ends meet. By 2011, Amazon's work­place cul­ture became known through a series of head­line-grab­bing reports that have come to define its pub­lic image: bad­ly paid, cease­less­ly sur­veilled, over­worked work­ers, strug­gling to main­tain a break­neck pace.
Bezos cre­at­ed a cul­ture in which every­one from the low­est peon to the high­est-rank­ing exec­u­tive is expect­ed to match his own devo­tion, an approach that result­ed in spec­tac­u­lar lev­els of staff turnover by the ear­ly 2000s. A declared ene­my of ​"social cohe­sion," Bezos pushed his under­lings to reject com­pro­mise and instead fierce­ly debate and crit­i­cize col­leagues when they dis­agreed. One for­mer employ­ee described it as ​"pur­pose­ful Dar­win­ism." Known for with­er­ing put-downs — ​"Are you lazy or just incom­pe­tent?" ​"Did I take my stu­pid pills today?"—Bezos also isn't above pulling out his phone or, in some cas­es, sim­ply leav­ing the room when an employ­ee fails to impress.
The flip­side of Bezos' intel­lect is a cold, clin­i­cal approach to human rela­tions. Bezos described him­self as a ​"pro­fes­sion­al dater" dur­ing his Wall Street days, try­ing to improve what he called his ​"women flow" — a riff on the Wall Street term ​"deal flow."
"He was not warm," one per­son who knew Bezos dur­ing his Wall Street days told the East Bay Express in 2014. ​"It was like he could be a Mar­t­ian for all I knew."
Bezos' piti­less lead­er­ship style bled out beyond the Ama­zon board­room as he used the company's grow­ing mar­ket share to bul­ly book pub­lish­ers into his terms. The com­pa­ny launched the ​"Gazelle Project"—as in, go after pub­lish­ers ​"the way a chee­tah would pur­sue a sick­ly gazelle" — allow­ing Ama­zon to under­cut its com­pe­ti­tion at the cost of lit­tle to no prof­it for small­er publishers.
As Ama­zon inched clos­er to Bezos' orig­i­nal vision, it began lob­by­ing efforts in 2000 and became more trans­par­ent­ly polit­i­cal by 2011, spend­ing mil­lions to defeat an inter­net sales tax and play­ing hard­ball with state gov­ern­ments, threat­en­ing to shut­ter Ama­zon facil­i­ties if its wish­es went unful­filled. In 2013, Ama­zon began lob­by­ing Con­gress to cut cor­po­rate taxes.
The same year, Bezos bought the Wash­ing­ton Post, invest­ed in Busi­ness Insid­er and donat­ed to the pub­lish­er of the lib­er­tar­i­an mag­a­zine Rea­son. Though Bezos argues his pur­chase of the Post was moti­vat­ed by ​"a love affair [with] the print­ed word" and a desire to sup­port Amer­i­can democ­ra­cy, oth­ers sus­pect Bezos' inter­est in media is relat­ed to bad press fol­low­ing a scathing Lehman Broth­ers report in 2000, which sent Amazon's stock price tumbling.
Lead­ing up to the Post pur­chase, Bezos was increas­ing­ly dis­play­ing what ear­ly Ama­zon investor Nick Hanauer called his ​"lib­er­tar­i­an pol­i­tics." In addi­tion to spend­ing $100,000 in 2010 on a cam­paign to defeat a pro­posed Wash­ing­ton state tax on high-income earn­ers, Bezos put hun­dreds of thou­sands of dol­lars toward boost­ing char­ter schools and oth­er neolib­er­al edu­ca­tion reforms.
Bezos' polit­i­cal involve­ment reached a new apogee in 2019 dur­ing the re-elec­tion bid of Seattle's social­ist city coun­cil­woman, Kshama Sawant, who called Bezos ​"our ene­my" and tried to pass a head tax to fund hous­ing for those dis­placed by Amazon's Seat­tle foot­print. Ama­zon spent $1.5 mil­lion against Sawant and oth­er pro­gres­sive can­di­dates, a record at the local lev­el, with more than a dozen of the company's exec­u­tives con­tribut­ing to Sawant's oppo­nent. (Sawant won re-elec­tion anyway.)
As for Bezos' endgame? A Trekkie since child­hood, he has long dreamed of fund­ing space explo­ration, a mis­sion pur­sued by oth­er super­rich moguls (such as Elon Musk) in the face of the cli­mate emer­gency. Open­ing the doors of his secre­tive Blue Ori­gin aero­space com­pa­ny to jour­nal­ists for the first time in 2016, Bezos told the New York Times he envi­sioned a future of ​"mil­lions of peo­ple liv­ing and work­ing in space," exploit­ing the nat­ur­al resources of sur­round­ing plan­ets and rezon­ing Earth ​"as light indus­tri­al and residential."
Iron­i­cal­ly, as Bezos pours the wealth he wrung out of exhaust­ed, low-wage Ama­zon work­ers into space explo­ration, Ama­zon is busy has­ten­ing the very plan­e­tary col­lapse Bezos claims he's try­ing to pre­vent — by silenc­ing work­ers who speak out against Amazon's assis­tance to oil and gas companies.
Let's imag­ine, how­ev­er, that Bezos, who accu­mu­lates $9 mil­lion an hour, lived in a world with Bernie Sanders' 8% wealth tax (just on for­tunes over $10 bil­lion). A sin­gle year would see $9 bil­lion flow from Bezos' trea­sure trove into gov­ern­ment cof­fers, more than enough to cov­er the 10-year cost of Eliz­a­beth Warren's uni­ver­sal child care plan ($1.7 bil­lion) and main­tain safe drink­ing water under Sanders' plan ($6 billion).
Bezos' career is a tes­ta­ment to the cru­el autoc­ra­cy and sense­less mis­al­lo­ca­tion of resources that our neolib­er­al cap­i­tal­ist sys­tem enables. But his opu­lence also reveals that the wealth exists to build a fair­er and more equi­table soci­ety — if redis­trib­uted. Bezos may loathe social cohe­sion, but in a world orga­nized around democ­ra­cy rather than the whims of space-bil­lion­aires, it's some­thing we may well be able to achieve.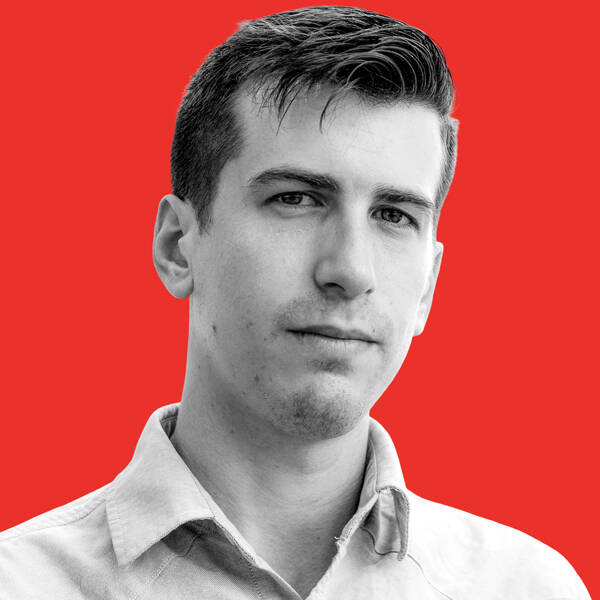 Branko Marcetic
is a staff writer at Jacobin mag­a­zine and a
2019
 – 
2020
Leonard C. Good­man Insti­tute for Inves­tiga­tive Report­ing fel­low. He is work­ing on a forth­com­ing book about Joe Biden.