The South Korean Government Tried to Ban This Peace Activist. Here's What She Has to Say.
Christine Ahn calls for a real end to the Korean War—and for women to lead the way to peace.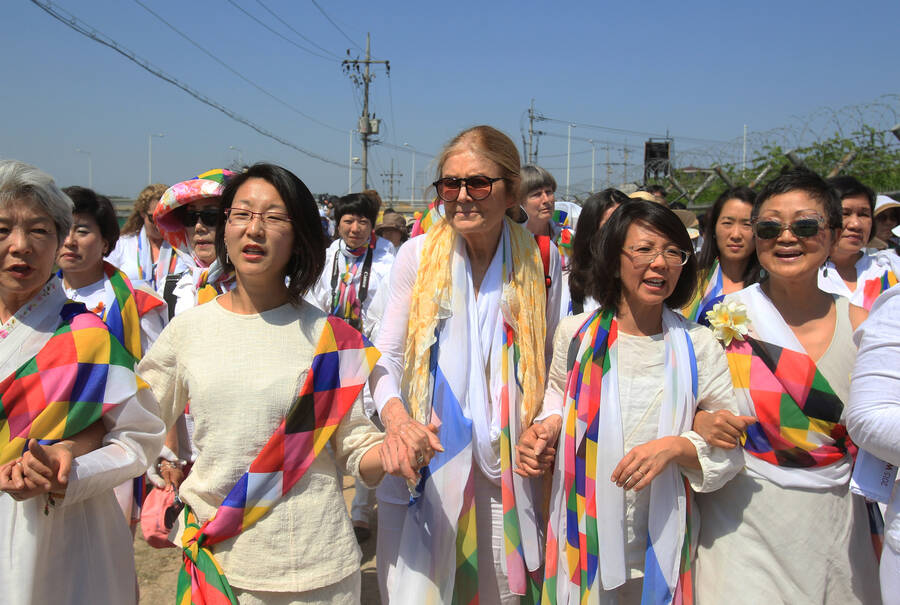 Chris­tine Ahn is a South Korea-born, Hawaii-based peace activist. In 2015, she orga­nized 30 women from around the world to march across the two-mile-wide, heav­i­ly mil­i­ta­rized bor­der zone between North and South Korea as a ​"sym­bol­ic act of peace."
Ahn now finds her­self in the crosshairs of flar­ing geopo­lit­i­cal ten­sions over the entrenched Kore­an War. On July 13, she learned that she was banned from South Korea after being turned away from an Asiana Air­lines flight from San Fran­cis­co to Chi­na, because it would pass through the Incheon Inter­na­tion­al Air­port on the out­skirts of Seoul.
Fol­low­ing media cov­er­age of her pro­hi­bi­tion, and out­cry from her sup­port­ers, the ban was over­turned, mean­ing that Ahn will now be allowed to enter the coun­try of her birth after all.
As the glob­al coor­di­na­tor for ​"Women Cross DMZ," this is not the first time that Ahn has faced blow­back: She has repeat­ed­ly been tar­get­ed by right-wing, defam­a­to­ry attacks.
Nonethe­less, she says she is deter­mined to step up her peace activism. In the com­ing weeks, Ahn is plan­ning to trav­el to South Korea to par­tic­i­pate in an inter­na­tion­al peace del­e­ga­tion, as Pres­i­dent Don­ald Trump strikes a more bel­li­cose tone towards North Korea and U.S. law­mak­ers move to esca­late sanc­tions, which were already severe under Pres­i­dent Obama.
Ahn spoke to In These Times from Nan­jing, Chi­na about what it was like to find her­self at the cen­ter of this geopo­lit­i­cal tug of war and why now is a crit­i­cal time for women to lead the way to build­ing inter­na­tion­al peace.
Sarah Lazare: Why do you think the South Kore­an gov­ern­ment ini­tial­ly pro­hib­it­ed you from enter­ing the country?
Chris­tine Ahn: We believe the ban was put in place by for­mer Pres­i­dent Park Geun-hye, who is now in prison for cor­rup­tion. I think they [banned me] as ret­ri­bu­tion for the 2015 wom­en's peace walk I helped orga­nize and lead. At that time, the Park administration's pol­i­cy towards the north was one of more iso­la­tion and sanc­tions, and our mes­sage as women peace­mak­ers chal­lenged that by call­ing for a peace treaty to end the Kore­an War and [allow for] fam­i­ly reunions. We want­ed to draw atten­tion to the fact that decades of iso­la­tion and mil­i­tarism haven't solved the war. That went against the Park and Oba­ma poli­cies of strate­gic patience.
Frankly, I have been crit­i­cal of the last two con­ser­v­a­tive [South Kore­an] admin­is­tra­tions. I was will­ing to speak out about the expan­sion of mil­i­tarism, includ­ing the cre­ation of a U.S. naval base to project pow­er against Chi­na. I chal­lenged poli­cies. I've had trac­tion. I've con­tributed to a more crit­i­cal per­spec­tive about the alliance between South Korea and the Unit­ed States. I think they con­sid­ered me a pest.
I could­n't believe that I was being pun­ished this way. I told the Asiana Air­lines super­vi­sor that this must have been a mis­take, and if it was­n't, it must have been a car­ry­over from the Park régime. I appealed to her con­science and asked, ​"Real­ly, South Korea is going to ban me because I orga­nized this wom­en's March across the [demil­i­ta­rized zone, or DMZ] call­ing for peace, reunit­ing sep­a­rat­ed fam­i­lies and demand­ing wom­en's inclu­sion in peace building?"
She walked away and said I would need to apply for a visa and pur­chase anoth­er tick­et to get to Shang­hai. I walked to the Unit­ed Air­lines counter, and a kind agent who was from Ton­ga con­soled me. I showed her a pam­phlet of our peace walk, includ­ing pho­tos of our quilt stitch­ing cer­e­mo­ny with North Kore­an women, and she encour­aged me to chin up and keep mov­ing for­ward, that our world need­ed pos­i­tive actions like these.
Sarah: How did you find out the ban had been lifted?
Chris­tine: It came out in Yon­hap News and was con­firmed by the reporter Boy­oung Lim of New­stapa after call­ing the min­istry of Jus­tice. A pub­lic out­cry led to sev­er­al oth­er agen­cies request­ing that the ban be lifted.
I'm elat­ed. The sun keeps shin­ing with [Pres­i­dent] Moon in pow­er. It's an amaz­ing tes­ta­ment that it is a new day on the Kore­an penin­su­la, and that the pow­er of social move­ments can put enough pres­sure to yield pos­i­tive change.
Sarah: Do you see any open­ings for peace in this cur­rent polit­i­cal moment?
The cur­rent admin­is­tra­tion has a dif­fer­ent strat­e­gy. Moon is call­ing for peace and dia­logue. Our plans are to sup­port his calls for a peace treaty and to press for wom­en's groups' par­tic­i­pa­tion in the peace-build­ing process. We now have sev­er­al decades of evi­dence show­ing that when wom­en's groups are involved, not only does it fre­quent­ly lead to peace agree­ments, it leads to more durable and sus­tain­able ones.
We have to get this done while Moon is in pow­er, oth­er­wise the Kore­an War will just lan­guish on. Korea needs to get its act togeth­er, not just for mil­lions of elders who will die not see­ing their loved ones, but to avert a nuclear war that could engulf the entire region. Korea can become a neu­tral coun­try and halt the region­al arms race. I will do my part as an Amer­i­can to con­tin­ue to mobi­lize fel­low cit­i­zens to pres­sure our gov­ern­ment to reach a peace deal with North Korea.
We are in a his­toric align­ment now, espe­cial­ly with women being in key posi­tions in South Korea, North Korea and Chi­na. With women in top for­eign Min­istry posts, and with pres­sure from wom­en's peace groups, I believe women — from the high­est lev­els of pow­er to the grass­roots — can push togeth­er for a peace agreement.
Now, the miss­ing puz­zle piece is the Unit­ed States. As every­one has seen, there are only white men sur­round­ing Trump in his cab­i­net meet­ings. But the ground­work can be laid until enough pres­sure is mount­ed in the Unit­ed States.
Sarah: What can peo­ple in the Unit­ed States do to sup­port peace and de-escalation?
Chris­tine: Amer­i­cans can pres­sure our gov­ern­ment to sign a peace agree­ment with North Korea that will nor­mal­ize rela­tions, lift sanc­tions and begin a path towards end­ing mil­i­tary exer­cis­es and nuclear weapons on the Kore­an peninsula.
We were vil­i­fied by some right-wing media for being ​'pro-north' because we were link­ing the North Kore­an human rights issue with the con­tin­u­ing state of war. We've nev­er denied that human rights abus­es take place in North Korea. The unre­solved war has led to a high­ly con­trolled soci­ety. Peace is not against human rights; it is part and par­cel of it. Peace is a nec­es­sary con­di­tion for the full real­iza­tion of human rights. Whether we like it or not, the North Kore­an régime will con­tin­ue to use the threat of a U.S. pre-emp­tive strike to jus­ti­fy repres­sion in the name of pre­serv­ing their sovereignty.
The ​"win­ner-take-all" mod­el that is crit­i­cal of engage­ment and diplo­ma­cy only per­pet­u­ates the war foot­ing, leav­ing no room for nuance, com­plex­i­ty or com­pro­mise. States of hos­til­i­ty and inter­na­tion­al con­flict are the basis on which states have long vio­lat­ed the rights of their cit­i­zens. Sad­ly, the South Kore­an gov­ern­ment, espe­cial­ly under Park, is guilty of the same.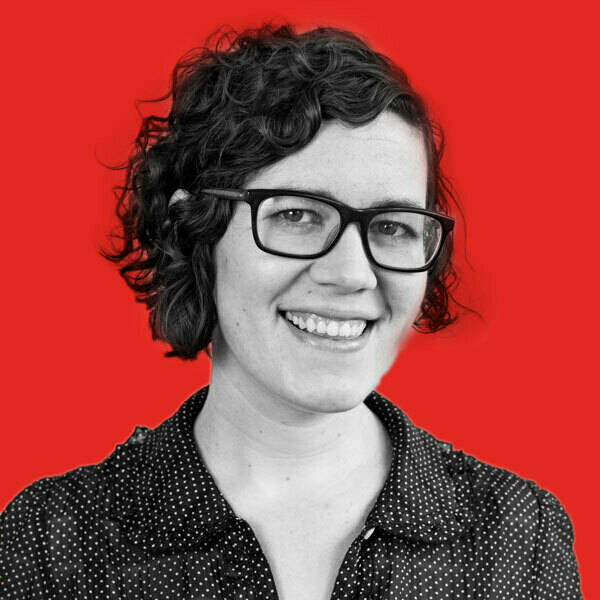 Sarah Lazare is web edi­tor at In These Times. She comes from a back­ground in inde­pen­dent jour­nal­ism for pub­li­ca­tions includ­ing The Inter­cept, The Nation, and Tom Dis­patch. She tweets at @sarahlazare.