Korean Workers Launch Major Wave of Strikes, Winning International Support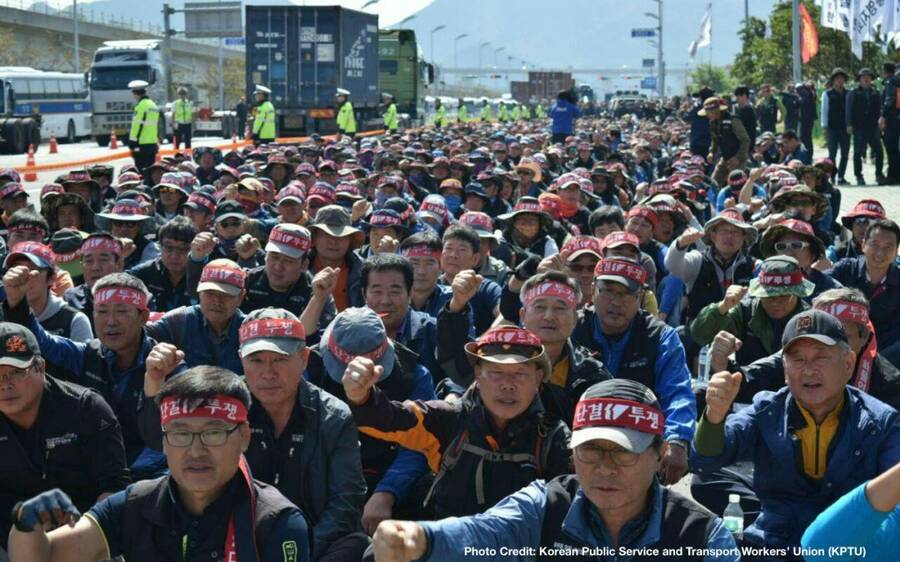 Over the past few weeks, thou­sands of South Kore­an trans­port work­ers have gone on strike to protest against gov­ern­ment ​"reform" pro­pos­als that would make it eas­i­er for employ­ers to fire work­ers, weak­en senior­i­ty pro­tec­tions won through col­lec­tive bar­gain­ing and pri­va­tize some state-owned industries.
The strikes, and the South Kore­an government's fierce crack­down on labor, have gen­er­at­ed an unprece­dent­ed response from glob­al unions over what they see as clear-cut vio­la­tions of work­ers' rights to free­dom of association.
"This has become a chal­lenge to the whole inter­na­tion­al com­mu­ni­ty and is enor­mous­ly dam­ag­ing to the Kore­an government's inter­na­tion­al rep­u­ta­tion," Stephen Cot­ton, gen­er­al sec­re­tary of the Inter­na­tion­al Trans­port Work­ers' Fed­er­a­tion (ITF), told In These Times.
In Wash­ing­ton, AFL-CIO Pres­i­dent Richard Trum­ka is hav­ing ​"fre­quent meet­ings" with South Korea's ambas­sador to dis­cuss his con­cerns over the sit­u­a­tion in Korea, said Cathy Fein­gold, the federation's top for­eign affairs offi­cer. ​"We're very involved."
The U.S.-Korea Free Trade Agree­ment, which includes a clause designed to pro­tect labor rights, ​"is anoth­er hook" U.S. unions might use to assist their Kore­an allies, Fein­gold said. The pro­tec­tions in that pact, includ­ing free­dom of asso­ci­a­tion, can be enforced through trade sanc­tions and fines, but are rarely used.
The strikes pose one of the biggest crises in South Kore­an labor since the 1980s, when work­ers seized on the coun­try's democ­ra­ti­za­tion to cre­ate one of Asi­a's most dynam­ic labor move­ments. In the after­math of the demo­c­ra­t­ic rev­o­lu­tion in 1987, the Kore­an Con­fed­er­a­tion of Trade Unions (KCTU) was born out of inde­pen­dent orga­niz­ing efforts that had been sti­fled for years in heavy indus­try, auto­mo­biles, trans­porta­tion and ship­build­ing. It is now the sec­ond largest union fed­er­a­tion in the country.
The lat­est actions began on Octo­ber 10, when more than 7,000 own­er-oper­a­tors in truck­ing joined a nation­al strike against the government's plan for dereg­u­la­tion of the truck­ing trans­port mar­ket. The con­ser­v­a­tive gov­ern­ment of Pres­i­dent Park Geun-hye respond­ed by declar­ing the strike ille­gal, and her trans­porta­tion min­is­ter called the walk­out ​"an act of betray­al" of the nation.
On day one of the strike, more than 4,000 riot police sur­round­ed truck­ers massed in front of freight depots, includ­ing the ​"New Port" com­plex in the south­ern indus­tri­al city of Busan, the truck­ers' union said. Fifty-five activists were arrest­ed and five injured, the union added. The Yon­hap news agency report­ed that the South Kore­an mil­i­tary mobi­lized sol­diers to replace strik­ing truck dri­vers, effec­tive­ly trans­form­ing them into scabs.
The strik­ers belong to the ​"Car­go Truck­ers Sol­i­dar­i­ty Divi­sion" of the Kore­an Pub­lic Ser­vice and Trans­port Work­ers' Union (KPTU) known as Truck­Sol. Wol-san Liem, the KPTU's direc­tor of inter­na­tion­al and Kore­an Penin­su­la affairs, said that the gov­ern­ment respond­ed like it did because of the truck­ers' ​"poten­tial pow­er" as well as their ​"pre­car­i­ous sta­tus as inde­pen­dent con­trac­tors." The truck­ers' union is part of the larg­er KCTU.
Work­ing con­di­tions for Kore­an truck dri­vers are dismal.
"They face unrea­son­able sched­ules, long hours, mul­ti­ple lev­els of sub­con­tract­ing, and low rates that put them in a real­ly dif­fi­cult place," Liem said. ​"The pres­sures force them to speed, over­load and dri­ve at night for long hours — dis­as­trous to health and fam­i­ly life and also dan­ger­ous to oth­er road users."
She added that prob­lems are com­pound­ed because dri­vers who own their trucks are treat­ed as inde­pen­dent con­trac­tors and denied the rights to form and join unions, col­lec­tive­ly bar­gain and strike.
"This means they don't have legal trade union rights," Liem said. While it's not ille­gal for own­er-oper­a­tors to ​"col­lec­tive­ly refuse to work," she added, ​"the gov­ern­ment and con­ser­v­a­tive media try to paint the strike as ille­gal and our mem­bers as a vio­lent mob."
The truck­ers' strike is the lat­est event in an autumn of indus­tri­al actions launched by Kore­an unions. In late Sep­tem­ber, oth­er KPTU trans­port affil­i­ates began a gen­er­al strike against the gov­ern­men­t's impo­si­tion of per­for­mance-relat­ed pay and a ter­mi­na­tion sys­tem. Those actions will sup­pos­ed­ly align the Kore­an econ­o­my with inter­na­tion­al prac­tices but in fact pro­vide tools for employ­ers to eas­i­ly get rid of excess and mil­i­tant workers.
One of KPTU's affil­i­ates, the Kore­an Rail­way Work­ers' Union, has been par­tic­u­lar­ly active in that strike because the gov­ern­men­t's pri­va­ti­za­tion plans include turn­ing over the coun­try's nation­al rail sys­tem to con­glom­er­ates called chae­bol that already dom­i­nate the econ­o­my. Rail and sub­way work­ers also oppose the impo­si­tion of the new mer­it-based salary sys­tem that would make it eas­i­er for employ­ers to fire work­ers who don't meet cer­tain quotas.
Dur­ing the rail strike, the KPTU's Liem said, 165 union offi­cers were sus­pend­ed from their jobs. Worse, employ­ers filed a law­suit seek­ing dam­ages of 165 bil­lion won (about $145 mil­lion) from the union and charged 19 union offi­cers with ​"obstruc­tion," she said.
Strikes have also tak­en place in the finan­cial and auto­mo­bile indus­tries. This month, the union rep­re­sent­ing work­ers at Hyundai Motor Com­pa­ny, one of the world's largest car pro­duc­ers, resumed talks with man­age­ment ​"after months of strikes in the automaker's worst-ever indus­tri­al dis­pute," the Reuters news agency report­ed (The talks con­clud­ed last week, when 63 per­cent of Hyundai's work­ers vot­ed to accept a new contract).
There was no let-up in trans­porta­tion strikes, how­ev­er. Despite the government's attempt to play down their impact, the Kore­an Min­istry of Land, Infra­struc­ture and Trans­port said on Octo­ber 10 that more than 40 per­cent of the rough­ly 18,000 union­ized work­ers on rail­roads and sub­ways were tak­ing part in the strike.
"Since the start of the walk­out by rail­way work­ers, the oper­a­tion of car­go trains has been reduced to near­ly half of the usu­al lev­el, forc­ing local firms to depend on car­go trucks to haul their export and import ship­ments to and from the coun­try's major sea­ports," report­ed Yon­hap, which is owned by the government.
Mean­while, the ITF and Pub­lic Ser­vices Inter­na­tion­al (PSI), the glob­al fed­er­a­tion of pub­lic sec­tor work­ers, have asked the Inter­na­tion­al Labor Orga­ni­za­tion (ILO) to inter­vene to ensure that the Park gov­ern­ment respects the rights of work­ers in South Korea to free­dom of association.
The strikes in South Korea, the ITF's Cot­ton said in an email, ​"have been trig­gered by the gov­ern­ment ignor­ing its own laws by impos­ing dras­tic new labour prac­tices in the pub­lic sec­tor. It is no secret that this is a pre­cur­sor to the intro­duc­tion of wide­spread pri­va­ti­za­tion." Yet, despite labor's objec­tions, ​"every attempt by the unions to seek talks with the gov­ern­ment has been rejected."
Glob­al unions and human rights groups have been par­tic­u­lar­ly angered by the impris­on­ment of labor lead­ers in South Korea, includ­ing Han Sang-gyun, the pres­i­dent of the KCTU. He was sen­tenced in July to five years in jail after he was con­vict­ed on charges of orga­niz­ing a mas­sive ral­ly in Seoul last Novem­ber that was declared ille­gal by the government.
Dur­ing that demon­stra­tion, an activist, Baek Nam-gi, was knocked to the ground by police water can­nons and suf­fered seri­ous brain injury. His death on Sep­tem­ber 25 — and a stand-off with the gov­ern­ment over its attempt to seize Baek's body for an autop­sy — has sparked demon­stra­tions and vig­ils all over the coun­try, and has become a nation­al sym­bol of the strug­gle against author­i­tar­i­an rule and repression.
The ITF and PSI raised the arrests of Han and oth­er union lead­ers in a joint let­ter to the ILO in Sep­tem­ber. ​"The alarm­ing use of arbi­trary deten­tion and judi­cial harass­ment against (Kore­an) trade union­ists for orga­niz­ing and par­tic­i­pat­ing in pub­lic ral­lies is a major con­cern," the unions wrote in a let­ter signed by Cot­ton and PSI Gen­er­al Sec­re­tary Rosa Pavanel­li. ​"The ITF and the inter­na­tion­al union move­ment will nev­er accept the impris­on­ment of trade union lead­ers for legit­i­mate trade union activ­i­ties," Cot­ton added in his email.
The AFL-CIO spoke out in June when it issued a state­ment in sup­port of the KCTU's Han. And, in a ges­ture of sol­i­dar­i­ty this week, the fed­er­a­tion has invit­ed KCTU offi­cials to New York to speak at the Unit­ed Nations on a recent spe­cial rapporteur's report on free­dom of asso­ci­a­tion, the AFL-CIO's Fein­gold said. That report, issued in Jan­u­ary, crit­i­cized ​"a grad­ual regres­sion on the rights to free­dom of peace­ful assembly."
On Octo­ber 12, as the truck­ers' strike heat­ed up in Korea, unions from around the world joined in a glob­al day of sol­i­dar­i­ty with Truck­Sol and the Kore­an strik­ers. In San Fran­cis­co, a protest at the South Kore­an Con­sulate was led by Unit­ed Pub­lic Work­ers for Action, a coali­tion that seeks to unite work­ers in the pub­lic sec­tor. The cam­paign can be fol­lowed on Twit­ter at hash­tag #Kore­anStrike­for­Jus­tice.
The glob­al labor move­ment, the ITF's Cot­ton said, will ​"con­tin­ue to give every sup­port to work­ers in South Korea until the gov­ern­ment starts to respect inter­na­tion­al law and enters mean­ing­ful nego­ti­a­tions with the unions."
Tim Shorrock
is a Wash­ing­ton-based jour­nal­ist who grew up in Japan and South Korea. He is the author of Spies for Hire: The Secret World of Intel­li­gence Outsourcing.