The Other Aftershock
The Bush administration seeks normalization of ties with Indonesia and its brutal military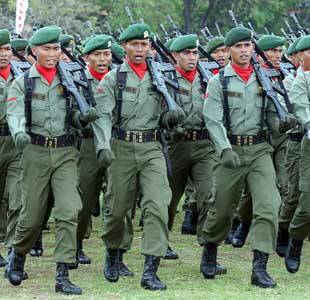 The Bush admin­is­tra­tion and the Pen­ta­gon are lever­ag­ing warmer post-tsuna­mi rela­tions with Indone­sia to con­vince Con­gress to lift its restric­tions on full mil­i­tary ties with the world's largest Mus­lim nation. But law­mak­ers and human rights groups say the Indone­sian gov­ern­ment must first account for its past abus­es in East Tim­or and end its repres­sive mil­i­tary tac­tics in sec­tions of the coun­try seek­ing independence.
"Many of my col­leagues and I firm­ly believe that now is not the time to advance efforts toward nor­mal­iz­ing mil­i­tary rela­tions," wrote Rep. Lane Evans (D‑Ill.), a mem­ber of the House Armed Ser­vices Com­mit­tee, in a Jan­u­ary 18 let­ter to Adm. Thomas Far­go, the com­man­der of the U.S. Pacif­ic Com­mand who is lead­ing the Pentagon's efforts. Evans' views are wide­ly held in Con­gress, where even Repub­li­cans are wary of the Indone­sian army, known as the TNI, and its record of cor­rup­tion and brutality.
The administration's push began in Jan­u­ary, when Deputy Defense Sec­re­tary Paul Wol­fowitz vis­it­ed Aceh province, where an esti­mat­ed 220,000 peo­ple were killed by the tsuna­mi. The U.S. mil­i­tary relief effort marked the high­est lev­el of U.S.-Indonesian coop­er­a­tion since 1991, when Con­gress imposed a ban on U.S. train­ing of Indone­sian offi­cers under the State Department's Inter­na­tion­al Mil­i­tary Edu­ca­tion and Train­ing (IMET) pro­gram. Upon his return, Wol­fowitz urged Con­gress to reeval­u­ate the IMET restric­tions. ​"We can have more pos­i­tive influ­ence that way," he told PBS's ​"Online News Hour."
The con­gres­sion­al ban, which also includes restric­tions on U.S. arms sales to Jakar­ta, was extend­ed in 2000 after mili­tias trained by the TNI ram­paged through East Tim­or on the eve of the country's his­toric inde­pen­dence vote, killing hun­dreds of peo­ple and wreck­ing the cap­i­tal city of Dili. Under leg­is­la­tion passed last fall, Con­gress declared that IMET train­ing can­not begin until the State Depart­ment con­firms that the Indone­sian gov­ern­ment has ful­ly coop­er­at­ed in the FBI's inves­ti­ga­tion into the August 31, 2002 mur­ders of two Amer­i­can employ­ees of the min­ing giant Freeport McMoRan dur­ing a mil­i­tary-style ambush in West Papua province.
After her tele­vised con­fir­ma­tion hear­ings, Sec­re­tary of State Con­doleez­za Rice told Con­gress that the admin­is­tra­tion is ​"cur­rent­ly eval­u­at­ing whether to issue the required deter­mi­na­tion." But she was unequiv­o­cal on the train­ing funds. ​"IMET for Indone­sia is in the U.S. inter­est," she said in a writ­ten response to ques­tions posed to her by Sen. Joseph Biden (D‑Del.). IMET, she added, will ​"strength­en the pro­fes­sion­al­ism of mil­i­tary offi­cers, espe­cial­ly with respect to the norms of demo­c­ra­t­ic civ­il-mil­i­tary rela­tions such as trans­paren­cy, civil­ian suprema­cy, pub­lic account­abil­i­ty and respect for human rights."
But recent actions by the TNI have not helped the administration's cause. At the time of the tsuna­mi dis­as­ter, Aceh had been closed to out­side observers and human­i­tar­i­an groups since May 2003, when mar­tial law was declared. By all accounts, TNI's fight­ing with the Free Aceh Move­ment (GAM) — the armed group seek­ing inde­pen­dence — has been savage.
Last Novem­ber, Human Rights Watch said it had ​"sub­stan­tial evi­dence" that Indone­sian secu­ri­ty forces ​"have engaged in extra-judi­cial exe­cu­tions, forced dis­ap­pear­ances, tor­ture, beat­ings, arbi­trary arrests and deten­tions, and dras­tic lim­its on free­dom of move­ment in Aceh." The watch group also cit­ed the ​"mas­sive inter­nal dis­place­ment" of ​"tens of thou­sands of civil­ians [who] have fled their homes or been forcibly relo­cat­ed by the mil­i­tary for oper­a­tional reasons."
A sim­i­lar sit­u­a­tion is unfold­ing in West Papua in the east­ern part of the arch­i­pel­ago. In Jan­u­ary, the TNI launched an offen­sive against the Free Papua Move­ment (OPM) — the group fight­ing for inde­pen­dence there — dri­ving an esti­mat­ed 14,000 peo­ple from their homes in the Cen­tral Highlands.
The TNI respond­ed to the tsuna­mi like it was an exten­sion of war. Inter­na­tion­al aid agen­cies arriv­ing on the scene object­ed to the military's severe restric­tions on human­i­tar­i­an oper­a­tions and its demands that all relief flow through the army. The TNI made the sit­u­a­tion worse by launch­ing attacks on GAM units and with­hold­ing relief from civil­ians sus­pect­ed of sup­port­ing the fight­ers. (In mid-Jan­u­ary, the TNI said it had killed 120 rebels and accused them of try­ing to derail aid efforts, a charge denied by GAM lead­ers.) Appar­ent­ly stung by inter­na­tion­al crit­i­cism, the new­ly elect­ed gov­ern­ment of Susi­lo Bam­bang Yud­hoy­ono sent a del­e­ga­tion to Fin­land on Jan­u­ary 28 to open talks with GAM's leadership.
Many U.S. law­mak­ers are still deeply uneasy about links between ele­ments of the TNI and fun­da­men­tal­ist Mus­lim groups inside of Indone­sia. More­over, the Indone­sian government's actions in West Papua, the site of the 2002 killings, is rais­ing more ques­tions about the TNI's ties to vio­lent mili­tia groups.
Last July, Attor­ney Gen­er­al John Ashcroft announced that a Wash­ing­ton grand jury had indict­ed Antho­nious Wamang in the attack on the min­ing employ­ees. Ashcroft iden­ti­fied Wamang as an ​"oper­a­tional com­man­der" of the mil­i­tary wing of the OPM. Rice, in her com­ments to Con­gress, said that the FBI had ​"uncov­ered no evi­dence indi­cat­ing TNI involve­ment" in the murders.
But accord­ing to Elsham, an inde­pen­dent human rights group in Papua that has inves­ti­gat­ed the attack, Wamang has close ties to the Indone­sian mil­i­tary. John Rumbi­ak, Elsham's direc­tor, told In These Times that Elsham has evi­dence that Wamang was ​"armed, wined and dined" by TNI offi­cers and was once flown by the mil­i­tary to Jakar­ta, where he stayed in lux­u­ry hotels cour­tesy of the TNI — his osten­si­ble enemies.
"The truth behind the killings of the two Amer­i­cans is that the TNI was involved," Rumbi­ak says. ​"The issue is, were these mil­i­tary peo­ple oper­at­ing as indi­vid­u­als or as an institution?"
Pat­sy Spi­er, a teacher who lost her hus­band in the 2002 Papua attack and was her­self seri­ous­ly wound­ed, said in an inter­view that she has ​"no doubt" that the FBI — which col­lect­ed its own foren­sic evi­dence in Indone­sia — had enough evi­dence to bring a case against Wamang. ​"But who ordered [the attack], and who sup­plied the guns and the ammu­ni­tion?" she asks.
Spi­er says the FBI has offered to return to Indone­sia to help appre­hend addi­tion­al par­tic­i­pants in the attack and assist in issu­ing indict­ments, but ​"Indone­sia hasn't respond­ed." This case ​"should remind us why the train­ing funds were held up in the first place," she said. ​"They've got to be will­ing to bring to jus­tice those peo­ple who are still in ser­vice for crimes com­mit­ted in Aceh, Papua and East Timor."
Tim Shorrock
is a Wash­ing­ton-based jour­nal­ist who grew up in Japan and South Korea. He is the author of Spies for Hire: The Secret World of Intel­li­gence Outsourcing.