Labor-Clergy Coalition To March on Nissan Plant in Mississippi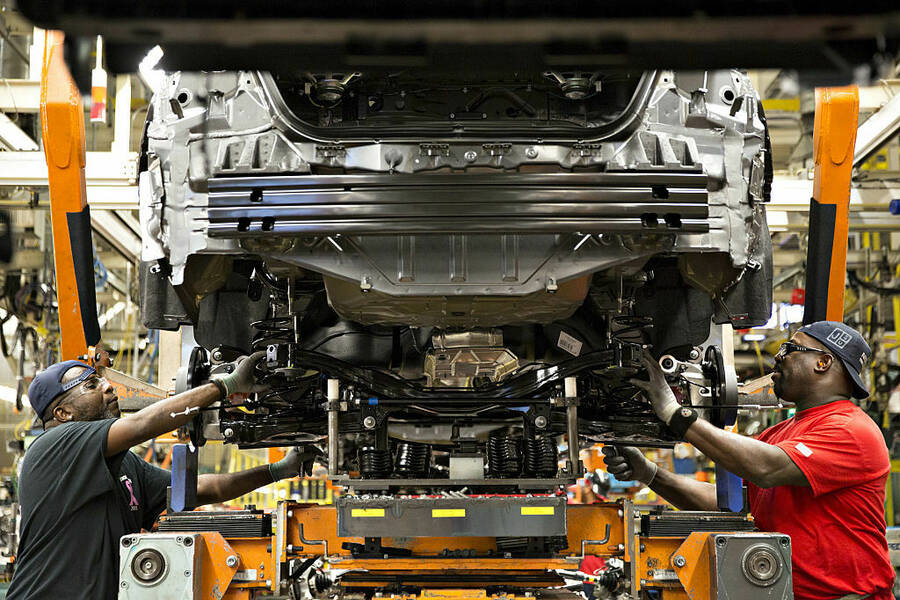 Work­ers, trade union­ists, cler­gy and social jus­tice activists will join Sen. Bernie Sanders, actor Dan­ny Glover and lead­ers of the NAACP for a march Sat­ur­day to sup­port work­ers at Nissan's giant auto plant in Can­ton, Mississippi.
The action is orga­nized by the Mis­sis­sip­pi Alliance for Fair­ness at Nis­san, a coali­tion of faith and civ­il rights lead­ers seek­ing to bring atten­tion to Nissan's labor prac­tices at the plant, where the vast major­i­ty of the 6,400 or so work­ers are African-Amer­i­can. The Unit­ed Autowork­ers Union (UAW) launched an orga­niz­ing dri­ve in Can­ton in 2012.
Specif­i­cal­ly, coali­tion lead­ers want Nis­san, a Japan­ese cor­po­ra­tion in part­ner­ship with France's Renault, to end what they claim are intim­i­da­tion tac­tics against rank-and-file activists seek­ing UAW rep­re­sen­ta­tion and cur­tail its use of tem­po­rary employ­ees, who make up about a quar­ter of the total workforce.
They also want to help Nis­san work­ers address con­cerns about safe­ty and work­ing con­di­tions and the company's arbi­trary deci­sions on work shifts and hours.
Nis­san has respond­ed that its hourly wages are far above the aver­age wage in Mis­sis­sip­pi and denies the accu­sa­tions of intim­i­da­tion. It issued a lengthy state­ment to the media say­ing that alle­ga­tions made about the com­pa­ny by the UAW are false.
"Nis­san respects and val­ues the Can­ton work­force, and our his­to­ry reflects that we rec­og­nize the employ­ees' rights to decide for them­selves whether or not to have third-par­ty rep­re­sen­ta­tion," Mis­sis­sip­pi News Now report­ed the com­pa­ny said.
"We believe that just as Nis­san and its Alliance Part­ner Renault respect the rights of work­ers in Japan, France, the Unit­ed King­dom, and across the globe, it must respect the right to orga­nize of its work­force in Mis­sis­sip­pi," the Mis­sis­sip­pi Alliance for Fair­ness at Nis­san said on its website.
The Can­ton plant was financed, in part, with hun­dreds of mil­lions in sub­si­dies from the state and began oper­at­ing in 2003. Work­ers at the plant make the pop­u­lar Nis­san Alti­ma and sev­er­al oth­er cars and pas­sen­ger vans, accord­ing to Nissan.
Nis­san is the world's fourth largest auto man­u­fac­tur­er and oper­ates four U.S. fac­to­ries employ­ing more than 22,000 work­ers (the oth­ers are in Smyr­na and Decherd, Ten­nessee). Glob­al­ly, the Renault-Nis­san Alliance makes about nine mil­lion cars a year, putting it behind mar­ket lead­ers Toy­ota, Volk­swa­gen and Gen­er­al Motors. The com­pa­ny is also the largest automak­er in Mex­i­co, where half of its pro­duc­tion of one mil­lion cars is export­ed to the U.S. market.
Trump and Abe on trade
But the strug­gle in Mis­sis­sip­pi is not only about a giant multi­na­tion­al cor­po­ra­tion. It also pos­es a direct chal­lenge to two key ele­ments of Japan's mas­sive eco­nom­ic engage­ment with the Unit­ed States, where it ranks sec­ond behind Great Britain as a for­eign investor, with a total of some $400 bil­lion in direct investments.
First, the march will con­front the vir­u­lent and his­tor­i­cal oppo­si­tion of Japan­ese auto mak­ers to union­iza­tion at their Amer­i­can plants, a strat­e­gy that has dri­ven most of their invest­ments to Mis­sis­sip­pi, Ten­nessee and oth­er states in the U.S. South where right-to-work laws make it dif­fi­cult to organize.
Sec­ond, it chal­lenges the close trade and eco­nom­ic rela­tion­ship devel­op­ing between Pres­i­dent Don­ald Trump and Japan­ese Prime Min­is­ter Shin­zo Abe.
Trump, of course, is an eco­nom­ic nation­al­ist who ran for office as a crit­ic of Japan­ese trade prac­tices, while Abe is a right-wing con­ser­v­a­tive eager to improve secu­ri­ty ties with the Unit­ed States. Since Trump's elec­tion, the two lead­ers have met twice, once at Trump Tow­er in New York and again in Feb­ru­ary at the White House. Lat­er, they played golf at Trump's vaca­tion home in Florida.
In Jan­u­ary, Trump announced that the Unit­ed States would with­draw from the Trans-Pacif­ic Part­ner­ship (TPP), a free trade pro­pos­al that Abe had backed. In mak­ing the case against TPP, Trump sharply attacked Japan for not buy­ing U.S. cars.
Japan, he said, does ​"things to us that make it impos­si­ble to sell cars in Japan, and yet, they sell cars into us and they come in like by the hun­dreds of thou­sands on the biggest ships I've ever seen."
Japan runs the fourth-largest trade sur­plus with the Unit­ed States after Chi­na, Mex­i­co and Ger­many. It export­ed more than 1.6 mil­lion vehi­cles to Amer­i­ca in 2015, accord­ing to Bloomberg. The Unit­ed States, mean­while, sold less than 19,000 vehi­cles to Japan.
That's cre­at­ed a strong incen­tive for Japan­ese com­pa­nies like Nis­san to step up their invest­ments, said Dr. Ronald Morse, a for­mer U.S. State Depart­ment offi­cial who spent decades mon­i­tor­ing Japan­ese eco­nom­ic activ­i­ty in the Unit­ed States.
"I see the auto issue com­ing back," Morse told reporters at a ses­sion on Japan­ese influ­ence last month. He not­ed that many Trump vot­ers were ​"blue col­lar auto work­ers" in Michi­gan, Ohio and Wis­con­sin. ​"They expect more autos to be made in the USA," he said.
Abe respond­ed to Trump with a plan to invest heav­i­ly in the Unit­ed States. At their Feb­ru­ary meet­ings, the two lead­ers agreed to strength­en bilat­er­al ties with a new ​"eco­nom­ic dia­logue" that would tack­le a broad range of issues, includ­ing trade, fis­cal poli­cies and cyber­se­cu­ri­ty. Backed by Japan's busi­ness com­mu­ni­ty, Abe also pledged to invest in U.S. man­u­fac­tur­ing and infra­struc­ture projects, includ­ing high-speed rail.
"

We pre­fer a union-free shop"

Nis­san was one of the first Japan­ese automak­ers to invest in the Unit­ed States dur­ing the 1980s, when pro­tec­tion­ist pres­sures over the loss of U.S. man­u­fac­tur­ing jobs to for­eign rivals became a hot polit­i­cal issue.

But from the begin­ning, Nis­san made clear that it did not want union shops at its plants. This was made abun­dant­ly clear to me when I returned to Japan in 1983 short­ly after Nis­san first start­ed pro­duc­ing cars in Smyr­na, Tennessee.

"We pre­fer a union-free shop," I was told by Eguchi Yuk­i­ho­to, a Nis­san vice pres­i­dent. To achieve Nissan's ​"objec­tive" of high-qual­i­ty vehi­cles, ​"we con­sid­er it essen­tial to main­tain a direct, first hand con­tact and dia­logue with work­ers. There's no need for a third par­ty," he said.

The company's oppo­si­tion to unions was a nat­ur­al evo­lu­tion of its own his­to­ry in Japan, where auto unions tend to sup­port man­age­ment and are far less com­bat­ive than their coun­ter­parts in the Unit­ed States. But this was not always the case. Dur­ing the Cold War, work­ers and unions — spurred by reforms to labor law required by U.S. occu­pa­tion forces — often clashed with management.

Dur­ing one such strug­gle, Nis­san became leg­endary in Japan­ese indus­try for crush­ing one of the country's most mil­i­tant unions. This hap­pened in 1953 dur­ing a famous 100-day strike against Nis­san. The com­pa­ny used the strike to break a pow­er­ful, left-wing union that was one of the most influ­en­tial in Japan.

The Con­fed­er­a­tion of Japan Auto­mo­bile Work­ers' Unions (JAW), the union that took over, soon became a sym­bol of the com­pa­ny union-style of labor rela­tions that can still be seen in cer­tain Japan­ese indus­tries today. Its web­site actu­al­ly cel­e­brates the dis­so­lu­tion of ​"Zen Jidosha," as the mil­i­tant union was known.
"

Learn from these Nis­san workers"

It was pre­cise­ly to avoid unions with the abil­i­ty to strike that Nis­san and its Japan­ese, Kore­an and Euro­pean coun­ter­parts con­cen­trat­ed their invest­ments in states like Mis­sis­sip­pi and Ten­nessee. There were a few exceptions.

In 1983, for exam­ple, Toy­ota cre­at­ed a joint ven­ture with Gen­er­al Motors at a GM plant in Fre­mont, Cal­i­for­nia, where work­ers were rep­re­sent­ed by the UAW. And Maz­da, in a part­ner­ship with Ford, took over a union­ized plant in Flat Rock, Michi­gan, for a while. But when it came to 100 per­cent Japan­ese invest­ment, unions were not welcome.

Nissan's plant in Smyr­na, for exam­ple, remains non-union after two attempts to orga­nize work­ers by the UAW lost by near­ly 2 – 1 mar­gins in 1989 and 2001, accord­ing to a 2012 analy­sis by labor writer Jane Slaugh­ter. Eleven years lat­er, the UAW announced a pub­lic cam­paign to orga­nize the Nis­san plant in Can­ton, start­ing with a ral­ly in June 2012.

That cam­paign was part of a broad­er $60 mil­lion UAW cam­paign to orga­nize the South. At the time, the union pro­posed that both sides pledge to abstain from intim­i­da­tion and threats, pro­vide equal access to work­ers and agree not to dis­par­age the other.

"Not sur­pris­ing­ly, none of the German‑, Korean‑, or Japan­ese-owned com­pa­nies that oper­ate 14 assem­bly plants in the U.S. accept­ed [the] offer," Slaugh­ter wrote.

Now Nis­san work­ers are expe­ri­enc­ing the brunt of those intim­i­da­tion tac­tics, the Mis­sis­sip­pi Alliance orga­niz­ing this week's demon­stra­tion at Can­ton claims. Its web­site is filled with exam­ples of unfair treat­ment. Signs at a recent protest orga­nized by the UAW pro­claimed, ​"Labor rights are civ­il rights."

Nis­san may be vul­ner­a­ble to boy­cotts, sug­gest­ed Morse, who has con­sult­ed with sev­er­al Japan­ese cor­po­ra­tions. Nissan's biggest con­sumers, he said, are African-Amer­i­can and Lati­no cus­tomers. If enough of those buy­ers are moved by the demon­stra­tions and protests on Sat­ur­day, per­haps Nis­san might be forced to change its poli­cies. Although nobody has sug­gest­ed a boy­cott, actor Glover has urged peo­ple to ​"learn from these Nis­san workers."

"Lis­ten to them," he said to a recent com­mu­ni­ty meet­ing at The Uni­ver­si­ty of Mis­sis­sip­pi, accord­ing to the school's news­pa­per. ​"Take a look at their jour­neys, and make them a part of yours … The egre­gious sit­u­a­tion in which these work­ers find them­selves is unac­cept­able and atrocious."
Tim Shorrock
is a Wash­ing­ton-based jour­nal­ist who grew up in Japan and South Korea. He is the author of Spies for Hire: The Secret World of Intel­li­gence Outsourcing.