La Résistance
Under right-wing reform, strikes spread across France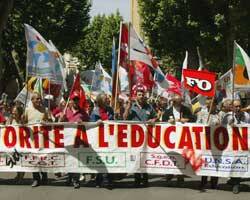 Reader donations, many as small as just $1, have kept In These Times publishing for 45 years. Once you've finished reading, please consider making a tax-deductible donation to support this work.
Perpignan, France
—"He who doesn't listen to the streets is deaf to democracy," warns a huge banner draped across the city council building in this village in southern France. It's a message French Prime Minister Jean-Pierre Raffarin heard loud and clear over several weeks in May, as hundreds of thousands of teachers, bureaucrats, and postal, transport, and medical workers went on strike across the country to protest government plans for reforming the state education and pension systems.
On this sunny day in late May, several thousand teachers, students, parents and kids marched through Perpignan, voicing their anger at moves to decentralize schools and universities and make public sector employees work longer before retirement. It's a scene that has been repeated regularly. The number of demonstrators vary, but the slogans remain the same: "Education Is a Right, Not a Market" and "Save Our Retirement." At the university, students found the gates barricaded and end-of-year exams postponed. This provincial college has seen some of the most militant action in France, its staff fearing that proposals to give universities more autonomy will lead to policies favoring larger establishments.
After several weeks of protest, they achieved a small victory: Raffarin's center-right government decided to delay drawing up legislation on education reform until the autumn. But many teachers doubt that ministers are prepared to negotiate on the main principles of their decentralization project. Further, the government's refusal to back down on pensions has infuriated some of the country's most powerful unions. On May 28, the day the cabinet approved pension reform proposals described by President Jacques Chirac as "urgent" and "just," four of those unions appealed to workers to step up their mobilization against the government. "Only a broadening of the movement," they said in a statement, "in both the public and private sectors, which stays the course, can force the government to turn back from its disastrous choices."
Bruno Palier, a researcher at the Center for the Study of French Political Life, describes the government's tactics as "very clumsy." He points out that, earlier this year, unions had agreed the pension system needed more funds to make up for the big shortfalls expected in coming decades. But to achieve this, their preference was to boost employment and increase the burden on employers—measures the government has rejected in favor of bringing the number of years public employees must work in line with the private sector. "The government said it wanted reform," says Palier, "but when it received the unions, it didn't say exactly what it planned to do until afterwards. Neither has the government been clear about the impact of the changes. People won't accept sacrifice without knowing what is going on. There is no sense that the government is listening."
Despite the widespread popularity of Chirac's opposition to the war in Iraq, the government's perceived arrogance on domestic policy has dented its approval ratings in the polls. Many left-wing voters are still bitter about last year's presidential elections, when out-of-touch Socialist Party candidate Lionel Jospin lost heavily in the first round. Given a choice between the far-right nationalist policies of Jean-Marie Le Pen and Chirac's center-right platform, they opted for the lesser of two evils. But as Palier explains, the result was that, "One and a half months later, Chirac's party had a real majority in the National Assembly and interpreted that as a mandate for strong government."
France's socialists now feel betrayed, regarding plans for "reform" and "decentralization" as a route to the back-door privatization of public services. This underlying fear is the driving force behind the current wave of protest. "The general perception among unions and the working population is that, in the name of the European Union and business competitiveness, the government wants to do away with social protection," says Jean-Francois Merçier, an economist at Citigroup. "And there is very strong resistance to that. In France, you can't get away with a sudden switch to a social and economic system like that of the United States or Britain."
Most analysts agree that, unless France's present social conflict snowballs into a crippling general strike, it is unlikely to lead to the immediate downfall of the government. The key question is whether the Socialist Party can regroup and form credible policy alternatives in time to prevent a further splintering of the left. Palier fears not. "I hope that all sides in today's impasse can find a solution which allows them to think they have won something. Because what is happening now is good for Le Pen and the National Front. It seems that each successive government is simply moving against the people, and only one party [the National Front] is speaking for the people. And when governments don't listen, people end up voting for extremists."
Your donation makes In These Times possible