Their Day in Court
Nicaraguan banana workers may finally get justice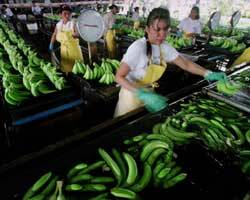 Claudia Blanco used to put in an exhausting workday at the Finca San Carlos banana plantation in Chinandega, Nicaragua. She would get up at 3 a.m. to prepare food for her children, leave for the plantation at 6 a.m., work in the fields all morning, and then pack bananas until 8 p.m.—all for a dollar a day. Meager as it was, she needed the money.

Two years ago, however, she was sacked for defending the workers' right to a collective bargaining agreement. Now, as the women's representative for the Rural Workers' Association, she works to improve labor conditions for her colleagues, especially to win justice for workers poisoned by pesticides.

Health problems are rampant in Chinandega, including sterility, cancers, and birth defects in children. According to La Jornada, a third of women tested in Chinandega's Profamilia clinic in mid-2001 were found to have breast or uterine cancer. Blanco herself recently had an operation for breast cancer, which she believes was caused by pesticide exposure. Specifically, Blanco and her colleagues are worried about dibromochloropropane (DBCP), a pesticide agent the United States banned in 1979 but which is still used on Nicaragua's banana plantations. As yet, there is no scientific proof that such cancers are caused by DBCP, but research has shown that the agent causes sterility in men, and it is now widely thought to increase the risk of tumors.

Attorney Walter Gutiérrez has sued several multinationals that allegedly sold or used pesticides containing the chemical in Nicaragua. "The companies' obligation was to let the workers know [DBCP was potentially harmful], so that they could protect themselves," Gutiérrez argues. "This stuff was dumped on them."

Last December, a Nicaraguan judge ordered Dow Chemical, Shell Chemical, and Standard Fruit (an affiliate of Dole Food Co.) to pay $489 million to 468 banana workers allegedly affected by DBCP. So far, however, the companies have refused to recognize the ruling.

The workers have filed suit in Los Angeles to get the judgment enforced in the United States, but Dow and Shell have hit back, requesting that the case be transferred from state to federal court, a tactic that aims to ensure that the lawsuit is heard without a jury. Attorney Christian Hartley recently won a Supreme Court case to stop Dole from getting a similar lawsuit transferred to a federal court. Now he expects the suit to resume in the Hawaii State Court this autumn after a six-year delay.

Dole argued in a May 6 filing with the Securities and Exchange Commission that a Nicaraguan law enacted in 2001 permitting the banana workers to prosecute multinationals is "unconstitutional and violates international due process." And the Office of the U.S. Trade Representative identified the law as an obstacle to investment in this year's report on foreign trade barriers. In the coming months, U.S. officials negotiating the Central America Free Trade Agreement will be aiming to establish rules that prevent similar legislation.

Litigation may be banana workers' best hope to protect themselves from DBCP, according to Arthur Frank, professor of public health at Drexel University. "More progress is made in the protection of consumers and workers in the law courts than in any other branch of government," he explains. "When companies are attacked in their pocketbooks, they see to making changes."

In the face of growing concern, many multinationals involved in the banana industry say they are now making efforts to conduct their business in an environmentally and socially responsible manner. Yet voluntary codes of conduct have not provided adequate safeguards. Alistair Smith, international co-ordinator for Banana Link, a British organization that campaigns for sustainable production and trade in bananas, says companies could do more: "We can't expect these companies to do away with chemicals completely. But we can expect them to rationalize their use, and look for alternative, less toxic methods of production."

Meanwhile, Gutiérrez says that three Nicaraguan banana workers die a month of DBCP-related diseases, unable to pay for medical treatment. For some, the outcome of the current legal proceedings and any resulting compensation will come too late to make a difference.