Labor and Living Wage Advocates Thwart Wal-Mart in D.C.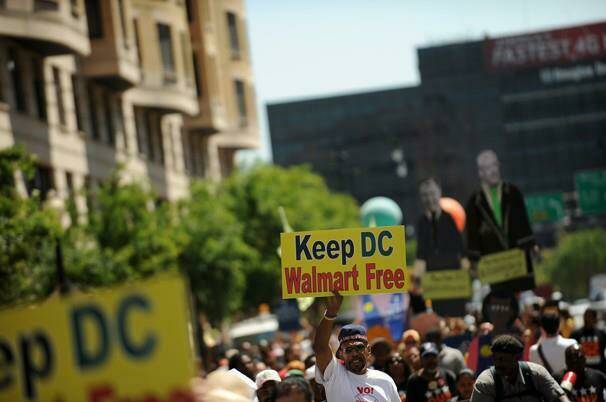 The D.C. City Council voted 8-5 on Wednesday to pass a long-awaited living wage ordinance, defying Wal-Mart and its corporate allies, who have lobbied for years to kill the bill. The Large Retailer Accountability Act (LRAA) raises the minimum wage at large retail stores in the district from $8.25 to $12.50.
The bill's passage marks a victory for an array of local activists who gathered behind it, including Respect D.C., a group backed by the United Food and Commercial Workers International Union (UFCW).
Although the legislation applies to all retailers with over $1 billion in annual profits and at least 75,000 square feet of indoor store space, it particularly aggravated Wal-Mart, which was planning to build six stores in the city and had begun construction on three.
Beginning in November 2010, Wal-Mart mounted an extensive public relations campaign to earn the support of D.C. residents and politicians for its stores. The blitz peaked on Tuesday with an opinion piece in the Washington Post penned by Wal-Mart regional general manager Alex Barron threatening to drop the plans for the three unbuilt stores if the LRAA passed — a stance Wal-Mart reiterated after the vote. To become law, the measure still needs a signature from Mayor Vincent Gray, who has indicated concerns but has not yet said whether he plans a veto.
​"Nothing has changed from our perspective: We will not pursue [three of the planned stores] and will start to review the financial and legal implications on the three stores already under construction," Wal-Mart spokesperson Steven Restivo told Working In These Times. ​"This was a difficult decision for us — and unfortunate news for most D.C. residents — but the Council has forced our hand."
As Mayor Gray deliberates, the bill is still up in the air. But for now, Wal-Mart has suffered an unprecedented defeat. Regardless of whether Wal-Mart builds three stores or six, there are major implications for the company.
In recent years, Wal-Mart has sought to move from its traditional rural and suburban base into more urban markets—eyeing Boston, Seattle, Philadelphia, New York City and the District of Columbia. But expanding into cities like these, which have a high cost of living and strong union presence, poses a set of unfamiliar challenges to the Arkansas-based corporation's low-wage, anti-labor model.
So when Wal-Mart announced it was moving into the nation's capital in November 2010, it prepared to win over the community. As part of that effort, Wal-Mart donated more than $2 million to Washington-area charities between February 2011 and January 2012. It held public meetings, sponsored local events, and hired some of the most effective lobbyists in the city. In 2012 alone, the company reportedly donated almost $4 million to charities. While avoiding the obligations of a binding agreement, representatives even told a group of local religious leaders that Wal-Mart would pay its D.C.-employees $13 an hour. In order to appease the newly elected mayor, the company promised to build a store in Vincent Gray's neighborhood, located in the working-class Southeast quadrant of the city.
"[Wal-Mart] think[s] they should be able to do whatever they want. They want to maintain the power that they have over their workers and communities," Mike Wilson, the lead organizer on the living wage campaign for Respect D.C., tells Working In These Times. ​"I think they're very much afraid of the precedent being set that the communities they're trying to come into actually have some power over them, and not just Wal-Mart having power over the communities."
This multi-year public relations blitz makes the bill's passage all the more remarkable. It was propelled by a groundswell of grassroots support cultivated by the campaign, which had its roots in churches, an array of community activists and organized labor. UFCW Local 400, which represents workers at Safeway locations across the city and is concerned that a minimum-wage, non-unionized competitor will drive down wages, was a linchpin.
With Wal-Mart's arrival to the city all but certain, activists were determined to create some set of standards. Wilson says that activists and community leaders met with Wal-Mart representatives soon after the company announced its intentions to move into D.C., but that it became clear Wal-Mart had no interest in negotiating any kind of binding agreement concerning workers' wages or benefits. Wal-Mart may have told a group of church leaders it would pay $13 an hour, but on other occasions, the company cited its average pay of $12.78 to activists — a number that made Wilson and others suspicious. That figure, which excludes part-time workers and includes department managers, is highly disputed. Once it became obvious that a binding labor agreement with Wal-Mart was unlikely, Respect D.C. decided to get behind the big-box legislation introduced in January of this year by Council Chairman Phil Mendelson.
In the past, similar legislation by Mendelson had failed to gain traction on the council. But this time, Mendelson was council chair, and the make-up of the council had changed. The conditions were ripe for an emboldened grassroots campaign, now exasperated from unproductive negotiations with Wal-Mart, to make its move.
Dozens of cities have passed living-wage bills in the last several years, although the D.C. bill is rare in that it is directed specifically at large retailers. (Chicago passed a similar ​"big box minimum wage ordinance" in 2006, which was vetoed by then-Mayor Richard M. Daley). While the business community has warned the LRAA will significantly damage Washington's mounting attraction for capital, supporters have countered that the city is already growing at unprecedented rates. The city, which the Wall Street Journal dubbed ​"The New Boomtown" in a recent article, is experiencing rapid population growth and soaring real estate values.
A city-wide wage increase on large retailers will likely have negligible effects on those stores, says Jack Temple, a policy analyst at the National Employment Law Project. He argues that the benefits of tapping into a new market like D.C. typically outweighs any additional labor costs for employers.
While higher wages don't necessarily hurt large retailers' profit margins, there is evidence that they do provide substantial benefits to retail workers.
An April 2011 study from UC-Berkeley's Center for Labor Research and Education found that establishing a minimum wage of $12 for Wal-Mart workers nationwide would have a significant impact on workers living in poverty or near the poverty line. The researchers estimate that over 40 percent of the pay increase would go to workers in families with total incomes below 200 percent of the federal poverty level.
If Gray vetoes the bill, the D.C. Council will have 30 days to override it. Doing so requires a two-thirds majority, which means one council member would need to change sides for the bill to overcome a veto.
Be one of the first
Help kick off the new era of In These Times! Without a media that brings people together and creates a written record of the struggles of workers, their voices will be fragmented and forgotten.
The mission of In These Times is to be that written record, and to guide and grow those movements.
We have a lot of work ahead of us, and that work starts today. Early support is the most valuable support, and that's why we're asking you to pitch in now. If you are excited for this new era of In These Times, please make a donation today.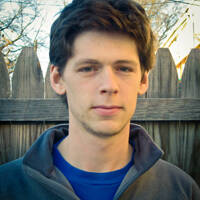 Cole Stangler
writes about labor and the environment. His reporting has also appeared in The Nation, VICE, The New Republic and International Business Times. He lives in Paris, France. He can be reached at cole[at]inthesetimes.com. Follow him
@colestangler
.