Why Are These Labor Unions Opposing Medicare for All?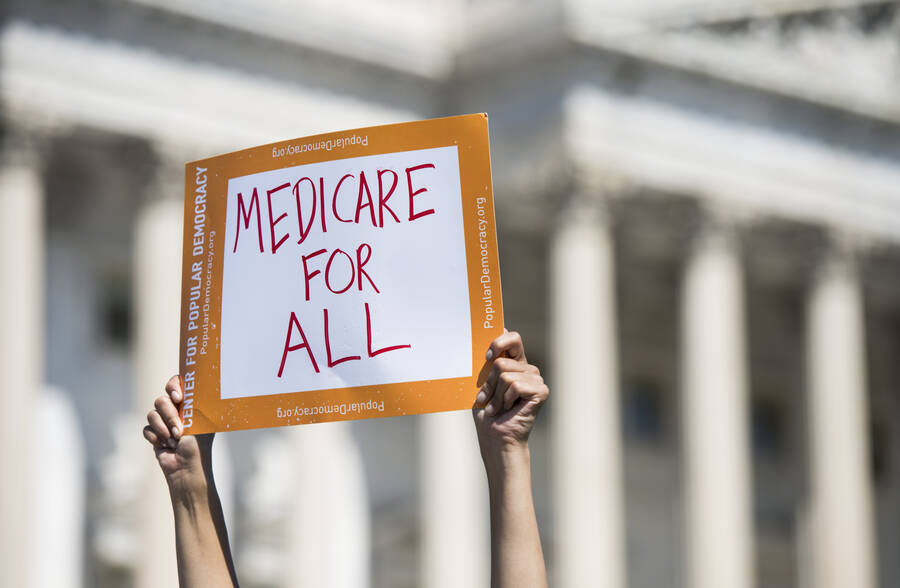 For sev­en years, health­care activists in New York have been push­ing the New York Health Act, a sin­gle-pay­er bill that would pro­vide statewide uni­ver­sal health cov­er­age. Hopes for the bill's chances were buoyed this year, as a new class of Democ­rats won elec­tion to the state leg­is­la­ture. But now the plan's path for­ward could be called into ques­tion, thanks to oppo­si­tion from labor unions in the state.
A recent Politi­co sto­ry reports that sev­er­al New York City munic­i­pal unions, part of an umbrel­la group called the New York City Munic­i­pal Labor Com­mit­tee, have seri­ous qualms about the bill. Togeth­er, city unions rep­re­sent some 380,000 pub­lic employ­ees. Mean­while, a num­ber of more con­ser­v­a­tive unions — includ­ing the The New York State Build­ing & Con­struc­tion Trades Coun­cil and the Uni­formed Fire­fight­ers Asso­ci­a­tion of Greater New York — are out­right oppos­ing the pro­pos­al. These unions have joined a new ini­tia­tive called ​"Real­i­ties of Sin­gle Pay­er" — backed by a coali­tion of health­care indus­try and busi­ness groups — that seeks to kill the legislation.
Such moves reflect a com­pli­cat­ed rela­tion­ship between the labor move­ment and the fight for Medicare for All, which is play­ing out in var­i­ous ways at both the state and nation­al levels.
While unions com­prised of nurs­es and health­care work­ers have num­bered among sin­gle payer's most ded­i­cat­ed back­ers, many oth­ers main­tain rel­a­tive neu­tral­i­ty. The AFL-CIO offi­cial­ly endorsed the pol­i­cy in 2009, but many activists char­ac­ter­ize labor sup­port as exist­ing large­ly on-paper. The sto­ry of 20th-cen­tu­ry health­care reform in Amer­i­ca, how­ev­er, makes a per­sua­sive case that mobi­liz­ing orga­nized labor remains a deci­sive fac­tor when it comes to chang­ing health­care policy.
If his­to­ry is any indi­ca­tion, the prog­no­sis for Medicare for All may well rely on enthu­si­as­tic labor sup­port. In the 1940s, labor became a major backer of uni­ver­sal health­care. By the ear­ly 1950s how­ev­er, after sev­er­al years of hard-fought bar­gain­ing for mem­bers' health­care through pri­vate employ­ers, orga­nized labor shift­ed its ener­gies away from the bat­tle to pass nation­al health insur­ance. By the 1960s, the AFL-CIO's abil­i­ty to mar­shal thou­sands of retirees to orga­nize on behalf of a pub­lic health insur­ance pro­gram for the elder­ly proved piv­otal in ensur­ing Medicare's ulti­mate pas­sage in 1965.
At first glance, orga­nized labor's luke­warm enthu­si­asm for Medicare for All may appear counter-intu­itive. After all, health­care ben­e­fits are often the pri­ma­ry stick­ing point between man­age­ment and employ­ees dur­ing con­tract nego­ti­a­tions. Ever-ris­ing health­care costs have put immense pres­sure on the bar­gain­ing process, and many union­ized work­ers have seen their plans dete­ri­o­rate as a result. Recent high-pro­file labor dis­putes have fre­quent­ly boiled down to health insur­ance, includ­ing the wave of teach­ers' strikes that has rip­pled from state-to-state.
In short, unions have been forced to fight tooth-and-nail just to keep what­ev­er health­care pol­i­cy they can — and it's easy to see why, under polit­i­cal siege from the Right, they're in sur­vival mode defend­ing rudi­men­ta­ry work­ers' rights. But with access to uni­ver­sal pub­lic health­care, it's easy to imag­ine labor free to spend its ener­gy fight­ing for high­er wages and bet­ter work­place con­di­tions instead.
And yet, such bat­tles may be pre­cise­ly why unions hes­i­tate to go all-in for sin­gle-pay­er in the first place: the health insur­ance they are able to win tends to be bet­ter than that of their non-union peers. In a post-Janus world, unions' finan­cial sup­port relies on per­suad­ing mem­bers to vol­un­tar­i­ly pay dues — and what bet­ter proof of their indis­pens­abil­i­ty than ensur­ing mem­bers' access to high-qual­i­ty health­care? As ardu­ous as con­tract fights over fringe ben­e­fits have become in recent years, they nev­er­the­less remain a key advan­tage of union jobs.
More­over, many play­ers in the labor move­ment have attempt­ed to weath­er their decades-long decline by strong­ly ally­ing with the Demo­c­ra­t­ic estab­lish­ment, which has at times soft­ened the worst blows on unions lobbed by Republicans.
As long as cred­i­ble action toward Medicare for All remains scarce among elect­ed Democ­rats, advanc­ing the pol­i­cy demands a con­fronta­tion with the par­ty estab­lish­ment — some­thing most labor lead­ers so far seem unwill­ing to do. Nowhere is this dynam­ic stark­er than in New York, where union den­si­ty is strongest. The com­bi­na­tion of rel­a­tive­ly gen­er­ous health ben­e­fits among union work­ers in the state and entrenched Demo­c­ra­t­ic Par­ty ties helps explain the spot­ty labor sup­port for state-lev­el sin­gle pay­er legislation.
Recent polit­i­cal shifts with­in the Demo­c­ra­t­ic Par­ty, how­ev­er, sug­gest this dynam­ic could soon change. Medicare for All has made unde­ni­able inroads since Pres­i­dent Trump took office, and the plan backed by Sen. Bernie Sanders has been embraced by prac­ti­cal­ly every seri­ous con­tender for the 2020 Demo­c­ra­t­ic pres­i­den­tial nom­i­na­tion, as well as a third of Sen­ate Democrats.
As a result, Medicare for All will like­ly cease to be the polit­i­cal third rail it once was, and groups — includ­ing orga­nized labor — that cam­paign for the pol­i­cy will be assum­ing a less adver­sar­i­al role than they would have been in pre­vi­ous elections.
Yet union lead­er­ship may remain slow to take up the cause, in which case it will depend upon rank-and-file mem­bers to ush­er in change. One mem­ber of the IATSE 700 Edi­tors' Guild who spoke on the con­di­tion of anonymi­ty to be more can­did, lob­bied his union to endorse sin­gle-pay­er and told me about how recep­tive his col­leagues were to the idea.
"The first thing I usu­al­ly say to them is that it's pos­si­ble to get so sick you can't bank your hours, and you lose insur­ance — that hap­pened to my dad," he said. ​"And once you say that, they intu­itive­ly get it. Every­one has had the expe­ri­ence of work­ing when they don't feel up to it, just to make sure they qual­i­fy for insurance."
In the end, after a long slog to get a spot on the annu­al meet­ing agen­da and despite wide­spread sup­port, he failed to get his union behind the Medicare for All cam­paign. Instead, the union's ener­gy and resources was direct­ed else­where — on anoth­er con­tract fight over health­care benefits.
"I was frus­trat­ed at the time, all of the oxy­gen in the orga­ni­za­tion was going into this con­tract fight," the union mem­ber recount­ed. ​"The locals don't want to work on long-term polit­i­cal fights, so rank-and-file needs to lob­by them and run for lead­er­ship posi­tions. Unions are very used to fight­ing for their own ben­e­fits — they'll be effec­tive fight­ing for uni­ver­sal ones too."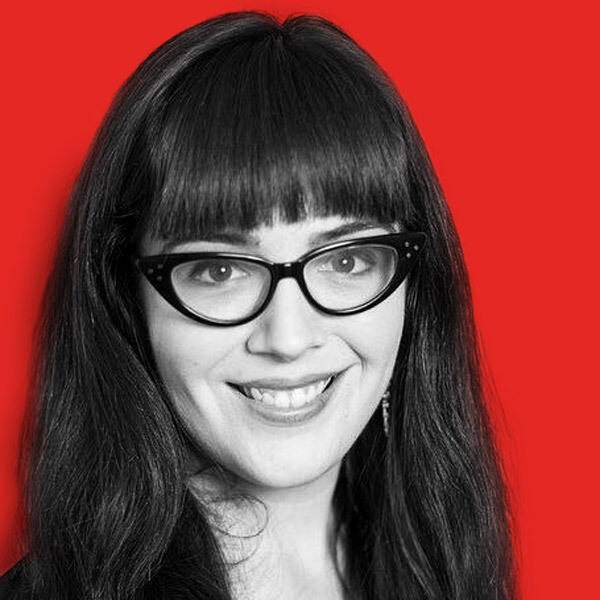 Natal­ie Shure
is a Los Ange­les-based writer and researcher whose work focus­es on his­to­ry, health, and politics.