Labor's Last Stand?
A grassroots movement grows after Mexico shuts down a national electric company.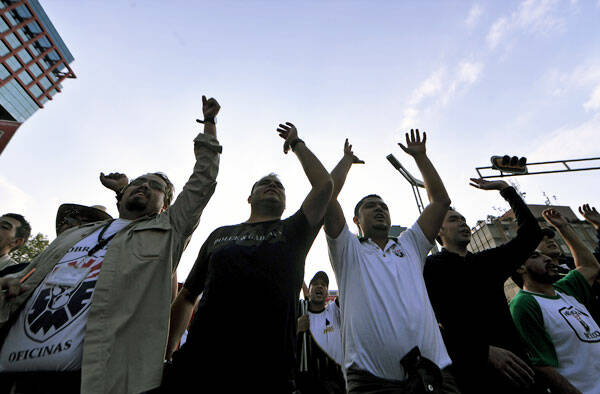 MEX­I­CO CITY – Fol­low­ing the sur­prise liq­ui­da­tion order of a state-owned elec­tri­cal util­i­ty and the fir­ing of 44,000 elec­tri­cians, Mex­i­co could face an assault on union­ism as Pres­i­dent Felipe Calderon's admin­is­tra­tion seeks to remove bar­ri­ers to cor­po­rate prof­its and pri­va­tize nation­al­ized elec­tric­i­ty and oil industries.
Organizers billed the December 4 protest as a symbolic "taking of Mexico City," echoing the actions of Pancho Villa and Emiliano Zapata during the Mexican Revolution a century ago.
On Octo­ber 11, Calderon unex­pect­ed­ly ordered the elim­i­na­tion of one of Mexico's two nation­al­ized elec­tric­i­ty com­pa­nies, Cen­tral Light and Pow­er (Luz y Fuerza del Cen­tro). Claim­ing oper­a­tions left an ​"unten­able finan­cial sit­u­a­tion," 44,000 union­ized work­ers were uncer­e­mo­ni­ous­ly fired, their work sites occu­pied by fed­er­al police in riot gear.
Luz y Fuerza employ­ees were mem­bers of the Mex­i­can Elec­tri­cians Union (SME), the country's fierce­ly inde­pen­dent and demo­c­ra­t­ic union. Many see the fir­ings as an effort to break SME and depose a long­time bar­ri­er to pri­va­ti­za­tion of the country's elec­tri­cal grid.
Civ­il soci­ety has joined the union in the streets, with hun­dreds of thou­sands of demon­stra­tors in Mex­i­co City demand­ing the liquidation's rever­sal. On Novem­ber 11, protests and high­way block­ades par­a­lyzed the world's third largest city for a day, an event called ​"unprece­dent­ed" in Mex­i­can his­to­ry by the dai­ly news­pa­per La Jor­na­da.
On Decem­ber 4, SME mem­bers and their sup­port­ers filled the huge plaza sur­round­ing the Mon­u­ment to the Rev­o­lu­tion to again demand their rehir­ing. Union lead­ers called for a gen­er­al strike in ear­ly 2010.
Orga­niz­ers billed the Decem­ber 4 protest as a sym­bol­ic ​"tak­ing of Mex­i­co City," echo­ing the actions of Pan­cho Vil­la and Emil­iano Zap­a­ta dur­ing the Mex­i­can Rev­o­lu­tion a cen­tu­ry ago.
Ale­jan­dro Gar­cia trav­eled 10 hours from the south­east­ern state of Chi­a­pas with 60 car­loads of poor farm­ers for the ral­ly. SME's elim­i­na­tion, he says, is a move toward sell­ing the country's elec­tric­i­ty to for­eign cor­po­ra­tions. ​"SME's fight is our fight," he says. ​"They want to pri­va­tize every­thing in the coun­try. To do that, they first need to elim­i­nate the union. But the elec­tric­i­ty is ours, and we are oblig­at­ed to defend it – and SME."
Calderon's move has drawn com­par­isons to Ronald Reagan's 1981 fir­ing of the Pro­fes­sion­al Air Traf­fic Con­trollers Orga­ni­za­tion (PAT­CO). In that year, more than 11,000 con­trollers struck for bet­ter work­ing con­di­tions. Cit­ing an anti-strike law for pub­lic employ­ees, Rea­gan promised to fire work­ers refus­ing to return to work with­in 48 hours. The strik­ers stayed out, and Rea­gan fol­lowed through, axing the con­trollers and black­list­ing them from fed­er­al employ­ment for life.
The fir­ing was a turn­ing point for Amer­i­can labor. The tepid response by the AFL-CIO under the lead­er­ship of Lane Kirk­land paved the way for future attacks on the union move­ment and its past vic­to­ries. The same could hap­pen in Mexico.
"We've nev­er seen such a strong attack on a nation­al­ized indus­try," said Fran­cis­co Reta­ma, union advis­er for the Cen­ter for Labor Inves­ti­ga­tion and Union Coun­sel, a Mex­i­co City labor think tank. ​"They want to deep­en the appli­ca­tion of the neolib­er­al mod­el, set­ting the stage for larg­er pri­va­ti­za­tion and labor reform." The lat­ter, cur­rent­ly being dis­cussed in Con­gress, would weak­en Mexico's work­er pro­tec­tion laws .
But unlike Amer­i­cans fol­low­ing the PAT­CO strike, Mex­i­cans have ral­lied behind SME. ​"A large sec­tor of the pub­lic iden­ti­fies with this strug­gle," Reta­ma says. ​"They sup­port an orga­ni­za­tion direct­ly linked to the nation­al­ized electricity."
The strug­gle, Reta­ma says, is part of a larg­er shift in Mex­i­co: ​"The [neolib­er­al] Wash­ing­ton Con­sen­sus has been put into question."
Many see the SME fir­ings as a test case for even­tu­al pri­va­ti­za­tion of Pemex, the country's state-owned oil company.
As time goes on, a work­ers' vic­to­ry appears slim­mer. On Decem­ber 11, a fed­er­al judge ruled the extinc­tion con­sti­tu­tion­al. (The union plans to appeal.) Elec­tri­cians' calls for dia­logue with the gov­ern­ment have been met with offi­cials' foot-drag­ging, and Sec­re­tary of Labor Javier Lozano has ruled out revers­ing the elim­i­na­tion order. SME, in turn, has retreat­ed from an ini­tial demand to rehire all 44,000 elec­tri­cians as part of Luz y Fuerza, instead push­ing for for 20,000 to be employed by the Fed­er­al Elec­tri­cal Com­mis­sion (CFE), the country's oth­er state elec­tri­cal utility.
Yet a gen­er­al strike ear­ly in 2010 remains a pos­si­bil­i­ty. On Decem­ber 22, the union announced a nation­al cam­paign urg­ing cit­i­zens to refuse to pay their elec­tri­cal bills. And in ear­ly Decem­ber, rep­re­sen­ta­tives from Amer­i­can and Cana­di­an unions trav­eled south to pledge sup­port to SME.
Cur­rent­ly, CFE's office entrance is occu­pied by union­ists and their sup­port­ers. The site of a 17-day hunger strike in Novem­ber and Decem­ber by 15 SME mem­bers, it remains a ral­ly­ing point for elec­tri­cians demand­ing their jobs back.
Ana Lucia Segovia, an elec­tri­cian of 21 years who is now job­less, stood with her two chil­dren next to a ban­ner declar­ing the space ​"SME Ter­ri­to­ry." She summed up SME mem­bers' sen­ti­ments: ​"We'll keep fight­ing until the end, because we have noth­ing left to lose."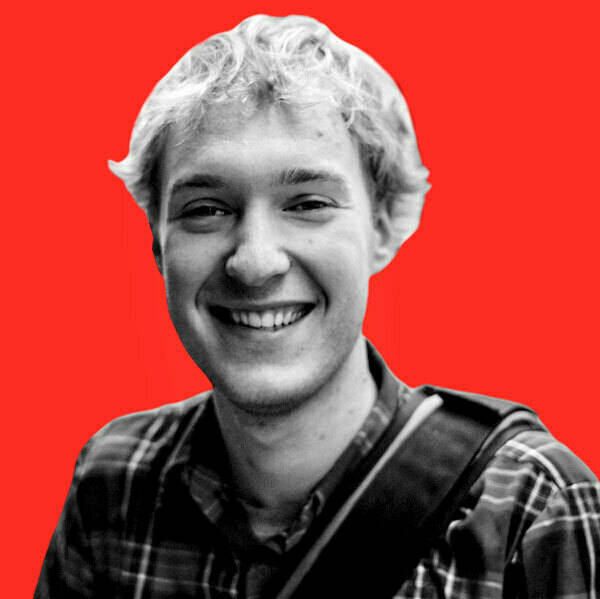 Mic­ah Uet­richt is the deputy edi­tor of Jacobin mag­a­zine and host of its pod­cast The Vast Major­i­ty. He is a con­tribut­ing edi­tor and for­mer asso­ciate edi­tor at In These Times. He is the author of Strike for Amer­i­ca: Chica­go Teach­ers Against Aus­ter­i­ty (Ver­so 2014), coau­thor of Big­ger Than Bernie: How We Go From the Sanders Cam­paign to Demo­c­ra­t­ic Social­ism (Ver­so 2020), and is cur­rent­ly at work on a book on New Left­ists who ​"indus­tri­al­ized." He pre­vi­ous­ly worked as a labor orga­niz­er. Fol­low him on Twit­ter at @micahuetricht.