Philly's Progressive New DA Is Testing the Limits of Change from Within
Decarceration activists put Larry Krasner in office. Now they're demanding that he empty the city's jails.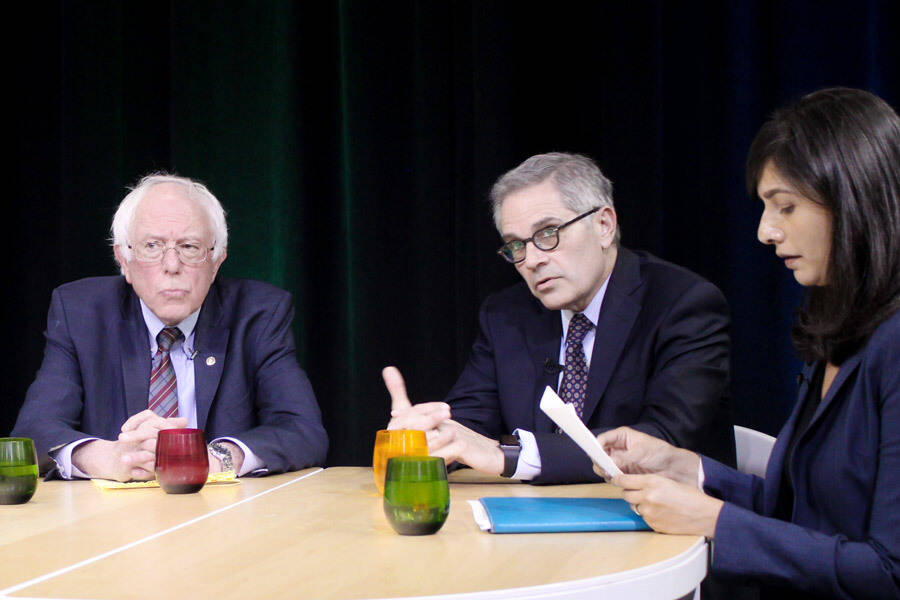 PHILADEL­PHIA— ​"The truth is that activists do pol­i­tics bet­ter than politi­cians," says Lar­ry Kras­ner. Bernie Sanders nods emphatically.
"They hold your feet to the fire," Krasner says of the activists who rallied outside his office three days after the election with a punch-list of demands.
The two are meet­ing for the first time at a round­table on decarcer­a­tion host­ed by Jacobin magazine's The Dig pod­cast, which also includ­ed Keean­ga-Yamaht­ta Tay­lor and Pre­mal Dharia. The Ver­mont sen­a­tor and the Philadel­phia dis­trict attor­ney both serve as bea­cons of what a left elec­toral chal­lenge can accom­plish, local­ly and nation­al­ly (and win or lose). After the pod­cast ends, Kras­ner extends a hand to Sanders and says, ​"I did vote for you, by the way." Since coast­ing to vic­to­ry last year on a wave of crim­i­nal jus­tice reform fer­vor, Kras­ner has quick­ly become one of the most-watched pros­e­cu­tors in the coun­try. He offers a test of whether a pro­gres­sive dis­trict attor­ney can fix a jus­tice sys­tem that has rav­aged com­mu­ni­ties of col­or for decades. Kras­ner now faces immense pres­sure from both the activist sup­port­ers who elect­ed him and the law-and-order pro­po­nents who oppose his reforms.
Kras­ner makes for an unlike­ly DA. The St. Louis-born civ­il rights attor­ney has sued the Philadel­phia Police Depart­ment 75 times and pro­vid­ed pro bono coun­sel to Black Lives Mat­ter and Occu­py pro­test­ers. He once joked that he'd ​"spent a career becom­ing com­plete­ly une­lec­table." But the 57-year-old's brazen résumé became his sales pitch on the 2017 cam­paign trail, where sup­port from black civ­il rights groups and promi­nent politi­cians lent him imme­di­ate cred­i­bil­i­ty. His Demo­c­ra­t­ic oppo­nents, rather than employ­ing the usu­al ​"tough on crime" rhetoric, jock­eyed to win over the city's sud­den­ly vol­u­ble pro­gres­sive base. With the sup­port of city­wide grass­roots coali­tions, nation­al pro­gres­sive groups and, to some con­tro­ver­sy, a $1.45 mil­lion cash injec­tion from lib­er­al bil­lion­aire George Soros, Kras­ner best­ed his near­est rival in the crowd­ed pri­ma­ry by an 18-point mar­gin, all but guar­an­tee­ing a gen­er­al-elec­tion vic­to­ry in the over­whelm­ing­ly Demo­c­ra­t­ic city.
Five months in office, he has an air of celebri­ty. A doc­u­men­tary film crew, which has been giv­en unre­strict­ed access, tails him as he leaves the pod­cast stage, dan­gling boom mics into his con­ver­sa­tions with audi­ence members.
Crim­i­nal jus­tice reform­ers are watch­ing Kras­ner close­ly. The Philadel­phia Coali­tion for a Just Dis­trict Attor­ney, a diverse group of decarcer­a­tion activists that helped elect Kras­ner, pounced on him for soft­en­ing his stance on the death penal­ty, which shift­ed from a firm ​"nev­er" to a ​"nev­er say nev­er" short­ly after tak­ing office. (While Penn­syl­va­nia hasn't exe­cut­ed a con­vict­ed felon since 1999, Demo­c­ra­t­ic Gov. Tom Wolf's mora­to­ri­um on cap­i­tal pun­ish­ment could be lift­ed if a Repub­li­can chal­lenger man­ages to unseat him lat­er this year.)
Although anti-prison groups have worked to unseat DAs around the coun­try, they main­tain a delib­er­ate skep­ti­cism about pro­gres­sive replace­ments. Man­hat­tan DA Cyrus Vance Jr., Los Ange­les DA Jack­ie Lacey and New Orleans DA Leon Can­niz­zaro ran as aggres­sive reform­ers but con­tin­ued harsh prac­tices, from zeal­ous­ly pros­e­cut­ing pan­han­dlers in monied neigh­bor­hoods to arrest­ing rape vic­tims who refused to testify.
The racial jus­tice activists who helped elect Chica­go DA Kim Foxx in 2016 pio­neered a watch­dog mod­el to inde­pen­dent­ly mon­i­tor Foxx's tri­umphs and short­com­ings. Three days after Kras­ner was elect­ed, the Coali­tion for a Just DA ral­lied out­side his office with a punch-list of demands for his first 100 days in office. Advo­cates say that, while they're not check­ing off each action item indi­vid­u­al­ly, they're close­ly mon­i­tor­ing his progress with Chica­go-inspired check-ins.
"They hold your feet to the fire," Kras­ner says. Kras­ner can­non­balled into the office by axing 31 assis­tant DAs and oth­er high-rank­ing offi­cials from the 530-per­son staff. Dozens more have left, appar­ent­ly unwill­ing to adapt to the cul­ture under Krasner.
In Feb­ru­ary, he imple­ment­ed new rec­om­men­da­tions to elim­i­nate cash bail for most non­vi­o­lent offens­es. In March, he filed crim­i­nal charges against a police offi­cer who was filmed body-slam­ming a pedes­tri­an dur­ing an arrest. And he ordered his office's 300 pros­e­cu­tors to seek lighter sen­tences in plea deals and, notably, to fac­tor the annu­al cost of incar­cer­at­ing an indi­vid­ual into sen­tenc­ing rec­om­men­da­tions — $42,000 annu­al­ly, accord­ing to his office.
But there's a lot stand­ing in the way of the new­ly mint­ed DA's agen­da. Philadel­phia is a city with 1.6 mil­lion res­i­dents, the third-high­est vio­lent crime rate of the 10 largest U.S. cities, a seem­ing­ly end­less drug war and an opi­oid cri­sis. In 2008, the last year fed­er­al data was avail­able, it had the fourth-high­est incar­cer­a­tion rate of any U.S. city. Some reforms were under­way when Kras­ner took office.
The MacArthur Foun­da­tion issued the city a $3.5 mil­lion grant in 2016 to thin its bloat­ed jail pop­u­la­tion by 34 per­cent over three years. Strate­gies range from reduc­ing arrests to pro­vid­ing defen­dants with bet­ter legal coun­sel. One of the city's old­est and most decrepit jails is now slat­ed to close.
How­ev­er, despite pres­sure from both activists and city offi­cials, the local court sys­tem has expressed lit­tle inter­est in reform­ing its ​"auto­mat­ic detain­er" pol­i­cy, which accounts for 50 per­cent of the coun­ty jail pop­u­la­tion. The pol­i­cy has led to the rein­car­cer­a­tion of thou­sands over pro­ba­tion and parole vio­la­tions, many of them nonviolent.
Judges also snubbed some of Krasner's offers to rene­go­ti­ate sen­tences for juve­nile lif­ers. Sim­i­lar­ly, judges may ignore the office's push to for­go cash bail if they don't see anoth­er way to ensure court appear­ances. Alter­na­tives will take time to imple­ment. The city is con­duct­ing a fea­si­bil­i­ty study on open­ing 10-day report­ing cen­ters, which would allow dai­ly check-ins instead of jail time.
Kras­ner walks a fine line to avoid anger­ing his activist base while prov­ing to tra­di­tion­al law-and-order pro­po­nents that his reformist agen­da can work. One pro­posed alter­na­tive to jail, elec­tron­ic bracelet mon­i­tor­ing, remains anath­e­ma to some of Krasner's sup­port­ers, who argue that ​"e‑carceration" is just an insid­i­ous new form of incarceration.
Fra­ter­nal Order of Police Lodge 5 Pres­i­dent John McNes­by has called Kras­ner ​"dan­ger­ous" for the city. ​"It may take 10 to 20 years to undo the dam­age being done by [Krasner's] per­son­al, vin­dic­tive, coun­ter­pro­duc­tive agen­da," says Richard Sax, a for­mer homi­cide pros­e­cu­tor. And a for­mer assis­tant DA, George Shotzbarg­er, recent­ly com­ment­ed on one of Sax's anti-Kras­ner Face­book posts that the new DA's poli­cies are so tox­ic, he ​"might need to be put down" like the rabid dog in To Kill A Mock­ing­bird. ​"His poli­cies need to be put down," Shotzbarg­er lat­er clar­i­fied to reporters.
The Philadel­phia Inquir­er has quot­ed fam­i­lies of vio­lent crime vic­tims speak­ing against Krasner's sen­tenc­ing poli­cies, adding gaso­line to the still-burn­ing alle­ga­tions that Kras­ner is ​"anti-vic­tim." This attack in par­tic­u­lar has Krasner's base fired up. ​"We are not going to be dis­tract­ed by false nar­ra­tives," says Kris Hen­der­son, the legal direc­tor of Amis­tad Law Project. ​"We are work­ing to uplift the voic­es of peo­ple who have been harmed by vio­lence who have dif­fer­ent per­spec­tives on pun­ish­ment and retribution."
There's a grow­ing recog­ni­tion that mea­sures like bail reform can in fact reduce crime. Stud­ies have shown that even two days in jail can desta­bi­lize someone's life and increase rear­rest rates. Or, as Kras­ner likes to put it, ​"the whole idea that safe­ty and jus­tice are alter­na­tives is bullshit."
At 4 p.m., the doc­u­men­tary crew packs up, and Kras­ner heads to a near­by beer gar­den to ditch his suit jack­et and loosen his tie. Asked about his law-and-order crit­ics, the DA is unfazed. Years as a civ­il rights lawyer have accus­tomed him to the enmi­ty of law enforce­ment. And he acknowl­edges that clean­ing house at the DA's office will feel per­son­al to pros­e­cu­tors who built their careers in the era of mass incarceration.
"There's almost no way to talk about this kind of sweep­ing change to peo­ple in the [DA's] office, who have good inten­tions but who have gone in oppo­site direc­tions their whole careers, with­out their tak­ing it per­son­al­ly," he says.
Kras­ner believes that soon, he'll be just anoth­er ​"bor­ing" pros­e­cu­tor. ​"I hope we're seen as a bunch of bor­ing sell­outs, cause that is how this usu­al­ly goes," he says, nurs­ing a beer. ​"Ten or 15 years, they all look back and go, ​'It wasn't enough, they should have gone much far­ther, what a bunch of half-step­pin' apologists.' "
Max M. Marin
reports for
&
lt;i
&
gt;Philadelphia Weekly
&
lt;i
&
gt; on pol­i­tics, crim­i­nal jus­tice, the opi­oid cri­sis and oth­er topics.