Black Workers Say Walmart's Background Checks Are Racially Discriminatory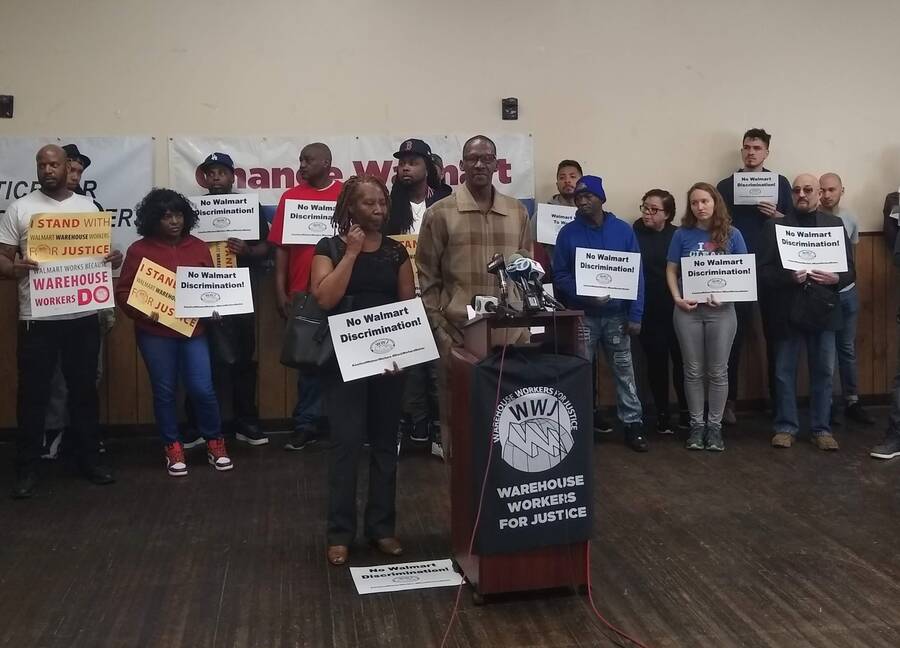 When Wal­mart announced in Jan­u­ary that it was ​"in-sourc­ing" its Elwood, Illi­nois, dis­tri­b­u­tion cen­ter, work­ers were cau­tious­ly optimistic.
Since it opened in 2006, the 3.4 mil­lion-square-foot ware­house has been oper­at­ed by Schnei­der Logis­tics, a third-par­ty con­trac­tor, which in turn hired work­ers through temp agen­cies. Walmart's plan to absorb sev­er­al of its out­sourced ware­hous­es nation­wide meant an end to this web of sub­con­tract­ing, which labor orga­niz­ers charge is one of the company's union-bust­ing tactics.
The retail giant also announced that it would rehire as many cur­rent ware­house work­ers as pos­si­ble, with rais­es in start­ing pay and ben­e­fits. Mark Balen­tine, who has per­formed qual­i­ty assur­ance in the Elwood ware­house for three years, says he was offered and accept­ed the same posi­tion as a Wal­mart employ­ee. It came with a pay bump from $16.35 an hour to $18.65.
"I was absolute­ly excit­ed," says Balentine.
But last month, just three weeks before Wal­mart was set to take over, Balen­tine says he received an e‑mail inform­ing him he was inel­i­gi­ble to work for the com­pa­ny based on the results of a crim­i­nal back­ground check. He has a con­vic­tion for cocaine pos­ses­sion on his record that dates back to 1999.
Now 52, Balen­tine says he men­tors youth leav­ing prison and is an ordained dea­con at his Bap­tist church in Auburn-Gre­sham. He says the con­vic­tion hasn't posed a prob­lem for him in years.
Balen­tine is one of two Black work­ers who filed racial dis­crim­i­na­tion charges against Wal­mart this week, alleg­ing that the company's back­ground check poli­cies had a dis­parate impact on African Amer­i­cans in the Elwood facility.
Between 100 and 200 oth­er African Amer­i­can work­ers may have been affect­ed, accord­ing to Chris Williams, an attor­ney with the Nation­al Legal Advo­ca­cy Net­work, which filed the com­plaint with the Illi­nois Depart­ment of Human Rights and the U.S. Equal Employ­ment Oppor­tu­ni­ty Com­mis­sion (EEOC). A class-action suit could follow.
Wal­mart says its hir­ing prac­tices exceed state and fed­er­al legal require­ments and pro­vide can­di­dates with crim­i­nal records ​"a mean­ing­ful oppor­tu­ni­ty to put the record in context."
"Retain­ing as many exist­ing employ­ees as pos­si­ble has always been the goal of our tran­si­tion at the Elwood dis­tri­b­u­tion cen­ter, and we hired hun­dreds of those work­ers," said spokesper­son Kory Lund­berg in a state­ment e‑mailed to In These Times. ​"We under­stand the impor­tance of pro­vid­ing sec­ond chances and our back­ground checks include a thought­ful and trans­par­ent review process to help ensure every­one is treat­ed fairly."
But the com­plaint alleges that the com­pa­ny failed to per­form any such indi­vid­u­al­ized review of African Amer­i­can work­ers' eli­gi­bil­i­ty, which is part of guid­ance on employ­ers' use of crim­i­nal back­ground checks issued by the EEOC in 2012.
Instead, accord­ing to Balen­tine, laid-off work­ers were giv­en "$250 and a slice of piz­za" and told they could reap­ply through the same process in 60 days.
"They told me to ​'roll the dice and try again,'" says Balen­tine. ​"And I was like, ​'this is my life.'"
Lund­berg said that some can­di­dates with crim­i­nal records ​"were offered a posi­tion after a per­son­al­ized review of their offense," but did not pro­vide fur­ther details by press time.
Accord­ing to the com­plaint, ​"oth­er non-African employ­ees with crim­i­nal back­grounds have been per­mit­ted to con­tin­ue work­ing at the Wal­mart dis­tri­b­u­tion center."
As many as 100 mil­lion Amer­i­cans have some form of crim­i­nal record that can impact their access to jobs, hous­ing and oth­er pub­lic ser­vices. Peo­ple with felony con­vic­tions, which are most like­ly to result in exclu­sion, rep­re­sent an esti­mat­ed 8 per­cent of the over­all U.S. pop­u­la­tion and 33 per­cent of the African Amer­i­can male population.
A grow­ing num­ber of states and munic­i­pal­i­ties have attempt­ed to address racial­ly dis­crim­i­na­to­ry hir­ing through ​"Ban the Box" laws that bar gov­ern­ment employ­ers or con­trac­tors from includ­ing ques­tions about crim­i­nal back­ground on job appli­ca­tions. Twelve states also bar pri­vate employ­ers from doing so.
But racial dis­crim­i­na­tion in the tem­po­rary staffing indus­try is noto­ri­ous­ly dif­fi­cult to address. A series of law­suits in Illi­nois and else­where have accused staffing agen­cies of dis­crim­i­nat­ing against Black work­ers by, among oth­er things, requir­ing them to sub­mit to crim­i­nal back­ground checks to which oth­er work­ers are not subjected.
Exclu­sion of work­ers with a crim­i­nal record is ​"a huge issue in the ware­house indus­try," says Rober­to Jesus Clack, asso­ciate direc­tor of Ware­house Work­ers for Jus­tice. The Illi­nois-based work­er cen­ter holds month­ly expunge­ment work­shops and orga­nized meet­ings for the group of Elwood workers.
Elwood is locat­ed in Will Coun­ty, which is home to more than 300 ware­hous­es in total and a maze of temp agen­cies. When work­ers have raised com­plaints about wage theft and hor­rif­ic work­ing con­di­tions — includ­ing dur­ing a land­mark 2012 ware­house strike—a maze of sub­con­tract­ing has made it dif­fi­cult to hold either Wal­mart or Schnei­der Logis­tics respon­si­ble. While insourc­ing could rep­re­sent ​"a step in the right direc­tion," says Clack, Wal­mart intro­duc­ing new bar­ri­ers to employ­ment is instead a step backward.
"I'm look­ing out for the per­son behind me," says Balen­tine. ​"The 17-year-old that's get­ting in trou­ble today and who sees what hap­pens to me and then he decides, ​'What's the point in chang­ing? They aren't going to give me a chance anyway.'"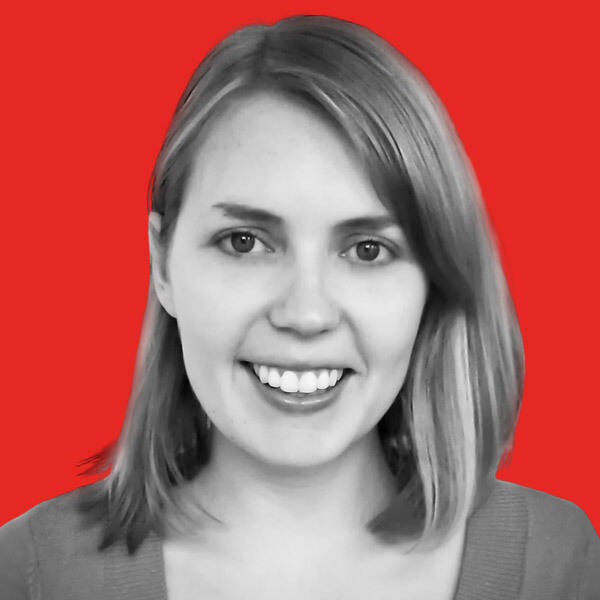 Rebec­ca Burns
is an award-win­ning inves­tiga­tive reporter whose work has appeared in The Baf­fler, the Chica­go Read­er, The Inter­cept and oth­er out­lets. She is a con­tribut­ing edi­tor at In These Times. Fol­low her on Twit­ter @rejburns.