Last month, at the inter­na­tion­al tri­bunal on crimes dur­ing the civ­il war in Sier­ra Leone, the tri­al of for­mer Liber­ian pres­i­dent Charles Tay­lor came to an end.
The intervention is being conducted by the three traditional western imperial powers, acting in virtual isolation.
The chief pros­e­cu­tor, U.S. law pro­fes­sor David Crane, informed The Times of Lon­don that the case was incom­plete: The pros­e­cu­tors intend­ed to charge Moam­mar Gad­hafi, who, Crane said, ​"was ulti­mate­ly respon­si­ble for the muti­la­tion, maim­ing and/​or mur­der of 1.2 mil­lion people."
But the charge was not to be. The U.S., U.K. and oth­ers inter­vened to block it. Asked why, Crane said, ​"Wel­come to the world of oil."
Anoth­er recent Gad­hafi casu­al­ty was Sir Howard Davies, the direc­tor of the Lon­don School of Eco­nom­ics, who resigned after rev­e­la­tions of the school's links to the Libyan dictator.
In Cam­bridge, Mass., the Mon­i­tor Group, a con­sul­tan­cy firm found­ed by Har­vard pro­fes­sors, was well paid for such ser­vices as a book to bring Gadhafi's immor­tal words to the pub­lic ​"in con­ver­sa­tion with renowned inter­na­tion­al experts," along with oth­er efforts ​"to enhance inter­na­tion­al appre­ci­a­tion of (Gadhafi's) Libya."
The world of oil is rarely far in the back­ground in affairs con­cern­ing this region.
For exam­ple, as the dimen­sions of the U.S. defeat in Iraq could no longer be con­cealed, pret­ty rhetoric was dis­placed by hon­est announce­ment of pol­i­cy goals. In Novem­ber 2007 the White House issued a Dec­la­ra­tion of Prin­ci­ples insist­ing that Iraq must grant indef­i­nite access and priv­i­lege to Amer­i­can investors.
Two months lat­er Pres­i­dent Bush informed Con­gress that he would reject leg­is­la­tion that might lim­it the per­ma­nent sta­tion­ing of U.S. armed forces in Iraq or ​"Unit­ed States con­trol of the oil resources of Iraq" – demands that the U.S. had to aban­don short­ly after­ward in the face of Iraqi resistance.
The world of oil pro­vides use­ful guid­ance for west­ern reac­tions to the remark­able democ­ra­cy upris­ings in the Arab world. An oil-rich dic­ta­tor who is a reli­able client is grant­ed vir­tu­al free rein. There was lit­tle reac­tion when Sau­di Ara­bia declared on March 5, ​"Laws and reg­u­la­tions in the King­dom total­ly pro­hib­it all kinds of demon­stra­tions, march­es and sit-in protests as well as call­ing for them as they go against the prin­ci­ples of Shari­ah and Sau­di cus­toms and tra­di­tions." The king­dom mobi­lized huge secu­ri­ty forces that rig­or­ous­ly enforced the ban.
In Kuwait, small demon­stra­tions were crushed. The mailed fist struck in Bahrain after Sau­di-led mil­i­tary forces inter­vened to ensure that the minor­i­ty Sun­ni monar­chy would not be threat­ened by calls for demo­c­ra­t­ic reforms.
Bahrain is sen­si­tive not only because it hosts the U.S. Fifth Fleet but also because it bor­ders Shi­ite areas of Sau­di Ara­bia, the loca­tion of most of the kingdom's oil. The world's pri­ma­ry ener­gy resources hap­pen to be locat­ed near the north­ern Per­sian Gulf (or Ara­bi­an Gulf, as Arabs often call it), large­ly Shi­ite, a poten­tial night­mare for West­ern planners.
In Egypt and Tunisia, the pop­u­lar upris­ing has won impres­sive vic­to­ries, but as the Carnegie Endow­ment report­ed, the regimes remain and are ​"seem­ing­ly deter­mined to curb the pro-democ­ra­cy momen­tum gen­er­at­ed so far. A change in rul­ing elites and sys­tem of gov­er­nance is still a dis­tant goal" – and one that the West will seek to keep far removed.
Libya is a dif­fer­ent case, an oil-rich state run by a bru­tal dic­ta­tor, who, how­ev­er, is unre­li­able: A depend­able client would be far prefer­able. When non­vi­o­lent protests erupt­ed, Gad­hafi moved quick­ly to crush them.
On March 22, as Gadhafi's forces were con­verg­ing on the rebel cap­i­tal of Beng­hazi, top Oba­ma Mid­dle East advis­er Den­nis Ross warned that if there is a mas­sacre, ​"every­one would blame us for it," an unac­cept­able consequence.
And the West cer­tain­ly didn't want Gad­hafi to enhance his pow­er and inde­pen­dence by crush­ing the rebel­lion. The U.S. joined in the U.N. Secu­ri­ty Coun­cil autho­riza­tion of a ​"no-fly zone," to be imple­ment­ed by France, the U.K. and the U.S.
The inter­ven­tion pre­vent­ed a like­ly mas­sacre but was inter­pret­ed by the coali­tion as autho­riz­ing direct sup­port for the rebels. A cease-fire was imposed on Gadhafi's forces, but the rebels were helped to advance to the West. In short order they con­quered the major sources of Libya's oil pro­duc­tion, at least temporarily.
On March 28, the Lon­don-based Arab jour­nal Al-Quds Al-Ara­bi warned that the inter­ven­tion may leave Libya with ​"two states, a rebel-held, oil-rich East and a pover­ty-strick­en, Gad­hafi-led West. … Giv­en that the oil wells have been secured, we may find our­selves fac­ing a new Libyan oil emi­rate, sparse­ly inhab­it­ed, pro­tect­ed by the West and very sim­i­lar to the Gulf's emi­rate states." Or the West­ern-backed rebel­lion might pro­ceed all the way to elim­i­nate the irri­tat­ing dictator.
It is com­mon­ly argued that oil can­not be a motive for the inter­ven­tion because the West had access to the prize under Gad­hafi. True but irrel­e­vant. The same could be said about Iraq under Sad­dam Hus­sein, or Iran and Cuba today.
What the West seeks is what Bush announced: con­trol, or at least depend­able clients, and in the case of Libya, access to vast unex­plored areas expect­ed to be rich in oil. U.S and British inter­nal doc­u­ments stress that the ​"virus of nation­al­ism" is the great­est fear, since it might breed disobedience.
The inter­ven­tion is being con­duct­ed by the three tra­di­tion­al impe­r­i­al pow­ers (though we may recall – Libyans pre­sum­ably do – that, after World War I, Italy con­duct­ed geno­cide in east­ern Libya).
The west­ern pow­ers are act­ing in vir­tu­al iso­la­tion. States in the region – Turkey and Egypt – want no part of it, nor does Africa. The Gulf dic­ta­tors would be hap­py to see Gad­hafi gone – but, even as they're groan­ing under the weight of advanced weapons pro­vid­ed to them to recy­cle petrodol­lars and ensure obe­di­ence, they bare­ly offer more than token par­tic­i­pa­tion. The same is true beyond: India, Brazil and even Germany.
The Arab Spring has deep roots. The region has been sim­mer­ing for years. The first of the cur­rent wave of protests began last year in West­ern Sahara, the last African colony, invad­ed by Moroc­co in 1975 and ille­gal­ly held since, in a man­ner sim­i­lar to East Tim­or and the Israeli-occu­pied territories.
A non­vi­o­lent protest last Novem­ber was crushed by Moroc­can forces. France inter­vened to block a Secu­ri­ty Coun­cil inquiry into the crimes of its client.
Then a flame ignit­ed in Tunisia that has since spread into a conflagration.
© New York Times Syndicate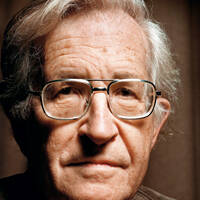 Noam Chom­sky
is Insti­tute Pro­fes­sor and Pro­fes­sor of Lin­guis­tics (Emer­i­tus) at the Mass­a­chu­setts Insti­tute of Tech­nol­o­gy, and the author of dozens of books on U.S. for­eign pol­i­cy. His most recent book is
Who Rules the World?
from Met­ro­pol­i­tan Books.