Lights! Camera! Collective Action!
The Writers Guild of America strikes to secure a piece of the pie in the Digital Age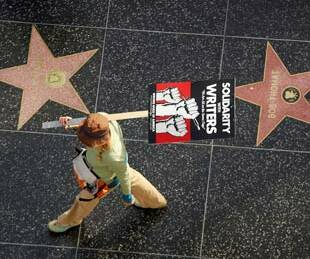 Start­ing on Nov. 5, 2007, America's tele­vi­sion and movie writ­ers left their soli­tary desks for the col­lec­tive side­walks of Los Ange­les and New York, car­ry­ing plac­ards rang­ing from the pro­sa­ic ("Writ­ers Guild of Amer­i­ca: On Strike") to the quirky ("They Wrong: We Write").
Actors, like Alec Bald­win, joined the pick­ets demand­ing a fair con­tract from enter­tain­ment pro­duc­ers for the Inter­net era. Or, like Susan Saran­don, they act­ed with­out intel­li­gi­ble dia­logue in writer-pro­duced ​"Speech­less" Inter­net videos designed to under­score the impor­tance of writ­ers. Some enter­tain­ers pro­vid­ed food: dough­nuts cour­tesy of Jay Leno, free meals at a restau­rant near pick­et lines paid by come­di­an – and lib­er­tar­i­an – Drew Carey.
Fans – like a ​"Bat­tlestar Galac­ti­ca" del­e­ga­tion – were also there, join­ing strik­ers in body and spir­it. Polls from Pep­per­dine Uni­ver­si­ty, Sur­vey USA and Vari­ety showed that over­whelm­ing majori­ties (rough­ly two-thirds of the gen­er­al pub­lic and the enter­tain­ment indus­try) back the strik­ers. These same polls showed sin­gle-dig­it sup­port for the indus­try, reflect­ing the con­vinc­ing case Guild writ­ers made: They want­ed only a mod­est share of the boun­ty from new technologies.
With its celebri­ty pati­na, high­ly lit­er­ate and occa­sion­al­ly well-paid strik­ers, high-tech con­tro­ver­sies, and mobi­liza­tion of sup­port via the Inter­net, the strike by 10,500 mem­bers of the Writ­ers Guild of Amer­i­ca (both East and West) is unusu­al – and not only because strikes them­selves are rare these days. But for all its dis­tinc­tive­ness, the strike revolves around issues famil­iar to most Amer­i­can work­ers: Management's use of new tech­nol­o­gy to dis­em­pow­er and under­pay work­ers; exec­u­tives' avoid­ance of unions through legal finagling; cor­po­ra­tions' increas­ing con­cen­tra­tion of pow­er; a ​"win­ner-take-all" sys­tem of com­pen­sa­tion that is gross­ly unequal; and cor­po­rate strate­gies that try to divide work­ers on minor issues to win on the big­ger ones.
Ulti­mate­ly, the Writ­ers Guild struck for two rea­sons: Will it rep­re­sent all writ­ers in the film and tele­vi­sion enter­tain­ment indus­try? And will those writ­ers be fair­ly paid for all of their work?
The mon­ey writ­ers seek includes resid­ual pay­ments for re-use or sale of mate­r­i­al, regard­less of the tech­nol­o­gy for dis­trib­ut­ing and view­ing it – cable and broad­cast TV, film, DVD, Inter­net, cell phone, game play­er, per­son­al dig­i­tal assis­tant or what­ev­er next big thing develops.
"The Writ­ers Guild strike is not all that com­pli­cat­ed," says Cor­nell University's Jeff Gra­bel­sky, who has worked with the enter­tain­ment unions. "'We wrote it. Are we going to make mon­ey off it?'"
Dude, where's my residual?
The Writ­ers Guild, which orga­nized as a real union in the ​'30s, has gone through sim­i­lar con­flicts with each change of tech­nol­o­gy – tele­vi­sion, cable TV, video­cas­settes and DVDs. In 1960, the Guild struck for 151 days to win resid­ual pay­ments for films run on tele­vi­sion and to estab­lish a pen­sion fund.
But in 1985, the stu­dios out­foxed the Guild, whose two-week strike col­lapsed from its own inter­nal divi­sions, and won much reduced resid­ual pay­ment for video­cas­settes and cable, argu­ing that they were new, untest­ed tech­nolo­gies. Despite promis­es to do so, the pro­duc­ers nev­er raised the resid­ual rate – about a nick­el on a $20 DVD – thus depriv­ing writ­ers of approx­i­mate­ly $1.5 bil­lion, accord­ing to the Writ­ers Guild.
Now, both writ­ers and the film indus­try face the rapid­ly expand­ing influ­ence of the Inter­net, which has already roiled the music and news busi­ness­es. Increas­ing­ly, Inter­net users expect to find every kind of con­tent they want for free, rais­ing ques­tions about how the cre­ators of that con­tent get paid. Users also want to pro­vide their own mate­r­i­al and to inter­act more with oth­ers on the web, not just watch a spectacle.
The enter­tain­ment indus­try has respond­ed by sell­ing pro­grams through Apple's iTunes, post­ing TV shows on its own and oth­er web­sites (with inescapable ads), and pro­duc­ing ​"Webisodes" – new, usu­al­ly short mate­r­i­al that appears exclu­sive­ly on the Inter­net. But the Alliance of Motion Pic­ture and Tele­vi­sion Pro­duc­ers (AMPTP), the indus­try con­sor­tium that nego­ti­ates with enter­tain­ment unions, argues that it's unclear how com­pa­nies will make mon­ey from the Inter­net. (It seems adver­tis­ing, per­haps cou­pled with sub­scrip­tion fees, offers the most promise.)
The com­pa­nies pay no resid­u­als on Inter­net pro­gram­ming that they claim is just pro­mo­tion­al. They pay min­i­mal DVD resid­u­als for some down­loads, and they often pay noth­ing for short work writ­ten express­ly for the Web. The Guild wants the same 2.5 per­cent of dis­trib­u­tors' gross rev­enues as resid­u­als on new media as it has had on tra­di­tion­al media.
Despite the Inter­net tur­moil, Guild research shows growth in gross rev­enues in all busi­ness seg­ments of the major enter­tain­ment com­pa­nies, healthy prof­its and ris­ing share prices.
As a Guild video clip of top exec­u­tives' com­ments illus­trates, the indus­try expects ​"gold­en oppor­tu­ni­ties" from the Inter­net. ABC already makes about $1.5 bil­lion out of its $35 bil­lion annu­al rev­enue from dig­i­tal con­tent, accord­ing to Robert Iger, pres­i­dent of Walt Dis­ney Com­pa­ny, which owns ABC. Via­com Chair­man Sum­n­er Red­stone says that his com­pa­ny ​"will dou­ble its rev­enues this year from dig­i­tal." And CBS Pres­i­dent Leslie Moonves says, ​"We will get paid for [con­tent] regard­less. …We're gonna get paid no mat­ter where you get it from."
And the writ­ers expect to get paid no mat­ter how the com­pa­nies decide to dis­trib­ute their work. ​"We are agnos­tic about [what the new busi­ness mod­el might be]," says Guild Assis­tant Exec­u­tive Direc­tor Jeff Her­man­son. ​"It doesn't mat­ter what it is, if there's a per­cent of rev­enue for­mu­la for resid­u­als." Such an arrange­ment would give pro­duc­ers the flex­i­bil­i­ty they claim to need.
Just before the strike, the Guild dropped its demands to dou­ble DVD resid­u­als (now around one-third of a cent for each dol­lar of rev­enue), cal­cu­lat­ing that DVD sales will like­ly decline as down­load­ing grows.
But when nego­ti­a­tions resumed after Thanks­giv­ing, the indus­try still took a hard line. The stu­dios offered only $250 a year for stream­ing an hour-long tele­vi­sion pro­gram on the Inter­net (and noth­ing for the­atri­cal films or any pro­gram­ming they con­sid­er pro­mo­tion­al). Yet the Finan­cial Times reports that TV net­works are like­ly to make $120 mil­lion through the web stream­ing of pro­grams for 2007.
With the like­li­hood that much – if not all – of the film and tele­vi­sion indus­try pro­duc­tion will be dis­trib­uted over the Inter­net in years to come, the Guild sees estab­lish­ing writ­ers' claims on new media as cen­tral to their future, both as writ­ers and as a union.
"In about five years, every­thing will be streamed dig­i­tal­ly into a com­put­er with no pro­duc­tion costs," says strik­er Collin Friesen, who has writ­ten for both film and tele­vi­sion. ​"The Writ­ers Guild said, ​'Real­ly, we're not going to get screwed again. We may be writ­ers and not that smart at busi­ness, but we can fig­ure that out.'"
But the issue is not just pay and resid­u­als on the Inter­net. There's also the ques­tion of who will be in the union.
Divid­ed and conquered
Twen­ty years ago, the Writ­ers Guild of Amer­i­ca rep­re­sent­ed 95 per­cent of film and TV writ­ers. Now it rep­re­sents about 55 per­cent. The indus­try expand­ed non-union oper­a­tions with cable TV, then real­i­ty tele­vi­sion, tal­ent shows and ani­ma­tion series.
The Guild has orga­nized much of the high-bud­get cable writ­ers, as well as some writ­ing for ani­ma­tion (like ​"The Simp­sons") and, just last year, most of Com­e­dy Cen­tral pro­gram­ming. How­ev­er, writ­ers for much of cable TV have no con­trac­tu­al protection.
In sup­pos­ed­ly impro­vised real­i­ty shows, writ­ers also play a cen­tral role. ​"The host's copy is always writ­ten in very tra­di­tion­al ways," Her­man­son says. ​"Jokes are writ­ten for the judges on com­pe­ti­tion shows. Even so-called real­i­ty ele­ments are designed ahead of time and edit­ed after the fact by some­one who is a storyteller."
Writ­ers are almost unan­i­mous in want­i­ng to be cov­ered by Guild con­tracts, Her­man­son says, and a sur­vey pre­pared for the Guild gives an idea of why: 91 per­cent of the rough­ly 1,000 writ­ers for real­i­ty TV said they received no over­time pay, even though they worked on aver­age 16 over­time hours per week. Con­trary to pro­duc­ers' claims, the Cal­i­for­nia Labor Com­mis­sion­er recent­ly ruled that a real­i­ty show writer was enti­tled to over­time pay. That could make employ­ers liable for near­ly $100 mil­lion in unpaid wages.
But cor­po­rate oppo­si­tion and juris­dic­tion­al dis­putes with anoth­er enter­tain­ment union have stymied orga­niz­ing of writ­ers in real­i­ty and ani­ma­tion shows.
The 100,000-member Inter­na­tion­al Alliance of The­atri­cal Stage Employ­ees (IATSE) rep­re­sents enter­tain­ment indus­try tech­ni­cal employ­ees, and has long rep­re­sent­ed both edi­tors and animators.
On real­i­ty TV shows, edi­tors work along­side sto­ry pro­duc­ers to devel­op the sto­ries. Her­man­son says the Guild offered to orga­nize the jobs joint­ly with IATSE, but IATSE expressed no inter­est. In fact, IATSE under­mined a strike by sto­ry pro­duc­ers at ​"America's Next Top Mod­el" who want­ed to join the Guild. After they struck, IATSE inter­vened and claimed to rep­re­sent both writ­ers and edi­tors. Since the Guild fig­ured that the com­pa­ny would sup­port IATSE's claim before the Nation­al Labor Rela­tions Board, the Guild dropped its recog­ni­tion petition.
"The IATSE con­flict is more seri­ous than a minor irri­tant," Her­man­son says. ​"We would have won ​'Top Mod­el' if there had been no con­flict, and if we had their coop­er­a­tion, orga­niz­ing in real­i­ty TV would be fair­ly easy."
The two unions also clash about rep­re­sent­ing work­ers in ani­mat­ed films. Near­ly a decade ago, the Guild won recog­ni­tion for Fox Net­work ani­ma­tion writ­ers, who saw their work as more like writ­ing for tele­vi­sion series than for tra­di­tion­al car­toons. While IATSE rep­re­sents many ani­ma­tors for TV and short car­toons, in the film busi­ness, most writ­ers for ani­mat­ed fea­tures are Guild mem­bers but not cov­ered by the con­tract (and thus get no resid­u­als from hits like Shrek).
Now, the Guild is demand­ing that employ­ers rec­og­nize real­i­ty shows' sto­ry pro­duc­ers as under its juris­dic­tion. IATSE would still orga­nize edi­tors. And the Guild wants employ­ers to acknowl­edge con­trac­tu­al­ly that they will be able to rep­re­sent any ani­ma­tion writ­ers not under oth­er con­tracts, such as those with IATSE. The Guild also wants the stu­dios to remain neu­tral dur­ing orga­niz­ing and rec­og­nize the union when a major­i­ty of work­ers sign mem­ber­ship cards.
The con­flict stem­ming from juris­dic­tion­al dis­putes has only inten­si­fied after IATSE crit­i­cized the Guild's bar­gain­ing strat­e­gy and its deci­sion to strike, which has led stu­dios to lay off some IATSE members.
The squab­bling com­pli­cates a key Guild strat­e­gy to use the strike to strength­en its orga­niz­ing. ​"At the heart of this strug­gle [with the pro­duc­ers] is the ques­tion of juris­dic­tion," Her­man­son says, ​"whether we as the Writ­ers Guild will have juris­dic­tion over writ­ing for new media, re-use on new media and oth­er areas of non-union tele­vi­sion. The indus­try employ­ers have used every tech­no­log­i­cal inno­va­tion and new genre to exclude us, and we're not going to be exclud­ed going forward."
The big­ger they are…
The Guild's attempts to orga­nize writ­ers and pro­tect their income streams also clash with the grow­ing con­cen­tra­tion of pow­er in the hands of the Big Six media giants: Gen­er­al Elec­tric (NBC), Time Warn­er, Walt Dis­ney (ABC), News Cor­po­ra­tion (Fox), CBS and Via­com. Most have diver­si­fied hold­ings in net­work, cable TV, film, pub­lish­ing, Inter­net oper­a­tions and more. That gives them the finan­cial strength to with­stand even effec­tive strikes in one prof­it cen­ter. It also means that they are posi­tioned to prof­it from any tech­nol­o­gy and poten­tial busi­ness strategy.
Beyond the threat from unau­tho­rized film file-shar­ing, the Inter­net pos­es two pos­si­ble chal­lenges to their dom­i­nance. First, immense­ly wealthy Sil­i­con Val­ley com­pa­nies, like Google, could decide to move beyond mak­ing bil­lions by con­nect­ing con­tent, adver­tis­ing and view­ers to pro­vid­ing their own con­tent, though this is unlike­ly in the near future.
Sec­ond, the the­o­ret­i­cal pos­si­bil­i­ty exists for what Insti­tute for the Future Direc­tor Paul Saf­fo calls ​"the Cam­bri­an explo­sion of cyber­space" – a rad­i­cal trans­for­ma­tion of media by dif­fuse inno­va­tion from below – espe­cial­ly if the Unit­ed States ever makes much high­er-speed Inter­net access wide­ly avail­able. If that occurred, cre­ative writ­ers, actors and direc­tors now fight­ing the Big Six could have more options to work inde­pen­dent­ly or coop­er­a­tive­ly, or their tal­ents could become even more valu­able to any media com­pa­ny try­ing to dis­tin­guish itself from amateurs.
Fed­er­al dereg­u­la­tion over the past two decades not only encour­aged today's media con­cen­tra­tion, it also wiped out much of inde­pen­dent film and tele­vi­sion pro­duc­tion, cre­at­ing, in the words of long­time inde­pen­dent pro­duc­er and Guild mem­ber Leonard Hill, ​"a uni­fied mono­lith that is dis­abling and crush­ing labor." Hill argues, ​"This new man­age­ment team includes cor­po­rate raiders who feel no alle­giance to the cre­ative process. At the end of the day, the stu­dios want­ed this strike."
Despite their con­sol­i­dat­ed pow­er, the Big Six own dif­fer­ent port­fo­lios of media enter­pris­es and thus have dif­fer­ent stakes in the enter­tain­ment future, lead­ing some observers to argue that it is hard for the indus­try to agree on strat­e­gy – except to take as much away from work­ers as possible.
The con­cen­tra­tion of pow­er is matched by a con­cen­tra­tion of income. The enter­tain­ment indus­try is a prime exam­ple of what econ­o­mist Robert H. Frank calls the win­ner-take-all phe­nom­e­non. A few select movie stars and direc­tors can nego­ti­ate gross par­tic­i­pa­tion deals that guar­an­tee them a share of all income from their films, mak­ing them tens of mil­lions of dol­lars for each film. But the win­ners who cap­ture an out­size por­tion of the rev­enue also include media exec­u­tives, like CBS's Moonves with his $28.6 mil­lion pay­check for 2006, or oust­ed Via­com CEO Tom Fre­ston, who depart­ed with a $60 mil­lion sev­er­ance package.
Pro­duc­ers had ini­tial­ly pro­posed rolling back resid­ual pay­ments, mak­ing writ­ers more like straight­for­ward wage work­ers. Since the birth of the talkies, pro­duc­ers have looked down on writ­ers, and fought both unions and resid­ual pay­ments. Leg­endary film mogul Lew Wasser­man reput­ed­ly dis­missed resid­u­als with the com­ment, ​"I don't pay my plumber every time I flush my toi­let." But, as writ­ers note, his toi­let didn't gen­er­ate a flood of mon­ey each time he flushed.
The strike must go on
Writ­ers insist that their cre­ativ­i­ty is the basis of the industry's wealth, and that they deserve to share it. They argue that resid­u­als help even out the feast-or-famine pat­tern for film and tele­vi­sion writ­ers, near­ly half of whom are unem­ployed at any time. They say that a film is a col­lec­tive cre­ative prod­uct, not just the work of one star direc­tor or actor, and cer­tain­ly not of one cor­po­rate tycoon. There­fore, every­one should share in the win­nings, includ­ing the tech­ni­cal work­ers whose resid­u­als fund health and pen­sion funds.
Not every enter­tain­ment indus­try work­er shares equal­ly or has the same eco­nom­ic stake. With­in the Writ­ers Guild, TV show run­ners – the peo­ple who man­age day-to-day oper­a­tions – are both writ­ers and pro­duc­ers, torn by divid­ed loy­al­ties and sep­a­rat­ed from oth­er writ­ers by mil­lion-dol­lar incomes, yet still gen­er­al­ly sym­pa­thet­ic to the strike. Even big­ger gaps exist with­in the Screen Actors Guild (SAG). And the Direc­tors Guild is divid­ed between the direc­tors and the assis­tant direc­tors, as well as the unit pro­duc­tion man­agers, who often iden­ti­fy more with the pro­duc­ers than with the cre­ative talent.
Over­all, there are 14 arts and enter­tain­ment unions, which are often at odds with each oth­er as well as inter­nal­ly frac­tious. The AFL-CIO has begun the ardu­ous task of bring­ing them togeth­er in an Indus­try Coor­di­nat­ing Coun­cil, and some unions have dis­cussed merg­ers. The Amer­i­can Fed­er­a­tion of Tele­vi­sion and Radio Artists and SAG recent­ly fell just a few votes short in their long-stand­ing efforts to merge, but now are squab­bling about bar­gain­ing pro­ce­dures in antic­i­pa­tion of their June 30 con­tract expiration.
"The good news is, the [arts and enter­tain­ment] indus­try is grow­ing and there are oppor­tu­ni­ties for union growth both with­in com­pa­nies where there's a union pres­ence, in geo­graph­ic mar­kets where there's a union pres­ence and in new mar­kets with lit­tle pen­e­tra­tion," Gra­bel­sky says. ​"The bad news is, it's hard to get all these unions in the same room to talk about it."
With new, more mil­i­tant lead­er­ship elect­ed after a rebel­lion dur­ing con­tract nego­ti­a­tions three years ago, the Writ­ers Guild worked hard this past year to edu­cate and orga­nize its mem­bers. The strik­ing writer Friesen, pre­vi­ous­ly not much involved in the Guild, has become a reg­u­lar pick­eter and volunteer.
"They've gone to pret­ty sig­nif­i­cant lengths to let mem­bers know what's hap­pen­ing, and they've got strike cap­tains [who con­tact mem­bers]," he says. ​"I'm nev­er in the dark." The Guild also reached out to oth­er enter­tain­ment unions, form­ing a close rela­tion­ship with SAG in par­tic­u­lar (but also win­ning sup­port from Team­sters, some of whom refused to cross the Guild pick­et lines).
Many observers thought that the Writ­ers Guild would like­ly wait to strike, when it might be joined by SAG. Such an effort could have shut down pro­duc­tion more quick­ly. ​"If we'd wait­ed," Her­man­son says, ​"we'd have faced an indus­try with a stock­pile of fea­ture films. Now we caught them with­out a stock­pile," and in the mid­dle of a tele­vi­sion sea­son, which start­ed in ear­ly fall.
The strike proved sur­pris­ing­ly effec­tive, hit­ting the indus­try more wide­ly and quick­ly than expect­ed, since the stu­dios had not yet built up their inven­to­ry. Yet if the Guild can­not set­tle ear­ly, the indus­try may try to nego­ti­ate a deal more favor­able to the indus­try with the Direc­tors Guild, hop­ing to under­cut the oth­er unions.
But SAG Nation­al Exec­u­tive Direc­tor Doug Allen says that an ear­ly deal will not nec­es­sar­i­ly estab­lish a pat­tern. ​"If it's a fair deal, we'll be inter­est­ed in build­ing on it," he says. ​"If not, we won't be bound by any­thing some­one else does."
He says thou­sands of SAG mem­bers joined the Guild's pick­et lines and attend­ed ral­lies in sup­port. They also held joint infor­ma­tion­al dis­cus­sions among actors, writ­ers and direc­tors on pro­duc­tion sets. ​"One of the rea­sons there is a lot of sol­i­dar­i­ty," Allen says, ​"is because the Writ­ers Guild and SAG have worked for more than a year exchang­ing infor­ma­tion and edu­cat­ing our members."
The hard prepara­to­ry work may not have weld­ed a seam­less sol­i­dar­i­ty among enter­tain­ment unions, but it cer­tain­ly has strength­ened the writ­ers in their effort to stay on top of devel­op­ing tech­nol­o­gy and effec­tive­ly orga­nize more writ­ers for a big­ger share of what they help to cre­ate. Even fac­ing a pha­lanx of pow­er­ful, rich, diver­si­fied con­glom­er­ates, it looks like they have what it takes to win.
They Wrong. We Write. Indeed.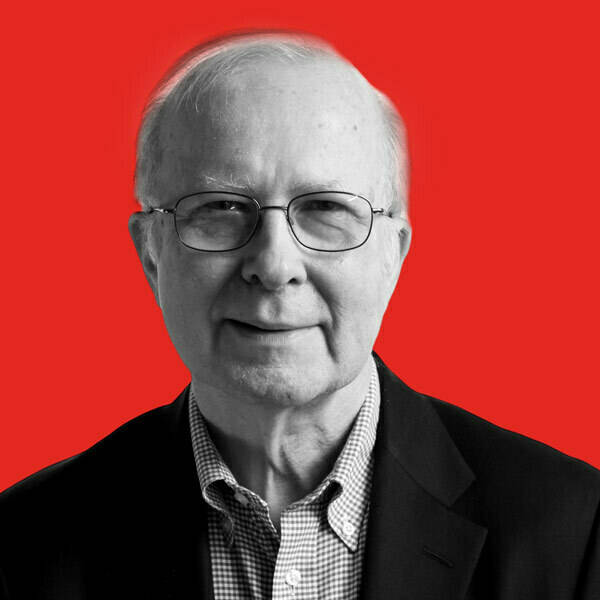 David Moberg, a senior edi­tor of In These Times, has been on the staff of the mag­a­zine since it began pub­lish­ing in 1976. Before join­ing In These Times, he com­plet­ed his work for a Ph.D. in anthro­pol­o­gy at the Uni­ver­si­ty of Chica­go and worked for Newsweek. He has received fel­low­ships from the John D. and Cather­ine T. MacArthur Foun­da­tion and the Nation Insti­tute for research on the new glob­al economy.