Two-Tier System Remains in UAW Deal with Ford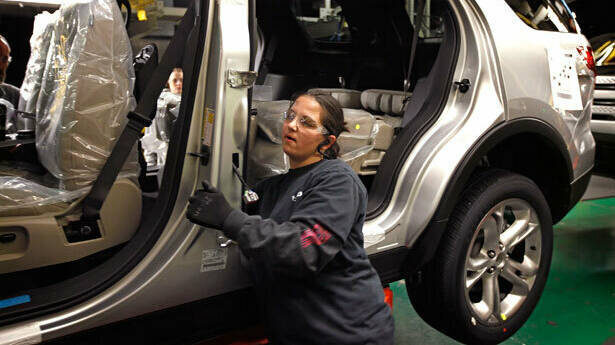 We wanted to make sure you didn't miss the announcement of our new Sustainer program. Once you've finished reading, take a moment to check out the new program, as well as all the benefits of becoming a Sustainer.

On Tuesday, Ford and the United Auto Workers union reached a tentative agreement on a four-year labor deal for the company's 41,000 UAW workers.

The agreement, pending approval by union members, would add an additional 5,750 jobs for a total of 12,000 to be added by 2015. The Detroit automaker also pledged more than $6.2 billion in U.S. factories, including plans to bring jobs back from out of the country. In all, Ford plans to invest a total of $16 billion in America if the contract is ratified.

According to reports, workers will receive — essentially in exchange of pay raises — a $6,000 signing bonus, $7,000 inflation protection payments and $3,700 in profit-sharing for a total of $16,700 over the contract period. The two-tier wage system that the union agreed to in 2007 at the height of the auto crisis also remains in place, despite Ford's steady economic rebound, raising questions about whether the pay scale will become a fixture in future labor negotiations.

Analysts and commentators described the deal in favorable terms because the contract reduces Ford's labor costs and preserves existing jobs while adding more in the future. Job creation would also add more union members at a time when density has declined. But for the workers, it may be a hard contract to swallow since there are no raises. And the long-term consequences of two-tier wage structures may affect union organizing and effectiveness in the future, according to one general study.
The UAW historically set the standard for wages and benefits that allowed its workers to enjoy a healthy standard of living. But membership has fallen and the auto industry crisis has been humbling to the union. When in the past it attempted to unionize its nonunion competitors such as Toyota to raise industry wages, it looks as though the union is now working with the Big Three to keep costs in line with industry standards rather than setting precedent.

Indeed, in 2006, the Big Three companies had wages and benefits that were $25 to $30 dollars more than those at U.S. factories of foreign automakers. The unions agreed to make large concessions in the last few years. But even as the Big Three continue to rebound, the new contract terms for second-tier wages continue to be closer to those offered at the nonunion U.S. factories of foreign automakers. Benefits such as vacations are shorter, and the companies are paying less into post-employment retirement plans.

In Ford's deal, the UAW fulfilled its priority to raise the hourly wage of the ​"tier two" workers who currently make $15.50, a little more than half of what the senior workers earn ($28). The new contract will allow lower tier workers to make about $19.28, similar to what GM workers at the same level will make.

Currently, roughly one-third of the UAW's total membership of 120,000 is second-tier workers, according to the New York Times. The number of two-tier workers is slated to increase. Ford has relatively fewer workers at the lower-tier level — only 80 or so. But on Tuesday, a spokesperson said most of the 12,000 new jobs will pay the lower-tier rate.

In two-tier systems, as demonstrated by grocery and airline industries, reports have found that morale can decline and turnover can be high. Experts view the wage mobility for those that stay as key to its success. Yet lower-tier workers may not be able to move into the higher-earning positions in the short term. Contractual agreements with the government prohibit GM and Chrysler employees from moving up into the first tier until after 2015, writes the New York Times. Ford, which was not bailed out by the federal government two years ago, allows 20 percent of union jobs to be lower-paid before any pay scale changes.

For the union, however, the long-term consequences may ultimately be damaging to its effectiveness and organizing. The pay gap could create divisiveness within the union, according to Gary Chaison, Professor of Industrial Relations at Clark University. He wrote in a 2008 paper that the system might create resentment when it comes future bargaining:
[Lower-tier workers] might even feel sufficiently aggrieved to someday negotiate away the benefits of retired higher-tier workers. For example, a higher-tier auto worker observed: ​"After we retire, the next generation may ask, ​'Why should we defend your pensions? You didn't defend our pay when we were young.'
Some UAW members have reportedly stood in support of the lower-tier workers. Others were already dissatisfied. Workers rejected a deal that included concessions in 2009. And an UAW grievance with Ford is still being worked out.
More recently, after Ford posted $6.6 billion in profits last year, some were expecting pay raises. Many were upset that Ford chief executive Alan Mulally earned $26.5 million last year; some of the rank-and-file cited the executive compensation as a reason to close the two-tier wage scale.

But Chaison adds that unions' shared goal of improving work conditions are also compromised by agreeing to set lower wage and benefit standards for the next generation of employees:
Unions cannot claim to be progressive organizations if they defy the social contract by allowing a disproportionate share of the burden of concessionary bargaining to fall on the shoulders of new hires. They will lose the support of coalition partners, so vital to their political effectiveness and the eventual passage of legislation reforming the organizing process.
Surely, times are tough and the organizing capacity of unions has dwindled from declining dues and membership. As a result, the wage and benefit precedents that propelled a large workforce into sustainable living standards have gone the other way. In Detroit, parity may be nonexistent for the next few years.
But the influx of lower-paying jobs will also change the dynamics of the UAW. The voice of those who have been making deeper sacrifices now may grow louder the next time around.
Be a Sustainer
We surveyed thousands of readers and asked what they would like to see in a monthly giving program. Now, for the first time, we're offering three different levels of support, with rewards at each level, including a magazine subscription, books, tote bags, events and more—all starting at less than 17 cents a day. Check out the new Sustainer program.