Can Los Angeles Teachers Push Back the Corporate Education Reform Movement?
LA teachers seem to be taking a page from the Chicago Teachers Union—including potentially building towards a strike.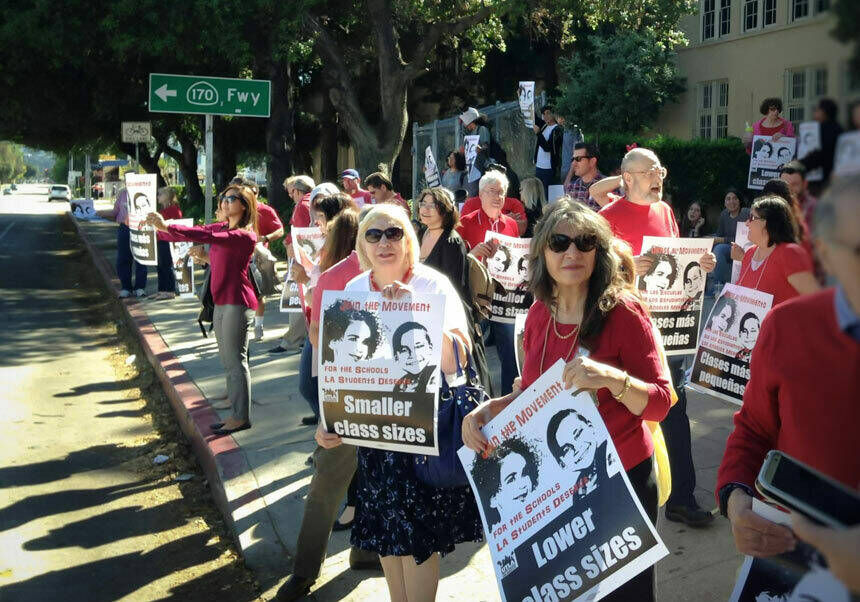 In July 2014, two weeks after Alex Caputo-Pearl took over the presidency of United Teachers Los Angeles (UTLA), he spoke at a conference sponsored by the American Federation of Teachers (AFT) on a panel titled ​"Social Movement Unionism vs. Corporate Reform."
The new union reform leadership has "done more in the last eight months than [the old leaders had] done in the last eight years," says one teacher.
With Chicago Teachers Union (CTU) President Karen Lewis seated to his right, Caputo-Pearl said teachers unions needed to be explicit about "fighting for racial and social justice," fighting "against privatization," and "taking people on who need to be taken on, including a lot of Democrats."
His vision of effective unionism also included being "willing to strike if that's what we need to do."
That vision sounds remarkably similar to the CTU's. After Lewis won her presidency in 2010 as part of the Caucus of Rank-and-File Educators (CORE) slate, the CTU started building strong community ties that supported a teachers' strike two years later. The walkoff was a major rebuke to city leadership and established the union as a leading opponent of "corporate education reform." It also proved that a strike could rally rather than alienate communities.
Like Lewis, Caputo-Pearl was active in a reform effort inside his union. His Union Power coalition argued that the union needed to take a stand against so-called "reformers" and for strong community and parent engagement. And during his campaign for the union presidency, Caputo-Pearl emphasized the need to prepare for a strike.
Now, nine months into the Union Power administration, the question is: Can Los Angeles teachers follow the lead of Chicago teachers and pull off a successful community-backed strike—and, in so doing, deal a blow to the corporate education reform movement?
Corporatized education in LA
Education reformers claim their goal is to improve public education for poor students. But education activists and teachers unions see a more insidious agenda: to render education a private good rather than a public right for all. Backed by uber-wealthy philanthropists such as Bill and Melinda Gates, Eli and Edythe Broad and the Walton family (owners of Walmart), reformers ramp up high-stakes testing, villainize teachers and unions, close public schools and open non-union charter schools.
Few urban school districts have been spared. In Los Angeles, pinching pennies in the public school system has led to crowded classrooms, underfunded counseling departments and underpaid teachers. Meanwhile, more and more tax revenue is funneled into the for-profit education sector–effectively privatizing public education.
Los Angeles Unified School District (LAUSD) Superintendent John Deasy oversaw a wave of such reforms after his appointment in 2011, expanding the number of charter schools in the city from 183 to 285, linking teacher evaluations to test scores and testifying against the union in a state-level case that weakened California teacher tenure laws.
Caputo-Pearl, a white East Coast native, first gained experience in Los Angeles classrooms in 1990 as part of the inaugural corps of Teach for America (TFA). As an undergraduate at Brown University, he campaigned to raise maintenance workers' wages; TFA's seemingly idealistic agenda appealed to him.
After an eight-week crash course in teaching, Caputo-Pearl was given a third-grade classroom at Anderson Elementary in LA's underserved Compton neighborhood. He found himself, like many TFA volunteers, dramatically unprepared. But when he finished his two-year commitment to TFA, he continued teaching. Today, Caputo-Pearl is a staunch TFA opponent. In a 2012 New York Times op-ed, he called TFA part of the "dangerous 'quick fix' model of school reform that is harming rather than helping urban schools," noting the program's close ties to charter schools and support for high-stakes testing.
In 2001, Caputo-Pearl began teaching history in Southern Los Angeles's Crenshaw High, whose impoverished, mostly black student population was famously depicted in Boyz n the Hood. When the school temporarily lost its accreditation because of an administrative error, the Crenshaw Cougar Coalition, a group of neighborhood parents, led protests to reverse the decision. Caputo-Pearl was active in the fight. The day before the 2006 school year began, he learned he was being transferred to the affluent Emerson Middle School in Western Los Angeles–because of his activist stance, the Coalition claimed. The group fought successfully to bring him back.
Under Deasy, however, Crenshaw was shuttered in 2013 and "reconstituted" as three different magnet schools. Teachers were forced to reapply for their jobs, destabilizing an area already suffering from neglect. Test scores were part of the criteria used to judge allegedly ineffective veteran teachers. Ca- puto-Pearl and other teachers were not rehired, which he believes was also due to their reputations as activists.
While at Crenshaw, Caputo-Pearl had been elected to the union's board of directors along with several other members of the dissident union caucus Progressive Educators for Action (PEAC). With member dissatisfaction with union leadership's lack of rank-and-file organizing running high, PEAC joined with several other caucuses to form the Union Power coalition, which won union leadership in 2014 with Caputo- Pearl as president.
Union Power has stuck to its vision of social movement unionism and in so doing won converts. "People are proud to be UTLA members again," says Scott Mandel, a PEAC member and sixth-grade teacher of 30 years. "[Union Power] started a campaign of organizing that was basically unheard of. They have done more in the last eight months than UTLA has done in the last eight years."
Last fall, UTLA leaders visited 443 public schools in the district to tell thousands of teachers about their strategic vision, the "Schools LA Students Deserve." The title was cribbed from a 2012 CTU report that set forth the union's progressive vision for Chicago. During the visits, UTLA organizers handed out "commitment cards" for teachers to sign, pledging to escalate action during their contract campaign–including a strike.
What do LA students deserve?
The new leadership now has an opportunity to prove its mettle as community-allied fighters. Last Friday, UTLA, which represents over 35,000 teachers, secured a long-overdue contract (Los Angeles teachers were working under an expired 2011 deal) in line with its short-term organizing goals for better schools. The union began negotiations with LAUSD as soon as Union Power won control of the union in 2014. Negotiations continued on in 2015 but eventually broke down to the point of impasse, and the possibility of the district's first strike in 26 years loomed in the air.
UTLA's goals include reductions in class size–a central demand in the CTU strike, though Chicago teachers were legally barred from striking over it. (Not so in Los Angeles.) As of January 29, nearly 2,700 middle-and high-school classrooms across the district–18 percent of all classrooms–had more than 45 students. While UTLA teachers have gained their first pay increases in eight years with this new contract, the district only agreed to partial funding for class size reductions, with loose class size caps attached. The union says it will begin pushing the district for far more concessions around what they say are education justice issues like class sizes during the next rounds of negotiation for a contract in the lead-up to expiration in July 2017.
Future union-school district negotiations should see UTLA continuing the organizing program it started since Caputo-Pearl's administration came to power. Ahead of several state-mandated mediation sessions (required before strikes are legally allowed), UTLA started building leverage against the district by boycotting faculty meetings in favor of parking-lot rallies with parents, which highlight the community-union partnership UTLA has built. The district threatened to dock pay for those in attendance.
Building a strike
The central lesson teachers union locals around the country have learned from the CTU is the power of a strike to push back against the corporate reform agenda. In recent years, strikes by teachers have been demonized, both inside and outside the labor movement, as actions that can only hurt teachers unions, and by extension the labor movement. After all, it is argued, in the public's eyes, children miss out on learning and parents scramble for child care.
The CTU strike defied this logic. Because of the union's longtime work in Chicago communities and its commitment to progressive reforms that benefit students, polls showed healthy majorities of parents–particularly parents of color–supporting the teachers after the first week of the strike. That public support proved essential to the union's victory.
But the action came with an enormous risk: If Chicago teachers couldn't carry out a strike that galvanized parents and won their support, the union would have lost the strike and likely opened the door for Mayor Rahm Emanuel's hand-picked board of education to ram through more corporate reforms. The CTU strike suggests that the UTLA could use a strike to roll back free-market education reforms, as well as win economic gains for teachers–but only if it can win over the public.
The union's Schools LA Students Deserve initiative revolves around connecting teachers with parents. Union Power has created organizing and community outreach departments (a strategy CORE employed in Chicago), assigned teachers at 150 schools to work as parent liaisons and partnered with community organizations to hold monthly forums on inequality. The purpose, says Caputo-Pearl, is to "develop a common agenda around racial and educational justice."
The forums helped drive attendance to a series of public actions that culminated in a February UTLA rally, in which 15,000 teachers and community members gathered in support of Schools LA Students Deserve.
Money and ballots
In the nine months of Union Power leadership, UTLA has engaged in some bruising battles against corporate-backed educational policy–and won some key victories.
Union pressure helped force the resignation of Superintendent Deasy in October 2014 after it was revealed that Deasy and his deputies had given inside information to Apple and testing software maker Pearson in advance of the bidding for a $1.3 billion contract to provide the district with iPads. After a public outcry, the district scuttled the plan and Deasy resigned. The FBI is currently investigating.
The elected school board will choose Deasy's permanent replacement in July, following the school board election runoffs that resulted from February's primary elections for three seats. Consequently, both the union and deep-pocketed "reformers" viewed the elections as a chance to tilt the odds of contract negotiations in their favor, with charter school expansion as a key campaign talking point. Donations, in the form of money and boots on the ground, have flown in to the candidates from both the union and education reformers, turning the election into a proxy fight between union forces and charter school advocates. In the only primary race it put money towards, the union was outspent almost 2 to 1 by the California Charter School Association Advocates, which donated more than $800,000 to its pro-charter candidate. The race is among those headed to a runoff in May.
Charter school expansion is of particular interest because the number of LAUSD students in charter schools is nearly 140,000–and that number eats away at the public funds available for public schools. Charters are not subject to the same regulation and oversight as public schools, and unless they are unionized, their teachers lack the support and protection provided by unions.
Last month, teachers at Los Angeles' largest charter school organization, the deceptively named Alliance College-Ready Public Schools, which educates 11,000 students, began a unionization drive. If successful, the drive would increase UTLA's charter rank-and-file by nearly 50 percent. A successful strike by the UTLA could inspire other Los Angeles charter teachers to unionize.
For the teachers at LAUSD public schools, a strike might be the best tool it has to roll back the reform movement. It will also be a test of whether the CTU model can be successfully exported elsewhere. Eunice Grigsby, a parent at Crenshaw High who has known Caputo-Pearl since his days of working with the Crenshaw Cougar Coalition, says that parents will support LA teachers no matter what course of action they take.
"Young people's education is the most important thing we can give to them that nobody can take away from them," Grigsby says. "If the strike happens, I believe that parents are ready. It's a long time coming for us to stand for what's right."
Mario Vasquez is a writer from southern California. He is a regular contributor to Working In These Times. Follow him on Twitter @mario_vsqz.