20 Years After the Million Man March, Louis Farrakhan Can Still Draw A Crowd—And Make Media Uneasy
The 82-year old Nation of Islam leader filled the National Mall in October. Why didn't the media take much notice?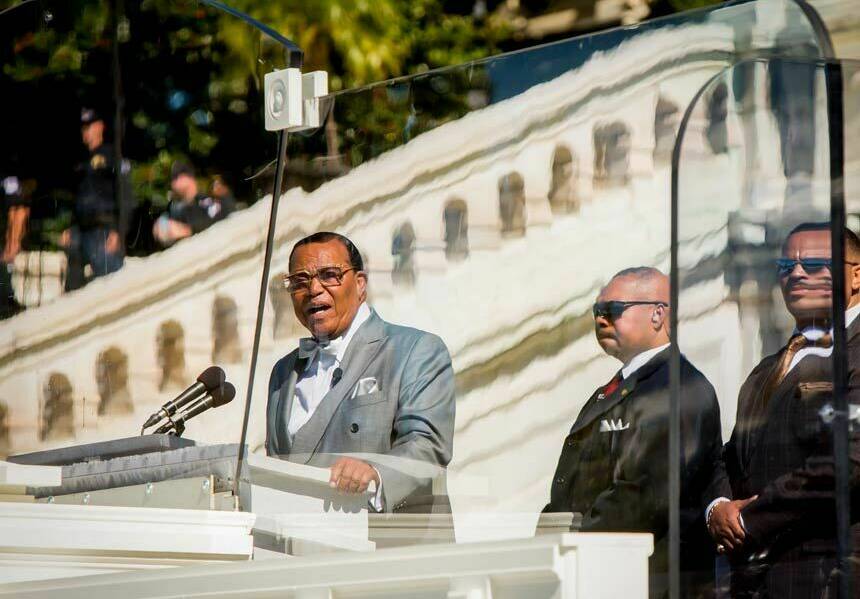 Amer­i­cans filled the Nation­al Mall in Octo­ber for no oth­er rea­son than they were called to do so by Min­is­ter Louis Far­rakhan, the 82-year old leader of the Nation of Islam (NOI). That chain of cau­sa­tion is remark­able on its face, but what's even more remark­able is that this is the sec­ond time the con­tro­ver­sial leader has sum­moned such a huge crowd. Yet there is a puz­zling absence of media analy­ses exam­in­ing the allure of this octo­ge­nar­i­an firebrand.
There were several celebrities in attendance—Snoop Dogg, Russell Simmons, Puff Daddy, Common, Dave Chappelle—revealing Farrakhan's increasing acceptance among the entertainment elite
Last April, soon after Far­rakhan announced NOI's plans to com­mem­o­rate the orig­i­nal Mil­lion Man March's 20th anniver­sary, the group began pub­li­ciz­ing the event as a Jus­tice or Else ral­ly. NOI clear­ly sought to cap­i­tal­ize on black America's anger and dis­may at the pro­lif­er­a­tion of police killings of black peo­ple. NOI and oth­er sup­port­ers mount­ed a grass­roots effort with no cor­po­rate spon­sors, few estab­lish­ment endorse­ments and lit­tle pro­mo­tion in main­stream media. Far­rakhan began appear­ing with hip-hop stars like Young Thug, Ice Cube and Eminem, and mate­ri­al­iz­ing on broad­casts pop­u­lar with youth like The Break­fast Club (on Pow­er 105.1 FM New York City) and Sway in the Morn­ing (on SiriusXM's Shade 45).
"We uti­lized a lot of social media, as well as youth-ori­ent­ed broad­casts and web­sites to help get the word out," explains Richard Muham­mad, edi­tor of NOI's The Final Call.
The hard edge and implic­it men­ace of the ​"or else" mes­sage seemed designed to tan­ta­lize the young and the reck­less. And, in fact, sev­er­al right-wing media sites inter­pret­ed Farrakhan's mes­sage as a call for vio­lence. The Coun­cil of Con­ser­v­a­tive Cit­i­zens' web­site, for exam­ple, head­lined the gath­er­ing this way: ​"Far­rakhan green­lights vio­lence, calls for racial holy war at mas­sive ral­ly." Although it was an oppor­tunis­tic inter­pre­ta­tion, they heard Farrakhan's hint.
In con­trast to the 1995 march, which was lim­it­ed to black men, this gath­er­ing wel­comed women and sum­moned a diverse array of eth­nic­i­ties. Native peo­ples and Lati­nos were promi­nent­ly fea­tured among the speak­ers. Panoram­ic pho­tos of the gath­er­ing reveal dense crowds stretch­ing from the steps of the U.S. Capi­tol along the length of the Nation­al Mall. Although main­stream media placed atten­dance in the thou­sands or tens of thou­sands, the esti­mates by eye­wit­ness­es and African-Amer­i­can press were at least sev­er­al hun­dred thou­sand. The Rev. Jamal Bryant of Bal­ti­more, a vet­er­an orga­niz­er and logis­tics whiz who helped con­vene the march, thinks atten­dance was over a million.
"It is incred­i­ble the num­ber of young peo­ple who showed up for this march," said Tami­ka Mal­lo­ry of Jus­tice League NYC, a group respon­si­ble for many of the anti-police vio­lence mobi­liza­tions in the New York area, which also played a large role in orga­niz­ing the event. Rather than an atmos­phere of aus­tere activism, the march cul­ti­vat­ed a spir­it of play­ful strug­gle, with ubiq­ui­tous music and spo­ken word per­for­mances sprin­kled through the mas­sive crowd.
There were sev­er­al celebri­ties in atten­dance—Snoop Dogg, Rus­sell Sim­mons, Puff Dad­dy, Com­mon, Dave Chap­pelle—reveal­ing Farrakhan's increas­ing accep­tance among the enter­tain­ment elite, but the paparazzi took a pass. One of the few out­lets to pro­vide exten­sive cov­er­age was New­sOne, an affil­i­ate of the black-owned, Wash­ing­ton-based Radio One network.
The main­stream media's aver­sion to Far­rakhan is a prod­uct of many things, not least the barb of his indict­ments. Far­rakhan is an artic­u­late spokesman for black America's jus­ti­fi­able griev­ances, and white Amer­i­cans are deeply impli­cat­ed. White guilt is not a good media draw. Far­rakhan has also earned an anti-Semit­ic rep­u­ta­tion.
Pro­gres­sive media was not much bet­ter than its cor­po­rate coun­ter­part in cov­er­ing this sto­ry. White pro­gres­sives also have a Far­rakhan-aver­sion, and frankly, that's under­stand­able. Occa­sion­al­ly Far­rakhan dips into racial vit­ri­ol to bur­nish his fire­brand cre­den­tials. His faith-based con­ser­vatism also gives sec­u­lar­ists pause. He man­aged to throw anti-abor­tion and respectabil­i­ty pol­i­tics into his Nation­al Mall speech.
The endur­ing mys­tery of Far­rakhan is his abil­i­ty to attract sup­port from black America's wide ide­o­log­i­cal spec­trum despite his reac­tionary sub­text. Few could name a black leader oth­er than Far­rakhan capa­ble of con­ven­ing these mas­sive gath­er­ings. That capac­i­ty is the prod­uct of his unique and endur­ing charis­ma, and his posi­tion as leader of the only group seen to be utter­ly devot­ed to black America's survival.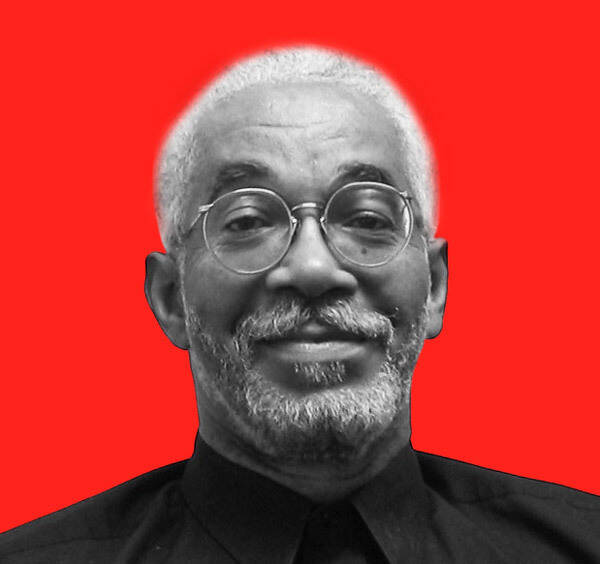 Sal­im Muwakkil
is a senior edi­tor of
In These Times
, where he has worked since
1983
. He is the host of The
Sal­im Muwakkil
show on WVON, Chicago's his­toric black radio sta­tion, and he wrote the text for the book
HAROLD: Pho­tographs from the Harold Wash­ing­ton Years
.