This Louisiana Parish Allowed a Quarter of Its Sheriff's Deputies To Work Security for a Pipeline
Water protectors say the swamp was swarming with uniformed police working for the company.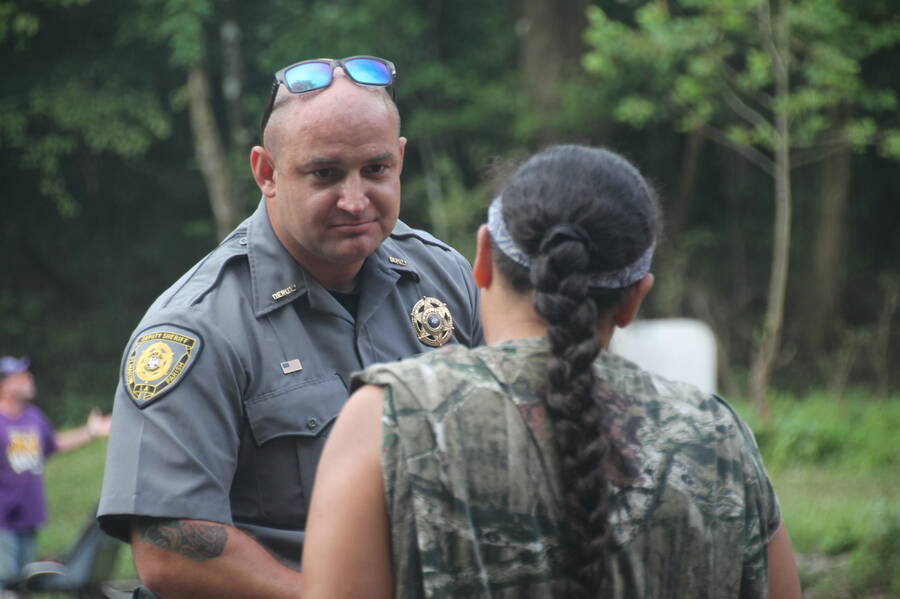 ST. MAR­TIN PARISH, LOUISIANA — As con­struc­tion equip­ment roared back to life, oppo­nents of the Bay­ou Bridge Pipeline — part of the larg­er project con­nect­ing the Dako­ta Access pipeline to refiner­ies in Louisiana — shook their heads in dis­may. They had spent hours explain­ing to sheriff's deputies that Ener­gy Trans­fer, the com­pa­ny build­ing the pipeline, did not have the required per­mis­sion from landown­ers to begin con­struc­tion — a fact lat­er con­firmed by a judge.
Arrestees had no way of knowing that they were being questioned, detained and handcuffed by off-duty police.
But on that day in Sep­tem­ber 2018 under Louisiana's scorch­ing sum­mer sun, there was no con­vinc­ing the deputies from the St. Mar­tin Parish Sheriff's Office. Instead, they told the activists — who call them­selves water pro­tec­tors — they would be arrest­ed on felony tres­pass­ing charges.
"Why are you work­ing for this com­pa­ny?" asked an inde­pen­dent reporter. Like the water pro­tec­tors, she had received per­mis­sion to be there by a landowner.
"Do it look like I'm work­ing for this com­pa­ny? Do this com­pa­ny pay me? I work for the sheriff's office," replied Lt. Jay Capterville.
Records show that Capter­ville — who was stand­ing sock-foot­ed, his issued uni­form and weapon caked with mud, shoes lost hours before along the half-mile trek to the remote site — was, in fact, not on the clock for the sheriff's office that day. As for why he was in the swamp in uni­form, there's a like­ly expla­na­tion: He's among the 58 sheriff's deputies grant­ed per­mis­sion to moon­light for Hub Enter­pris­es, which is Ener­gy Transfer's secu­ri­ty con­trac­tor for the Bay­ou Bridge project. Capter­ville did not respond to requests for com­ment by deadline.
In Octo­ber 2018, the sheriff's office grant­ed the deputies retroac­tive per­mis­sion to work with Hub Enter­pris­es, account­ing for 27% of the parish's sheriff's deputies. No request was denied. Of 19 deputies iden­ti­fied at the site between Aug. 1, 2018, and Oct. 13, 2018, all but five were off the clock.
"Such a high per­cent­age real­ly calls into ques­tion the fun­da­men­tal fair­ness of what peo­ple who go up against the pipeline can expect," says Bill Quigley, a law pro­fes­sor at Loy­ola Uni­ver­si­ty New Orleans who is rep­re­sent­ing the arrest­ed water pro­tec­tors. ​"It looks like the St. Mar­tin Parish Sheriff's Office is a branch of the pipeline company."
Cen­tered in Lafayette, Hub Enter­pris­es describes itself as ​"among the largest secu­ri­ty com­pa­nies in the south­ern Unit­ed States." In These Times was unable to deter­mine whether Hub Enter­pris­es pro­vides secu­ri­ty for oth­er com­pa­nies in St. Mar­tin Parish. Hub Enter­pris­es declined a request for comment.
"Tak­ing an exam­ple from the anti-labor move­ments around min­ing a cen­tu­ry ago," says Cher­ri Foytlin, a water pro­tec­tor who serves on the indige­nous women's advi­so­ry coun­cil of the L'eau Est La Vie (Water Is Life) protest camp, ​"the oil com­pa­nies are now hir­ing Pinker­ton men who serve cor­po­rate prof­its at the sac­ri­fice of basic human rights and needs."
Six­teen peo­ple were arrest­ed in the parish between Aug. 1, 2018, and Oct. 13, 2018, on charges of felony tres­pass­ing. Off-the-clock deputies made up the major­i­ty — or all — of the deputies who could be iden­ti­fied on the scene of the arrests. One of the arrestees was a jour­nal­ist report­ing on the pipeline and a coau­thor of this report, Karen Sav­age; the oth­er 15 were water protectors.
Arrestees had no way of know­ing that they were being ques­tioned, detained and hand­cuffed by off-duty police. The offi­cers wore full uni­forms and used parish-issued weapons and tech. Some, like Capter­ville, denied they were work­ing for a third party.
The arrestees were charged under Louisiana's new ​"crit­i­cal infra­struc­ture" law, which makes tres­pass­ing on oil pipelines a felony, pun­ish­able by up to five years in prison. Ener­gy Trans­fer was among the oil com­pa­nies that lob­bied to pass the leg­is­la­tion in Louisiana and Iowa. Based on a mod­el bill by the Amer­i­can Leg­isla­tive Exchange Coun­cil, such laws have been passed in five states, and the Trump admin­is­tra­tion recent­ly pro­posed a fed­er­al version.
In a law­suit filed in May, water pro­tec­tors, landown­ers and sev­er­al envi­ron­men­tal orga­ni­za­tions asked a fed­er­al court to declare the law a vio­la­tion of the First Amend­ment. (Co-author Karen Sav­age is a plaintiff.)
Quigley, who also rep­re­sents the plain­tiffs in the con­sti­tu­tion­al chal­lenge, tells In These Times, ​"It's par­tic­u­lar­ly trou­bling in this cir­cum­stance because the petro­chem­i­cal lob­by cre­at­ed and passed this law over the objec­tion of cit­i­zens, then they hired tax­pay­er fund­ed pub­lic law enforce­ment to be their pri­vate secu­ri­ty, then direct­ed those pri­vate secu­ri­ty peo­ple to arrest peo­ple under the law that's ques­tion­able to begin with."
Many of the arrests occurred on con­test­ed prop­er­ty, where a judge lat­er ruled Ener­gy Trans­fer did not have per­mis­sion to be. The off-duty deputies choked and pep­per-sprayed water pro­tec­tors, and alleged­ly stunned one indi­vid­ual with a Taser and tack­led Foytlin.
Anne White Hat, an indige­nous water pro­tec­tor who serves with Foytlin on the camp's advi­so­ry coun­cil, was arrest­ed moments after lead­ing a prayer cer­e­mo­ny at a pub­lic boat ramp on Sept., 2018. Every deputy who could be iden­ti­fied at the scene was off-duty.
Deputies claimed there was a war­rant out for White Hat's arrest. ​"If you have a war­rant for my arrest, I want you to show it to me now," said White Hat as a deputy pulled back her arms and hand­cuffed her. Months lat­er, she said she has still not seen evi­dence that the war­rant exist­ed at the time.
She says she was placed in the back of a St. Mar­tin Parish Sher­if­f's Office cruis­er and dri­ven for about an hour on nar­row coun­try roads through the sug­ar cane fields of south Louisiana before reach­ing the jail, a trip that should have tak­en about 25 minutes.
About halfway into the ride, she says, she was trans­ferred to anoth­er vehicle.
"When the cop car stopped and the ETP cop in St. Mar­tin Parish Sheriff's uni­form got out and walked to the back of the truck, the thought did cross my mind if this is the part where I dis­ap­pear," White Hat says.
"It was ter­ri­fy­ing for sure — there was no one around to wit­ness the exchange and I wasn't actu­al­ly sure at that point if I would make it to the jail. Now I'm even more angry that ETP lit­er­al­ly bought St Mar­tin Parish Sheriff's deputies."
Hub pre­vi­ous­ly hired off-duty Louisiana pro­ba­tion and parole offi­cers to work secu­ri­ty for the Ener­gy Trans­fer project. But after offi­cers using depart­ment-issued gear refused to iden­ti­fy them­selves and vio­lent­ly pulled water pro­tec­tors from kayaks in ear­ly August, the Louisiana Depart­ment of Pub­lic Safe­ty and Cor­rec­tions revoked its offi­cers' per­mis­sion to work for Hub.
Two months lat­er, the St. Mar­tin Parish Sheriff's Office start­ed grant­i­ng deputies retroac­tive per­mis­sion to work for Hub Enter­pris­es on Sat­ur­days and Sundays.
The St. Mar­tin deputies appeared to be work­ing more than their approved shifts, how­ev­er. Records and pho­tos show off-duty deputies rou­tine­ly present at the site on days oth­er than Sat­ur­day or Sun­day, and at least four arrests were made on week­days by off-duty officers.
Ener­gy Trans­fer, for­mer­ly known as Ener­gy Trans­fer Part­ners, is the same com­pa­ny whose secu­ri­ty likened Stand­ing Rock water pro­tec­tors to jihadists, bru­tal­ly attacked them with dogs and sprayed them with water can­nons in freez­ing temperatures.
Alex­is Daniel, spokesper­son for Ener­gy Trans­fer, told In These Times that the com­pa­ny hired secu­ri­ty ​"to mon­i­tor our con­struc­tion sites for the safe­ty of our work­ers and those in the sur­round­ing area" and that they ​"do not tol­er­ate ille­gal activ­i­ty on our right of ways, nor activ­i­ties that would put our work­ers or oth­er landown­ers in close prox­im­i­ty in danger."
Foytlin rejects this nar­ra­tive: ​"Why would this sher­if­f's depart­ment be allowed to be a trai­tor to work­ing-class folks by not pro­tect­ing life, but pro­tect­ing prof­it as a priority?"
Karen Sav­age is an inves­tiga­tive jour­nal­ist who has cov­ered envi­ron­men­tal jus­tice com­mu­ni­ties exten­sive­ly. She was
arrest­ed
twice under Louisiana's felony tres­pass law while
report­ing
on
resis­tance
to the Bay­ou Bridge pipeline, includ­ing for this piece.
Sarah Lazare
is a reporter and web edi­tor with
In These Times
.