Malala Yousafzai Stable in UK After Taliban Shooting, Touch-and-Go Week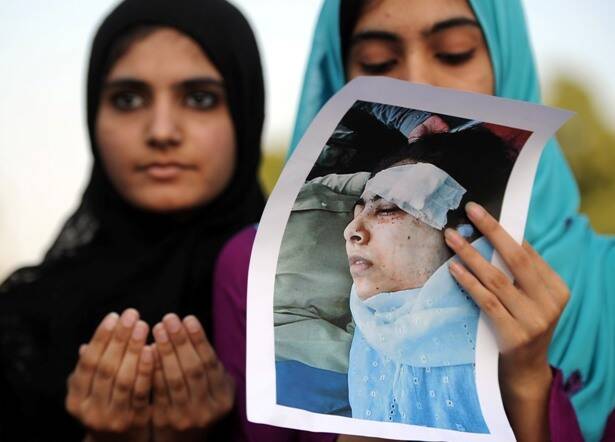 After being shot by the Tal­iban last Tues­day,
&
nbsp;
14
-year-old Pak­istani activist Malala Yousafzai was flown to the Queen Eliz­a­beth Hos­pi­tal in Birm­ing­ham in cen­tral Eng­land for treat­ment on Mon­day night. Doc­tors say she
&
rsquo;s now in
&
ldquo;sta­ble
&
rdquo; con­di­tion.Yousafzai was
&
nbsp;shot in the head last week
&
nbsp;by a mem­ber of the
&
nbsp;Tehrik-i-Tal­iban Pak­istan
&
nbsp;for pub­licly advo­cat­ing girls
&
rsquo; edu­ca­tion and pro­mot­ing
&
ldquo;West­ern think­ing.
&
rdquo;
&
nbsp;BBC News reports
&
nbsp;that the gun­man who board­ed the vehi­cle asked Malala her name before fir­ing three shots.
She ini­tial­ly received treat­ment at a mil­i­tary hos­pi­tal in Peshawar, near her home­town of Min­go­ra, and then a mil­i­tary hos­pi­tal in Rawalpin­di, before being trans­port­ed by air ambu­lance to the UK. The Tal­iban have said they will tar­get Yousafzai again if she sur­vives.Yousafzai has long been advo­cat­ing women
&
rsquo;s rights and girls
&
rsquo; edu­ca­tion in Pak­istan. She began pen­ning a blog for BBC News under the pseu­do­nym Gul Makai when she was just
11
years old, reveal­ing details about life under Tal­iban rule, which banned females from going to school, and dis­cussing her deter­mi­na­tion to obtain an edu­ca­tion any­way. After the mil­i­tary forced out the Tal­iban, Yousafzai began to advo­cate women
&
rsquo;s edu­ca­tion pub­licly and was award­ed Pak­istan's Nation­al Peace Award for Youth. She received death threats from the Tal­iban but con­tin­ued to speak out against the Tal­iban's efforts to deprive girls of edu­ca­tion.Hos­pi­tal med­ical direc­tor Dr. David Ross­er says that young girl has ​
"
a chance of mak­ing a good recov­ery.
&
rdquo; He
&
nbsp;tells BBC News, ​
"
Clear­ly it would be inap­pro­pri­ate on every lev­el, not least for her, to put her through all of this if there was no hope of decent recov­ery.
&
rdquo;In light of con­tin­u­ing Tal­iban threats, secu­ri­ty is tight at the UK hos­pi­tal, and police have been deal­ing with vis­i­tors. On Mon­day night, two unau­tho­rized vis­i­tors arrived at the hos­pi­tal to wish Yousafzai well, but they were stopped, ques­tioned by the police and turned away. Dr. Ross­er
&
nbsp;report­ed­ly stat­ed
&
nbsp;that
&
ldquo;a num­ber of peo­ple turned up claim­ing to be mem­bers of Malala's fam­i­ly, which we don't believe to be true, and have been arrest­ed.
&
rdquo; How­ev­er, a police spokesper­son released a state­ment claim­ing that no arrests have been made.A return to Pak­istan would almost cer­tain­ly put the young activist's life in dan­ger yet again. BBC News cor­re­spon­dent M Ilyas Khan spec­u­lates: Even if Malala Yousafzai sur­vives, life is not going to be the same for her and her fam­i­ly. No place in Pak­istan is safe for peo­ple tar­get­ed by mil­i­tant groups. She may have to live under state secu­ri­ty or in asy­lum abroad. In either case, her life and her abil­i­ty to cam­paign for girls' edu­ca­tion in north-west­ern Pak­istan will be severe­ly lim­it­ed.
&
nbsp;It
&
rsquo;s not yet clear the ram­i­fi­ca­tions the shoot­ing will have for women
&
rsquo;s activism in large in Pak­istan. It may hin­der many from speak­ing out against the Tal­iban and its ban on women
&
rsquo;s edu­ca­tion due to fear of vio­lent back­lash from the extrem­ist group. How­ev­er, the attack actu­al­ly seems to be spark­ing protest and, on Sun­day, tens of thou­sands ral­lied in Karachi to protest the attack.While Yousafzai con­tin­ues to improve under the care of med­ical spe­cial­ists, she has a long road of recov­ery ahead.
&
nbsp;Dr. Ross­er says,
&
ldquo;There's a long way to go and she is not out of the woods yet… but at this stage we're opti­mistic that things are going in the right direc­tion.
&
rdquo; Malala may need to under­go neu­ro­log­i­cal care, treat­ment to repair her skull as well as long-term psy­cho­log­i­cal treat­ment to recov­er from the trau­ma of the vicious attack.