Malala Yousafzai Stable in UK After Taliban Shooting, Touch-and-Go Week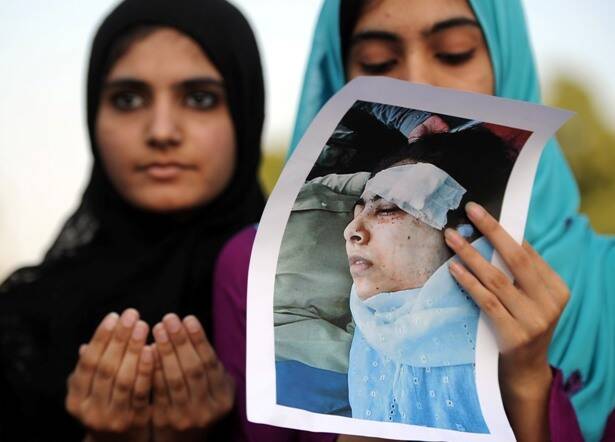 After being shot by the Taliban last Tuesday,
&
nbsp;
14
-year-old Pakistani activist Malala Yousafzai was flown to the Queen Elizabeth Hospital in Birmingham in central England for treatment on Monday night. Doctors say she
&
rsquo;s now in
&
ldquo;stable
&
rdquo; condition. Yousafzai was
&
nbsp;shot in the head last week
&
nbsp;by a member of the
&
nbsp;Tehrik-i-Taliban Pakistan
&
nbsp;for publicly advocating girls
&
rsquo; education and promoting
&
ldquo;Western thinking.
&
rdquo;
&
nbsp;BBC News reports
&
nbsp;that the gunman who boarded the vehicle asked Malala her name before firing three shots.
She initially received treatment at a military hospital in Peshawar, near her hometown of Mingora, and then a military hospital in Rawalpindi, before being transported by air ambulance to the UK. The Taliban have said they will target Yousafzai again if she survives. Yousafzai has long been advocating women
&
rsquo;s rights and girls
&
rsquo; education in Pakistan. She began penning a blog for BBC News under the pseudonym Gul Makai when she was just
11
years old, revealing details about life under Taliban rule, which banned females from going to school, and discussing her determination to obtain an education anyway. After the military forced out the Taliban, Yousafzai began to advocate women
&
rsquo;s education publicly and was awarded Pakistan's National Peace Award for Youth. She received death threats from the Taliban but continued to speak out against the Taliban's efforts to deprive girls of education. Hospital medical director Dr. David Rosser says that young girl has ​
"
a chance of making a good recovery.
&
rdquo; He
&
nbsp;tells BBC News, ​
"
Clearly it would be inappropriate on every level, not least for her, to put her through all of this if there was no hope of decent recovery.
&
rdquo; In light of continuing Taliban threats, security is tight at the UK hospital, and police have been dealing with visitors. On Monday night, two unauthorized visitors arrived at the hospital to wish Yousafzai well, but they were stopped, questioned by the police and turned away. Dr. Rosser
&
nbsp;reportedly stated
&
nbsp;that
&
ldquo;a number of people turned up claiming to be members of Malala's family, which we don't believe to be true, and have been arrested.
&
rdquo; However, a police spokesperson released a statement claiming that no arrests have been made. A return to Pakistan would almost certainly put the young activist's life in danger yet again. BBC News correspondent M Ilyas Khan speculates: Even if Malala Yousafzai survives, life is not going to be the same for her and her family. No place in Pakistan is safe for people targeted by militant groups. She may have to live under state security or in asylum abroad. In either case, her life and her ability to campaign for girls' education in north-western Pakistan will be severely limited.
&
nbsp; It
&
rsquo;s not yet clear the ramifications the shooting will have for women
&
rsquo;s activism in large in Pakistan. It may hinder many from speaking out against the Taliban and its ban on women
&
rsquo;s education due to fear of violent backlash from the extremist group. However, the attack actually seems to be sparking protest and, on Sunday, tens of thousands rallied in Karachi to protest the attack. While Yousafzai continues to improve under the care of medical specialists, she has a long road of recovery ahead.
&
nbsp;Dr. Rosser says,
&
ldquo;There's a long way to go and she is not out of the woods yet… but at this stage we're optimistic that things are going in the right direction.
&
rdquo; Malala may need to undergo neurological care, treatment to repair her skull as well as long-term psychological treatment to recover from the trauma of the vicious attack.