A Mexican Labor Lawyer Denounced U.S. Pressure to Reopen Maquiladoras. Then She Was Jailed.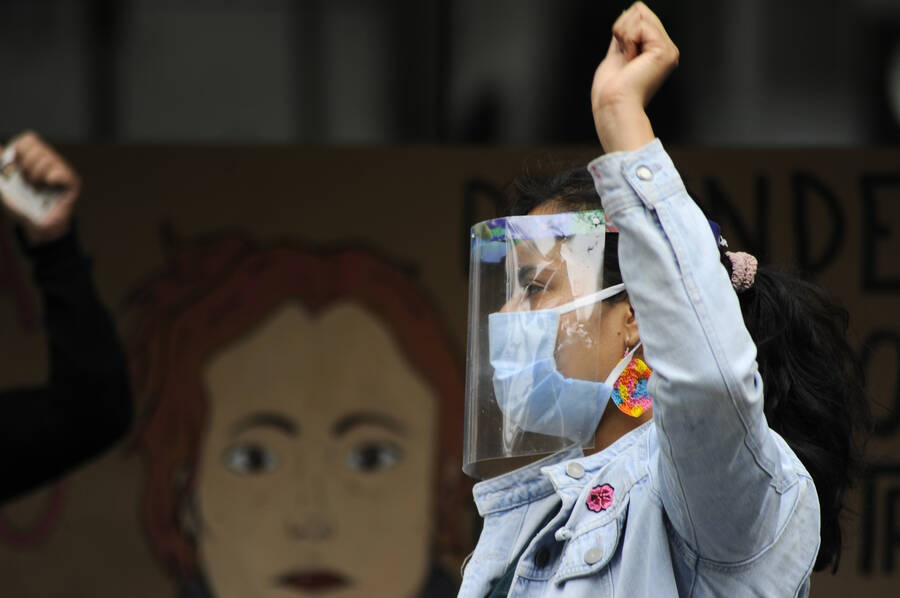 Update: Susana Pri­eto was released from the Ciu­dad Vic­to­ria prison on July 1, although under harsh con­di­tions imposed by the judge of the state of Tamauli­pas. For the next 30 months, she can­not enter Tamauli­pas and can­not con­tin­ue her advo­ca­cy work for maquilado­ra work­ers in the state. She can­not leave her res­i­dence in Chi­huahua state dur­ing the next 30 months, and can­not trav­el to the Unit­ed States dur­ing this peri­od, even though her five chil­dren reside in this coun­try. In a video on her Face­book account, she said that she fears for her life and the lives of her attor­neys in Tamauli­pas. She said that she will file an appeal against the con­di­tions of her release.
Through­out the month of May, as the coro­n­avirus pan­dem­ic was peak­ing in Mex­i­co, Susana Pri­eto, a top Mex­i­can labor attor­ney who has been defend­ing work­ers' rights for over three decades, was mak­ing her voice heard.
Dur­ing a series of pub­lic demon­stra­tions in the state of Chi­huahua, Pri­eto denounced the U.S. pres­sure on Mex­i­co's gov­ern­ment to ease the lock­downs of the coun­try's man­u­fac­tur­ing and assem­bly plants, or maquilado­ras, say­ing that any attempts to reopen the plants were a direct threat to work­er safety.
Appar­ent­ly, these straight­for­ward com­ments were too much of a threat, because on June 8, author­i­ties in the state of Tamauli­pas arrest­ed Pri­eto in the city of Mata­moros, and charged her with incit­ing riots, threats and coer­cion. She could face sev­er­al years in prison if found guilty, accord­ing to the Tamauli­pas penal code. ​"This is a mes­sage not just for the activists but for all the work­ing class in Mex­i­co," says Pri­eto's daugh­ter, Fer­nan­da Peña.
As seri­ous as they seem to be, none of Pri­eto's charges require manda­to­ry pre-tri­al deten­tion, as con­firmed by a June 24 state­ment issued by Mex­i­co's labor min­istry. The min­istry also expressed hope that Pri­eto ​"can pur­sue her defense in free­dom." Still, the labor lawyer remains behind bars, on the pre­text that she is a flight risk. That's one of the rea­sons Peña con­sid­ers her moth­er a ​"polit­i­cal prisoner."
Pri­eto is used to reprisals, even severe ones, for her activism. Peña says that Pri­eto was almost killed and kid­napped in Chi­huahua, and her hus­band, Peña's father, was threat­ened with a gun. But until this month, Pri­eto had nev­er been detained. Peña con­sid­ers that her mother's arrest in Mata­moros is a con­se­quence of the work she has done for more than 30 years along the U.S. border.
Apart from Ciu­dad Juárez and Mata­moros, Pri­eto has advo­cat­ed for work­ers in Mex­i­cali, Saltil­lo and Mon­clo­va, among oth­er cities along the bor­der. Peña says that, though her moth­er start­ed only as an attor­ney, she became increas­ing­ly involved in edu­cat­ing work­ers about their rights and how to pro­tect them.
Pri­eto's arrest came after a con­cert­ed effort by the Trump admin­is­tra­tion to get the Mex­i­can gov­ern­ment to loosen some of its lock­down restric­tions in order to aid U.S. busi­ness­es. U.S. under­sec­re­tary of defense Ellen Lord said in an April 20 brief­ing that ​"Mex­i­co right now is some­what prob­lem­at­i­cal for us" because the coun­try's lock­down was dis­rupt­ing sup­ply chains for the U.S. defense indus­try. She also report­ed that she had spo­ken with the U.S. ambas­sador in Mex­i­co, Christo­pher Lan­dau, and would write to the Mex­i­can for­eign min­is­ter to ask for help to reopen these sup­ply chains. Lan­dau him­self also pub­licly pushed for the eas­ing of busi­ness restric­tions, tweet­ing, ​"There are risks every­where, but we don't all stay at home for fear we are going to get in a car acci­dent … The destruc­tion of the econ­o­my is also a health threat."
Observers have point­ed to the U.S. pres­sure cam­paign as a pos­si­ble fac­tor in Pri­eto's deten­tion. More than 50 activists, aca­d­e­mics and unions issued a state­ment con­demn­ing Pri­eto's arrest as a reprisal for her strug­gle to defend maquilado­ras work­ers' rights in Ciu­dad Juárez and Matamoros.
Asked about this issue, Mex­i­co's Pres­i­dent Andrés Manuel López Obrador (known as AMLO) said on a June 12 press con­fer­ence that he did not believe the arrest was due to ​"a request from the U.S. gov­ern­ment because they would not dare to do so," and that the U.S.-Mexico rela­tion­ship was based on mutu­al respect. He also stressed that the arrest was a local mat­ter in which the fed­er­al gov­ern­ment could only play a con­cil­ia­to­ry role.
Peña says that she ​"can­not rule out any pos­si­bil­i­ty" about the U.S. gov­ern­men­t's pos­si­ble involve­ment in her moth­er's arrest, although she believes that the deci­sion to arrest Pri­eto came from the Tamauli­pas government.
Pri­eto, polit­i­cal prisoner
Pres­i­dent López Obrador allowed maquilado­ras to reopen on May 18, sev­en weeks after all non-essen­tial eco­nom­ic activ­i­ty was sus­pend­ed in Mex­i­co, despite grow­ing Covid-19 infec­tion rates. The deci­sion was announced by Mexico's Min­is­ter of Econ­o­my, Gra­ciela Márquez, who said that the reopen­ing would have to be ​"grad­ual, order­ly and cau­tious." But health experts pro­fessed wide­spread alarm, and there's evi­dence that the reopen­ings caused a spike of deaths among work­ers infect­ed with Covid-19 in cities like Tijua­na, in the state of Baja Cal­i­for­nia. Nation­wide, dai­ly Covid-19 infec­tions rates have more than dou­bled, increas­ing from 2,414 on May 18 to 5,343 on June 21.)
Pri­eto asked a very sim­ple ques­tion in response: ​"Is it safe?" She led sev­er­al protests in Ciu­dad Juárez, the biggest city in Chi­huahua and a cen­ter of the maquilado­ra indus­try, to denounce the human costs of reac­ti­vat­ing non-essen­tial sec­tors. ​"It is safe to say that the Pres­i­dent of Mex­i­co is a pup­pet of Mex­i­can and for­eign [busi­ness­es] that do not care about the lives of Mex­i­can work­ers," she said at one demonstration.
She also crit­i­cized the gov­ern­ment for keep­ing sev­er­al maquilado­ras open because they alleged­ly man­u­fac­tured essen­tial prod­ucts, even though these prod­ucts were not des­tined for Mex­i­co. (A large por­tion of maquilado­ras are U.S.-owned, and they export prac­ti­cal­ly all their com­po­nents to the U.S.) At least two defense indus­try sup­pli­ers, Collins Aero­space and Gulf­stream, locat­ed in Mex­i­cali, in the state of Baja Cal­i­for­nia, kept pro­duc­ing even dur­ing the man­dat­ed shut­down, accord­ing to a local legislator.
Activists con­cur that the inter­ests of the defense indus­try and, in gen­er­al, of the U.S.-owned maquilado­ras, are being pri­or­i­tized by the Mex­i­can gov­ern­ment over Mex­i­cans work­ers' lives.
"We see that the multi­na­tion­al com­pa­nies kept mov­ing for­ward, some­how push­ing Mex­i­co's gov­ern­ment to reac­ti­vate all of the coun­try's indus­tries," says Julia Quiñonez, coor­di­na­tor of the Bor­der Work­ers Com­mit­tee (CFO), a non­prof­it defend­ing maquilado­ra work­ers' rights since 1986.
Reopen­ing man­u­fac­tur­ing plants despite the health risks has not been the first time that Pres­i­dent López Obrador's gov­ern­ment has bowed to Trump admin­is­tra­tion demands. Mex­i­co has also vir­tu­al­ly stopped migra­tion from Cen­tral Amer­i­ca and has imple­ment­ed drug poli­cies pushed by the U.S. Attor­ney Gen­er­al William Barr.
Sys­temic abus­es
Maquilado­ras are not just putting their work­ers' health at risk. Sev­er­al of them have tak­en advan­tage of the pan­dem­ic to lay-off per­son­nel with­out pro­vid­ing prop­er sev­er­ance pay, accord­ing to mem­bers of the Con­fed­er­a­tion of Mex­i­can Work­ers (CTM), a union tra­di­tion­al­ly aligned with the government's inter­ests, in Ciu­dad Juárez.
Quiñonez says that some maquilado­ras are tak­ing advan­tage of the pan­dem­ic to offer reduced sev­er­ance pay to work­ers. After being fur­loughed for weeks, many work­ers have been forced to accept half of what they are enti­tled to because they are broke, she says.
Pri­eto was arrest­ed for denounc­ing these kinds of sys­temic abus­es, says Quiñonez, adding that her arrest was ​"polit­i­cal­ly moti­vat­ed, of course."
The State Depart­ment has des­ig­nat­ed the state of Tamauli­pas as a ​"no trav­el zone" for U.S. cit­i­zens, not­ing that ​"fed­er­al and state secu­ri­ty forces have lim­it­ed capa­bil­i­ty to respond to vio­lence in many parts of the state." In Pri­eto's case, how­ev­er, author­i­ties showed expe­di­en­cy rarely seen in the state, says Quiñonez.
Tamauli­pas's Attor­ney Gen­er­al, Irv­ing Bar­rios Moji­ca, said in a press con­fer­ence that Pri­eto was the only one arrest­ed among the 400 pro­test­ers out­side a labor arbi­tra­tion tri­bunal. The state pros­e­cu­tor alleged that Pri­eto had threat­ened the ​"phys­i­cal" and ​"moral" safe­ty of pub­lic servants.
Even though Bar­rios Moji­ca rec­og­nized that Prieto's charges do not require manda­to­ry pre-tri­al deten­tion, she was sent to a prison in Ciu­dad Vic­to­ria because she was con­sid­ered a ​"flight risk" since she also had res­i­den­cy in the Unit­ed States.
For years, human rights defend­ers and jour­nal­ists in Mex­i­co have, as the human rights group Front­line Defend­ers puts it, been ​"sub­ject to intim­i­da­tion, legal harass­ment, arbi­trary deten­tion, threats, acts of phys­i­cal aggres­sion, enforced dis­ap­pear­ances and killings as a result of their activ­i­ties." Advo­cates for maquilado­ra work­ers' rights have endured threats and intim­i­da­tion, accord­ing to Quiñonez, although Pri­eto seems to be the first labor attor­ney arbi­trar­i­ly detained. With Pri­eto's arrest, author­i­ties ​"want to send a mes­sage, set a prece­dent, and wipe-out labor orga­niz­ing" on the bor­der, says Quiñonez.
Peña claims that her moth­er could hard­ly receive a fair tri­al in Tamauli­pas, where the courts are con­trolled by Gov­er­nor Fran­cis­co Gar­cía Cabeza de Vaca.
Con­cerns about the judi­cial sys­tem of Tamauli­pas are war­rant­ed giv­en the state's his­to­ry of graft. For­mer gov­er­nor Euge­nio Hernán­dez Flo­res has been charged with mon­ey laun­der­ing by the U.S. Depart­ment of Jus­tice, and for­mer gov­er­nor Tomás Yarring­ton faces cor­rup­tion charges in Mex­i­co and the Unit­ed States.
The solu­tion to Pri­eto's case has to be polit­i­cal, says Peña, so ​"we are try­ing to get a meet­ing with AMLO." The idea is for Pres­i­dent López Obrador to inter­vene on Pri­eto's behalf. Oth­er­wise, Peña fears, her moth­er could spend a long time in prison.