Marching Off the Cliff
The world wants UN climate talks in Durban to succeed, but U.S. intransigence blocks the way forward.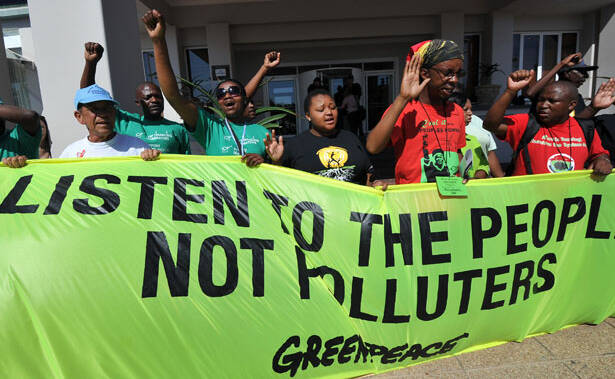 A task of the Unit­ed Nations Frame­work Con­ven­tion on Cli­mate Change, now under way in Dur­ban, South Africa, is to extend ear­li­er pol­i­cy deci­sions that were lim­it­ed in scope and only par­tial­ly implemented.
To gain perspective on what's happening in the world, it's sometimes useful to adopt the stance of intelligent extraterrestrial observers viewing the strange doings on Earth.
These deci­sions trace back to the U.N. Con­ven­tion of 1992 and the Kyoto Pro­to­col of 1997, which the U.S. refused to join. The Kyoto Protocol's first com­mit­ment peri­od ends in 2012. A fair­ly gen­er­al pre-con­fer­ence mood was cap­tured by a New York Times head­line: ​"Urgent Issues but Low Expectations."
As the del­e­gates meet in Dur­ban, a report on new­ly updat­ed digests of polls by the Coun­cil on For­eign Rela­tions and the Pro­gram on Inter­na­tion­al Pol­i­cy Atti­tudes reveals that ​"publics around the world and in the Unit­ed States say their gov­ern­ment should give glob­al warm­ing a high­er pri­or­i­ty and strong­ly sup­port mul­ti­lat­er­al action to address it."
Most U.S. cit­i­zens agree, though PIPA clar­i­fies that the per­cent­age ​"has been declin­ing over the last few years, so that Amer­i­can con­cern is sig­nif­i­cant­ly low­er than the glob­al aver­age – 70 per­cent as com­pared to 84 percent."
"Amer­i­cans do not per­ceive that there is a sci­en­tif­ic con­sen­sus on the need for urgent action on cli­mate change – a large major­i­ty think that they will be per­son­al­ly affect­ed by cli­mate change even­tu­al­ly, but only a minor­i­ty thinks that they are being affect­ed now, con­trary to views in most oth­er coun­tries. Amer­i­cans tend to under­es­ti­mate the lev­el of con­cern among oth­er Americans."
These atti­tudes aren't acci­den­tal. In 2009 the ener­gy indus­tries, backed by busi­ness lob­bies, launched major cam­paigns that cast doubt on the near-unan­i­mous con­sen­sus of sci­en­tists on the sever­i­ty of the threat of human-induced glob­al warming.
The con­sen­sus is only ​"near-unan­i­mous" because it doesn't include the many experts who feel that cli­mate-change warn­ings don't go far enough, and the mar­gin­al group that deny the threat's valid­i­ty altogether.
The stan­dard ​"he says/​she says" cov­er­age of the issue keeps to what is called ​"bal­ance": the over­whelm­ing major­i­ty of sci­en­tists on one side, the denial­ists on the oth­er. The sci­en­tists who issue the more dire warn­ings are large­ly ignored.
One effect is that scarce­ly one-third of the U.S. pop­u­la­tion believes that there is a sci­en­tif­ic con­sen­sus on the threat of glob­al warm­ing –far less than the glob­al aver­age, and rad­i­cal­ly incon­sis­tent with the facts.
It's no secret that the U.S. gov­ern­ment is lag­ging on cli­mate issues. ​"Publics around the world in recent years have large­ly dis­ap­proved of how the Unit­ed States is han­dling the prob­lem of cli­mate change," accord­ing to PIPA. ​"In gen­er­al, the Unit­ed States has been most wide­ly seen as the coun­try hav­ing the most neg­a­tive effect on the world's envi­ron­ment, fol­lowed by Chi­na. Ger­many has received the best ratings."
To gain per­spec­tive on what's hap­pen­ing in the world, it's some­times use­ful to adopt the stance of intel­li­gent extrater­res­tri­al observers view­ing the strange doings on Earth. They would be watch­ing in won­der as the rich­est and most pow­er­ful coun­try in world his­to­ry now leads the lem­mings cheer­ful­ly off the cliff.
Last month, the Inter­na­tion­al Ener­gy Agency, which was formed on the ini­tia­tive of U.S. Sec­re­tary of State Hen­ry Kissinger in 1974, issued its lat­est report on rapid­ly increas­ing car­bon emis­sions from fos­sil fuel use.
The IEA esti­mat­ed that if the world con­tin­ues on its present course, the ​"car­bon bud­get" will be exhaust­ed by 2017. The bud­get is the quan­ti­ty of emis­sions that can keep glob­al warm­ing at the 2 degrees Cel­sius lev­el con­sid­ered the lim­it of safety.
IEA chief econ­o­mist Fatih Birol said, ​"The door is clos­ing – if we don't change direc­tion now on how we use ener­gy, we will end up beyond what sci­en­tists tell us is the min­i­mum (for safe­ty). The door will be closed forever."
Also last month, the U.S. Depart­ment of Ener­gy report­ed the emis­sions fig­ures for 2010. Emis­sions ​"jumped by the biggest amount on record," The Asso­ci­at­ed Press report­ed, mean­ing that ​"lev­els of green­house gas­es are high­er than the worst-case sce­nario" antic­i­pat­ed by the Inter­na­tion­al Pan­el on Cli­mate Change in 2007.
John Reil­ly, co-direc­tor of the Mass­a­chu­setts Insti­tute of Technology's pro­gram on cli­mate change, told the AP that sci­en­tists have gen­er­al­ly found the IPCC pre­dic­tions to be too con­ser­v­a­tive – unlike the fringe of denial­ists who gain pub­lic atten­tion. Reil­ly report­ed that the IPCC's worst-case sce­nario was about in the mid­dle of the MIT sci­en­tists' esti­mates of like­ly outcomes.
As these omi­nous reports were released, the Finan­cial Times devot­ed a full page to the opti­mistic expec­ta­tions that the Unit­ed States might become ener­gy-inde­pen­dent for a cen­tu­ry with new tech­nol­o­gy for extract­ing North Amer­i­can fos­sil fuels.
Though pro­jec­tions are uncer­tain, the Finan­cial Times reports, the U.S. might ​"leapfrog Sau­di Ara­bia and Rus­sia to become the world's largest pro­duc­er of liq­uid hydro­car­bons, count­ing both crude oil and lighter nat­ur­al gas liquids."
In this hap­py event, the Unit­ed States could expect to retain its glob­al hege­mo­ny. Beyond some remarks about local eco­log­i­cal impact, the Finan­cial Times said noth­ing about what kind of a world would emerge from these excit­ing prospects. Ener­gy is to burn; the glob­al envi­ron­ment be damned.
Just about every gov­ern­ment is tak­ing at least halt­ing steps to do some­thing about the like­ly impend­ing cat­a­stro­phe. The Unit­ed States is lead­ing the way – back­ward. The Repub­li­can-dom­i­nat­ed U.S. House of Rep­re­sen­ta­tives is now dis­man­tling envi­ron­men­tal mea­sures intro­duced by Richard Nixon, in many respects the last lib­er­al president.
This reac­tionary behav­ior is one of many indi­ca­tions of the cri­sis of U.S. democ­ra­cy in the past gen­er­a­tion. The gap between pub­lic opin­ion and pub­lic pol­i­cy has grown to a chasm on cen­tral issues of cur­rent pol­i­cy debate such as the deficit and jobs. How­ev­er, thanks to the pro­pa­gan­da offen­sive, the gap is less than what it should be on the most seri­ous issue on the inter­na­tion­al agen­da today – arguably in history.
The hypo­thet­i­cal extrater­res­tri­al observers can be par­doned if they con­clude that we seem to be infect­ed by some kind of lethal insanity.
© The New York Times Syndicate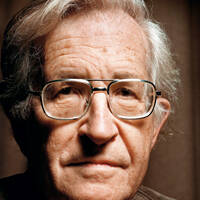 Noam Chom­sky
is Insti­tute Pro­fes­sor and Pro­fes­sor of Lin­guis­tics (Emer­i­tus) at the Mass­a­chu­setts Insti­tute of Tech­nol­o­gy, and the author of dozens of books on U.S. for­eign pol­i­cy. His most recent book is
Who Rules the World?
from Met­ro­pol­i­tan Books.