Martin Luther King Jr. Was a Union Man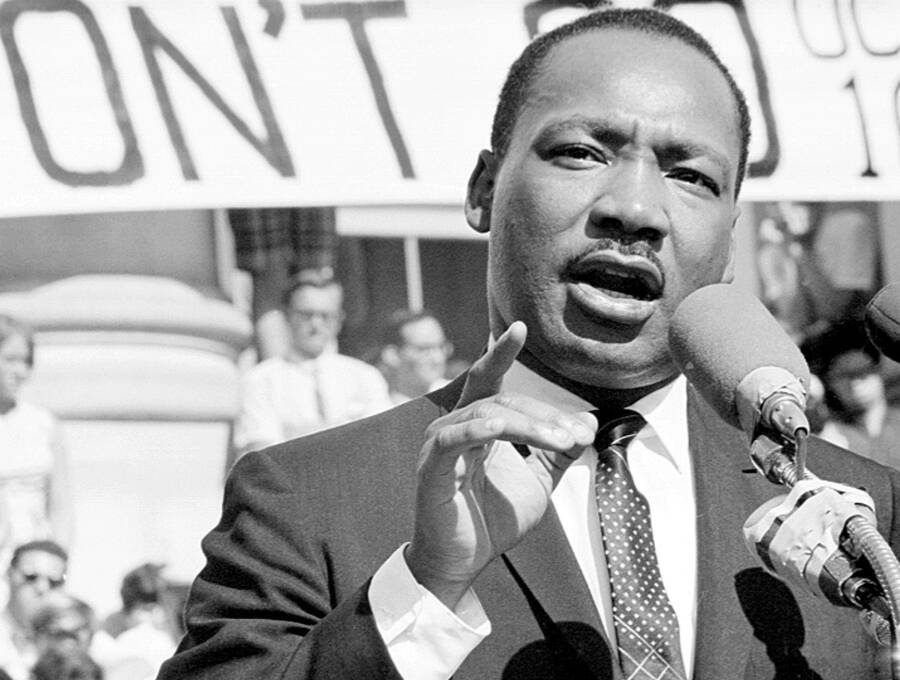 If Mar­tin Luther King Jr. still lived, he'd prob­a­bly tell peo­ple to join unions.
King under­stood racial equal­i­ty was inex­tri­ca­bly linked to eco­nom­ics. He asked, ​"What good does it do to be able to eat at a lunch counter if you can't buy a hamburger?"
Those dis­ad­van­tages have per­sist­ed. Today, for instance, the wealth of the aver­age white fam­i­ly is more than 20 times that of a black one.
King's solu­tion was unionism.
Con­ver­gence of needs
In 1961, King spoke before the AFL-CIO, the nation's largest and most pow­er­ful labor orga­ni­za­tion, to explain why he felt unions were essen­tial to civ­il rights progress.
"Negroes are almost entire­ly a work­ing peo­ple," he said. ​"Our needs are iden­ti­cal with labor's needs – decent wages, fair work­ing con­di­tions, liv­able hous­ing, old age secu­ri­ty, health and wel­fare mea­sures, con­di­tions in which fam­i­lies can grow, have edu­ca­tion for their chil­dren and respect in the community."
My new book, ​"Dock­work­er Pow­er: Race and Activism in Dur­ban and the San Fran­cis­co Bay Area," chron­i­cles King's rela­tion­ship with a labor union that was, per­haps, the most racial­ly pro­gres­sive in the coun­try. That was Local 10 of the Inter­na­tion­al Longshoremen's and Warehousemen's Union, or ILWU.
ILWU Local 10 rep­re­sent­ed work­ers who loaded and unloaded car­go from ships through­out San Fran­cis­co Bay's water­front. Its mem­bers' com­mit­ment to racial equal­i­ty may be as sur­pris­ing as it is unknown.
In 1967, the year before his mur­der, King vis­it­ed ILWU Local 10 to see what inter­ra­cial union­ism looked like. King met with these union­ists at their hall in a then-thriv­ing, port­side neigh­bor­hood – now a gen­tri­fiedtourist area best known for Fisherman's Wharf, Pier 39.
While King knew about this union, ILWU his­to­ry isn't wide­ly known off the waterfront.
Civ­il rights on the waterfront
Dock­work­ers had suf­fered for decades from a hir­ing sys­tem com­pared to a ​"slave auc­tion." Once hired, they rou­tine­ly worked 24 to 36 hour shifts, expe­ri­enced among the high­est rates of injury and death of any job, and endured abu­sive boss­es. And they did so for incred­i­bly low wages.
In 1934, San Fran­cis­co long­shore­men – who were non-union since employ­ers had crushed their union in 1919 – reor­ga­nized and led a coast-wide ​"Big Strike."
In the throes of the Great Depres­sion, these increas­ing­ly mil­i­tant and rad­i­cal­ized dock­work­ers walked off the job. After 83 days on strike, they won a huge vic­to­ry: wage increas­es, a coast-wide con­tract and union-con­trolled hir­ing halls.
Soon, these ​"wharf rats," among the region's poor­est and most exploit­ed work­ers, became ​"lords of the docks," com­mand­ing the high­est wages and best con­di­tions of any blue-col­lar work­er in the region.
At its incep­tion, Local 10's mem­ber­ship was 99 per­cent white. But Har­ry Bridges, the union's charis­mat­ic leader, joined with fel­low union rad­i­cals to com­mit to racial equal­i­ty in its ranks.
Orig­i­nal­ly from Aus­tralia, Bridges start­ed work­ing on the San Fran­cis­co water­front in the ear­ly 1920s. It was dur­ing the Big Strike that he emerged as a leader.
Bridges coor­di­nat­ed dur­ing the strike with C.L. Del­lums, the lead­ing black union­ist in the Bay Area, and made sure the hand­ful of black dock­work­ers would not cross pick­et lines as replace­ment work­ers. Bridges promised they would get a fair deal in the new union. One of the union's first moves after the strike was inte­grat­ing work gangs that pre­vi­ous­ly had been segregated.
Local 10 over­came per­va­sive discrimination
Cleophas Williams, a black man orig­i­nal­ly from Arkansas, was among those who got into Local 10 in 1944. He belonged to a wave of African-Amer­i­cans who, due to the mas­sive labor short­age caused by World War II, fled the racism and dis­crim­i­na­to­ry laws of the Jim Crow South for bet­ter lives – and bet­ter jobs – out­side of it. Hun­dreds of thou­sands of blacks moved to the Bay Area, and tens of thou­sands found jobs in the boom­ing ship­build­ing industry.
Black work­ers in ship­build­ing expe­ri­enced per­va­sive dis­crim­i­na­tion. Employ­ers shunt­ed them off into less attrac­tive jobs and paid them less. Sim­i­lar­ly, the main ship­builders' union proved hos­tile to black work­ers who, when allowed in, were placed in seg­re­gat­ed locals.
A few thou­sand black men, includ­ing Williams, were hired as long­shore­men dur­ing the war. He lat­er recalled to his­to­ri­an Har­vey Schwartz: ​"When I first came on the water­front, many black work­ers felt that Local 10 was a utopia."
Dur­ing the war, when white fore­men and mil­i­tary offi­cers hurled racist epi­thets at black long­shore­men, this union defend­ed them. Black mem­bers received equal pay and were dis­patched the same as all others.
For Williams, this union was a rev­e­la­tion. Lit­er­al­ly the first white peo­ple he ever met who opposed white suprema­cy belonged to Local 10. These long­shore­men were not sim­ply anti-racists, they were com­mu­nists and socialists.
Left­ist unions like the ILWU embraced black work­ers because, reflect­ing their ide­ol­o­gy, they con­tend­ed work­ers were stronger when unit­ed. They also knew that, count­less times, employ­ers had bro­ken strikes and destroyed unions by play­ing work­ers of dif­fer­ent eth­nic­i­ties, gen­ders, nation­al­i­ties and races against each oth­er. For instance, when 350,000 work­ers went out dur­ing the mam­moth Steel Strike of 1919, employ­ers brought in tens of thou­sands of African-Amer­i­cans to work as replacements.
Some black dock­work­ers also were social­ists. Paul Robe­son, the glob­al­ly famous singer, actor and left-wing activist had sev­er­al friends, fel­low social­ists, in Local 10. Robe­son was made an hon­orary ILWU mem­ber dur­ing WWII.
Mar­tin Luther King, union member
In 1967, King walked in Robeson's foot­steps when he was induct­ed into Local 10 as an hon­orary mem­ber, the same year Williams became the first black per­son elect­ed pres­i­dent of Local 10. By that year, rough­ly half of its mem­bers were African-American.
King addressed these dock­work­ers, declar­ing, ​"I don't feel like a stranger here in the midst of the ILWU. We have been strength­ened and ener­gized by the sup­port you have giv­en to our strug­gles. … We've learned from labor the mean­ing of power."
Many years lat­er, Williams dis­cussed King's speech with me: ​"He talked about the eco­nom­ics of dis­crim­i­na­tion. … What he said is what Bridges had been say­ing all along," about work­ers ben­e­fit­ing by attack­ing racism and form­ing inter­ra­cial unions.
Eight months lat­er, in Mem­phis to orga­nize a union, King was assas­si­nat­ed.
The day after his death, long­shore­men shut down the ports of San Fran­cis­co and Oak­land, as they still do when one of their own dies on the job. Nine ILWU mem­bers attend­ed King's funer­al in Atlanta, includ­ing Bridges and Williams, hon­or­ing the man who called unions ​"the first anti-pover­ty pro­gram."
This piece was first pub­lished at The Con­ver­sa­tion.
Peter Cole
is a Pro­fes­sor of His­to­ry at West­ern Illi­nois Uni­ver­si­ty and Research Asso­ciate in the Soci­ety, Work and Devel­op­ment Pro­gram at the Uni­ver­si­ty of the Wit­wa­ter­srand in Johan­nes­burg, South Africa. He is the author of Wob­blies on the Water­front: Inter­ra­cial Union­ism in Pro­gres­sive Era Philadel­phia and the award-win­ning Dock­work­er Pow­er: Race and Activism in Dur­ban and the San Fran­cis­co Bay Area. He also is the founder and co-direc­tor of the Chica­go Race Riot of
1919
Com­mem­o­ra­tion Project (CRR
19
). He tweets from @ProfPeterCole.