Russian Dissident Masha Gessen on Why Outrage Is Not Optional
She puts her hopes in civil society and a vibrant public sphere.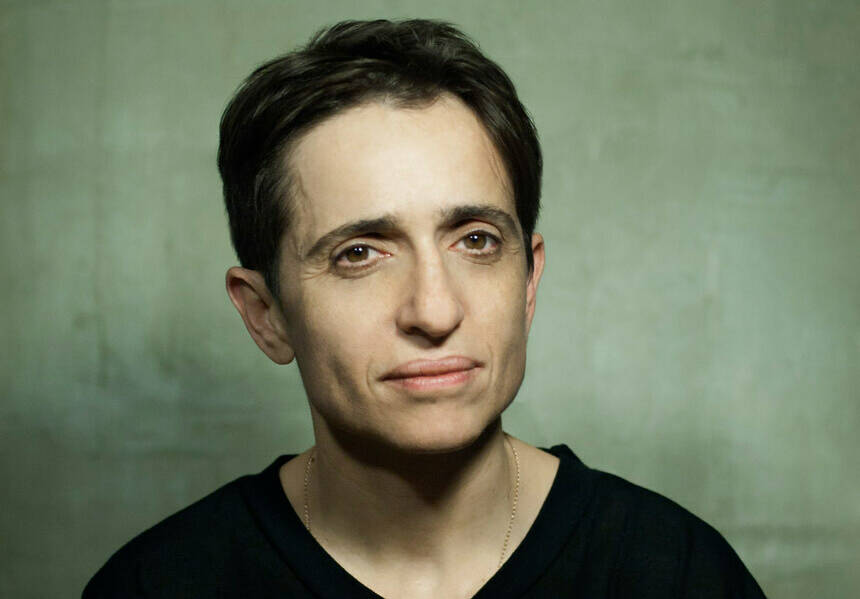 Russ­ian jour­nal­ist and dis­si­dent Masha Gessen began her career in the 1980s, cut­ting her teeth in the gay and les­bian press in the Unit­ed States. In Rus­sia, Gessen risked her life to chron­i­cle Vladimir Putin's auto­crat­ic excess­es, the country's dis­si­dent move­ments and vio­lence against the country's LGBTQ com­mu­ni­ty. She was beat­en on the steps of par­lia­ment in June 2013 for protest­ing Russia's infa­mous anti-gay law. As a gay par­ent with three chil­dren, Gessen was at risk of los­ing cus­tody of her fam­i­ly as a result of the leg­is­la­tion. She is now set­tled in the Unit­ed States, where she con­tin­ues to cov­er the polit­i­cal dys­func­tion of Russia.
"If you have the luxury of being able to go out and protest, and being able to resist, you're also doing that for somebody who can't."
She is also one of the most impor­tant oppo­si­tion­al voic­es in Trump's Amer­i­ca. Fol­low­ing the elec­tion, she wrote a touch­stone piece on how to approach a ter­ri­fy­ing polit­i­cal future in The New York Review of Books, titled ​"Autoc­ra­cy: Rules for Sur­vival." Cur­rent­ly, Gessen is a writer-in-res­i­dence at Ober­lin College.
In These Times caught up with Gessen by phone to talk about democ­ra­cy, resis­tance and the role of the inde­pen­dent press. This con­ver­sa­tion has been edit­ed and condensed.
You've dis­cussed mass mur­der and nuclear holo­caust as real pos­si­bil­i­ties in the Unit­ed States. How does Amer­i­can excep­tion­al­ism jibe with this threat?
Amer­i­can excep­tion­al­ism sug­gests that the basic struc­ture of the coun­try — the sys­tem of checks and bal­ances and the foun­da­tion of Amer­i­can democ­ra­cy — is sol­id and safe for­ev­er. And that's a dan­ger­ous con­cept because democ­ra­cy is not the sort of thing that you build and then live in. Democ­ra­cy is a work in progress. There's nev­er been a sys­tem of gov­ern­ing that responds to the needs, desires and polit­i­cal aspi­ra­tions of all peo­ple. It needs to be con­stant­ly rein­vent­ed. If you decide that a coun­try has built democ­ra­cy once and for all, then chances are it's becom­ing less democratic.
How would you describe democracy?
Democ­ra­cy is dif­fi­cult to define in the sense that I'm using it. But when peo­ple say ​"elec­toral democ­ra­cy" and dis­tin­guish it from ​"lib­er­al democ­ra­cy" — a nor­mal thing to do in polit­i­cal sci­ence — that's a bit mis­lead­ing. Democ­ra­cy is not just a sys­tem of elect­ing polit­i­cal rep­re­sen­ta­tives through some sort of vote; it is also always and inevitably a lib­er­al sys­tem that pro­tects all parts of the pop­u­la­tion. And that has to be an ongo­ing project. It's nev­er com­plet­ed. I would also argue that even elec­toral democ­ra­cy has to be an ongo­ing project. Not only is the sys­tem of elec­tions nev­er pro­tect­ed and per­fect, but the very ques­tion of whether an elec­toral sys­tem serves rep­re­sen­ta­tion well is a ques­tion that needs to be con­stant­ly asked.
The pres­i­den­tial elec­tion has sparked a con­ver­sa­tion about the role of the CIA and FBI, and some lib­er­als in the Unit­ed States have tak­en a polit­i­cal posi­tion that even a CIA coup against Trump would be wel­come. How should the Left approach the inter­fer­ence by orga­ni­za­tions like these?
If sud­den­ly, tomor­row, there's a mil­i­tary coup, that may not be a hor­ri­ble thing. I sort of agree with some peo­ple who say, ​"Any­thing is bet­ter than him." In a sta­t­ic imag­i­na­tion, where we go direct­ly from here to there, any­thing is bet­ter. The prob­lem is, how much of Amer­i­can democ­ra­cy do we actu­al­ly destroy in the process? If we have destroyed trust in the media, if we have destroyed the under­stand­ing of gov­ern­ment being sep­a­rate from the intel­li­gence agen­cies, of media being sep­a­rate from the intel­li­gence agen­cies, if we've destroyed all that, then the chances of recov­ery are that much more difficult.
The Women's March­es after the inau­gu­ra­tion were huge. There were mass protests at air­ports fol­low­ing the Mus­lim ban. Do you place any hope in the resur­gence of the Left as a bul­wark against Trump?
I wouldn't say I place my hope in the Left. I place my hope in civ­il soci­ety. The one thing that is dif­fer­ent about the Unit­ed States from any coun­try that has faced an aspir­ing auto­crat is the strength and wealth of its civ­il soci­ety. No Euro­pean coun­try has a civ­il soci­ety like the Amer­i­can one, for the sim­ple rea­son that in Euro­pean coun­tries there's a lot of state mon­ey that cir­cu­lates in civ­il soci­ety — which I've always thought was a bet­ter sys­tem. But for a cri­sis like we're hav­ing, this weird church-state sep­a­ra­tion between Amer­i­can civ­il soci­ety and the gov­ern­ment is a god­send. That's where my only hope resides. It's real­ly hard to resist Trump, but if there is any chance for suc­cess it lies with civ­il society.
How can civ­il soci­ety pro­tect itself either prac­ti­cal­ly or psychologically?
That's a great ques­tion. It sep­a­rates the prac­ti­cal and the psy­cho­log­i­cal. We need to take stock of what is nor­mal now, and make sure it is pro­tect­ed. Amer­i­can cul­ture is mil­i­tant­ly pro­tec­tive of the rights that peo­ple have. The gov­ern­ment will try to abridge the right to protest or the right to assem­bly, and that needs to be fought all the way.
To give you an exam­ple of how it can play out dif­fer­ent­ly: In Rus­sia, protests didn't begin until 2011 and 2012, after soci­ety was in an extreme­ly sad state. They were mas­sive protests. But they would look weird to any West­ern­er because the protests would always be in these cor­doned off spaces. In Rus­sia you had to ask for a per­mit to hold any kind of protest or march. And when you got a per­mit, it would des­ig­nate a spe­cif­ic loca­tion and a spe­cif­ic num­ber of par­tic­i­pants that you could have, and the police would cor­don off the loca­tion that you had received your per­mit for. You couldn't actu­al­ly get to the protest unless you were a par­tic­i­pant. So there was no inter­ac­tion between the inten­tion­al par­tic­i­pants in the protest and the unin­ten­tion­al audi­ence — the pub­lic. So some­thing like the protests at air­ports couldn't hap­pen in a coun­try like Rus­sia, because they were spon­ta­neous and unsanctioned.
A lot of peo­ple ask, ​"How do I stay out­raged? How do I keep resist­ing with­out get­ting exhausted?"
That first ques­tion sup­pos­es that not being out­raged is option­al. When you say out­rage is option­al, you are say­ing you are not part of one of the groups that is being tar­get­ed. You are some­one else. Protest is also a work of sol­i­dar­i­ty. If you have the lux­u­ry of being able to go out and protest, and being able to resist, you're also doing that for some­body who can't, some­body who has a green card, for exam­ple, or some­body who's undoc­u­ment­ed. That is an impor­tant psy­cho­log­i­cal mech­a­nism to keep in mind.
The sec­ond ques­tion is hard­er to answer. How do you stay sane in a con­stant state of bat­tle? The answer is that you real­ly kind of don't. We've already been dri­ven com­plete­ly insane by Trump. You try to talk to peo­ple who are dif­fer­ent from you, try to be out in the com­mu­ni­ty — that's also a part of resis­tance, main­tain­ing our pub­lic space in the media and on the streets, mak­ing sure we don't cocoon our­selves by only talk­ing to peo­ple who agree with us. I'm not one of those peo­ple who sub­scribe to the lib­er­al-bub­ble mantra. What we have in this coun­try is a pro­nounced right-wing and Bre­it­bart bub­ble, and a pret­ty healthy pub­lic sphere for the rest of the coun­try. So we need to keep it healthy by con­tin­u­al­ly expos­ing our­selves to a spec­trum of opin­ions, a spec­trum of dif­fer­ent people.
How well has main­stream Amer­i­can media cov­ered Trump so far, and what is the role for the inde­pen­dent press?
The oth­er thing we have here that oth­er coun­tries don't is an amaz­ing media, and more amaz­ing than it was 10 years ago. Under Trump there's been a peri­od of rein­vig­o­ra­tion for a lot of jour­nal­ists. Jay Rosen has writ­ten that we have to give up access jour­nal­ism and cov­er this admin­is­tra­tion from the out­side in, rather than the inside out. This coun­try has a rich tra­di­tion of jour­nal­ists work­ing from the out­side in.
We have lessons to learn from how the gay press cov­ered the AIDS cri­sis. When the gay press became a vehi­cle for infor­ma­tion about treat­ments, there was no inter­net. You could get infor­ma­tion about poten­tial treat­ments from your local gay rag or ACT UP fly­ers at meet­ings. Jour­nal­ists had to edu­cate them­selves on how the fed­er­al gov­ern­ment reg­u­lat­ed med­ica­tion, and on biol­o­gy and phar­ma­col­o­gy in order to be able to read med­ical papers and write about them for an audi­ence. Nobody invit­ed us to brief­in­gs. That is the his­to­ry of the media in Amer­i­ca. You don't have to strain your imag­i­na­tion or go to far­away coun­tries to learn how to do out­side-in reporting.
Yana Kuni­choff
is a Chica­go-based inves­tiga­tive jour­nal­ist and doc­u­men­tary pro­duc­er. Her work has appeared in the Guardian, Pacif­ic Stan­dard and the Chica­go Read­er, among oth­ers. She can be reached at yanaku­ni­choff at gmail​.com.