Matana Roberts' Genealogy of Jazz
The saxophonist delves into African-American history—from slavery to the present—in her twelve-part series Coin Coin.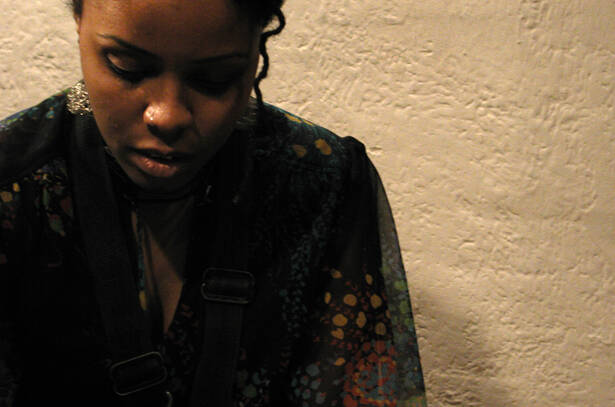 Music has a unique capacity to remind us of the past. Sounds and melodies jog our memories, evoke long-forgotten times, places and emotions. It's not surprising, therefore, that some composers draw upon history for their source material. But how does an artist approach the past with the urgency of the present, or pay homage to forebears while retaining a voice that's true to his or her own era?
Coin Coin is suffused with the weight of history, but Roberts' engagement with the present--and future--powers her work in equal measure.
These are some of the questions asked and answered in Coin Coin, an extraordinary musical project begun by young Chicago-born saxophonist and composer Matana Roberts around six years ago, and coming to fruition now. Coin Coin explores the genealogy of Roberts' own family, and in the process addresses African-American history from slavery to the present day. Chapter One of the work, released on Constellation Records this year and subtitled ​"Gens de Couleur Libres" ("Free People of Color"), is a 2010 live recording taken from a concert in Montreal in which Roberts plays alto sax and directs a 15-piece band.
Roberts also provides spoken, sung and sometimes screamed vocals, in which she narrates the stories of, and sometimes becomes, characters including Coin Coin, the name of 18th-century freed slave Marie Thérèse Coincoin, to whom Roberts has a distant connection. A variety of American music styles, from swing to blues to big band jazz, as well as Roberts' own free jazz sounds, come in and out of focus over the hour-long performance, creating a shifting, haunting tapestry of memory at once ghostly and invigorating.
It is an intense listen, and there are 11 more chapters to come, six of which have been now workshopped; a version of Chapter Two, entitled ​"Mississippi Moonchile," was broadcast last year on NPR. But although Roberts says she is always preoccupied with Coin Coin, she's also careful to take a break sometimes, as she explained from New York, where she is now based. The project has ​"grown in ways that I did not intend it to," says Roberts, who left Chicago in 1999 to attend graduate school at a conservatory, ​"and it's been interesting to see the many different directions it's taken me."
When initially piecing together the musical language that would become Coin Coin, Roberts found the best analogy for the sprawl of voices and narratives was a visual one: a patchwork quilt. ​"It's the only way my compositional approach makes sense for me," she says. ​"The stories that I have are not linear; they bounce around in ways that connect and don't connect. It's given me a certain amount of freedom with how I approach the work." When researching her family history, she found exaggerated and misremembered oral histories sometimes sat uneasily alongside the ​"official" version of events: ​"It's like a fight among memory, and memory is so much stronger than any piece of paper."
Roberts has been able to track down some genealogical details through sale records of slaves. ​"A capitalist society keeps record of the things it owns," she says. This vital part of her heritage, which forms the heart of Coin Coin, is not an easy topic for her listeners; concerts have reportedly moved many to tears. She occasionally encounters those who say African slavery in America is ​"no longer a relevant topic to talk about," an assertion she finds hard to comprehend when ​"there are still people in the world being mistreated based on ideas of color, ideas of difference.
"I couldn't have avoided it," she says. ​"There are other historical narratives that I would like to tackle, but I can't get there until I deal with this."
As Roberts describes it, and as we've heard so far, Coin Coin is not a static revisiting of the past but a body of work that is alive, in motion, and constantly developing – not just as music but also as a highly performative piece of theater, a form which Roberts says was an early preoccupation.
An aspiring playwright as a child, Roberts took part in theater productions for many years. In her late teens, she worked as a musician in a production of Ntozake Shange's groundbreaking feminist poem-play, For Colored Girls Who Have Considered Suicide/​When the Rainbow Is Enuf, an experience she recalls as ​"incredible."
Other cross-arts projects followed, such as a collaboration with dancer Savion Glover and the poet Reg E Gaines. Her roots are in jazz, and she remains a member of the Chicago-based Association for the Advancement of Creative Musicians, but she nonetheless questions where exactly she fits into that tradition now. ​"I've branched out in so many different directions, and there are still certain facets of the jazz tradition that are not really accepting of someone like me, that I don't know where to place myself anymore," she says,
This ongoing, intergenerational dialogue with jazz can be heard to great effect on 2007 release ​'The Chicago Project'. Alongside beautifully considered sax duets with her mentor, the late Fred Anderson, Roberts marks out more experimental territory with bassist Josh Abrams and guitarist Jeff Parker, who is also known for the influential post-rock band Tortoise. While Roberts no longer lives in Chicago, the city's eclectic musical make-up seems to inform her still, as she speaks warmly of people " who have really big ears about what's possible."
Roberts has since found a similar sense of community in Montreal, home of the Constellation label and bands like Godspeed You! Black Emperor, with whom she has played, who combine independent music-making with activism. She initially visited the city to work with at-risk young people as part of a program called Improvisation, Community and Social Practice, and is an enthusiastic advocate for how the arts can inspire the young.
Of her youth, she says, ​"I feel very fortunate that I was surrounded by public arts programming. I grew up pretty poor, and I was able to pursue music and theater and all these things because of public programming. It's something I'm going to talk more about in the next year or so, and do more about on the activist front."
Coin Coin is suffused with the weight of history, but Roberts' engagement with the present – and future – powers her work in equal measure.
A shorter version of this article appeared in print.