West Virginia's Water May Be Safer, But Mine Workers Could Still Be in Danger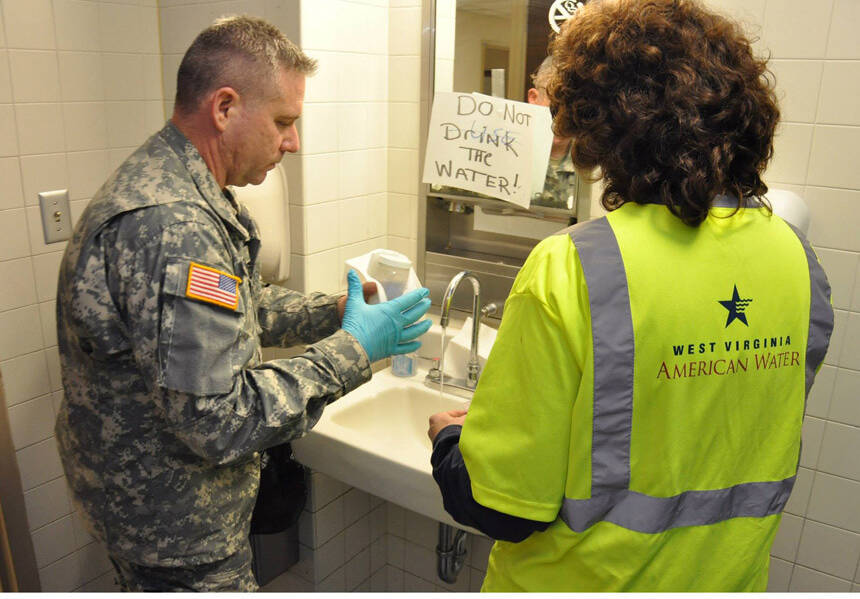 Joe Stan­ley, a for­mer min­er in West Vir­ginia, is no stranger to MCHM (4‑Methylcyclohexane Methanol), the licorice-scent­ed chem­i­cal that leaked into the water sup­ply of up to 300,000 West Vir­gini­ans on Jan­u­ary 9. Once it was even­tu­al­ly report­ed, res­i­dents in a nine-coun­ty region were warned not to use the water for any pur­pose. Even though the West Vir­ginia Amer­i­can Water Com­pa­ny told the gen­er­al pub­lic a few days lat­er that the pipes had been flushed and the water was safe, many in the area still refuse to drink it today.
To some liv­ing around Charleston, the rev­e­la­tion that their water had been con­t­a­m­i­nat­ed came as a shock. But as far as many activists are con­cerned, the spill was an inevitable result of West Virginia's noto­ri­ous­ly lax envi­ron­men­tal laws. For exam­ple, West Vir­ginia had no reg­u­la­tions cov­er­ing inspec­tion of above­ground stor­age tanks until this year, when a bill to address this over­sight — and oth­er aspects of the leak's after­math — made its way to the legislature.
On March 8, in the last week of the leg­isla­tive ses­sion, sup­port­ers of the bill ral­lied at the state capi­tol in hopes of pre­vent­ing anoth­er such dis­as­ter. Stan­ley, who spent the last 17 years of his career sur­round­ed by tox­ic waste leav­ings in a coal prepa­ra­tion plant, was one of them. He hoped that his expe­ri­ence with MCHM, and with the indus­try in gen­er­al, would lend extra cre­dence to his advo­ca­cy at Charleston.
Stan­ley worked at the Mar­row­bone Devel­op­ment Com­pa­ny in Min­go Coun­ty, W.Va. In 1982, he was trained to ​"wash" the coal as a fil­ter press oper­a­tor. In addi­tion, he says he was cross-trained in almost every job in the plant, giv­ing him a good overview of the process­es and chem­i­cals used — includ­ing MCHM.
Mar­row­bone was not the com­pa­ny respon­si­ble for the MCHM spill in Jan­u­ary; that was Free­dom Indus­tries, which stored it on the banks of the Elk Riv­er. But the chem­i­cal was present at Mar­row­bone dur­ing Stan­ley's tenure there, and it's still cur­rent­ly used at about 20 to 25 per­cent of coal prep plants around the state to ​"clean" met­al­lur­gi­cal coal of some impurities.
​"It cre­ates a foam and catch­es fine par­ti­cles of coal … and ends up in the slur­ry — a heavy sludge prod­uct that's the result of clean­ing coal," Stan­ley says of MCHM. Some of the slur­ry is inject­ed into old under­ground mines, but much of it ends up in bil­lion-gal­lon ​"impound­ments," where Stan­ley says there's a chance of a more cat­a­stroph­ic break. Accord­ing to Stan­ley, as a fil­ter press oper­a­tor, he would have been more exposed to MCHM and oth­er chem­i­cals than most prep plant work­ers because he was in con­tact with the slur­ry on a dai­ly basis.
He also says there was no indi­ca­tion on MCH­M's Mate­r­i­al Safe­ty Data Sheets, intend­ed to pro­vide work­ers and emer­gency per­son­nel with chem­i­cal han­dling pro­ce­dures, indi­cat­ing any tox­i­c­i­ty or long-term health prob­lems with the sub­stance. That does­n't mean it's safe, how­ev­er. Instead, it means that MCHM is just one of 62,000 chem­i­cals that were grand­fa­thered in for con­tin­ued use under the Tox­ic Sub­stances Con­trol Act of 1976 because they were then deemed — with no proof — not to be haz­ardous. The Envi­ron­men­tal Pro­tec­tion Agency has required test­ing for only 200 of them.
The result, Stan­ley points out, is that the reg­u­la­to­ry bur­den is not on a com­pa­ny to prove its chem­i­cals are safe, but on the pub­lic to prove they are not. ​"Work­ers are exposed to so many chem­i­cals that, with­out a sci­en­tif­ic study," he adds, ​"there's no way to know which of them are detri­men­tal to their health, and to what degree."
In 1993, Stan­ley helped orga­nize Local 93 of the Unit­ed Mine Work­ers of Amer­i­ca, which cov­ered about 500 employ­ees at the plant, as well as under­ground min­ers and work­ers in sur­face oper­a­tions. He also became its first pres­i­dent. One of his first acts as union leader was to request that the Mine Safe­ty and Health Admin­is­tra­tion and the Nation­al Insti­tute for Occu­pa­tion­al Safe­ty and Health (NIOSH) do an inves­ti­ga­tion of chem­i­cals — includ­ing MCHM — used in the min­ing process, which he guessed were lead­ing to med­ical prob­lems among workers.
​"Some of our min­ers were hav­ing adverse health effects, and I'm talk­ing ner­vous dis­or­ders, kid­ney fail­ure, things of that nature," Stan­ley says.
After its ini­tial walk­through, NIOSH alleged­ly request­ed the work­ers' con­tact infor­ma­tion so it could con­duct a long-term health study, but Stan­ley says the com­pa­ny refused to release it; even­tu­al­ly, the mat­ter was dropped. Mar­row­bone declared bank­rupt­cy in the ear­ly 2000s. A few years lat­er, it reopened as a non-union shop.
Even decades after Stanley's stint at Mar­row­bone, there's still very lit­tle infor­ma­tion about MCHM avail­able to work­ers and the pub­lic. One glob­al sup­pli­er's ver­sion of the Mate­r­i­al Data Safe­ty Sheet, released in 2006, sim­ply reads, ​"No spe­cif­ic infor­ma­tion is avail­able in our data­base [sic] regard­ing the tox­ic effects of this mate­r­i­al for humans," though it does acknowl­edge the poten­tial for irri­ta­tion after skin or eye con­tact. Con­sid­er­ing MCHM's preva­lence through­out the state and the wide-rang­ing con­se­quences its spill had ear­li­er this year, how­ev­er, Stan­ley hopes that the leg­is­la­ture will enact poli­cies man­dat­ing indus­try-wide trans­paren­cy about the chemical.
And at least in the short term, Stanley's advo­ca­cy — along with that of the oth­er sup­port­ers gath­ered at Charleston — seems to have paid off. The West Vir­ginia leg­is­la­ture did pass March 8's bill, though it is far from the reg­u­la­to­ry over­haul many envi­ron­men­tal­ists and work­ers' advo­cates say the state needs. The bill includes stricter per­mit require­ments for com­pa­nies that want to store chem­i­cals above­ground, man­dat­ing greater enforce­ment and inspec­tion in areas around drink­ing water intakes. It also requires ear­ly warn­ing mon­i­tor­ing sys­tems for some con­t­a­m­i­nants to be installed in large water util­i­ties through­out the state. On April 1, Gov. Earl Ray Tomblin signed the leg­is­la­tion into law.
This is cer­tain­ly a great first step in terms of improv­ing the state's safe­ty stan­dards. But as far as work­ers are con­cerned, there's still a lot of progress to be made. After all, though the bill will hope­ful­ly lim­it the gen­er­al pub­lic's con­tact with harm­ful chem­i­cals, many employ­ees with­in the min­ing indus­try spend their days sur­round­ed by tox­ic leav­ings. In addi­tion to estab­lish­ing more strin­gent reg­u­la­tions, the new leg­is­la­tion com­mis­sions the Bureau of Pub­lic Health to enact a study of the long-term health effects of January's leak; Stan­ley hopes the endeav­or will help to shed light on MCHM as a whole, in turn poten­tial­ly lead­ing to improved safe­ty pro­to­cols for those exposed to it on a dai­ly basis.
In the mean­time, he says, he'll be close­ly fol­low­ing the work of inde­pen­dent researchers look­ing into the spill — espe­cial­ly con­cern­ing the con­se­quences of MCHM's inter­ac­tions with oth­er min­ing chemicals.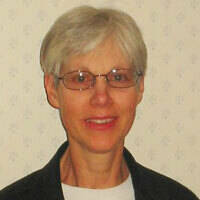 Melin­da Tuhus
is an inde­pen­dent jour­nal­ist with
25
years of expe­ri­ence in print and radio, includ­ing
In These Times, The New York Times
, Free Speech Radio News and pub­lic radio stations.