Why the Argument that Medicare for All Will Curtail "Freedom" Is So, So Wrong
Joe Biden and other centrists are deploying cynical arguments to defend the for-profit insurance system. We shouldn't buy it.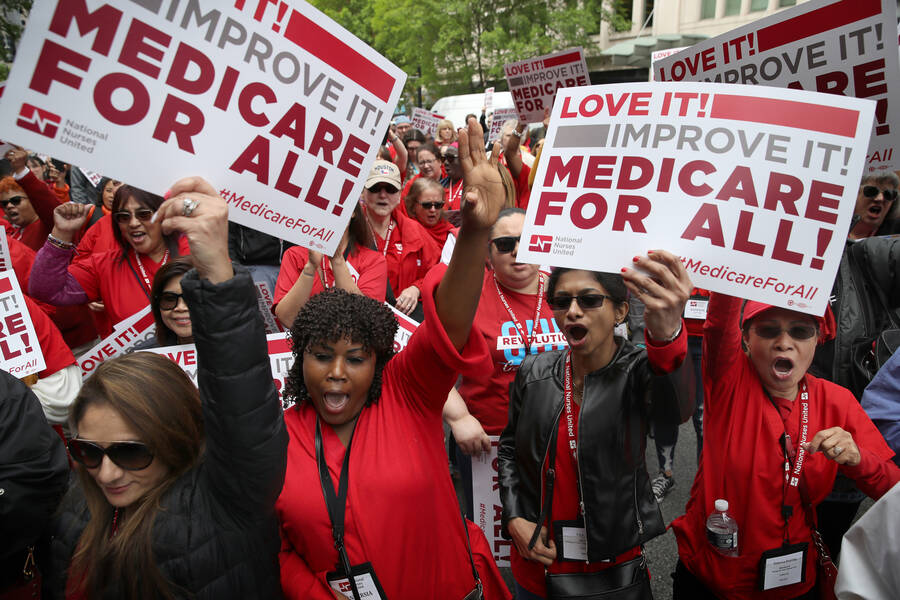 Debate over the future of Amer­i­can health­care has led off every Demo­c­ra­t­ic pres­i­den­tial debate so far this year. While Bernie Sanders and Eliz­a­beth War­ren have defend­ed a Medicare for All sys­tem that would guar­an­tee health­care as a right, oth­er more cen­trist can­di­dates have sought to under­cut such a plan — and they've been led by Joe Biden.
Ahead of Tuesday's debate, Bloomberg reports, the Biden cam­paign has been ​"test­ing mes­sages designed to under­cut sup­port among Democ­rats for Medicare for All." The sur­vey, com­mis­sioned by Wall Street-fund­ed Demo­c­ra­t­ic think tank Third Way, road-test­ed fear-mon­ger­ing rhetoric that was craft­ed by the for-prof­it health insur­ance indus­try — and sound­ed a lot like Repub­li­can talk­ing points.
Biden isn't alone. In the last debate on Sep­tem­ber 12, Pete Buttigieg, Amy Klobuchar, Kamala Har­ris and Beto O'Rourke all joined him in false­ly sug­gest­ing that peo­ple would lose choice and free­dom under a Medicare for All system.
O'Rourke called Medicare for All ​"an all-or-noth­ing gam­bit, forc­ing tens of mil­lions off of insur­ance that they like, that works for them, to force them onto Medicare."
Amy Klobuchar echoed, ​"149 mil­lion Amer­i­cans will no longer be able to have their cur­rent insurance."
Har­ris, mean­while, said can­di­dates should be ​"offer­ing peo­ple choice, not tak­ing that from them," while Buttigieg claimed, ​"I trust the Amer­i­can peo­ple to make the right choice for them," ask­ing Sanders: ​"Why don't you?"
This por­tray­al of pri­vate insur­ance plans as bas­tions of choice and free­dom isn't just mis­guid­ed, it serves to defend prof­it-hun­gry com­pa­nies at the expense of the mil­lions upon mil­lions of Amer­i­cans who would ben­e­fit from guar­an­teed health care and finan­cial secu­ri­ty pro­vid­ed by a sin­gle-pay­er, Medicare for All system.
Biden and his ilk make the crit­i­cal mis­take of con­flat­ing cov­er­age with care. They assume that peo­ple ​"cov­ered" by sub­si­dized pri­vate insur­ance plans can actu­al­ly get care, and can do so with­out going broke — but that's sim­ply not true.
From 2005 to 2018, some 60 mil­lion Amer­i­cans per year — includ­ing one half of the insured pop­u­la­tion — were forced to skip or delay med­ical care. In 2016, a sur­vey con­duct­ed by the Kaiser Fam­i­ly Foun­da­tion in part­ner­ship with the New York Times found that 85 mil­lion Amer­i­cans were in med­ical debt. Of those, rough­ly 6 in 10 were insured.
The gov­ern­ment can help extend pri­vate cov­er­age to more peo­ple, but insur­ance com­pa­nies will keep push­ing costs onto us, keep drop­ping treat­ments, med­i­cines, and doc­tors from their plans, and keep deny­ing our claims. The only real solu­tion is uni­ver­sal, guar­an­teed healthcare.
The attacks on Medicare for All also betray an impov­er­ished under­stand­ing of free­dom as a choice between insur­ance prod­ucts. But peo­ple don't want a choice between Aet­na and Cigna. They want the free­dom of guar­an­teed health­care; the free­dom to choose their doc­tor, hos­pi­tals and treat­ments; and finan­cial free­dom from insur­ance, hos­pi­tal and drug bills.
The flip side of free­dom is coer­cion, and while cen­trist Demo­c­ra­t­ic can­di­dates may raise alarms about gov­ern­ment coer­cion, they ignore the count­less ways that insur­ance com­pa­nies coerce peo­ple every day. They force peo­ple to pay ever-high­er pre­mi­ums, deductibles, out-of-net­work fees and copays. They force peo­ple to forego den­tal, repro­duc­tive and men­tal health­care, as well as pre­scrip­tions. They force peo­ple to stop see­ing the doc­tors they want to see by nar­row­ing net­works. And they force peo­ple into pover­ty by deny­ing insur­ance claims and refus­ing to pay med­ical bills.
While claim­ing to rec­og­nize health­care as an invi­o­lable human right, Biden, Buttigieg, Klobuchar, Har­ris and O'Rourke also ignore the deep inequities pro­duced by the mul­ti-pay­er insur­ance sys­tem they defend. The plans put for­ward by Biden, Buttigieg and Klobuchar would leave mil­lions of peo­ple unin­sured, and though Har­ris and O'Rourke's would get every­one cov­er­age, none of these plans would guar­an­tee all med­ical­ly nec­es­sary care.
The cur­rent frac­tured insur­ance sys­tem carves peo­ple into cat­e­gories accord­ing to their eco­nom­ic and fam­i­ly char­ac­ter­is­tics, favor­ing some while deny­ing care to oth­ers. By selec­tive­ly impos­ing cov­er­age restric­tions and cost shar­ing, the sys­tem grants dif­fer­ent peo­ple dif­fer­ent access to dif­fer­ent plans that cov­er dif­fer­ent doc­tors, dif­fer­ent hos­pi­tals, dif­fer­ent med­ical con­di­tions, dif­fer­ent body parts, dif­fer­ent treat­ments and dif­fer­ent medicines.
Such a sys­tem favors peo­ple who live in areas with high employ­ment over those where there's low employ­ment, work­ers in big firms over work­ers in small firms, work­ers in full-time jobs over those in part-time jobs, and work­ers in for­mal employ­ment over work­ers who are self-employed or do infor­mal work. It favors peo­ple old­er than 65 or younger than 26 over those in the mid­dle, peo­ple with high incomes over peo­ple with mid­dle-and-low incomes, peo­ple with fam­i­ly wealth over peo­ple who don't have sav­ings, and peo­ple who are mar­ried over those who are single.
Rationing care on the basis of these non-med­ical eco­nom­ic indi­ca­tors is incom­pat­i­ble with guar­an­tee­ing health­care as a right, and also repro­duces racial and gen­der inequities. Because the most robust cov­er­age is reserved for those with for­mal full-time employ­ment in lucra­tive eco­nom­ic sec­tors, com­pre­hen­sive care is dis­pro­por­tion­ate­ly denied to Black and brown com­mu­ni­ties fac­ing high unem­ploy­ment, immi­grants work­ing in low-wage indus­tries, and women work­ing in part-time jobs and unpaid domes­tic labor.
Sep­a­rate-and-unequal cov­er­age doesn't just hurt those at the bot­tom. By accept­ing and insti­tu­tion­al­iz­ing the notion that some peo­ple are more deserv­ing than oth­ers, tiered cov­er­age is pre­cise­ly what makes U.S. health­care both pre­car­i­ous and vul­ner­a­ble. This vul­ner­a­bil­i­ty breeds fear of los­ing one's cov­er­age, which for decades has been exploit­ed to sti­fle reforms and feed relent­less attacks on pub­lic pro­grams and social solidarity.
Medicare for All, in con­trast, would guar­an­tee a sin­gle stan­dard of care to every­one. The plan intro­duced by Sanders in the Sen­ate would pro­vide all med­ical­ly nec­es­sary care, com­pre­hen­sive long-term care, men­tal health, repro­duc­tive, den­tal, vision and all oth­er care peo­ple need. Every­one in the Unit­ed States would be guar­an­teed seam­less care from cra­dle to grave, free­ing us up to move in and out of jobs and rela­tion­ships with­out wor­ry­ing about med­ical care, and we'd nev­er have to deal with an insur­ance com­pa­ny or med­ical bill again. Health­care would be pro­vid­ed to all of soci­ety as a pub­lic good like fire pro­tec­tion rather than as an indi­vid­u­al­ly rationed com­mod­i­ty. What's more, Medicare for All would do all this for less than it would cost to keep prop­ping up the pri­vate insur­ance system.
While Biden and Third Way may be polling lan­guage to attack such a Medicare for All sys­tem, the case is clear: the ​"free­dom" to ​"choose" for-prof­it insur­ance is a false choice. Medicare for All is wild­ly pop­u­lar because it would final­ly pro­vide com­pre­hen­sive health­care to every­one. Demo­c­ra­t­ic lead­ers should stop using insur­ance indus­try talk­ing points and Repub­li­can fear-mon­ger­ing to tell peo­ple otherwise.
Ben Palmquist
is a cam­paign man­ag­er at the Nation­al Eco­nom­ic and Social Rights Initiative.