Shutting Out the Public from the Senate Healthcare Bill Isn't Just Antidemocratic: It's Deadly.
These lethal policies would never pass through an accountable, participatory public process.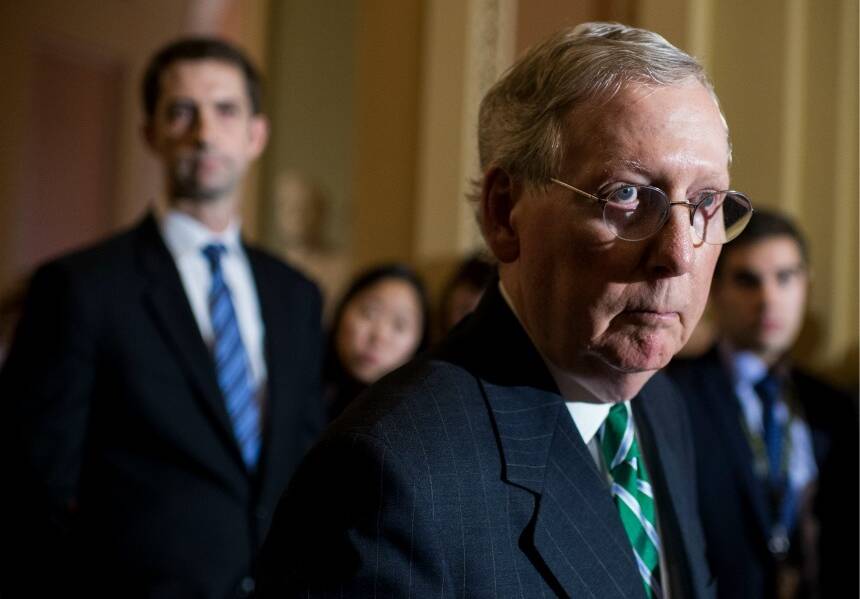 A secre­tive Sen­ate work­ing group is clos­ing in on a bill to over­haul the U.S. health­care sys­tem by gut­ting Med­ic­aid and the Afford­able Care Act (ACA). With Repub­li­can lead­ers tight-lipped, the details of what's in the bill remain a mat­ter of speculation.
Preventable deaths are not a natural disaster. They are produced by policy choices and are, by definition, totally avoidable.
The closed-door delib­er­a­tions by this all-male cabal of Repub­li­can sen­a­tors are anti­de­mo­c­ra­t­ic to the point of par­o­dy, but the stakes are dan­ger­ous­ly high. Health­care is not just one sixth of the U.S. econ­o­my: It is crit­i­cal to people's well­be­ing and very survival.
These dra­con­ian poli­cies would nev­er pass through an account­able, par­tic­i­pa­to­ry pub­lic process. By fast-track­ing this bill with no trans­paren­cy or pub­lic hear­ings, and per­haps as lit­tle as a hand­ful of days for any pub­lic response, they are threat­en­ing tens of thou­sands of people's lives.
How many lives could be at stake? If the Sen­ate bill cuts 23 mil­lion peo­ple off of Med­ic­aid and ACA insur­ance plans as the Con­gres­sion­al Bud­get Office cal­cu­lat­ed the House health­care bill would, esti­mates sug­gest that some­where between 17,000 and 44,000 peo­ple would die every year.
Skep­tics may quib­ble that these esti­mates lean high, but does the pre­cise fig­ure mat­ter? How many lives would it be accept­able for Repub­li­cans' health­care cuts to take?
Wide­spread suf­fer­ing borne unevenly
Death by a thou­sand Repub­li­can cuts would hit peo­ple of every race and every gen­der in every state. Even peo­ple with com­fort­able incomes and com­pre­hen­sive employ­er-spon­sored insur­ance are just one ill­ness, divorce or job loss away from dan­ger. Yet the harm of the Sen­ate bill would over­whelm­ing­ly fall on poor peo­ple, sick peo­ple, old­er peo­ple, women and peo­ple of color.
Sen­ate Repub­li­cans' plans would do incred­i­ble harm to poor and work­ing-class peo­ple by slash­ing Med­ic­aid and ACA sub­si­dies in order to fund an enor­mous redis­tri­b­u­tion of resources up the income lad­der. These fund­ing cuts, along with dereg­u­la­tion of pri­vate insur­ance, would exac­er­bate the exist­ing fail­ures of the insur­ance mar­ket by rais­ing people's pre­mi­ums and out-of-pock­et costs, lim­it­ing cov­er­age and leav­ing many unin­sured entire­ly. All this would espe­cial­ly hurt the very peo­ple who most need care: peo­ple with seri­ous ill­ness­es and chron­ic con­di­tions, as well as old­er people.
Women and peo­ple of col­or are dis­pro­por­tion­ate­ly poor and thus more like­ly to be hurt by cuts to Med­ic­aid and ACA sub­si­dies. Women are impov­er­ished by wage inequal­i­ty, part-time jobs that don't pro­vide health ben­e­fits and lack of pay­ment for domes­tic work. They would also be hurt by Repub­li­can plans to defund Planned Par­ent­hood. Black and Brown com­mu­ni­ties are kept poor by racial inequities in pub­lic health, crim­i­nal­iza­tion, edu­ca­tion, hir­ing, hous­ing, bank­ing, and oth­er are­nas, and would thus be espe­cial­ly hard hit. At the same time, because more white peo­ple rely on Med­ic­aid and ACA sub­si­dies than peo­ple of any oth­er racial or eth­nic group, huge num­bers of poor and work­ing-class white peo­ple would be hard-hit too.
Ill­ness­es and deaths rip­ple out too, tak­ing an emo­tion­al and finan­cial toll on entire fam­i­lies. The com­mu­ni­ties that Sen­ate Repub­li­cans are tar­get­ing have the least resources to cope with the loss of a wage earn­er, care­giv­er or loved one.
Death by unnat­ur­al causes
Pre­ventable deaths are not a nat­ur­al dis­as­ter. They are pro­duced by pol­i­cy choic­es and are, by def­i­n­i­tion, total­ly avoidable.
The root of the prob­lem is the way the U.S. health­care sys­tem prices and pays for health­care. Oth­er wealthy coun­tries guar­an­tee health­care to every­one as a fun­da­men­tal human right by con­trol­ling health­care prices and levy­ing tax­es to pay for health­care as a pub­lic good. But in the U.S. health­care sys­tem, insur­ance, hos­pi­tal and drug cor­po­ra­tions are allowed to set health­care prices vir­tu­al­ly with­out lim­it, and the pri­vate insur­ance sys­tem allo­cates health­care not to those who need it, but to those who can afford to pay.
This pay-for-access health­care mar­ket puts up cost bar­ri­ers that force an enor­mous num­ber of peo­ple to forego need­ed care. Accord­ing to a sur­vey by The Com­mon­wealth Fund, even after the cov­er­age gains of the Afford­able Care Act, 63 mil­lion peo­ple (one in three adults under 65) skip doc­tors' vis­its, pre­scrip­tions and oth­er need­ed care because they can't afford the costs. All these peo­ple suf­fer, and a por­tion die. The Sen­ate bill would force this need­less mis­ery on mil­lions more.
It's not hard to see why costs cre­ate a bar­ri­er to care. In some cas­es, the ACA allows insur­ance com­pa­nies to charge deductibles of over $14,000. Out-of-pock­et costs that high pre­vent even mid­dle-class peo­ple from going to the doc­tor and fill­ing pre­scrip­tions. And if Sen­ate Repub­li­cans have their way, deductibles could rise much higher.
For poor peo­ple, the cost bar­ri­ers are even worse. Work­ing a low-wage job and strug­gling to pay for rent, trans­porta­tion, food, util­i­ties and oth­er neces­si­ties means that even a $20 copay can be pro­hib­i­tive­ly expensive.
Mar­ket-based health­care pric­ing is espe­cial­ly cru­el to poor peo­ple, but it hurts us all. Peo­ple in the Unit­ed States pay far more for health­care than any oth­er nation. We have the worst health per­for­mance in the indus­tri­al­ized world. And by divid­ing us into cat­e­gories and forc­ing us into iso­lat­ed strug­gles for sur­vival rather than unit­ing us around our shared needs and val­ues, the health insur­ance mar­ket frays our democracy.
Ulti­mate­ly the only way to remove cost bar­ri­ers and to stop forc­ing peo­ple to die trag­i­cal­ly pre­ventable deaths is by mov­ing from pri­vate, for-prof­it insur­ance to a uni­ver­sal, pub­licly financed, sin­gle-pay­er insur­ance sys­tem. In the mean­time, Sen­ate Repub­li­cans must be stopped. Our lives depend on it.
Ben Palmquist
is a cam­paign man­ag­er at the Nation­al Eco­nom­ic and Social Rights Initiative.