Single Payer Is on the National Agenda—And It's Thanks to People's Movements
It's up to grassroots movements to demand—and win—the healthcare system we need.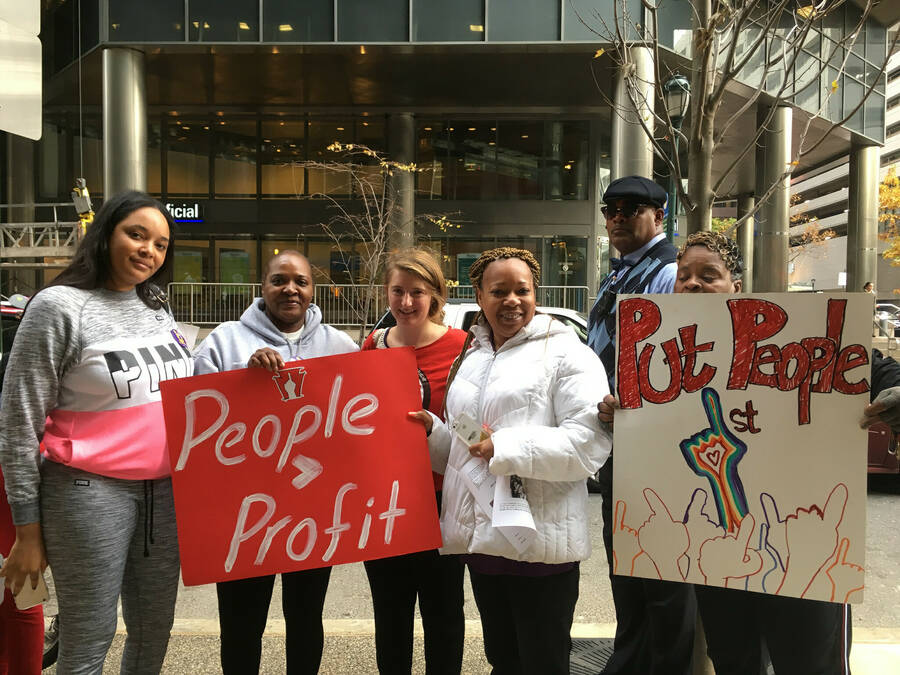 As Sen­a­tor Bernie Sanders intro­duces a bill for uni­ver­sal, pub­licly financed health­care on Wednes­day, he has grow­ing polit­i­cal momen­tum behind him. Sen­a­tors Eliz­a­beth War­ren and Kamala Har­ris are cospon­sor­ing the bill, and even for­mer Sen­a­tor Max Bau­cus — who shut down con­sid­er­a­tion of sin­gle pay­er dur­ing the draft­ing of the Afford­able Care Act — is now say­ing that uni­ver­sal health­care is ​"going to happen."
"This is about our health, our dignity and our survival."
These state­ments among lead­ing Demo­c­ra­t­ic Sen­a­tors mark a poten­tial­ly momen­tous shift­ing of the polit­i­cal winds, but most media cov­er­age of the Sen­a­tors' state­ments is mis­placed: It ignores the pow­er­ful cor­po­rate and ide­o­log­i­cal forces that have long dri­ven both par­ties' oppo­si­tion to uni­ver­sal health­care. It ignores wide­spread pub­lic frus­tra­tion with both par­ties and the tec­ton­ic social and eco­nom­ic changes trans­form­ing Amer­i­can pol­i­tics. It ignores how peo­ple all over the coun­try are orga­niz­ing to chan­nel pop­u­lar anger into people's move­ments that are inde­pen­dent of both polit­i­cal par­ties. And it ignores how these move­ments are begin­ning to com­plete­ly upend the pol­i­tics of healthcare.
Across the Unit­ed States, com­mu­ni­ties are orga­niz­ing for uni­ver­sal health­care. One of the most inno­v­a­tive and dynam­ic cam­paigns is led by Put Peo­ple First! Penn­syl­va­nia (PPF-PA), a grass­roots, mem­ber-led orga­ni­za­tion focused on build­ing pow­er among poor and work­ing-class peo­ple across their state. (I work with PPF-PA through my work at the Nation­al Eco­nom­ic and Social Rights Initiative.)
This sum­mer, PPF-PA has been turn­ing peo­ple out to tes­ti­fy at town hall meet­ings on insur­ance com­pa­nies' requests to raise pre­mi­ums and deductibles on Afford­able Care Act mar­ket­place plans next year. The town halls have been host­ed around the state by the Penn­syl­va­nia Insur­ance Depart­ment at the request of PPF-PA.
In a coun­try where near­ly 30 mil­lion peo­ple are unin­sured, 60 mil­lion under­in­sured, and count­less res­i­dents die every year from inad­e­quate health­care access, PPF-PA's focus on insur­ance rates for 5 per­cent of the pop­u­la­tion may seem, at first blush, to be miss­ing the point. But chal­leng­ing insur­ance com­pa­nies' prof­i­teer­ing cuts to the heart of what ails the U.S. health­care system.
There has long been an unstat­ed polit­i­cal con­sen­sus between the Repub­li­can and Demo­c­ra­t­ic Par­ties that it is okay to deny mil­lions of peo­ple health­care and okay for some peo­ple to have qual­i­ty care while oth­ers have sub­stan­dard care. Whether these inequities are jus­ti­fied as a mat­ter of per­son­al respon­si­bil­i­ty, or an unfor­tu­nate real­i­ty of the world, both par­ties have always treat­ed health­care as a com­mod­i­ty rather than as a human right. PPF-PA is work­ing to crack that con­sen­sus and cleave it wide open.
"The insur­ance industry's prof­it motives are incom­pat­i­ble with our human right to health­care," explains Ves­pera Bar­row, a PPF-PA mem­ber from Pitts­burgh. ​"You can't reform and advo­cate away those kinds of deep struc­tur­al prob­lems. We need to stop focus­ing on insur­ance cov­er­age and start focus­ing on human beings. This is about people's lives. This is about our health, our dig­ni­ty and our survival."
By using the town hall meet­ings to focus atten­tion on insur­ance com­pa­nies, PPF-PA is high­light­ing the con­tra­dic­tions at the heart of the pri­vate insur­ance system.
"What pur­pose do insur­ance com­pa­nies serve in our lives?" asks Far­rah Samuels, a Philadel­phia PPF-PA mem­ber and can­cer sur­vivor who has repeat­ed­ly strug­gled with her insur­ance com­pa­ny to cov­er her care. ​"Insur­ance com­pa­nies exist to make prof­its, plain and sim­ple. That prof­it motive leads them to lim­it where we can go to the doc­tor, charge us more mon­ey every year, and refuse to cov­er our bills when we need care. We need a health­care sys­tem that makes sure that every­one who needs care can get it."
For PPF-PA, this year's town halls are a strate­gic step toward that long-term vision.
"Our goal," explains Danelle Mor­row, a PPF-PA mem­ber in John­stown, ​"is to cre­ate a uni­ver­sal, pub­licly financed health­care sys­tem that guar­an­tees health­care as human right to every­one in Penn­syl­va­nia. But we know it's going to take a mass move­ment to bring that about."
By orga­niz­ing peo­ple around the state to turn out for the town halls, PPF-PA is draw­ing atten­tion to the fail­ures of the pri­vate insur­ance sys­tem and devel­op­ing a statewide base of lead­ers who can bring the polit­i­cal pres­sure that is need­ed to effect change.
Nijmie Dzurinko, a PPF-PA co-founder in Philadel­phia, stress­es the impor­tance of build­ing a new polit­i­cal force — one ground­ed in the polit­i­cal lead­er­ship of the com­mu­ni­ties that have the great­est stake in trans­form­ing the health­care system.
"Uni­ver­sal health­care would ben­e­fit every­one," she says, ​"and it's a pol­i­cy that a major­i­ty of the pub­lic already sup­ports. But win­ning uni­ver­sal health­care isn't about polling. It's about pow­er. The health insur­ance indus­try is tremen­dous­ly wealthy, and they know how to use their mon­ey and weight to keep elect­ed offi­cials, media out­lets and oth­er insti­tu­tions under their thumb. The only way to win the health­care sys­tem we need is if the peo­ple who have the great­est stake in trans­form­ing the sys­tem come togeth­er to demand it."
Build­ing an inclu­sive, ground-up move­ment that cen­ters the lead­er­ship of poor peo­ple, peo­ple of col­or, immi­grants and oth­er com­mu­ni­ties whose health­care needs aren't met today is critical.
As Greg Fritz, a PPF-PA mem­ber in Lan­cast­er explains, ​"The only way we're going to come up with a health­care sys­tem that works for every­one — that lit­er­al­ly leaves not one per­son out — is if we fol­low the lead­er­ship of every­day peo­ple who know first­hand what's not work­ing and what needs to change."
To be sure, grass­roots orga­niz­ing in com­mu­ni­ties that are dis­en­chant­ed with pol­i­tics, divid­ed by lines of race and class, and strug­gling to meet every­day needs, is no easy task.
"Poor com­mu­ni­ties in this coun­try are real­ly divid­ed by race and geog­ra­phy," says Eliel Acos­ta of Adams Coun­ty. ​"But at the end of the day, a Black fam­i­ly in South­west Philadel­phia, a Lati­no fam­i­ly in Get­tys­burg and a White fam­i­ly in John­stown are all strug­gling with a lot of the same things. We're all writ­ten off and ignored, but in our com­mon strug­gles there's incred­i­ble polit­i­cal potential."
The future of health­care depends less on Bernie Sanders than it does on our abil­i­ty to over­come these divi­sions to take col­lec­tive action. Our move­ments are mak­ing great head­way, but we must con­tin­ue the long, hard work of orga­niz­ing to cre­ate the con­di­tions that force Con­gress to cre­ate a pub­lic insur­ance sys­tem that guar­an­tees health­care for all.
As Julia Willis, a PPF-PA mem­ber in Pitts­burgh, rec­og­nizes, the door is open to us, but we need to be strate­gic and ready to put in hard work.
"I have no illu­sions that these hear­ings are going to end the health­care cri­sis," she says. ​"But orga­niz­ing around the hear­ings draws atten­tion to insur­ance com­pa­nies' prof­i­teer­ing and is a step toward build­ing the pow­er we'll need to win uni­ver­sal health­care that guar­an­tees care to every sin­gle per­son in Penn­syl­va­nia and the country."
Ben Palmquist
is a cam­paign man­ag­er at the Nation­al Eco­nom­ic and Social Rights Initiative.