Why We Shouldn't Fall for the Members-Only Unionism Trap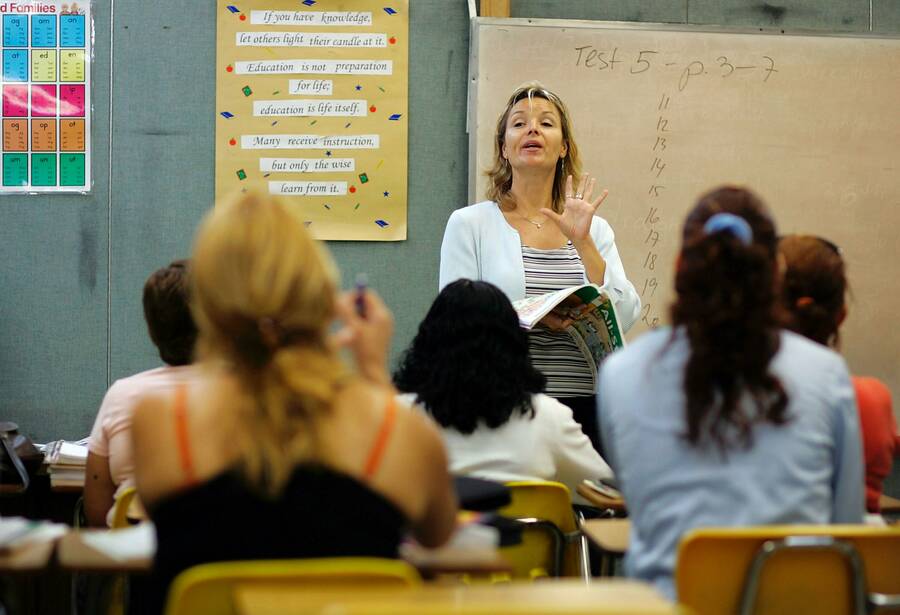 One of cor­po­rate America's next big goals might sur­prise you: pass­ing leg­is­la­tion to pre­vent unions from hav­ing to rep­re­sent work­ers who don't pay dues. This is just the lat­est of many busi­ness-friend­ly labor law reforms pro­lif­er­at­ing across the country.
Over the past decade, the Repub­li­can Par­ty has ascend­ed to become the dom­i­nant polit­i­cal force in the U.S. gov­ern­ment, con­trol­ling two-thirds of state leg­is­la­tures, a major­i­ty of gov­er­nor­ships, both hous­es of Con­gress and the White House. Con­ser­v­a­tives also make up a major­i­ty on the Supreme Court. This growth in pow­er of the GOP has also giv­en rise to a new slew of anti-union legislation.
States in over half the coun­try have passed open-shop laws, euphemisti­cal­ly referred to as ​"right-to-work." And an upcom­ing Supreme Court case, Janus v. AFSCME, makes it like­ly that the country's entire pub­lic sec­tor will become open shop in the next year.
This means that the nation's pub­lic work­ers, from fire­fight­ers in Cal­i­for­nia to pub­lic school teach­ers in Maine, will be able to receive the ben­e­fits of union­iza­tion with­out being required to pay fees for union representation.
In an open shop, unions have a legal duty to expend resources rep­re­sent­ing every­one who is cov­ered by a union con­tract, even if those indi­vid­u­als are not union mem­bers and pay noth­ing for the ben­e­fits they receive. This is com­mon­ly known as the ​"free-rid­er problem."
Some union sup­port­ers have argued that the way to solve the free-rid­er prob­lem is by allow­ing unions to sim­ply kick out the ​"free­load­ers."
For exam­ple, in a Los Ange­les Times op-ed, pro­fes­sors Cather­ine Fisk and Ben­jamin Sachs advo­cate for reform­ing labor law so unions in open shop states would not be required to nego­ti­ate on behalf of all work­ers, but would instead only rep­re­sent dues-pay­ing members.
Labor activist Shaun Rich­man has writ­ten for In These Times about the ben­e­fits of ​"mem­bers-only" union­ism, which, he says, would allow unions to ​"cede exclu­sive rep­re­sen­ta­tion and kick out the scabs."
Now, employ­er-backed groups are mak­ing sim­i­lar argu­ments. The State Pol­i­cy Net­work (SPN) — a coali­tion of cor­po­rate-financed right-wing think tanks — is also advo­cat­ing for laws that would elim­i­nate the require­ment that unions rep­re­sent non-mem­bers in a union­ized workplace.
What do right-wing advo­cates of this strat­e­gy hope to accom­plish? For an answer, we can look at the case of union­ized teach­ers in Tennessee.
The Ten­nessee Experiment
For 140 years, Democ­rats were the dom­i­nant polit­i­cal par­ty in the Ten­nessee state leg­is­la­ture. That streak came to an end in 2010 when the Repub­li­cans became the state's major­i­ty par­ty for the first time since Reconstruction.
The GOP majority's first major leg­isla­tive pri­or­i­ty? Reform­ing the state's col­lec­tive bar­gain­ing law for pub­lic school teach­ers in the hopes of under­min­ing the largest and most polit­i­cal­ly pow­er­ful union in the state — and my for­mer employ­er — the Ten­nessee Edu­ca­tion Asso­ci­a­tion (TEA).
The result was the Pro­fes­sion­al Edu­ca­tors Col­lab­o­ra­tive Con­fer­enc­ing Act (PEC­CA), signed into law in 2011, which out­lines a process for ​"inter­est-based" bar­gain­ing between two teams: one rep­re­sent­ing teach­ers and anoth­er rep­re­sent­ing the school board. This process is referred to as ​"con­fer­enc­ing."
The goal of con­fer­enc­ing is to pro­duce a legal­ly bind­ing Mem­o­ran­dum of Under­stand­ing (MOU) that cov­ers all teach­ers employed in the dis­trict regard­less of what orga­ni­za­tion they actu­al­ly belong to, if any.
But unlike the pre­vi­ous law, PEC­CA for­bids the MOU from includ­ing lan­guage that would make any one orga­ni­za­tion the exclu­sive rep­re­sen­ta­tive of teach­ers in the dis­trict. This means that mul­ti­ple orga­ni­za­tions com­pete to recruit teach­ers as mem­bers — and to rep­re­sent them dur­ing conferencing.
Pri­or to con­fer­enc­ing, the school dis­trict holds a secret bal­lot vote in which teach­ers choose among sev­er­al orga­ni­za­tions to rep­re­sent them. Orga­ni­za­tions earn a num­ber of seats on the teacher con­fer­enc­ing team in pro­por­tion to the total num­ber of votes they receive — mean­ing that the teach­ers' team could include mem­bers of com­pet­ing orga­ni­za­tions with very dif­fer­ent nego­ti­at­ing goals and orga­ni­za­tion­al resources.
In prac­tice, the choice often comes down to an affil­i­at­ed union local of the Ten­nessee Edu­ca­tion Asso­ci­a­tion and the Pro­fes­sion­al Edu­ca­tors of Ten­nessee (PET), a self-described ​"pro­fes­sion­al asso­ci­a­tion" that claims to rep­re­sent teach­ers while advanc­ing broad­er cor­po­rate interests.
When labor activists imag­ine a world of com­pet­ing mem­bers-only unions, they typ­i­cal­ly express hope that it will give rise to more mil­i­tant, pro­gres­sive and rank-and-file-led orga­ni­za­tions that will chal­lenge unions from the left. The expe­ri­ence in Ten­nessee, how­ev­er, shows that this com­pe­ti­tion can pro­duce fur­ther frag­men­ta­tion as unions face busi­ness-aligned chal­lengers from their right.
The Prob­lem with PET
PET is part of the ​"coali­tion of inde­pen­dent edu­ca­tion asso­ci­a­tions" (IEAs), a nation­al net­work of orga­ni­za­tions that bill them­selves as ​"alter­na­tives" to unions. IEAs com­pete with unions in two dozen states, pro­vid­ing lia­bil­i­ty insur­ance, pro­fes­sion­al devel­op­ment and some legal rep­re­sen­ta­tion — often at a cheap­er rate than union dues.
Many IEAs sup­port anti-union leg­is­la­tion, like right-to-work, and have strong ties to deep-pock­et­ed orga­ni­za­tions push­ing edu­ca­tion pri­va­ti­za­tion, such as SPN and the Amer­i­can Leg­isla­tive Exchange Coun­cil (ALEC).
PET has deep roots in the cor­po­rate edu­ca­tion move­ment. J.C. Bow­man, PET's direc­tor, pre­vi­ous­ly served as the direc­tor of Florida's Depart­ment of Edu­ca­tion Choice where he over­saw Florida's statewide vouch­er pro­gram (the first in the coun­try). He also for­mer­ly chaired an ALEC sub-com­mit­tee on union affairs and spent years advo­cat­ing for vouch­ers and char­ter schools while work­ing for a num­ber of free-mar­ket think tanks.
In 2011, PET pub­licly advo­cat­ed for PEC­CA and the end of ​"monop­oly col­lec­tive bar­gain­ing" on behalf of anti-union teach­ers who were being ​"forced to accept rep­re­sen­ta­tion they do not want."
Repub­li­cans explic­it­ly made the con­nec­tion between pass­ing PEC­CA and weak­en­ing polit­i­cal oppo­si­tion to their pri­va­ti­za­tion agen­da. When the law passed, Tennessee's lieu­tenant gov­er­nor Ron Ram­sey praised PEC­CA as end­ing an era that pro­vid­ed ​"a sin­gle gov­ern­ment employ­ee union the pow­er to sti­fle edu­ca­tion reform in the state of Tennessee."
Since the pas­sage of PEC­CA, PET has part­nered in a union opt-out cam­paign with the SPN-affil­i­at­ed Bea­con Cen­ter of Ten­nessee, one of the most promi­nent pro-vouch­er and pro-char­ter lob­by­ists in the state, pub­lish­ing edi­to­ri­als attack­ing TEA and encour­ag­ing teach­ers to drop their membership.
For­mer state rep­re­sen­ta­tive and ALEC mem­ber Joe Carr says that he ​"would sus­pect that PET sup­ports ALEC efforts."
Carr, now a Repub­li­can can­di­date for state sen­ate, believes pass­ing PEC­CA was impor­tant because ​"the [TEA] is a hin­drance to edu­ca­tion reform."
"The lead­er­ship in the TEA and NEA has his­tor­i­cal­ly had a very social­ly pro­gres­sive agen­da, a very union agen­da, and I see PET as a threat to that," he says. ​"PET came along and said, ​'Hey, we can offer you insur­ance and ser­vices at a bet­ter price with­out the agenda.'"
At the local school lev­el, PET recruits teach­ers by appeal­ing to a com­bi­na­tion of social con­ser­vatism and cheap services.
"They play on social issues like the Repub­li­cans do, claim­ing that the union pro­motes abor­tion," says Car­ol Ham­bright, for­mer pres­i­dent of the Polk Coun­ty Edu­ca­tion Asso­ci­a­tion, a TEA affil­i­ate. She cites this as a pri­ma­ry rea­son PET has had suc­cess in schools, along with the price, since PET dues are less than half of those of TEA.
"If the only rea­son to join is insur­ance or a lawyer, then teach­ers go for the cheap­er option," Ham­bright says.
PET com­petes with TEA not only for mem­ber­ship, but for votes to rep­re­sent teach­ers in the con­fer­enc­ing process.
When PET does receive enough votes to qual­i­fy for seats on the teacher team, they often under­mine the union at the con­fer­enc­ing table.
In Polk Coun­ty, the union was furi­ous when PET sided with man­age­ment in oppos­ing bind­ing arbi­tra­tion as the final step in the school district's griev­ance process.
"It's three-way bar­gain­ing, you're nego­ti­at­ing with PET and man­age­ment," says Hambright.
Accord­ing to Con­stance Brown, the trea­sur­er of anoth­er TEA affil­i­ate in Clarksville-Mont­gomery Coun­ty (CMCEA), the pres­ence of PET has embold­ened man­age­ment by sig­nal­ing to them that the teach­ers in the dis­trict are divided.
"If man­age­ment were talk­ing exclu­sive­ly to CMCEA, then there is no doubt that our team would be in a stronger posi­tion," Brown says.
Man­age­ment can also active­ly sow divi­sion by pro­mot­ing PET in the schools.
After the TEA won a law­suit against the Wash­ing­ton Coun­ty school dis­trict and suc­cess­ful­ly over­turned a dis­missal of a tenured teacher, the direc­tor of schools invit­ed Bow­man to speak at a coun­ty-wide teacher meet­ing and had PET mem­ber­ship brochures dis­trib­uted to teach­ers in the district.
"One of the assis­tant admin­is­tra­tors came through the hall­way knock­ing on teach­ers' doors, with a ros­ter of teach­ers, hand­ing out a pro­pa­gan­da fly­er encour­ag­ing teach­ers to join PET and drop the TEA," says Jamie Free­man, who has taught social stud­ies for 16 years in Wash­ing­ton Coun­ty pub­lic schools.
Accord­ing to Free­man, the admin­is­tra­tor put a check mark next to his name on the ros­ter and hand­ed him the pam­phlet say­ing, ​"This is com­ple­ments of the direc­tor of schools."
For Free­man, the mes­sage was clear.
"The direc­tor is try­ing to weak­en our union mem­ber­ship," says Freeman.
Worker's Choice?
PEC­CA was designed to weak­en the teacher union — and it has. Mem­ber­ship in the union has dropped while PET's has slow­ly grown, though it still only rep­re­sents a frac­tion of the num­ber of teach­ers that the union does. In 2011, pri­or to the pas­sage of PEC­CA, there were over nine­ty nego­ti­at­ed con­tracts between teach­ers and school dis­tricts across Ten­nessee. Today, under the new law, that num­ber has plum­met­ed to just three dozen.
It is lit­tle won­der then that sim­i­lar leg­is­la­tion is at the very heart of the Right's mul­ti-mil­lion dol­lar plan to ​"defund and defang" pub­lic sec­tor unions across the coun­try, as laid out in SPN doc­u­ments pub­lished in August by The Guardian.
These doc­u­ments reveal an anti-union leg­isla­tive ​"toolk­it" that the SPN cre­at­ed for Repub­li­can pol­i­cy­mak­ers. A cen­tral part of this toolk­it is so-called ​"Worker's Choice" leg­is­la­tion, which would elim­i­nate the duty of unions to rep­re­sent non-mem­bers and allow for non-union work­ers to nego­ti­ate their own pri­vate con­tract with their employ­er out­side the col­lec­tive bar­gain­ing agreement.
Worker's Choice has many sim­i­lar­i­ties to PEC­CA: both laws pro­mote the same type of ​"mem­bers-only" union­iza­tion that effec­tive­ly divides work­ers and weak­ens unions while ren­der­ing union com­plaints about ​"free-rid­ers" moot.
PET and the Bea­con Cen­ter are part of a nation­al­ly coor­di­nat­ed cam­paign called ​"Employ­ee Free­dom Week," which advo­cates for union­ized work­ers to drop their mem­ber­ship and pro­motes the adop­tion of Worker's Choice leg­is­la­tion at the state level.
Fac­ing mas­sive mem­ber­ship loss­es and small­er bud­gets, many union lead­ers and activists might be inclined to go along with this kind of leg­is­la­tion. This is a dan­ger­ous path — and not just because it cre­ates an open­ing for busi­ness-aligned orga­ni­za­tions like PET to com­pete with unions.
Rather than mem­bers-only union­iza­tion being a step­ping-stone towards build­ing a major­i­ty mem­ber­ship orga­ni­za­tion, this approach can become a short­cut for unions to spend few­er resources by nar­row­ing the scope of out­reach and orga­niz­ing to only dues-pay­ing members.
Ced­ing exclu­sive rep­re­sen­ta­tion in order to write non-mem­bers off rather than win­ning them over will not result in the labor move­ment grow­ing or becom­ing any more mil­i­tant or successful.
Such an approach only sets the stage for fur­ther mem­ber­ship decline and union marginalization.
Chris Brooks
is a staff writer and labor edu­ca­tor at
Labor Notes,
where he cov­ers the Unit­ed Auto Work­ers. He is a mem­ber of the Nation­al Writ­ers Union (UAW Local
1981
).