An Indigenous Cooperative Is Dodging Bullets To Defend Their Land
In Cuetzalan, Mexico, environmentalists are risking their lives to fight destructive energy projects.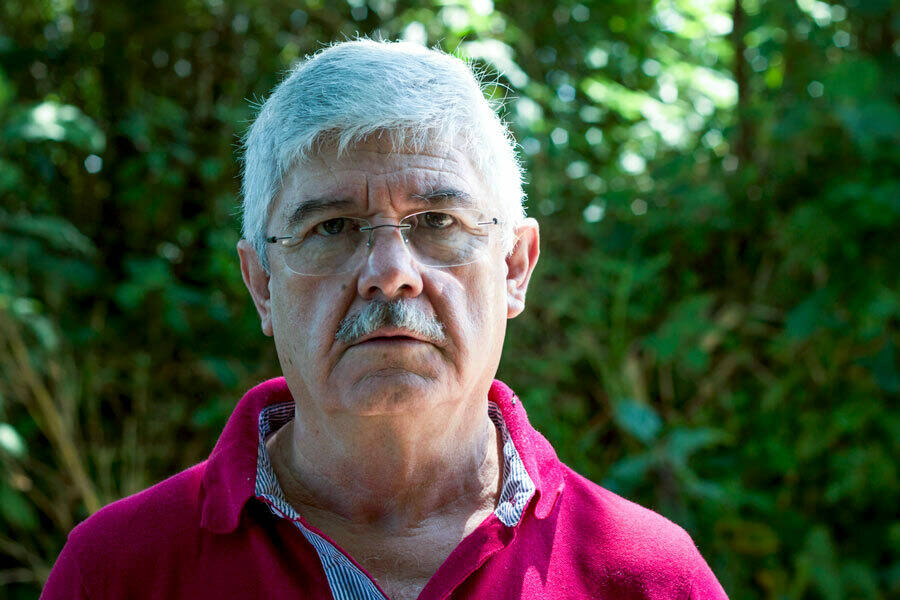 CUET­ZA­LAN, MEX­I­CO — One evening in ear­ly March, in the north­ern moun­tains of Puebla state, gun­men ambushed a van belong­ing to the indige­nous Union de Coop­er­a­ti­vas Tosep­an. Bul­lets struck one of the van's tires, the driver's side win­dow and the driver's arm before he man­aged to escape, careen­ing to safe­ty over a mile of wind­ing moun­tain roads.
Águilar believes that the local government is giving tacit or explicit go-ahead to criminal organizations to break the community's resolve.
The dri­ver, who asked not to be named, was like­ly not the intend­ed tar­get. Only by chance was the red Town and Country's usu­al dri­ver, coop­er­a­tive leader Alvaro Águilar, not behind the wheel.
White-haired and bespec­ta­cled, Águilar might not be the type you'd expect to find on a hit list. But in Mex­i­co, being an envi­ron­men­tal activist means liv­ing with a tar­get on your back. In 2017, indige­nous envi­ron­men­tal­ist Isidro Baldene­gro was killed in Chi­huahua. This Jan­u­ary, indige­nous leader Guadalupe Cam­pa­nur was found stran­gled to death in Michoa­can. On May 14, Manuel Gas­par, a lawyer allied with Águilar and the Tosep­an coop­er­a­tive, was found stabbed to death in a hotel. And on May 30, an activist against a Puebla hydro­elec­tric project was found killed as well.
Cuet­za­lan, where the Tosep­an coop­er­a­tive is based, is a small, pic­turesque cof­fee-pro­duc­ing town. A pop­u­lar tourist des­ti­na­tion, it gained nation­al fame for block­ing a pro­posed Wal­mart store in 2012. Águilar and Tosep­an, whose mem­bers are from the Nahu­atl and Totonaca indige­nous groups, were key orga­niz­ers in that strug­gle. Now they face anoth­er threat: an elec­tri­cal sub­sta­tion pro­posed by Mexico's Fed­er­al Elec­tric­i­ty Com­mis­sion (CFE).
CFE says the sub­sta­tion is intend­ed to improve elec­tric­i­ty deliv­ery, but com­mu­ni­ty mem­bers insist their sup­ply is fine. They believe the real goal is to even­tu­al­ly route pow­er lines to and from poten­tial hydropow­er, frack­ing and open-pit min­ing projects. Such projects would mean wide­spread envi­ron­men­tal dis­rup­tion, threat­en­ing Cuet­za­lan and neigh­bor­ing com­mu­ni­ties' water sup­ply as well as their liveli­hoods: small-hold­er farm­ing, cof­fee pro­duc­tion and ecotourism.
The Mex­i­can con­sti­tu­tion and inter­na­tion­al law both require that com­mu­ni­ties with major­i­ty indige­nous pop­u­la­tions, like Cuet­za­lan, be includ­ed in devel­op­ment deci­sion-mak­ing. Although the project was reject­ed in nine pub­lic assem­blies in 2017, CFE con­tin­ues to pur­sue it.
When the bull­doz­ers arrived in late 2016, Águilar says, Tosep­an and oth­er groups con­vinced the work­ers to quit. A sym­pa­thet­ic farmer let the pro­test­ers build a small encamp­ment near the con­struc­tion site, where they remained for near­ly a year, even after CFE lost its permit.
But the gov­ern­ment remains deter­mined. Ear­li­er this year, Mexico's attor­ney gen­er­al and CFE filed suit against Águilar and oth­er com­mu­ni­ty lead­ers, alleg­ing they used vio­lent tac­tics to obstruct the sub­sta­tion project — charges they deny.
Águilar believes the law­suit and van shoot­ing are con­nect­ed, and that the local gov­ern­ment is giv­ing tac­it or explic­it go-ahead to crim­i­nal orga­ni­za­tions to break the community's resolve. ​"They're send­ing us a mes­sage," he says, ​"that we are going to suf­fer the con­se­quences for our resistance."
Cuet­za­lan May­or Oscar Paula Cruz denies this alle­ga­tion, main­tain­ing that his gov­ern­ment ​"work[s] for every­one." But Tosep­an mem­bers say the munic­i­pal police have not inves­ti­gat­ed the attack. Puebla's attor­ney general's office did not respond to mul­ti­ple requests for comment.
This tar­get­ing of envi­ron­men­tal­ists fits a pat­tern. The Cana­di­an min­ing com­pa­ny Black­fire and employ­ees of the Cana­di­an embassy, for exam­ple, col­lab­o­rat­ed to sup­press protests against a barite mine in Chi­a­pas, wiring the local may­or mon­ey and pres­sur­ing him to quash the oppo­si­tion. Activist Mar­i­ano Abarca's com­plaints of death threats went unheed­ed, and he was mur­dered in 2009.
Three days after the van shoot­ing, Tosep­an lead­ers Maria Luisa Albores and Águilar were car­a­van­ning home from work, part of new secu­ri­ty mea­sures. When they stopped in front of Albores' house, an unfa­mil­iar vehi­cle pulled up as well, its head­lights shin­ing as Albores' younger son opened the front gate. Alarmed, Albores ordered her son back inside. The vehi­cle made an abrupt U‑turn and van­ished into the night.
Ethan Bien
is a jour­nal­ist and doc­u­men­tary film­mak­er based in Maine and Mexico.