Will Mexico's New President Declare Independence From the United States?
At public forums, Mexicans are pushing Andrés Manuel López Obrador to break with the U.S. on migration and drug policy.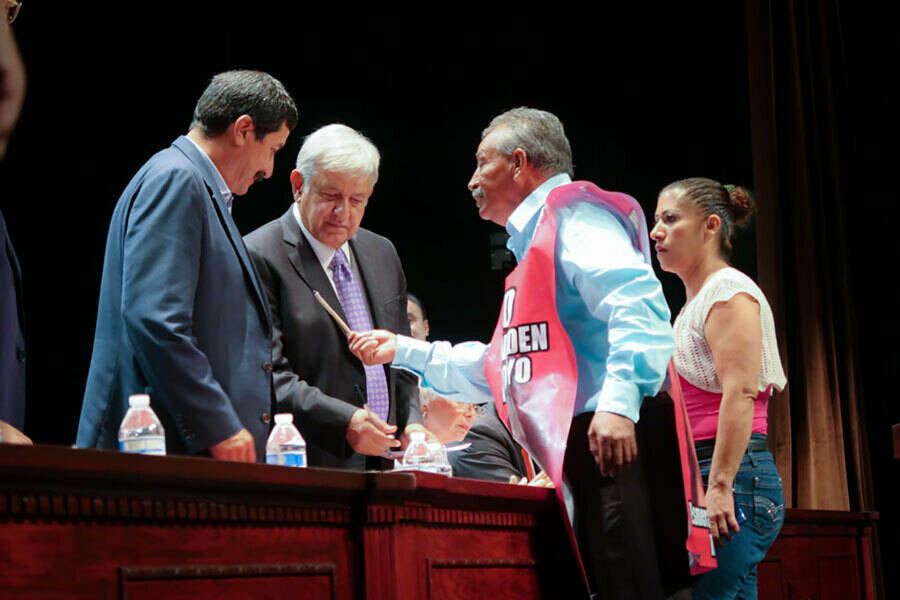 CIU­DAD JUÁREZ, MEX­I­CO — Amid a charged atmos­phere in a jammed the­ater August 7, Mex­i­can Pres­i­dent-elect Andrés Manuel López Obrador explained the phi­los­o­phy behind his unusu­al step of launch­ing a pub­lic con­sul­ta­tion process, aimed at bring­ing peace and rec­on­cil­i­a­tion to Mex­i­co, four months before he takes office.
Forum attendees' recommendations included increasing support for Mexican migrants deported from the United States and repealing the National Security Law passed by Congress in 2017, which formalized the central role of the U.S.-supported Mexican armed forces in the drug war.
"[Change] is not going to be achieved with gov­ern­ment action alone," the 64-year-old politi­cian said. ​"We need the par­tic­i­pa­tion of all the people."
The for­mer may­or of Mex­i­co City, López Obrador led a three-par­ty coali­tion to a sweep­ing vic­to­ry in June, the result of a deep, pop­u­lar rejec­tion of the sta­tus quo and the heart­felt desire of mil­lions of Mex­i­cans for fun­da­men­tal changes in pub­lic safe­ty, gov­er­nance and the econ­o­my. López Obrador has pledged reforms along left nation­al­ist lines that imply greater inde­pen­dence from the Unit­ed States, an improved stan­dard of liv­ing for the pop­u­lar class­es and increased pub­lic par­tic­i­pa­tion in decisions.
Juárez was a fit­ting site for the first of the forums, designed to gath­er pub­lic input for new poli­cies that could alter the direc­tion of the so-called nar­co war (Mexico's vio­lent and ongo­ing drug war), secure jus­tice for vio­lence vic­tims and trans­form Mexico's rela­tion­ship with migrants. Femi­cides have plagued the bor­der city of 1.4 mil­lion peo­ple since the 1990s and the nar­co-vio­lence has been esca­lat­ing since 2005. A record 31,174 Mex­i­cans were mur­dered in 2017.
Hun­dreds of Juárens­es from dif­fer­ent walks of life turned out for the first pub­lic forum. Rel­a­tives of the miss­ing and mur­dered showed up with posters and pic­tures of their loved ones and inter­rupt­ed López Obrador with ques­tions. Out­side, ner­vous ten­sion gripped a city that's been slammed with nar­co-taint­ed killings, with hun­dreds this sum­mer alone.
Forum atten­dees' rec­om­men­da­tions includ­ed increas­ing sup­port for Mex­i­can migrants deport­ed from the Unit­ed States and repeal­ing the Nation­al Secu­ri­ty Law passed by Con­gress in 2017, which for­mal­ized the cen­tral role of the U.S.-supported Mex­i­can armed forces in the drug war. López Obrador's incom­ing gov­ern­ment says the pro­pos­als will be reflect­ed in nation­al devel­op­ment plans and pro­grams for 2018 – 2024.
Out­go­ing Pres­i­dent Enrique Peña Nieto promised a dif­fer­ent strat­e­gy to fight the drug war back in 2012, but wound up fol­low­ing the path of his pre­de­ces­sor, Felipe Calderón, in rely­ing on the mil­i­tary to com­bat orga­nized crime. At Pres­i­dent Barack Obama's behest, the Peña Nieto admin­is­tra­tion also increased the deten­tion and depor­ta­tion of Cen­tral Amer­i­can and oth­er migrants before they reached the U.S. border.
But the peace and rec­on­cil­i­a­tion forums imply a depar­ture from the Unit­ed States, as do state­ments by new Inte­ri­or Min­is­ter Olga Sanchez con­sid­er­ing drug decriminalization.
Cipri­ana Jura­do coor­di­nates López Obrador's More­na par­ty in the U.S. South­west. A par­tic­i­pant in the Juárez forum, she believes López Obrador's approach ​"says a lot about the new gov­ern­ment." She sees sup­port to the rel­a­tives of vio­lence vic­tims, whether in Mex­i­co or the U.S., as a pol­i­cy pri­or­i­ty. Fam­i­lies like hers, which sought refuge in the U.S. only to wind up strug­gling in a strange land, have ​"many scars" that require heal­ing, she says.
As part of the peace and rec­on­cil­i­a­tion process, López Obrador is con­sid­er­ing amnesty for some out­laws, a stance that proved con­tro­ver­sial among vic­tims' rel­a­tives. Paula Flo­res says con­tem­plat­ing for­give­ness is easy for those who haven't suf­fered per­son­al loss­es. Her daugh­ter Sagrario, a 17-year-old Juárez fac­to­ry work­er, was abduct­ed and mur­dered, her body dumped on the out­skirts of the city, in 1998.
Accord­ing to Pro­ce­so mag­a­zine, oth­er rel­a­tives of vic­tims aired sim­i­lar con­cerns at three forums that fol­lowed the one in Juárez.
Sep­a­rate­ly, dozens of aca­d­e­mics and activists signed a let­ter to López Obrador with detailed pro­pos­als, includ­ing greater involve­ment of the Mex­i­can gov­ern­ment in defend­ing the rights of the U.S. immi­grant com­mu­ni­ty, coop­er­at­ing with the U.S. on drug pol­i­cy only ​"as a mat­ter of pre­ven­tion and not of pris­ons and war" and mak­ing Mex­i­co a sanc­tu­ary for inter­na­tion­al refugees. The let­ter states: ​"Mex­i­co will not play the role of migra [immi­gra­tion enforce­ment] for the U.S."
One of the sig­na­to­ries, Cal­i­for­nia-based pro­fes­sor and immi­grant-rights advo­cate Arman­do Vazquez-Ramos, express­es mis­giv­ings about some of the per­son­al­i­ties in López Obrador's More­na par­ty, but says he's nev­er­the­less ​"opti­mistic" about the new admin­is­tra­tion set to take office Decem­ber 1. He assess­es the polit­i­cal tran­si­tion as the best oppor­tu­ni­ty for gen­uine change ​"in the last 50 years."
Kent Pater­son
has cov­ered Mex­i­co and the bor­der­lands for
35
years.