Time to Redirect the Military Budget to Public Health
America's addiction to war, by the numbers.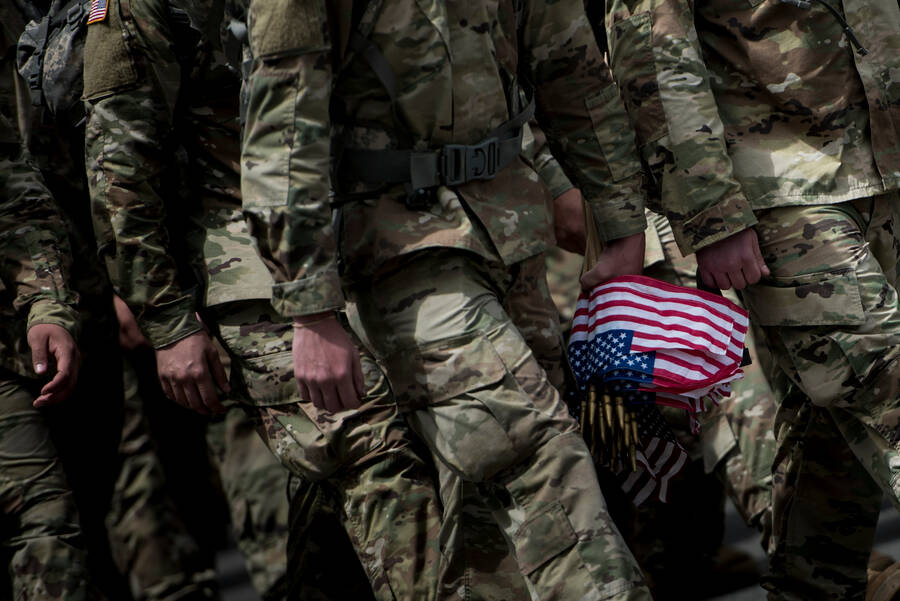 When it comes to fight­ing wars abroad, there seem to be unlim­it­ed funds; the ques­tion of how we're going to pay for it is rarely asked. Since tak­ing office, Pres­i­dent Trump has passed one of the most expen­sive defense bud­gets in U.S. his­to­ry. As the Unit­ed States faces the most seri­ous and imme­di­ate threat it has faced in decades, the defense bud­get should instead be redi­rect­ed toward com­bat­ing our pub­lic health emergency.
Over the past two weeks, near­ly 10 mil­lion Amer­i­cans have filed for unem­ploy­ment, and Fed­er­al Reserve econ­o­mists project that num­ber may come close to 50 mil­lion in the com­ing months. In a coun­try where med­ical care is tied to employ­ment, those who have recent­ly lost their jobs will like­ly join the ranks of the unin­sured — a pop­u­la­tion that stood at 27 mil­lion before the COVID-19 cri­sis began. And there are signs that this cri­sis is already hit­ting low-income com­mu­ni­ties of col­or the hard­est. Physi­cians on the front lines report that the dis­tri­b­u­tion of test­ing sites and med­ical resources have shown famil­iar bias­es against low-income major­i­ty-black neigh­bor­hoods. In Mil­wau­kee, where all eight of their first fatal­i­ties were African Amer­i­can, Wis­con­sin Gov­er­nor Tony Evers has referred to med­ical dis­crim­i­na­tion in the midst of the pan­dem­ic as a ​"cri­sis with­in a cri­sis." With the Unit­ed States now lead­ing the world in con­firmed coro­n­avirus cas­es, and fac­ing pro­jec­tions of up to 240,000 deaths, the mil­i­tary bud­get is a strik­ing indi­ca­tor of how dras­ti­cal­ly we need to reori­ent our polit­i­cal priorities.
How many lives could we save and improve if we redi­rect­ed our mas­sive mil­i­tary spend­ing towards meet­ing the needs of peo­ple try­ing to sur­vive the COVID-19 crisis?
$

6

.

4

Tril­lion will have been spent on U.S. bud­getary costs and oblig­a­tions from post‑

9

/​

11

wars by fall

2020

57

% of Pres­i­dent Trump's pro­posed

2020

bud­get will be spent on defense, or $

718

,

000

,

000

,

000

36

% of glob­al arms sales between

2015

 – 

2019

were export­ed by the U.S., the world's largest arms exporter
$

1

Tril­lion was spent on the F‑

35

fight­er jet pro­gram over

60

years, the most expen­sive U.S. weapons program

1

.

3

Mil­lion peo­ple have died, direct­ly and indi­rect­ly, from fight­ing in post‑

9

/​

11

wars in Iraq, Afghanistan and Pakistan

1

.

2

Mil­lion met­ric tons of green­house gas­es — equiv­a­lent to the annu­al emis­sions of

2

.

5

mil­lion pas­sen­ger cars — have been emit­ted by the U.S. mil­i­tary since the start of the War on Terror
$

2

Tril­lion in coro­n­avirus relief spend­ing was approved March

27

, the largest stim­u­lus pack­age in mod­ern U.S. his­to­ry — more than twice the size of the

2009

stimulus

10

% of the nation­al GDP, pro­por­tion­al­ly, has been allo­cat­ed for the U.S. relief pack­age — less than both Ger­many and the UK, coun­tries at sim­i­lar stages of the pandemic