California Duplicate Minimum Wage Ballot Battle Pits SEIU vs. SEIU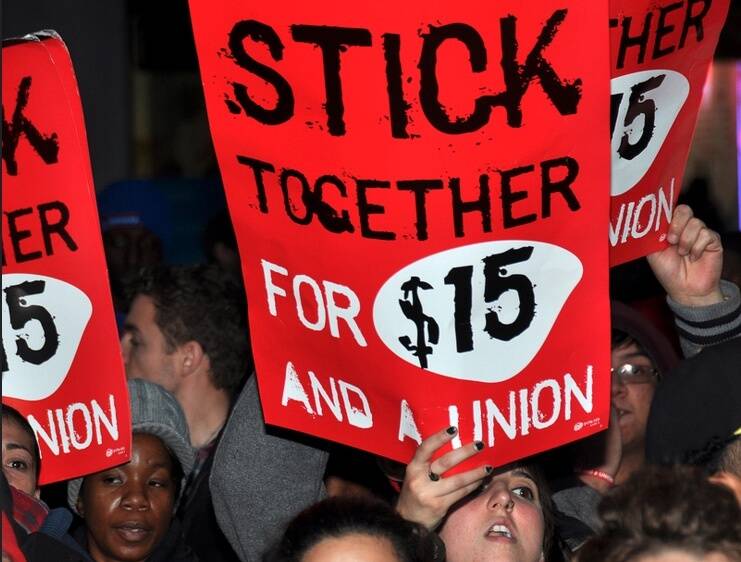 It looked like the cul­mi­na­tion of an incred­i­ble series of vic­to­ries for low-wage work­ers. A major union local in Cal­i­for­nia announced that they had acquired enough sig­na­tures to qual­i­fy a bal­lot mea­sure to raise the statewide min­i­mum wage in incre­ments to $15 an hour by 2021. Notable elect­ed offi­cials like 2018 guber­na­to­r­i­al can­di­date Gavin New­som and dozens of oth­er politi­cians, unions, com­mu­ni­ty orga­ni­za­tions and even small busi­ness­es had signed on. A recent Field Poll showed that 68 per­cent of the elec­torate sup­port­ed the increase. Amid nation­wide protests for high­er wages, the stars were aligned to give over 19 mil­lion work­ers in Cal­i­for­nia — 12 per­cent of the total work­force in Amer­i­ca — an unprece­dent­ed wage floor.
Then, out of nowhere, anoth­er group announced that they, too, would launch a most­ly sim­i­lar bal­lot mea­sure, risk­ing vot­er con­fu­sion and com­pet­ing resources for some­thing that would oth­er­wise pass with a strong campaign.
The punch line? The two groups are actu­al­ly part of the same union.
The strange turn of events reflects a long-sim­mer­ing feud between the Ser­vice Employ­ees Inter­na­tion­al Union (SEIU) state coun­cil, made up of SEIU locals through­out Cal­i­for­nia and encom­pass­ing over 700,000 mem­bers, and one of its affil­i­ates, SEIU-Unit­ed Health­care Work­ers West (UHW). SEIU-UHW already has their min­i­mum wage ini­tia­tive in the field, but the state coun­cil announced theirs any­way. Both sides believe the dis­pute will even­tu­al­ly reach some res­o­lu­tion. But the ugly lega­cy of dis­trust and back­bit­ing threat­ens to put low-wage work­ers in the mid­dle of a squab­ble they had noth­ing to do with.
Back in 2005, two SEIU locals merged to form UHW, cre­at­ing a pow­er­ful affil­i­ate with 150,000 mem­bers in home care, nurs­ing homes and hos­pi­tals. At the time, Sal Rossel­li, the head of the local, reject­ed then-SEIU Pres­i­dent Andy Stern's vision for union mem­ber­ship growth, which he believed led to weak bar­gain­ing con­tracts and sweet­heart deals for health care con­glom­er­ates. Their dif­fer­ences, along with alle­ga­tions of finan­cial mis­man­age­ment by Stern that Rossel­li and oth­er lead­ers denied, led to a 2009 takeover of UHW by the inter­na­tion­al, remov­ing Rossel­li and 100 oth­er elect­ed offi­cers. Rossel­li insist­ed the takeover was about squelch­ing union democ­ra­cy and rank-and-file work­er engagement.
Rossel­li even­tu­al­ly formed the Nation­al Union of Health­care Work­ers (NUHW), and many mem­bers fol­lowed him there. But SEIU-UHW remained, under the con­trol of a Stern-backed trustee named Dave Regan. Over time, UHW built up to its orig­i­nal strength of 150,000 workers.
But the ten­sions didn't leave with Rossel­li. Regan, who has been crit­i­cized by some labor and con­sumer advo­cates for putting togeth­er a favor­able deal with the Cal­i­for­nia Hos­pi­tal Asso­ci­a­tion that includ­ed de fac­to gag orders on work­ers over qual­i­ty and safe­ty issues, clashed with new SEIU Pres­i­dent Mary Kay Hen­ry. In a move first attempt­ed back in 2009 when Rossel­li was at the con­trols, Henry's SEIU split the UHW local, tak­ing 70,000 mem­bers away. In a leaked memo, Regan called the move a ​"mas­sive betray­al of our stat­ed prin­ci­ples and val­ues," although he favored such a carve-up in 2009. UHW has been labeled hyp­o­crit­i­cal cor­po­rate sell­outs on one side, and SEIU Inter­na­tion­al an unfeel­ing autoc­ra­cy on the other.
The min­i­mum wage increase became a key bar­gain­ing chip in this fight. The SEIU Cal­i­for­nia State Coun­cil, through its North­ern Cal­i­for­nia Local 1021, has engaged in local wage dri­ves since the Fight for $15 move­ment changed the con­ver­sa­tion around low wages. They suc­ceed­ed with a region­al min­i­mum wage strat­e­gy in the Bay Area, secur­ing grad­ual hikes to $15 an hour in San Fran­cis­co, Emeryville and Berke­ley, work­ing with Fight for $15 mem­bers on the ground. Los Ange­les city and coun­ty also passed a $15 ordinance.
But it was SEIU-UHW who announced their bal­lot mea­sure in April. Spokesman Steve Tross­man said that the union orig­i­nal­ly want­ed to file in 2013, before the state leg­is­la­ture passed a more mod­er­ate min­i­mum wage increase. Once they began col­lect­ing sig­na­tures in August, they quick­ly secured over 500,000, more than enough to qualify.
The SEIU state council's pro­posed bal­lot mea­sure is slight­ly dif­fer­ent. It would raise the min­i­mum wage to $15 an hour by 2020, one year before UHW's (small busi­ness­es would get an extra year to increase their wages). It would also include six paid sick days per year. And they've part­nered with the Fight for $15 move­ment that helped them to vic­to­ries in the Bay Area. ​"This is a pow­er­ful force for change in our nation, and we're ready to win a land­mark vic­to­ry for all Cal­i­for­nia work­ers," said Rox­anne Sanchez, Pres­i­dent of SEIU Local 1021, at the announcement.
"It was sur­pris­ing that they did that, giv­en that this has all but qual­i­fied," said Steve Tross­man of SEIU-UHW. He said that the local want­ed to file ear­ly, while the state coun­cil was still debat­ing the mea­sure. Ear­ly qual­i­fi­ca­tion ensures a high­er spot on the bal­lot, an impor­tant fac­tor when there could be as many as 19 ini­tia­tives vot­ed on in Cal­i­for­nia in Novem­ber 2016. Plus, the UHW mea­sure fits with a year-long ini­tia­tive called the Fair­ness Project, aim­ing to build a war chest for bal­lot action in 24 states.
On the oth­er hand, SEIU-UHW has a his­to­ry of announc­ing bal­lot mea­sures with­out much fol­low-through. In 2014, they used the threat of ini­tia­tives to cap CEO pay at hos­pi­tals and prices for med­ical treat­ment to make their deal with the Cal­i­for­nia Hos­pi­tal Asso­ci­a­tion. While the local has gath­ered sig­na­tures before, they've nev­er orga­nized to win their own bal­lot mea­sure, a cost­ly propo­si­tion esti­mat­ed at between $20-$30 million.
While declin­ing to give spe­cif­ic fig­ures, Tross­man said ​"we're going to spend mil­lions of dol­lars to pass this thing," and that he was con­fi­dent UHW ​"will be able to attract mon­ey from big and small donors," sug­gest­ing a strat­e­gy of qual­i­fy­ing for the bal­lot first and fundrais­ing lat­er. Kristin Lynch, spokes­woman for SEIU 1021, said they and their coali­tion part­ners are pre­pared to spend the $20-$30 mil­lion nec­es­sary. ​"We're con­fi­dent that this speaks to the will of the peo­ple," Lynch said.
Obvi­ous­ly, what­ev­er fac­tion respon­si­ble for a liv­ing wage vic­to­ry will car­ry clout in Cal­i­for­nia and a leg up on orga­niz­ing grate­ful low-wage work­ers. And with UHW need­ing to prove their worth as the inter­na­tion­al SEIU pulls them apart, they are unlike­ly to give up that oppor­tu­ni­ty, espe­cial­ly if they are already eli­gi­ble for the bal­lot. ​"I can't imag­ine that [the state coun­cil] would spend mil­lions of dol­lars on some­thing that for all intents and pur­pos­es has qual­i­fied," said UHW's Steve Trossman.
Jamie Court of the vet­er­an state pro­gres­sive orga­ni­za­tion Con­sumer Watch­dog believes that SEIU-UHW's Regan could be using lever­age from the bal­lot mea­sure to get his mem­bers back. ​"You nev­er know what's on a des­per­ate man's mind," Court said. ​"It's his way of shak­ing down the labor movement."
UHW has pro­posed a sec­ond bal­lot mea­sure for 2016, which would extend 2012's Propo­si­tion 30 income tax increas­es, which helped bal­ance the Cal­i­for­nia bud­get. This is also a dupli­cate; the Cal­i­for­nia Teach­ers Asso­ci­a­tion and SEIU state coun­cil have intro­duced their own ver­sion. Rather than the cur­rent prac­tice of deliv­er­ing the pro­ceeds of the tax­es to edu­ca­tion, UHW's Prop 30 exten­sion ear­marks near­ly half of the annu­al funds for the state Med­ic­aid pro­gram, giv­ing a finan­cial incen­tive to the health­care work­ers union to pass it.
All sides agree that it would be prefer­able to get to one bal­lot mea­sure. But it's impos­si­ble to divorce this sit­u­a­tion from the bad feel­ings between the nation­al SEIU and its affil­i­ate. A lack of trust led to the mul­ti­ple bal­lot mea­sures in the first place, and it could poi­son any nego­ti­a­tions toward a set­tle­ment. (UHW's Tross­man said that there have been ​"no detailed dis­cus­sions" between the two sides yet).
If talks break down, hav­ing two bal­lot mea­sures on func­tion­al­ly the same issue mud­dles the mes­sage and makes it dif­fi­cult to explain to a nor­mal­ly dis­en­gaged elec­torate. Per state law, what­ev­er mea­sure passed with the most votes would take effect, so both sides would have to spend to beat their busi­ness oppo­si­tion and each other.
Jamie Court of Con­sumer Watch­dog recalled a sim­i­lar sit­u­a­tion in 1996. ​"We had an ini­tia­tive on HMO reform, SEIU did anoth­er one," Court said. ​"All the insur­ance indus­try did was call us twins." Both ini­tia­tives lost.
New rules in Cal­i­for­nia allow groups to with­draw ini­tia­tives after sub­mit­ting sig­na­tures, and give the leg­is­la­ture a chance to nego­ti­ate or make amend­ments to bal­lot mea­sures. But even with all the off-ramps and safe­guards, there's no guar­an­tee for a resolution.
Both SEIU and its UHW affil­i­ate sent mem­bers to march­es across Cal­i­for­nia and the nation for a high­er min­i­mum wage. The pro­pos­als have pop­u­lar sup­port. Even in a down year for Democ­rats, 2014 saw mul­ti­ple statewide vic­to­ries on min­i­mum wage increas­es. It would be sad if the biggest tri­umph for the Fight for $15 move­ment to date was squelched because union fac­tions decid­ed to use the issue as part of a pow­er play. ​"This is the sto­ry of the defeat of the left," Court said.
"We will con­tin­ue to have con­ver­sa­tions," said Rox­anne Sanchez of SEIU 1021. ​"We need to get to one bal­lot measure."