Mothers of the World, Unite!
A new Mother's Day Proclamation.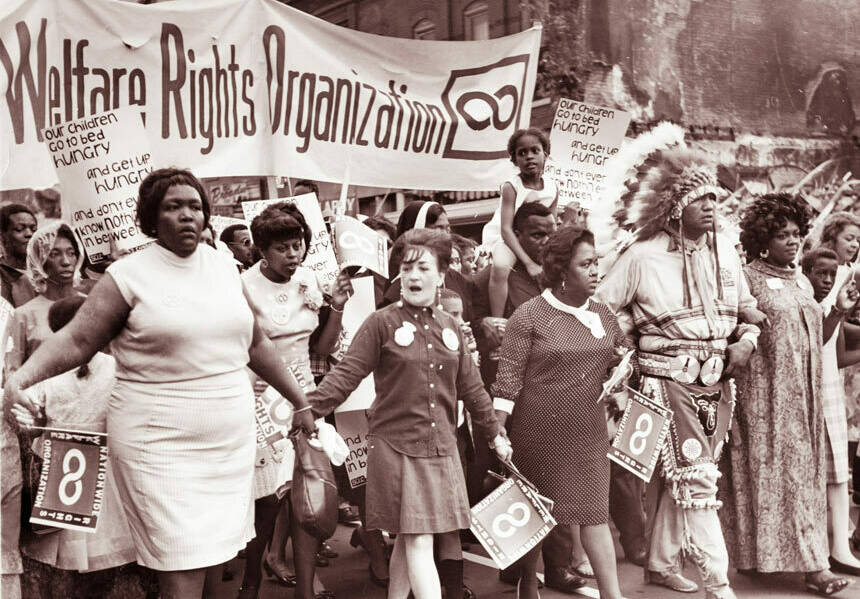 Moth­er­hood has been every­where in the polit­i­cal dis­course of the past year, sneak­ing its way into the main­stream under cov­er of loud­er and flashier debates. It was in the paid fam­i­ly leave poli­cies put for­ward by every­one from Bernie Sanders and Hillary Clin­ton to (for some rea­son) Ivan­ka Trump. It was in the new­found aware­ness of child care as a nation­al cri­sis, and Clinton's own ambi­tious pro­pos­als on that front. Moth­er­hood framed the way we talked about oth­er cru­cial issues, from Black Lives Mat­ter to the min­i­mum wage. Most recent­ly, Trump's nom­i­na­tion of Bet­sy DeVos as Edu­ca­tion Sec­re­tary received over­whelm­ing blow­back from con­stituents and politi­cians alike, pre­cise­ly because her anti-pub­lic-school poli­cies finan­cial­ly hurt par­ents and endan­ger their chil­dren. Again and again, moth­er­hood has been there, bridg­ing the pol­i­tics of gen­der and the pol­i­tics of class, sit­u­at­ing abstract eco­nom­ic issues in the speci­fici­ty of real human lives. We can­not evade moth­er­hood pol­i­tics. But this time, just maybe, we might get them right.
A politics of motherhood that demands society puts a value on mothers and mothering is a politics that repudiates the patriarchal idea that women fill a "natural" role in society.
Strange as it may seem, it's fem­i­nists who are most often adverse to moth­er­hood as an orga­niz­ing cry. That objec­tion is root­ed in a long his­to­ry: The con­ser­v­a­tive ide­al of the sweet, self-sac­ri­fic­ing, mar­ried, stay-at-home mom has been used to beat half to death any woman who fails to resem­ble her. Women still have to fight for the dig­ni­ty and val­ue of not moth­er­ing — thus our focus on birth con­trol access, or abor­tion, or choos­ing to be childfree.
Mean­while, the same folks telling us to stay at home rou­tine­ly demo­nize non-white moth­ers with invo­ca­tions of ​"wel­fare queens" and ​"anchor babies." And let's not for­get the alt-Right's fix­a­tion on ​"white geno­cide," rais­ing the specter of non-white repro­duc­tion in the hopes of incit­ing demo­graph­ic panic.
Even when moth­er­hood is used for pro­gres­sive gains, it often smacks of ret­ro­grade stereo­types. Take the famous Mother's Day procla­ma­tion: the 1870 anti-war man­i­festo that spawned a Hall­mark hol­i­day and even now informs the idea of moth­ers as a polit­i­cal class. ​"Our sons shall not be tak­en from us," Julia Ward Howe wrote. ​"We, the women of one coun­try, will be too ten­der of those of anoth­er coun­try to allow our sons to be trained to injure theirs." Howe used moth­ers' supe­ri­or ​"ten­der­ness" to argue for giv­ing them real pow­er, call­ing for ​"a gen­er­al con­gress of women" to achieve ​"the ami­ca­ble set­tle­ment of inter­na­tion­al questions."
To be sure, going from ​"moth­ers are inher­ent­ly nice" to ​"the U.N., but with chicks" with­in four para­graphs is a spec­tac­u­lar­ly ball­sy move. But Howe's por­trait of paci­fist moth­er­hood was not much dif­fer­ent from the ​"Angel in the House" ide­al of her age: Moth­ers were a civ­i­liz­ing force, inher­ent­ly kinder and more pious than men, and their pri­ma­ry pur­pose in life was to bear chil­dren and instill Chris­t­ian morals in them. This vision of moth­er­hood, of course, applied exclu­sive­ly to white women. Howe was writ­ing five years after the Civ­il War; black women's moth­er­hood, under slav­ery and after it, was treat­ed with contempt.
Fast for­ward to today: Con­sid­er how left-wing pop­ulists (even the oth­er­wise great Eliz­a­beth War­ren, in her book The Two-Income Trap) can slip into fetishiz­ing the sin­gle-income, Father Knows Best fam­i­ly — which fem­i­nists fought tooth and nail to dis­man­tle. Con­sid­er how even ​"pro­gres­sive" women-led groups, like Code Pink, can slip into Howe's trap of fetishiz­ing moth­ers' self­less devo­tion to their chil­dren, rather than advo­cat­ing for the moth­ers them­selves. Con­sid­er — if you can stand it — the pore­less, femver­tised moth­er­hood pol­i­tics of Ivan­ka Trump and/​or her Instagram.
But moth­er­hood need not be the province of con­ser­v­a­tives, nor sen­ti­men­tal­ized by well-mean­ing sex­ism on the Left. Though moth­er­hood as a sym­bol is often anti-fem­i­nist, moth­er­hood as a real­i­ty can be excep­tion­al­ly fruit­ful fem­i­nist ground.
One might think that there's not much about moth­ers that isn't ably cov­ered by a more gen­er­al pol­i­tics of fem­i­nism or par­ent­hood. But much of the dis­crim­i­na­tion we asso­ciate with being a woman in the work­force is, in fact, spe­cif­ic to being a moth­er. Accord­ing to Kristin Rowe-Finkbein­er of Mom­sRis­ing, an eco­nom­ic-jus­tice coali­tion for moth­ers and chil­dren, ​"being a mom is now a high­er pre­dic­tor of wage dis­crim­i­na­tion than being a woman." It's well known that women make approx­i­mate­ly 78 cents to a man's dol­lar; what's less well cov­ered is that this is an aver­age. In real­i­ty, women who aren't par­ents make 96 cents to a man's dol­lar. Moth­ers make 76.
Moth­ers are also less like­ly to be hired or pro­mot­ed than women with­out chil­dren, and they're unique­ly vul­ner­a­ble to preg­nan­cy dis­crim­i­na­tion. Most impor­tant­ly, none of this hap­pens to fathers, except those men who take the ​"moth­er­ly" step of request­ing part-time work in order to care for chil­dren. In fact, the moth­er­hood penal­ty opens up some of the most impor­tant truths about wom­an­hood and work. Women are the only peo­ple whose work is framed as instinc­tive— some­thing they can't help doing, and there­fore, some­thing they don't need to be com­pen­sat­ed for. The emo­tion­al labor of keep­ing rela­tion­ships or com­mu­ni­ties togeth­er, the domes­tic and care work of par­ent­ing — all of this is sup­pos­ed­ly what a woman needs to be ​"hap­py," not a learned skill. Yet this free work is nec­es­sary to keep soci­ety func­tion­al, and rather than tak­ing to it instinc­tive­ly, women have to be shamed and strong-armed into doing it. We wouldn't be read­ing 75,000 ope­ds about how self­ish work­ing moth­ers are if women's ​"nat­ur­al" incli­na­tion was to aban­don all hope of pub­lic life the moment sperm hit egg.
A pol­i­tics of moth­er­hood that demands soci­ety puts a val­ue on moth­ers and moth­er­ing is a pol­i­tics that repu­di­ates the patri­ar­chal idea that women fill a ​"nat­ur­al" role in soci­ety. Such a move­ment, then, treats moth­er­ing as work — domes­tic and emo­tion­al labor that comes with a set of objec­tive, prag­mat­ic needs that can be addressed with prac­ti­cal solu­tions. It insists on the val­ue of the work­ers them­selves, and frames its demands around their needs. It is not easy to keep a being alive when it has no lan­guage, no means of self­de­fense and a ten­den­cy to put every­thing it can see direct­ly into its mouth. The orga­ni­za­tion­al and inter­per­son­al skill nec­es­sary to man­age anoth­er person's sched­ule, emo­tion­al life and sur­vival needs, often with lit­tle to no sleep or self-care time of your own, is not a val­ue­less resource. Moth­er­hood may be plea­sur­able — many kinds of work can be — but it can­not be done well at all unless moth­ers them­selves have social and prac­ti­cal support.
The his­to­ry of fem­i­nism prac­ti­cal­ly over­flows with this sort of think­ing: Dorothy Din­ner­stein, Audre Lorde, Adri­enne Rich, Sil­via Fed­eri­ci, Bar­bara Ehren­re­ich, even Bet­ty Friedan all poured ink and sweat into the top­ic. We're not bring­ing moth­er­hood into the polit­i­cal dis­course — we're bring­ing it back.
Take Federici's fight for wages for house­work ("every mis­car­riage is a work acci­dent"), or the sec­ond-wave fem­i­nist cam­paign for state-spon­sored child care exem­pli­fied by 1971's failed Child Devel­op­ment Act. NOW, con­sid­ered hope­less­ly main­stream today, made the now-unthink­able argu­ment that child care should not only be free, but avail­able 24 hours a day.
The approach has also been led by the women of col­or who guide the move­ment for repro­duc­tive jus­tice, which posits abor­tion as only one of many neces­si­ties in repro­duc­tive and sex­u­al auton­o­my; women must not only be able to choose when they get preg­nant, but every moth­er must be empow­ered to, as per the Sis­ter­Song Women of Col­or Repro­duc­tive Jus­tice Col­lec­tive, ​"par­ent the chil­dren she already has with the nec­es­sary social sup­ports in safe envi­ron­ments and healthy com­mu­ni­ties, and with­out fear of vio­lence from indi­vid­u­als or the gov­ern­ment." Like all good inter­sec­tion­al pol­i­tics, this draws issues togeth­er into new and rel­e­vant con­stel­la­tions: Domes­tic vio­lence and state vio­lence are both repro­duc­tive-jus­tice issues, as are abor­tion and child care, gun con­trol and crim­i­nal jus­tice reform, edu­ca­tion and envi­ron­men­tal pol­lu­tion. It places the respon­si­bil­i­ty for child safe­ty firm­ly in the pub­lic sphere. Rather than end­less­ly blam­ing and sham­ing moth­ers for ​"fail­ing" their chil­dren every time some­thing goes wrong, it asks how the sys­tem has been built to fail chil­dren and moth­ers alike, and how it might be rebuilt to help them bet­ter succeed.
Forg­ing any kind of utopi­an, or even opti­mistic, vision in the Trump era is hard. It's hard­er when deal­ing with a split and wound­ed Left, where the false dichoto­my between ​"iden­ti­ty pol­i­tics" and class pol­i­tics is fre­quent­ly used to kick any­one one doesn't like off of Pro­gres­sive Island. Yet if there is a way for­ward, moth­er­hood pol­i­tics is key: a sub­stan­tive eco­nom­ic the­o­ry of labor, deeply root­ed in a spe­cif­ic iden­ti­ty and the lived expe­ri­ence of oppression.
Moth­er­hood pol­i­tics is not only essen­tial to a full under­stand­ing of labor — its posi­tion at the inter­sec­tion of iden­ti­ty and work makes it a place where impor­tant ques­tions can be asked and answered. It trans­forms the domes­tic, tra­di­tion­al­ly triv­i­al­ized and pushed aside as mere ​"women's stuff," into the cen­tral ground where pol­i­cy is felt and forged. We can address more than we think pos­si­ble, sim­ply by address­ing the sharp and spe­cif­ic facts of moth­ers' lives.