Money, Money, Everywhere
In an age of disparity, corporate wealth is far from an indicator of economic health.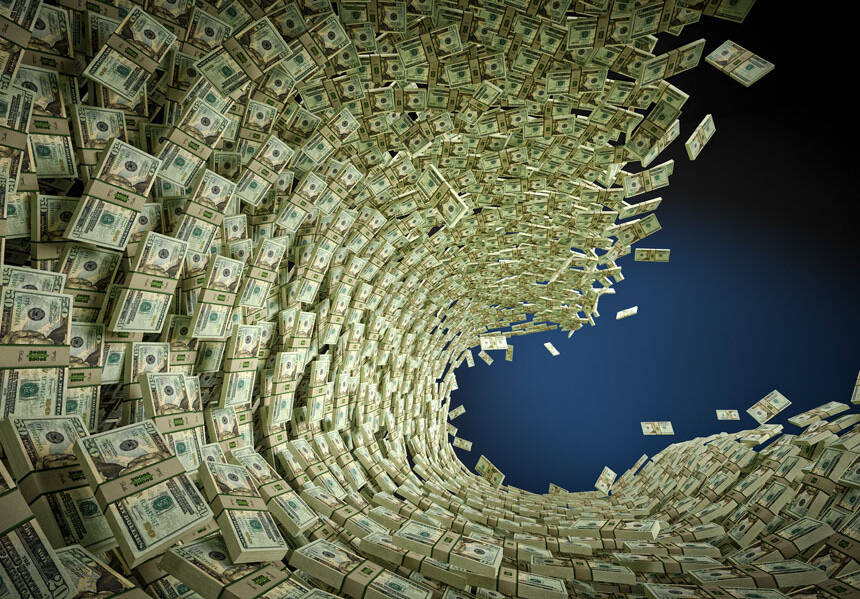 I read a num­ber of finance-indus­try newslet­ters. I want to share with you a recent excerpt from one of them. Here it is:
When I read in a financial newsletter that giant corporations are 'sitting on' $1,265,836,000,000, I don't feel like breaking out the champagne. I see it as a funeral pyre for the American Middle Class.
$1,265,836,000,000.

This is the amount of cash that S&P 500 com­pa­nies (exclud­ing banks and oth­er finan­cial insti­tu­tions) are cur­rent­ly sit­ting on. As of the begin­ning of the third quar­ter, the largest U.S. com­pa­nies col­lec­tive­ly held $1.27 tril­lion. That's about 13.5 per­cent more than this time last year. …

Where is this cash com­ing from? Well, bor­row­ing accounts for some of it. But most­ly, it's that com­pa­nies are sim­ply gen­er­at­ing cash faster than they are spend­ing it.
Com­pa­nies sit­ting on cash — the finan­cial newslet­ter thinks that this is great news! Spec­tac­u­lar news! How nice — for them.
Here is more great news for Big Busi­ness: Cor­po­ra­tions have been large­ly excused from pay­ing tax­es. The Gov­ern­ment Account­abil­i­ty Office found ear­li­er this year that the aver­age effec­tive tax rate on U.S. cor­po­ra­tions is only 12.6 per­cent of their income. That's low enough to make Mitt Rom­ney jeal­ous. Hooray, say the finan­cial newslet­ters! More spec­tac­u­lar news!
In fact, the cor­po­rate income tax has been per­form­ing a mag­i­cal dis­ap­pear­ing act for decades. In 1952, cor­po­rate income tax rev­enues totaled 6 per­cent of GDP. The aver­age dur­ing our enor­mous post-war eco­nom­ic expan­sion, between 1945 and 1970, was more than 4 per­cent of GDP. Since then, in every year, it has been less than 3 per­cent. In 1983, Reagan's tax breaks knocked cor­po­rate income tax rev­enue as a per­cent­age of GDP all the way down to 1 per­cent. It returned to that piti­ful­ly low lev­el in the first year of the Oba­ma admin­is­tra­tion, and it has remained below 2 per­cent. No won­der the cor­po­rate cash pile keeps grow­ing and grow­ing and growing.
But what about the non-cor­po­rate enti­ties in Amer­i­ca? How are those bags of flesh and bones known as ​"human beings" faring?
Well, 11 mil­lion of us are unem­ployed and more than 7 mil­lion of us have part- time jobs, but can't find full-time work. And in the past 10 years, the U.S. labor force par­tic­i­pa­tion rate has shrunk by 3 per­cent. Among those who are for­tu­nate enough to find work, the aver­age pay is a whop­ping $24 an hour. Accord­ing to a Uni­ver­si­ty of Michi­gan report, around 1 in 5 house­holds in Amer­i­ca has a neg­a­tive net worth—they owe more than they own. In addi­tion 48 mil­lion Amer­i­cans have no health cov­er­age, and 48 mil­lion rely on food stamps to stave off hunger.
Don't expect the next gen­er­a­tion of red, white and blue meat-bags to do much bet­ter. One fifth of all Amer­i­can chil­dren live in house­holds try­ing to sur­vive on less than $2,000 a month. Many of these chil­dren go to bed hun­gry; is it any won­der that our schools are pro­duc­ing stu­dents whose math scores, by one mea­sure, are among the worst in the world?
A Tale of Two Cities , the nov­el by Charles Dick­ens, begins with the famous words, ​"It was the best of times, it was the worst of times." In Amer­i­ca today, it is the best of times for multi­na­tion­al cor­po­ra­tions and their CEOs. But for ordi­nary peo­ple, it's pret­ty bad, and get­ting worse.
For non-cor­po­re­al enti­ties, times are good. For flesh and bone, bad.
Legal fic­tions, good. Moth­ers, fathers, sons, daugh­ters — all bad.
I sub­mit to you that there is a con­nec­tion between those two things, a con­nec­tion gen­er­al­ly known as ​"cause and effect." There are sev­er­al such con­nec­tions, in fact.
First, inequal­i­ty caus­es pover­ty through sim­ple arith­metic. If the rich­est 1% is tak­ing half of every­thing, then that just doesn't leave very much for the oth­er 99%. And inequal­i­ty in Amer­i­ca is not only the high­est in our his­to­ry, but also the high­est in any indus­tri­al­ized coun­try. Accord­ing to the CIA World Fact­book, our Gini coef­fi­cient— a sta­tis­ti­cal mea­sure of income inequal­i­ty — places us between Venezuela and Uruguay, with far more inequal­i­ty than every major Euro­pean or East Asian nation. Our inequal­i­ty is sur­passed large­ly by a bunch of African countries.
Sec­ond, inequal­i­ty caus­es pover­ty through eco­nom­ic mis­man­age­ment. As that finance newslet­ter proud­ly states, huge cor­po­ra­tions don't spend their mon­ey; they just sock it away. And the same thing is true of rich peo­ple, and banks, and mul­ti-nation­al cor­po­ra­tions. The 400 indi­vid­u­als on the Forbes 400 list alone have accu­mu­lat­ed more than $2 tril­lion in wealth, the great major­i­ty of which remains in their pock­ets year after year. We are end­ing up with enor­mous pools of cash that have been drained from the real econ­o­my, and are not rein­vest­ed in it. We have a nation­al econ­o­my with a max­i­mum pos­si­ble eco­nom­ic out­put of $16 tril­lion each year, but much of it ends up in deep pock­ets with no holes, just sit­ting there. This cre­ates a mas­sive and chron­ic short­age in ​"aggre­gate demand," a prob­lem that John May­nard Keynes accu­rate­ly described 75 years ago. If we allow demand to fall short, then unem­ploy­ment explodes. Hence we paper over the evap­o­ra­tion of all that mon­ey from aggre­gate demand with fed­er­al deficits, ​"quan­ti­ta­tive eas­ing" and enor­mous per­son­al debt.
But it doesn't mat­ter, because the exis­tence of all those peo­ple with­out jobs — what Marx called a ​"reserve army of the unem­ployed" — still fuels pover­ty by dec­i­mat­ing wages. Des­per­ate peo­ple bid down the price of labor sim­ply to sur­vive. Aver­age wages, adjust­ed for infla­tion, haven't increased since the 1970s. Amer­i­ca is becom­ing a nation of cheap labor. And the notion that in such cir­cum­stances, bur­geon­ing busi­ness prof­its some­how will mag­i­cal­ly increase wages and cre­ate jobs is delu­sion­al. They haven't, and they won't.
The mis­con­cep­tion that the so-called job cre­ators will deploy cor­po­rate prof­its to take risks, to rein­vest, to expand and, ulti­mate­ly, to employ more peo­ple is a right-wing pipe dream. They might be doing that in Chi­na; they sure aren't doing that in Amer­i­ca. Busi­ness­es see labor sim­ply as a cost. Busi­ness tries to reduce that cost as much as pos­si­ble, in order to boost prof­its as much as pos­si­ble. Busi­ness is not in the busi­ness of cre­at­ing jobs. Busi­ness is in the busi­ness of max­i­miz­ing prof­it. Busi­ness hires labor only when it can make a prof­it from that labor. If any busi­ness could elim­i­nate its labor force entire­ly, it would. And many actu­al­ly do just that, through sub­con­tract­ing, out­sourc­ing, off­shoring and oth­er mea­sures that reduce com­pen­sa­tion or erad­i­cate the labor force.
So please for­give me if, when I read in a finan­cial newslet­ter that giant cor­po­ra­tions are ​"sit­ting on" $1,265,836,000,000 ​"in cash," I don't feel like break­ing out the cham­pagne. I see it as a funer­al pyre for the Amer­i­can Mid­dle Class.
A sys­tem that tax­es War­ren Buffett's sec­re­tary at a high­er rate than War­ren Buf­fett stokes the flames of that funer­al pyre. A sys­tem that pro­vides for cor­po­rate tax loop­holes that are as large as cor­po­rate tax rev­enue stokes the flames of that funer­al pyre. We cre­ate that sys­tem, and it's break­ing us, from within.
Those are the facts. The Sturm und Drang that you see on the evening news is a des­per­ate effort to avoid those facts. And the deep, deep ques­tion in our polit­i­cal sys­tem today is this: Are we going to do any­thing about it?
U.S. Rep. Alan Grayson
is a pro­gres­sive Demo­c­rat from Orlan­do. He cur­rent­ly serves on the House For­eign Affairs Com­mit­tee and the Sci­ence, Space and Tech­nol­o­gy Com­mit­tee. He pre­vi­ous­ly served as a mem­ber of the House Com­mit­tee on Finan­cial Services.