How Montanans Stopped the Largest New Coal Mine in North America
People power and civil disobedience helped stop the Otter Creek mine in a huge victory for environmentalists and Montana communities.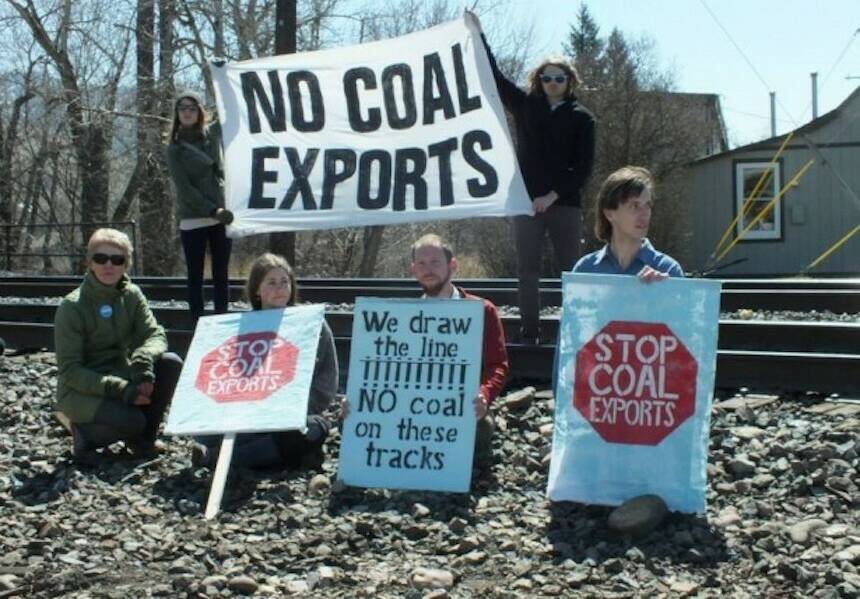 This post orig­i­nal­ly appeared on Wag­ing Non­vi­o­lence.
"This swelling of people sent a powerful message to decision makers that Montanans and Americans want to shift away from fossil fuels toward a greener future."
Mon­tana com­mu­ni­ties won a vic­to­ry against one of the world's biggest coal com­pa­nies ear­li­er this month, when Arch Coal aban­doned the Otter Creek mine — the largest pro­posed new coal strip mine in North Amer­i­ca. The sto­ry of how the project implod­ed is one of peo­ple pow­er tri­umph­ing over a com­pa­ny once thought to be near­ly invincible.
To many observers, the Otter Creek project once seemed unstop­pable. It cer­tain­ly appeared that way in 2011, the year I moved to Mis­soula, Mon­tana for grad­u­ate school. Then-Demo­c­ra­t­ic Gov. Bri­an Schweitzer enthu­si­as­ti­cal­ly sup­port­ed the mine, and coal more gen­er­al­ly. For­rest Mars, Jr., the bil­lion­aire heir to the Mars can­dy for­tune, had just joined Arch and BNSF Rail­ways in back­ing a pro­posed rail­road spur meant to ser­vice Otter Creek. Arch and politi­cians like Schweitzer pre­dict­ed a boom in coal demand from economies in Asia.
But what they weren't count­ing on was a vocal and active region-wide oppo­si­tion. The com­ing togeth­er of ordi­nary peo­ple — first in south­east Mon­tana, then an ever-grow­ing num­ber of com­mu­ni­ties through­out the North­west — to oppose the Otter Creek mine says much about how land defend­ers and cli­mate activists are learn­ing to fight back against the planet's biggest ener­gy com­pa­nies. The roots of this recent vic­to­ry go back more than 30 years.
Ori­gins of the Otter Creek mine
East­ern Mon­tana is known for its arid cli­mate, but the Tongue Riv­er Val­ley just north of the Wyoming bor­der sup­ports a lush land­scape of wil­lows, pines, sage­brush and grassy pas­tures. The riv­er and under­ground aquifers make the val­ley ide­al for agri­cul­ture. On the east side of the riv­er, where the Otter Creek tracts are locat­ed, a mix of state and pri­vate land sup­ports farms and cat­tle ranch­es. To the west is the North­ern Cheyenne Reservation.
Decades before Arch pro­posed the Otter Creek mine, South­east Mon­tana was already ground zero in a fight over the nation's ener­gy future. In 1971, as the Unit­ed States looked for alter­na­tives to for­eign oil, the Bureau of Land Man­age­ment pub­lished a study call­ing for mas­sive­ly increased coal pro­duc­tion in north­ern Plains states. It pro­posed build­ing 21 new coal-fired pow­er plants in Mon­tana and open­ing vast new mines to feed them. Implic­it was the assump­tion that ener­gy devel­op­ers would run into lit­tle resis­tance in the sparse­ly pop­u­lat­ed Plains.
Cor­po­rate rep­re­sen­ta­tives tried to per­suade ranch­ing fam­i­lies to sell their land for mines, then threat­ened them with emi­nent domain. How­ev­er, many landown­ers didn't back down. ​"I told that son-of-a-bitch with a brief­case that I knew he rep­re­sent­ed one of the biggest coal com­pa­nies and he was backed by one of the rich­est indus­tries in the world, but no mat­ter how much mon­ey they came up with, they would always be $4.60 short of the price of my ranch," said landown­er Boyd Char­ter, accord­ing to North­ern Plains Resource Coun­cil, an orga­ni­za­tion that formed in 1972 to oppose the min­ing. By the end of the decade only one major new coal plant had bro­ken ground in Mon­tana, and plans to turn the state into a large-scale coal sac­ri­fice zone were in tatters.
Then, in the 1980s, the coal indus­try pro­posed a new Tongue Riv­er Rail­road to link north­ern Wyoming coal fields to exist­ing Mon­tana rail lines. The plan floun­dered for decades amid local oppo­si­tion, but in 2011 the Tongue Riv­er Com­pa­ny was bought up by Arch Coal, BNSF Rail­ways and For­rest Mars, Jr. Mars, who owns a pri­vate ranch in area, for­mer­ly opposed the rail­road but appar­ent­ly bought in with the under­stand­ing that the pre­ferred route would be short­ened to not cross his prop­er­ty. Instead of haul­ing Wyoming coal, this new ver­sion of the Tongue Riv­er Rail­road would ser­vice Arch's Otter Creek mine. The coal indus­try would try again to turn Mon­tana into a coal extrac­tion colony.
Their plan was helped along the pre­vi­ous year, in March 2010, when the Mon­tana State Land Board, chaired by Gov. Schweitzer, vot­ed on whether to lease state lands at Otter Creek to Arch. Ranch­ers con­cerned about dam­age to aquifers, high school stu­dents wor­ried about cli­mate change and oth­er con­cerned cit­i­zens at the meet­ing urged the board to vote no. Just before the vote, activists from North­ern Rock­ies Ris­ing Tide dis­rupt­ed pro­ceed­ings by chain­ing them­selves to Land Board mem­bers' desks. The protest drew atten­tion to what was at stake. But Land Board mem­bers recon­vened and vot­ed 3 – 2 in favor of the lease.
Now all Arch need­ed to break ground was a min­ing per­mit from the state, and a per­mit to build the Tongue Riv­er Rail­road from the U.S. Sur­face Trans­porta­tion Board. The bat­tle lines were drawn.
From Tongue Riv­er to the coast
What hap­pened at Otter Creek would affect com­mu­ni­ties through­out the Pacif­ic North­west. Coal train traf­fic through the area was already up, haul­ing coal from exist­ing Wyoming and Mon­tana mines to British Colum­bia ports. If Otter Creek and a series of pro­posed new coal export ter­mi­nals in the Unit­ed States were built, the num­ber of these trains would skyrocket.
"I noticed more and more coal trains rum­bling past my home," said Low­ell Chan­dler, who was a senior at the Uni­ver­si­ty of Mon­tana and lived next to the rail­road in Mis­soula when I met him in 2011. ​"They were pol­lut­ing my air with tox­ic diesel emis­sions and coal dust. Then I found out about the mas­sive coal export pro­pos­als in my state and the North­west region."
In places like Mis­soula, dis­pro­por­tion­ate­ly low­er-income neigh­bor­hoods are direct­ly across the street from the rail­road. An indus­tri­al yard used to refu­el trains and con­nect and recon­nect train cars is a major source of pol­lu­tion. Res­i­dents told of sounds like bombs going off in the mid­dle of the night as rail cars were joined togeth­er, of coal dust on their win­dowsills, and of chok­ing on diesel fumes from idling locomotives.
I joined Chan­dler and oth­er UM stu­dents in start­ing a group called Blue Skies Cam­paign in 2011, to work in coor­di­na­tion with rail line neigh­bor­hood res­i­dents and push back against the coal trains. Blue Skies' first action was a protest out­side a Wells Far­go, at the time a major coal indus­try fun­der. Lat­er we part­nered with North­ern Plains Resource Coun­cil and oth­er groups on a coal trains forum that drew over 200 peo­ple. We orga­nized to attend city coun­cil meet­ings, coor­di­nat­ed ral­lies, and held street the­ater and protests. But we knew we had to do more.
In August 2012, Blue Skies coor­di­nat­ed the largest ener­gy-relat­ed non­vi­o­lent civ­il dis­obe­di­ence in Mon­tana up to that time. The Coal Export Action, a five-day sit-in at the State Capi­tol, was a protest against leas­ing of state lands to coal com­pa­nies. Twen­ty-three peo­ple were arrest­ed and hun­dreds more attend­ed to show sup­port. ​"Before putting my body on the line dur­ing a sit-in, I had nev­er par­tic­i­pat­ed in non­vi­o­lent civ­il dis­obe­di­ence," said Corey Bressler, a UM stu­dent arrest­ed on the sec­ond day. ​"This swelling of peo­ple sent a pow­er­ful mes­sage to deci­sion mak­ers that Mon­tanans and Amer­i­cans want to shift away from fos­sil fuels toward a green­er future."
The next few years saw rail line com­mu­ni­ties turn to direct action repeat­ed­ly. Protests on the rail­road tracks delayed coal trains, with a 2015 block­ade pre­vent­ing a train from enter­ing down­town Mis­soula for almost an hour. In April 2014, 1,500 Mon­tanans in more than a dozen com­mu­ni­ties ral­lied in a day of actions for clean ener­gy. Oth­er ral­lies and small­er protests occurred with increas­ing reg­u­lar­i­ty. ​"There is per­son­al pow­er in a col­lab­o­ra­tive response to a shared threat," said Cate Camp­bell, a retired rail­road brake­man from French­town, Mon­tana who was arrest­ed mul­ti­ple times. ​"In tak­ing direct action I found an inner feel­ing of pur­pose and commitment."
Mean­while, Mon­tana had just expe­ri­enced some of its worst-ever droughts and fire sea­sons, mov­ing cli­mate change to the fore­front of the coal debate. In 2013 a new group, 350-Mis­soula (a grass­roots affil­i­ate of the cli­mate group 350​.org) made stop­ping the Otter Creek mine its priority.
350-Mis­soula – a group of retirees, teach­ers, nurs­es, edu­ca­tors and oth­ers – worked with Blue Skies to orga­nize ral­lies and civ­il dis­obe­di­ence. They also pushed elect­ed offi­cials to take a side in the Otter Creek fight. In 2014, Missoula's City Coun­cil for­mal­ly asked that envi­ron­men­tal reviews for Otter Creek and the Tongue Riv­er Rail­road include pub­lic hear­ings in Mis­soula. Local state leg­is­la­tors sup­port­ed this request. In White­fish (along Montana's north­ern rail line) groups like Glac­i­er Cli­mate Action per­suad­ed their city coun­cil to take sim­i­lar action.
In the sum­mer of 2015, the Sur­face Trans­porta­tion Board opened a pub­lic com­ment peri­od on the Tongue Riv­er Rail­road. Activists in Mis­soula tabled at pub­lic events and street cor­ners, gath­er­ing more than 4,000 writ­ten com­ments. Groups through­out the North­west sent alerts to their mem­bers. Leg­is­la­tors and local gov­ern­ments, includ­ing the city of Mis­soula and Mis­soula Coun­ty, sub­mit­ted con­cerns about coal trains.
Com­mu­ni­ties clos­est to the mine site mobi­lized. Pub­lic hear­ings in Ash­land and Lame Deer, on the North­ern Cheyenne Reser­va­tion, were attend­ed by 100 and 300 peo­ple respec­tive­ly (the total pop­u­la­tions of Lame Deer and Ash­land are about 1,000 and 800). Most atten­dees were North­ern Cheyenne mem­bers opposed to the rail­road. The coal indus­try had tried to win over res­i­dents with promis­es of jobs, but these efforts seemed to have failed mis­er­ably. Toward the end of the com­ment peri­od, the North­ern Cheyenne Trib­al Coun­cil unan­i­mous­ly passed a res­o­lu­tion oppos­ing the Tongue Riv­er Railroad.
More than 100,000 com­ments were sub­mit­ted by groups opposed to the rail­road before the com­ment peri­od end­ed. That fall, over a hun­dred peo­ple rep­re­sent­ing most of Montana's major towns gath­ered at the State Capi­tol for a ​"Keep It In The Ground" cli­mate ral­ly. Mean­while, region­al and glob­al pres­sures on Arch Coal com­pound­ed local oppo­si­tion to the mine, chang­ing the equa­tion in an approval process that had once seemed inevitable.
The decline of King Coal
In 2010, Arch Coal com­peti­tor Peabody announced ​"coal's best days are ahead." How­ev­er, it was clear even then that a com­bi­na­tion of grass­roots orga­niz­ing, new reg­u­la­tions for pol­lut­ing pow­er plants, and falling prices for clean­er ener­gy was caus­ing U.S. coal use to drop. What came as a sur­prise was that coal con­sump­tion in Asia, espe­cial­ly Chi­na, failed to make up for declin­ing U.S. demand.
Some racism was implied in the coal industry's assump­tion that res­i­dents of Chi­na and India would will­ing­ly tol­er­ate pol­lu­tion lev­els unac­cept­able to North Amer­i­cans. In fact, pub­lic con­cern about pol­lu­tion cre­at­ed a cri­sis for the Chi­nese gov­ern­ment. Last April, 10,000 peo­ple in China's Guang­dong Province turned out to protest a recent­ly-built coal plant. The gov­ern­ment has begun clos­ing mines, reduc­ing coal imports and ramp­ing up renew­ables. China's coal con­sump­tion declined 3 per­cent in 2014, and 4 per­cent in 2015. India's coal use is still grow­ing, but new pow­er plants have run into such fierce oppo­si­tion that many will like­ly nev­er be built.
It turned out U.S. coal com­pa­nies couldn't even main­tain export lev­els from a cou­ple years ago. In 2015, Cloud Peak Ener­gy announced it would stop export­ing coal through British Colum­bia. In this envi­ron­ment, a series of announce­ments begin­ning late last year showed cracks form­ing in Arch's Otter Creek plans.
In Novem­ber, Arch announced it was ask­ing the Sur­face Trans­porta­tion Board to put the Tongue Riv­er Rail­road per­mit review on hold. Com­pa­nies rarely make requests like this when they are con­fi­dent a review will go well for them. State­ments from Arch claimed Otter Creek would still move for­ward, but an updat­ed min­ing appli­ca­tion Arch intend­ed to file with the state in Decem­ber nev­er mate­ri­al­ized. In Jan­u­ary, Arch filed for bankruptcy.
Arch was just the lat­est (and biggest) U.S. coal com­pa­ny to go bank­rupt in the last few years. The move was long antic­i­pat­ed, but now Mon­tanans wait­ed in sus­pense. Would this be the final blow to the Otter Creek mine, or would Arch find a way to sal­vage the project and turn the company's trou­bles around?
On March 10, Arch announced it was sus­pend­ing attempts to extract coal at Otter Creek. A state­ment released by North­ern Plains Resource Coun­cil, from Otter Creek ranch­er Daw­son Dun­ning, summed up the feel­ings of many locals: ​"Ranch­ers and irri­ga­tors in south­east Mon­tana can sleep well know­ing their water will be protected."
A turn­ing point?
"How many times have I read about projects that would increase car­bon emis­sions, and felt help­less to stop them?" said Mar­ta Meengs, a nurse who helped start 350-Mis­soula. ​"Otter Creek was dif­fer­ent. People's civ­il dis­obe­di­ence, tabling for pub­lic com­ments, and con­ver­sa­tions with leg­is­la­tors actu­al­ly showed results and helped stop what would have been one of the largest coal mines in North America."
The defeat of the Otter Creek mine is one exam­ple of a larg­er, encour­ag­ing trend. Cli­mate activists and land defend­ers are learn­ing to take on the world's biggest ener­gy com­pa­nies, fight huge fos­sil fuel projects, and win. Every indus­try loss strength­ens the posi­tion of activists going into the next round, just as declin­ing coal con­sump­tion in Chi­na con­tributed to the Otter Creek vic­to­ry. And the fos­sil fuel indus­try is los­ing more and more often, from Shell and Arc­tic oil to Tran­sCana­da and the Key­stone XL Pipeline to Arch Coal and Otter Creek.
The world­wide cli­mate move­ment is dri­ving down glob­al car­bon emis­sions in con­crete, mea­sur­able ways. It's a grass­roots move­ment where peo­ple lead and gov­ern­ment offi­cials fol­low (when they show up at all). There's still a long way to go before all remain­ing fos­sil fuels are left in the ground. But progress is unde­ni­able, and we can expect more wins as the move­ment grows.
In the words of Lee Met­z­gar, a retired biol­o­gist and mem­ber of 350-Mis­soula who par­tic­i­pat­ed in the Otter Creek protests, ​"Our polit­i­cal sys­tem has demon­strat­ed its inabil­i­ty to find ade­quate solu­tions to the cli­mate cri­sis. It is time for every­one who wants to leave future gen­er­a­tions a liv­able world to be in the streets."
Nick Engel­fried
is an envi­ron­men­tal writer and activist. He is cur­rent­ly an orga­niz­er for the Blue Skies Cam­paign in Mis­soula, Montana.