The People's Climate March: This Generation's March on Washington?
The climate justice movement is preparing for what could be its biggest mobilization yet. The stakes couldn't be higher.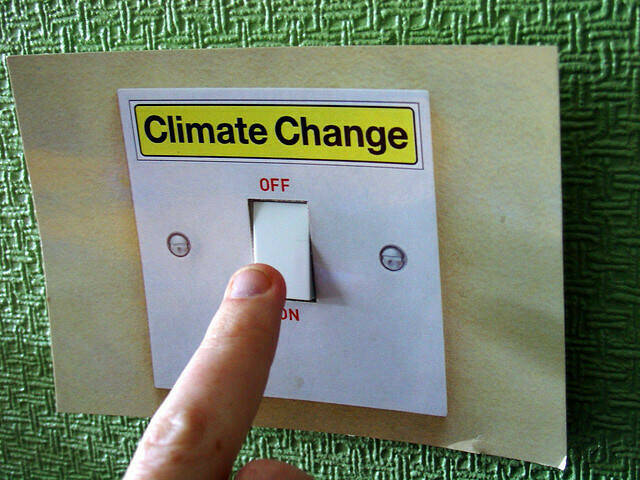 On August 28, 1963, 200,000 peo­ple swarmed into the nation's cap­i­tal for one of the most icon­ic moments in the civ­il rights move­ment: the March on Wash­ing­ton for Jobs and Free­dom. More often remem­bered today sim­ply as the March on Wash­ing­ton, it was seen by many as a turn­ing point for the civ­il rights move­ment, which helped spur pas­sage of the 1964 Civ­il Rights Act and 1965 Vot­ing Rights Act.
'It's going to be highly diverse, and we'll see union members marching next to fracktivists, next to nurses, next to moms and grandparents, next to student divestment activists.'
Today, with hun­dreds of thou­sands of peo­ple prepar­ing to descend on one of the country's largest cities for the Sep­tem­ber 21 People's Cli­mate March, some are hop­ing for a sim­i­lar­ly trans­for­ma­tive moment in the cli­mate move­ment. But whether the People's Cli­mate March suc­ceeds in gen­er­at­ing the kind of results achieved by the 1963 March on Wash­ing­ton — and whether that is, in fact, a desir­able out­come — remains to be seen.
Back in 2009, writ­ing for Ori­on mag­a­zine, Bill McK­ibben said, ​"Instead of anoth­er march on Wash­ing­ton or Lon­don, we're col­lect­ing images from every cor­ner of the world." He was refer­ring to the recent­ly found­ed orga­ni­za­tion 350​.org and the prepa­ra­tions for its first inter­na­tion­al day of action on cli­mate change. In Octo­ber of that year, peo­ple in almost every coun­try staged more than 5,000 actions call­ing atten­tion to 350 ppm, the max­i­mum safe thresh­old for atmos­pher­ic parts per mil­lion of car­bon diox­ide. They helped focus atten­tion on the impor­tance of get­ting back to 350 ppm, in the lead-up to the 2009 U.N. cli­mate talks in Copenhagen.
The quote from McK­ibben sug­gests orga­niz­ers of the 2009 mobi­liza­tion envi­sioned a move­ment not depen­dent on big march­es in nation­al cap­i­tals — and such an approach had the advan­tage of being new and dif­fer­ent. An equal­ly impor­tant fac­tor, though sel­dom or nev­er men­tioned by move­ment orga­niz­ers, was that the 2009 cli­mate move­ment, at least in the Unit­ed States, sim­ply wasn't ready for a major march on any­where. The largest U.S. cli­mate gath­er­ing up to that point, Ener­gy Action Coalition's nation­al Pow­er Shift event in ear­ly 2009, had con­sist­ed of just slight­ly more than 10,000 peo­ple. There wasn't going to be a cli­mate moment like the March for Jobs and Free­dom that year.
350.org's 2009 actions ranged from groups of 20 or 30 peo­ple pos­ing for pho­tos in U.S. towns and cities, to slight­ly larg­er ral­lies of hun­dreds of peo­ple, to a few much big­ger actions like a march of 15,000 in Addis Aba­ba, Ethiopia. Though none came close to rival­ing the March for Jobs and Free­dom, the actions did help stir debate at the Copen­hagen talks. But as suc­ces­sive years failed to pro­duce major nation­al or inter­na­tion­al action on cli­mate change, at least some groups seem to have decid­ed a cli­mate mobi­liza­tion of hun­dreds of thou­sands — some­thing on the scale of the March for Jobs and Free­dom and oth­er major events from past social move­ments — is nec­es­sary after all. Thus the deci­sion by 350​.org and oth­er non­prof­its to orga­nize the People's Cli­mate March, which will take place right before a cli­mate sum­mit con­vened by U.N. Sec­re­tary Gen­er­al Ban Ki Moon in New York City lat­er this month.
Not every­one in the cli­mate move­ment is con­vinced the march will work.
"Spend­ing mil­lions of dol­lars to plan a cli­mate march cor­re­spond­ing with a U.N. sum­mit gives me flash­backs to 2009 in Copen­hagen," said Jas­mine Zim­mer-Stucky of Port­land Ris­ing Tide. ​"If this march were to occur in Utah instead of on the streets of New York City, it could actu­al­ly shut down the nation's first-ever tar sands mine. This march could hap­pen on train tracks almost any­where in the nation and stop a dan­ger­ous oil train from the Bakken [shale field in North Dako­ta]. Instead, it runs the risk of silenc­ing these front­line strug­gles and over­shad­ow­ing real, direct ways for peo­ple to engage in the cli­mate movement."
In a recent arti­cle for Coun­ter­punch, Scott Parkin of Ris­ing Tide North Amer­i­ca argued that ​"real change won't come from pro­fes­sion­al activists root­ed in the exist­ing polit­i­cal and eco­nom­ic sys­tem. It'll come from a [grass­roots] mobi­liza­tion of peo­ple will­ing to engage in risk and sacrifice."
There are already exam­ples of peo­ple start­ing to risk their free­dom and safe­ty to con­front fos­sil fuel indus­tries at the grass­roots lev­el. On August 25, two men U‑locked them­selves to a truck involved in con­struc­tion of a tar sands oil pipeline in Michi­gan, risk­ing what they antic­i­pat­ed might be felony charges to protest and delay the expan­sion of the tar sands industry.
Ear­li­er in the sum­mer, in an action cit­ed by Parkin as an exam­ple of what an effec­tive cli­mate strug­gle looks like, 21 pro­test­ers in Utah tem­porar­i­ly halt­ed work at the first U.S. tar sands extrac­tion mine. Accord­ing to Parkin, this protest ​"includ­ed a num­ber of esca­lat­ed felony charges on some of the activists."
Oth­er recent actions may have involved less per­son­al risk, but still includ­ed peo­ple direct­ly inter­fer­ing with fos­sil fuel indus­tries. On August 21, two activists locked them­selves to the doors out­side the Wash­ing­ton, D.C., offices of the Nat­ur­al Gas Asso­ci­a­tion. In Mon­tana, peo­ple stood in the paths of oncom­ing coal trains at two protests ear­li­er this year. And in late July, mem­bers of Seat­tle Ris­ing Tide block­ad­ed a rail­road used by oil trains in sev­er­al Wash­ing­ton cities. Not all these actions involved the like­li­hood of felony charges, but par­tic­i­pants did walk away with mis­de­meanors, and inter­act­ed with police and secu­ri­ty under some­times tense conditions.
None of this is like­ly to hap­pen at the People's Cli­mate March. The mobi­liza­tion is being billed as fam­i­ly-friend­ly, and the route has been approved by the City of New York. No arrests are planned as part of the offi­cial agen­da. The cost for most par­tic­i­pants will be noth­ing worse than the expense of the air­plane or bus tick­et it takes to get to New York. The advan­tage to this is the march will doubt­less attract many peo­ple who would not par­tic­i­pate in an arrestable action. And the orga­niz­ers expect a big, per­haps unprece­dent­ed crowd.
"If it goes the way I'm hop­ing, there'll be tens or hun­dreds of thou­sands of peo­ple in the street," said Phil Aroneanu, U.S. man­ag­ing direc­tor for 350​.org. ​"It will be a march that will look very dif­fer­ent from past cli­mate actions that have hap­pened in this coun­try and in the world. It's going to be high­ly diverse, and we'll see union mem­bers march­ing next to frack­tivists, next to nurs­es, next to moms and grand­par­ents, next to stu­dent divest­ment activists."
If the People's Cli­mate March gen­er­ates the num­bers orga­niz­ers are aim­ing for, it will almost cer­tain­ly be because of momen­tum from local and region­al fos­sil fuel fights all over the coun­try. After all, since 2009 the U.S. cli­mate move­ment has grown main­ly on a local and region­al lev­el. A few big cam­paigns — like the effort to stop the Key­stone XL pipeline — have unfold­ed on a nation­al stage, but even those have tend­ed to cen­ter around spe­cif­ic pieces of fos­sil fuel infra­struc­ture. Oth­er fights, like those over coal exports, tar sands extrac­tion and frack­ing have been even more local in nature.
In fact, the most notice­able dif­fer­ence between today's cli­mate move­ment and the one in 2009 is that these region­al cam­paigns have evolved much more, chalk­ing up local vic­to­ries and engag­ing hun­dreds or thou­sands of peo­ple in winnable region­al fights. Now, with the biggest-yet nation­al cli­mate mobi­liza­tion prepar­ing to hit the streets of New York, every­one who's ever par­tic­i­pat­ed in a protest against frack­ing or coal exports is a poten­tial recruit for the People's Cli­mate March, or the numer­ous sol­i­dar­i­ty actions occur­ring in oth­er parts of the coun­try. How­ev­er, there's con­cern that the focus on this nation­al effort could sap much-need­ed ener­gy from the grassroots.
"The big nation­al march­es for cli­mate jus­tice have tak­en their toll on envi­ron­men­tal jus­tice advo­ca­cy here [in the Wash­ing­ton, D.C. area]," said Brit­tany, an activist in Bal­ti­more who helped orga­nize an Ener­gy Exports Action Camp ear­li­er this year and did not want to be iden­ti­fied by her last name. ​"For white col­lege stu­dents at local uni­ver­si­ties, it's a lot eas­i­er to take a bus into D.C. or New York City for a cli­mate ral­ly, than to actu­al­ly engage with local com­mu­ni­ties in the Bal­ti­more area."
Activists involved in orga­niz­ing the march say fight­ing fos­sil infra­struc­ture at the local lev­el and ral­ly­ing for inter­na­tion­al action don't have to be mutu­al­ly exclusive.
"We've been work­ing real­ly close­ly with friends in Maine to push back against tar sands pipelines, with friends on the West Coast against coal exports, and with activists fight­ing frack­ing," Aroneanu said. ​"These fights pro­vide mas­sive engage­ment oppor­tu­ni­ties. But we can't play Whac-A-Mole. We can't fight every new tar sands pipeline that pops up one at a time."
Still, some activists see the focus on inter­na­tion­al sum­mits as fun­da­men­tal­ly flawed.
"The cli­mate jus­tice move­ment decid­ed to move away from putting all its ener­gy into pres­sur­ing lead­ers to act respon­si­bly years ago [after the failed talks in Copen­hagen]," Brit­tany said. ​"I think it reflects the real­i­ty that the NGO lead­er­ship of the cli­mate move­ment can't real­ly be clas­si­fied under the umbrel­la of cli­mate jus­tice, which offers a more rad­i­cal, sys­temic and anti-cap­i­tal­ist narrative."
The People's Cli­mate March isn't the first nation­al mobi­liza­tion orga­nized by major NGOs to meet with this kind of crit­i­cism. When hun­dreds of thou­sands descend­ed on Wash­ing­ton, D.C., for the March for Jobs and Free­dom, some crit­i­cized the mobi­liza­tion for being too main­stream, tame and insuf­fi­cient­ly anti-capitalist.
"There wasn't a sin­gle logis­tics aspect uncon­trolled," Mal­colm X said deri­sive­ly, of the march he referred to as the Farce on Wash­ing­ton. Accord­ing to the Auto­bi­og­ra­phy of Mal­colm X, the idea for the 1963 March on Wash­ing­ton began as a grass­roots upris­ing, ​"spon­ta­neous, unor­ga­nized, and lead­er­less," which was com­man­deered by estab­lished orga­ni­za­tions like the NAACP and the South­ern Chris­t­ian Lead­er­ship Con­fer­ence, or SCLC. What start­ed as a decen­tral­ized move­ment envi­sioned as a mass march to the White House became a heav­i­ly script­ed event, capped off by a less con­tro­ver­sial con­clu­sion at the Lin­coln Memorial.
Of course, it would be pre­sump­tu­ous to com­pare today's U.S. cli­mate move­ment too close­ly to the 1963 Civ­il Rights Move­ment, or 350​.org to the SCLC. Still, there are strik­ing sim­i­lar­i­ties between Mal­colm X's cri­tique of the March on Wash­ing­ton, and crit­i­cisms of the People's Cli­mate March ema­nat­ing today from the cli­mate jus­tice movement.
Some People's Cli­mate March orga­niz­ers ful­ly acknowl­edge its lim­i­ta­tions, even while hop­ing the event suc­ceeds as a com­ing togeth­er of large NGOs and grass­roots organizations.
"It will real­ly be a his­toric moment," said Peter Rugh, a march orga­niz­er in New York City, and fre­quent con­trib­u­tor to Wag­ing Non­vi­o­lence. ​"The cli­mate move­ment up to now has been pret­ty seg­re­gat­ed, made up of large, main­ly white NGOs in D.C. Now, [for the march] you have labor on the table, envi­ron­men­tal jus­tice groups, and large NGOs, all mak­ing a con­cert­ed effort to call atten­tion to the cli­mate. The down side to that has been a water­ing down of the pol­i­tics. Peo­ple need to step in and ask tough questions."
Rugh sees the march as break­ing with past mobi­liza­tions that cen­tered around indus­try-friend­ly ideas.
"There was a cru­cial moment in 2009," he explained, ​"when you had cap and trade leg­is­la­tion that big green groups were work­ing with pol­luters to pass. When that failed, a dif­fer­ent tac­tic began to emerge, a shift from lob­by­ing to get­ting in the streets."
While the U.N. process has failed in the past, march orga­niz­ers believe aban­don­ing it alto­geth­er would be foolhardy.
"There's no oth­er inter­na­tion­al forum where these talks are going to hap­pen," Aroneanu said. ​"And we need inter­na­tion­al action."
The 1963 March for Jobs and Free­dom also occurred at a time when there was ten­sion between activists advo­cat­ing rad­i­cal action at the grass­roots lev­el, and groups work­ing on large nation­al events. But, as Quak­er activist and Wag­ing Non­vi­o­lence colum­nist George Lakey not­ed in a 2012 arti­cle, the march helped cat­alyze a num­ber of esca­lat­ed peace­ful direct actions like the Free­dom Sum­mer cam­paign. Of course, there's no way of know­ing what would have hap­pened if the march had tak­en the more rad­i­cal approach sup­port­ed by Mal­colm X.
Today, there's a pal­pa­ble feel­ing of skep­ti­cism from some grass­roots groups about a march cen­tered around a gath­er­ing of heads of state con­vened by a U.N. fig­ure. As Parkin wrote in his arti­cle for Coun­ter­punch, ​"The lib­er­al reform agen­da of the envi­ron­men­tal estab­lish­ment con­tin­ues to dom­i­nate the cli­mate movement."
It may be, how­ev­er, that the real effect of the People's Cli­mate March won't be seen until after the bus­es and car­pools leave New York.
"If peo­ple just wave signs and go home, with no clear pres­sure from below, it will have been pret­ty much inef­fec­tu­al," Rugh said. ​"If there's spon­ta­neous grass­roots ener­gy from all parts of New York City and dif­fer­ent cor­ners of the coun­try, then it will last well beyond Sep­tem­ber 21."
Reprint­ed with per­mis­sion from Wag­ing Non­vi­o­lence.
Nick Engel­fried
is an envi­ron­men­tal writer and activist. He is cur­rent­ly an orga­niz­er for the Blue Skies Cam­paign in Mis­soula, Montana.