MSNBC Is the Most Influential Network Among Liberals—And It's Ignoring Bernie Sanders
When the network's primetime pundits do cover Sanders, they cover him more negatively than they do Elizabeth Warren and Joe Biden.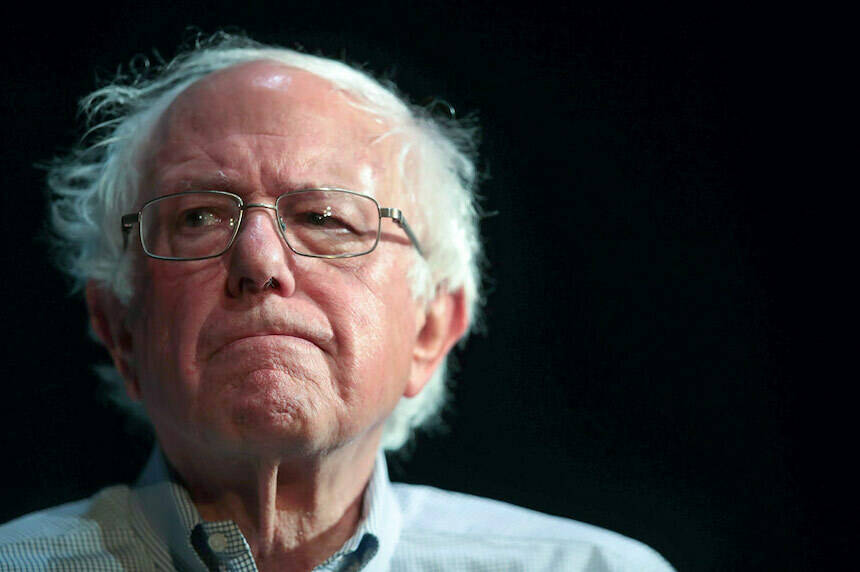 Once known as the lone, forth­right voice of lib­er­al­ism on cable news, MSNBC began a lurch to the cen­ter in 2015 with its new chair­man, Andrew Lack, going on a con­ser­v­a­tive pun­dit hir­ing spree and shed­ding the network's ​"Lean For­ward" branding.
After the 2016 presidential election, in which the press was criticized for disproportionately giving Donald Trump $2 billion of free media, MSNBC may be repeating history.
Even so, MSNBC is posi­tioned to have an out­sized influ­ence on the 2020 Demo­c­ra­t­ic pres­i­den­tial pri­ma­ry. Accord­ing to the Nor­man Lear Cen­ter, lib­er­als watch MSNBC at (respec­tive­ly) three and 10 times the rate of more mod­er­ate and con­ser­v­a­tive view­ers. After Fox News, MSNBC is the most-watched cable news net­work, beat­ing out CNN. What's more, the medi­an age of MSNBC's audi­ence is 65 — and old­er vot­ers turn out in high num­bers in pri­ma­ry contests.
To under­stand how MSNBC may be shap­ing the 2020 elec­tion, In These Times ana­lyzed the network's August and Sep­tem­ber cov­er­age of the Demo­c­ra­t­ic pres­i­den­tial contest's lead­ing can­di­dates — Sen. Bernie Sanders, for­mer Vice Pres­i­dent Joe Biden and Sen. Eliz­a­beth War­ren. We focused on the network's flag­ship prime­time shows: The 11th Hour with Bri­an Williams, All In with Chris Hayes, The Beat with Ari Mel­ber, Hard­ball with Chris Matthews, The Last Word with Lawrence O'Donnell and The Rachel Mad­dow Show.
In These Times tal­lied how often the three can­di­dates were dis­cussed and logged whether the cov­er­age was pos­i­tive, neg­a­tive or neu­tral. For exam­ple, while poll results by them­selves (whether favor­able or unfa­vor­able to a can­di­date) were sim­ply logged as neu­tral, com­men­tary about a can­di­date ​"surg­ing" was logged as pos­i­tive and ​"stag­nant" as neg­a­tive. Clips and pre­views for upcom­ing seg­ments were not included.
The cov­er­age quick­ly revealed a pat­tern. Over the two months, these six pro­grams focused on Biden, often to the exclu­sion of War­ren and Sanders. Sanders received not only the least total cov­er­age (less than one-third of Biden's), but the most neg­a­tive. As to the sub­stance, MSNBC's report­ing revolved around poll results and so-called electability.
After the 2016 pres­i­den­tial elec­tion, in which the press was crit­i­cized for dis­pro­por­tion­ate­ly giv­ing Don­ald Trump $2 bil­lion of free media, MSNBC may be repeat­ing his­to­ry. While pun­dits get paid to have opin­ions, MSNBC's seem to dwell in an alter­nate real­i­ty: As momen­tum mounts for long­stand­ing lib­er­al goals like sin­gle-pay­er health care and bold cli­mate action, MSNBC's cov­er­age seems devot­ed, instead, to nar­row­ing the lib­er­al imagination.
NOT AVER­AGE JOE
In its August and Sep­tem­ber cov­er­age, by total men­tions, MSNBC talked about Biden twice as often as War­ren and three times as often as Sanders. By num­ber of episodes, 64% of the 240 episodes dis­cussed Biden, 43% dis­cussed War­ren and 36% dis­cussed Sanders. A quar­ter of the episodes only dis­cussed Biden, com­pared to 5% and 1% that men­tioned only War­ren or Sanders, respectively.
Biden was also the only one of the three can­di­dates to see his on-air men­tions increase, rather than decline, in Sep­tem­ber, even as his polling num­bers steadi­ly went south. Part of the rea­son was the Ukraine scan­dal that erupt­ed in Sep­tem­ber: News broke that Pres­i­dent Trump had con­di­tioned the release of aid to Ukraine upon an inves­ti­ga­tion of Biden's son, who had accept­ed a well com­pen­sat­ed posi­tion with a Ukrain­ian oil com­pa­ny in 2014. MSNBC gave the sto­ry wall-to-wall cov­er­age, push­ing up Biden's men­tions. Almost all of this cov­er­age was neu­tral — stat­ing that Trump was try­ing to dig up dirt on Biden — but was occa­sion­al­ly pos­i­tive, as when Wash­ing­ton Post colum­nist Eugene Robin­son spec­u­lat­ed that the ​"impeach­ment dynam­ic sort of confirm[s] Biden's aura of elec­tabil­i­ty because he's the one Trump is most afraid of, so maybe he's one we ought to go with."
In August, how­ev­er — before the Ukraine scan­dal took off — Biden still received around 2.5 times as much cov­er­age as Sanders and about 1.7 times as much as Warren.
This cov­er­age was not all pos­i­tive. In total, 11.6% of Biden's men­tions were neg­a­tive. Gen­er­al­ly, this neg­a­tive cov­er­age focused on Biden's gaffes and lack­lus­ter debate per­for­mances, and how they might affect his elec­tabil­i­ty — the qual­i­ty upon which Biden is stak­ing his can­di­da­cy. The shows host­ed by Chris Hayes and Ari Mel­ber fea­tured pro­por­tion­al­ly the most neg­a­tive cov­er­age of Biden.
The hand­ful of more sub­stan­tive crit­i­cisms of Biden includ­ed Chris Matthews and Jason John­son, pol­i­tics edi­tor at The Root, ques­tion­ing how sin­cere Biden was when he accused Trump of being a white suprema­cist, as well as pri­ma­ry can­di­date Sen. Cory Book­er (D‑N.J.) crit­i­ciz­ing Biden's tough-on-crime record and vote for the Iraq War.
By and large, how­ev­er, such cri­tiques of Biden were sub­sumed by pos­i­tive cov­er­age, pre­sent­ing him as the safest, strongest choice to take on Trump — or, as Matthews put it, the Democ­rats' ​"des­ig­nat­ed driver."
"What hap­pens if you get Joe Biden and a rocky stock mar­ket? That's a bad com­bi­na­tion for Pres­i­dent Trump," MSNBC host Stephanie Ruh­le said on Bri­an Williams' show, con­trast­ing Biden with an unnamed ​"social­ist" whom she implied Trump would suc­cess­ful­ly redbait.
One com­mon line, deployed in six dif­fer­ent episodes by both hosts and guests, was that the con­test between Biden (on one side) and War­ren or Sanders (on the oth­er) was a bat­tle between the ​"head" and the ​"heart" of the Demo­c­ra­t­ic Par­ty — imply­ing Biden was the smart choice.
Guests across all six shows played down Biden's wide­ly panned debate per­for­mances. In a Last Word appear­ance, Wash­ing­ton Post colum­nist E.J. Dionne Jr. waved away crit­i­cism in oth­er media (includ­ing on Melber's show) of Biden's infa­mous ​"record play­er" com­ment. Biden had respond­ed to a ques­tion about the lega­cy of slav­ery by sug­gest­ing social work­ers be deployed in the homes of African Amer­i­cans to help par­ents ​"deal with how to raise their chil­dren" by, for exam­ple, mak­ing sure they have a ​"record play­er on at night." Dionne joked, "[Biden] had that appeal to hip­sters by talk­ing about record play­ers. Aren't they into vinyl these days?" He added, ​"Peo­ple aren't giv­ing him cred­it for how he— what he had in mind there."
The most Biden-friend­ly shows were those host­ed by Lawrence O'Donnell, Matthews and Williams. On August 8, O'Donnell effu­sive­ly praised a speech of Biden's that cast Trump as a racist aber­ra­tion in a long line of good, tol­er­ant pres­i­dents, say­ing Biden had ​"told the hard truths of Amer­i­can his­to­ry." Five days lat­er, O'Donnell laud­ed a Biden tweet call­ing for the Unit­ed States to lead the world in ral­ly­ing sup­port for pro­test­ers in Hong Kong. ​"That's the way pres­i­dents in this coun­try used to sound," O'Donnell gushed.
On Williams' show, the most-watched cable news show in its 11 p.m. slot for five straight quar­ters, NBC News cor­re­spon­dent Mike Mem­o­li played down Biden's bizarre state­ment to an Iowa crowd that ​"poor kids are just as bright and just as tal­ent­ed as white kids." Mem­o­li said that, to the Iowans in the audi­ence, the com­ment ​"may not have even registered."
MSNBC's most pro-Biden host was Chris Matthews, who in 2017 called for Biden to run. Matthews' guests waved away Biden's gaffes and talked him up as the all-but-cer­tain win­ner of the gen­er­al election.
"Today, I saw a splash of sun­light in what's been a grim Demo­c­ra­t­ic tus­sle for pres­i­dent," Matthews began August 1, before launch­ing into a solil­o­quy about a Biden press con­fer­ence in Detroit, where the can­di­date, ​"his face toward the sun," remind­ed Matthews that ​"hope" still exist­ed. Matthews lament­ed that crit­i­cism of Biden's record would only lead to ​"even more destruc­tion of our nation­al unity."
When Sir­ius XM host Danielle Mood­ie-Mills cau­tioned that she didn't think Biden ​"con­jures that kind of action that are going to get peo­ple into the streets," Matthews respond­ed, ​"Okay, well, that's your opin­ion," and cut to a Biden cam­paign ad.
Only a few of the 240 episodes dis­cussed Biden's reliance on big-dol­lar dona­tions, and none sin­gled out his fundrais­ing from indus­tries such as health­care and bank­ing that have a strong inter­est in cur­rent pol­i­cy debates. Mel­ber not­ed that Biden was strug­gling among grass­roots small donors com­pared to Sanders and War­ren. The oth­er times Biden's big-dol­lar fundrais­ing came up, it was in the con­text of air­ing crit­i­cisms of War­ren for hav­ing engaged in it her­self before swear­ing it off for this year's primary.
In terms of pol­i­cy cov­er­age of the can­di­dates — arguably the most impor­tant role played by the fourth estate when report­ing on can­di­dates — Biden bare­ly registered.
On health­care, the biggest cam­paign issue for a major­i­ty of vot­ers, Biden's ​"plan to pro­tect and build on the Afford­able Care Act" — which his web­site admits would leave 3% of Amer­i­cans unin­sured — was only occa­sion­al­ly dis­cussed, while being praised for giv­ing Amer­i­cans ​"choice" by guests such as oust­ed cen­trist Sen. Claire McCaskill (D‑Mo.).
Mean­while, Sanders' ​"Medicare for life thing" — as Matthews calls it — was crit­i­cized as ​"throw­ing 149 mil­lion peo­ple off their health­care" (Sen. Amy Klobuchar [D‑Minn.]) and tak­ing away ​"choice." Biden's deputy cam­paign man­ag­er told Matthews that Sanders' plan would ​"mean a tax increase on mid­dle tax [sic] fam­i­lies," ignor­ing the fact that inde­pen­dent stud­ies have deter­mined Medicare for All would low­er over­all health­care costs. Warren's refusal to say tax­es would go up to fund Medicare for All was char­ac­ter­ized alter­nate­ly as eva­sive, or a shrewd tac­tic to ​"help her sus­tain" her rise in polling.
This is a far cry from the polls that show the major­i­ty of Demo­c­ra­t­ic vot­ers are favor­able toward the policy.
While the broad­er pro­gres­sive media land­scape was chock-full of sto­ries about Biden's fundrais­ing from pow­er­ful inter­ests, his lack of grass­roots enthu­si­asm, his inco­her­ent pub­lic state­ments and his unfair attacks on Medicare for All, MSNBC view­ers most­ly saw the Biden that his cam­paign pre­sent­ed: a decent, beloved, steady hand who is the country's safest bet.
BERNIE
&

LIZ

Sanders, mean­while, received less cov­er­age on MSNBC than Biden or War­ren. Of the three can­di­dates, Sanders was least like­ly to be men­tioned pos­i­tive­ly (13% of his men­tions) and most like­ly to be men­tioned neg­a­tive­ly (21%). The remain­ing two-thirds of his men­tions were neutral.

Sanders received no neg­a­tive men­tions on Maddow's show (which had the least pri­ma­ry cov­er­age of the six pro­grams ana­lyzed), and only a hand­ful on O'Donnell's, Melber's and Hayes' shows. Rather, 87% of neg­a­tive men­tions came from just two pro­grams: Matthews' Hard­ball and Williams' 11th Hour.

Sanders was espe­cial­ly crit­i­cized on 11th Hour after he sug­gest­ed the neg­a­tive cam­paign cov­er­age com­ing from the Wash­ing­ton Post—owned by bil­lion­aire Ama­zon CEO Jeff Bezos — was relat­ed to Sanders' crit­i­cism of Amazon's labor prac­tices. Williams and a guest both took the oppor­tu­ni­ty to liken Sanders to Trump, who fre­quent­ly com­plains about his media cov­er­age. Williams then quot­ed a tweet from an anony­mous online anti-Sanders troll — sent before the Bezos con­tro­ver­sy had even begun — accus­ing Sanders of not work­ing to defeat Trump in 2016. (In fact, Sanders stumped at 17 pro-Hillary Clin­ton events in 11 states in Novem­ber 2016.)

Although War­ren was almost as under-cov­ered as Sanders rel­a­tive to her polling num­bers, her treat­ment was very dif­fer­ent. War­ren had the low­est pro­por­tion of neg­a­tive cov­er­age of all three can­di­dates (just 8% of all her men­tions) and the high­est pro­por­tion of posi­tion men­tions (30%).

Crit­i­cisms of Sanders and War­ren were often paired. Neva­da Inde­pen­dent edi­tor Jon Ral­ston sug­gest­ed to Williams on August 20 that War­ren and Sanders had endan­gered their chances of win­ning a gen­er­al elec­tion by back­ing ​"things that [the] major­i­ty of Amer­i­cans may not like," such as Medicare for All.

By that same day, how­ev­er, Matthews had pio­neered a new tone toward War­ren. Mere moments after say­ing vot­er sup­port for the two was ​"unchanged since June" and ​"too close to call," Matthews declared War­ren was ​"mak­ing big strides in her efforts to take over the party's left lane from Sanders" and ​"eat­ing his lunch every day." In a lat­er episode, Matthews and The Root​'s John­son claimed African Amer­i­can women were ​"leav­ing Bernie" and ​"break­ing for War­ren," even though a Pew Research Cen­ter poll that week showed Sanders' base to be the least white (49%) of the lead­ing four can­di­dates (includ­ing Sen. Kamala Har­ris), Warren's was whitest (71%), and all four had about 50% women sup­port­ers. (Matthews spec­i­fied that he meant ​"African Amer­i­can women who tend to be influencers.")

Williams high­light­ed what he described as an ​"excite­ment deficit" between War­ren and the oth­er can­di­dates, ignor­ing that Sanders con­tin­ued to draw large crowds and was the first to reach the bench­mark of 1 mil­lion indi­vid­ual donations.

Zer­li­na Maxwell, a Clin­ton cam­paign alum and fre­quent guest, told Matthews that War­ren and Sanders shared a ​"bold vision," but War­ren cou­pled it with ​"spe­cif­ic pol­i­cy pro­pos­als" that tell you ​"how we're going to get there" — imply­ing that Sanders did not.

Com­men­ta­tors framed the Sep­tem­ber debate as a show­down between War­ren and Biden, often leav­ing Sanders out. ​"Any sort of dis­cus­sion between those two can­di­dates will be one that could help a lot of vot­ers decide who they're sup­port­ing," said the Wall Street Jour­nal​'s Tari­ni Parti.

After that debate, com­men­ta­tors sin­gled out Warren's per­for­mance with praise. Matthews' and Williams' shows saw a pro­nounced uptick in pos­i­tive cov­er­age of War­ren, with com­men­ta­tors call­ing her ​"inge­nious" and ​"the strongest nat­ur­al tal­ent," and plot­ting out future sce­nar­ios where she ran away with the Demo­c­ra­t­ic nomination.

As pun­dits warmed to War­ren, they increas­ing­ly sin­gled out Sanders for crit­i­cism. He ​"shout­ed his way through that last debate and came off as a bit of a scold," said Williams. He was ​"out of step on the biggest sort of cul­tur­al issue in the coun­try right now," said Dead­line: White House host Nicole Wal­lace, in ref­er­ence to guns. He was help­ing Trump's re-elec­tion chances, said for­mer Repub­li­can Nation­al Com­mit­tee Chair­man Michael Steele on Hard­ball. Appear­ing on The 11th Hour, Repub­li­can strate­gist Rick Wil­son called Sanders the ​"com­mu­nist Ron Paul" and ​"a recipe for elec­toral disaster."
FUTURE PLANS
Over­all, MSNBC's pri­ma­ry cov­er­age was devoid of pol­i­cy dis­cus­sion. View­ers were told often that War­ren ​"has a plan for every­thing" — but not what those plans might contain.
Sanders and War­ren released, respec­tive­ly, eight and 10 detailed pol­i­cy plans over this two-month peri­od, cov­er­ing top­ics from invest­ing in rur­al Amer­i­ca, empow­er­ing indige­nous peo­ple, get­ting to 100% renew­able ener­gy and muz­zling cor­po­rate lob­by­ists (War­ren) to work­place democ­ra­cy, a Green New Deal, hous­ing for all and a wealth tax (Sanders). Most of these 18 plans were ignored by MSNBC, and only two were dis­cussed in any depth: Hayes inter­viewed Sanders about his August 22 Green New Deal plan and Mad­dow inter­viewed War­ren about her Sep­tem­ber 16 anti-cor­rup­tion plan. (Biden, for his part, intro­duced zero plans.)
Instead, MSNBC's cov­er­age builds around incom­ing poll results, which may be cause for con­cern. Social sci­en­tists have long been crit­i­cal of the way polls can shape news cov­er­age, as poll cov­er­age risks cal­ci­fy­ing what might oth­er­wise be fleet­ing shifts in pop­u­lar opin­ion. The hosts In These Times ana­lyzed occa­sion­al­ly acknowl­edged that polls are not always reli­able, but relied on them any­way. Only Mel­ber explic­it­ly dis­missed polls, say­ing ​"they don't mat­ter right now," report­ing instead on online dona­tion num­bers. He was alone in men­tion­ing Sanders' his­toric surge in small-dol­lar donations.
Polit­i­cal com­men­ta­tor Wal­ter Lipp­mann, patron saint of patri­cian lib­er­al­ism, argued in 1922 that, because ​"the com­mon inter­ests very large­ly elude pub­lic opin­ion entire­ly," they ​"can be man­aged only by a spe­cial­ized class" — in oth­er words, the mis­guid­ed mass­es can't rec­og­nize their own inter­ests with­out guid­ance from the best and bright­est. Lipp­mann would like­ly have put MSNBC anchors in this spe­cial class, inter­pret­ing and shap­ing real­i­ty for the lib­er­al pub­lic to, as Lipp­mann put it, ​"cre­ate con­sent." Of course, the anchors on MSNBC's flag­ships are part of a larg­er cor­po­rate media sys­tem, and the para­me­ters of the con­sent they cre­ate is mod­u­lat­ed by the terms of accept­able pub­lic dis­course. When polit­i­cal actors cross those para­me­ters — includ­ing cli­mate cri­sis activists like the Sun­rise Move­ment, anti­war Catholic Work­er pro­tes­tors like the Ploughshares Sev­en, prison abo­li­tion­ists like Crit­i­cal Resis­tance and demo­c­ra­t­ic social­ist mem­bers of Con­gress like Sanders — the Fourth Estate but­tress­es the sta­tus quo to pro­tect the estab­lish­ment from any such incur­sions. So when the Demo­c­ra­t­ic estab­lish­ment was besieged by small‑d democ­rats in search of a polit­i­cal rev­o­lu­tion in 2016, rather than inves­ti­gate, the main­stream press sim­ply per­formed as expect­ed — by emphat­i­cal­ly pro­mot­ing a can­di­da­cy that turned out to be fatal­ly flawed.
MSNBC has close ties to a Demo­c­ra­t­ic estab­lish­ment that finds the pol­i­tics of Biden (and even War­ren) more palat­able than Sanders' ​"polit­i­cal rev­o­lu­tion." In the lead­up to the 2016 pri­ma­ry, MSNBC fre­quent­ly drew hosts and guests from Hillary Clinton's cam­paign. Accord­ing to the New York Times and oth­er out­lets, in the lead-up to the race for the Demo­c­ra­t­ic nom­i­na­tion, this same estab­lish­ment— includ­ing for­mer Clin­ton staffers and donors — has held secret meet­ings to strate­gize how to stop Sanders.
Once the pri­maries are over, the elec­tion will be decid­ed by the turnout and pref­er­ences of vot­ers who pay lit­tle or no atten­tion to MSNBC, or cable news in gen­er­al. But at the moment, as the Iowa cau­cus­es near, MSNBC has a pow­er­ful bull­horn. In 2016, the Demo­c­ra­t­ic estab­lish­ment backed the ​"safest," most ​"elec­table" can­di­date in Hillary Clin­ton, with dis­as­trous results. It bears ask­ing if they're repeat­ing the same mistake.
Juan Caice­do, Isabel Carter, Will Kang, Indi­go Olivi­er and Han­nah Steinkopf-Frank con­tributed research and fact-checking.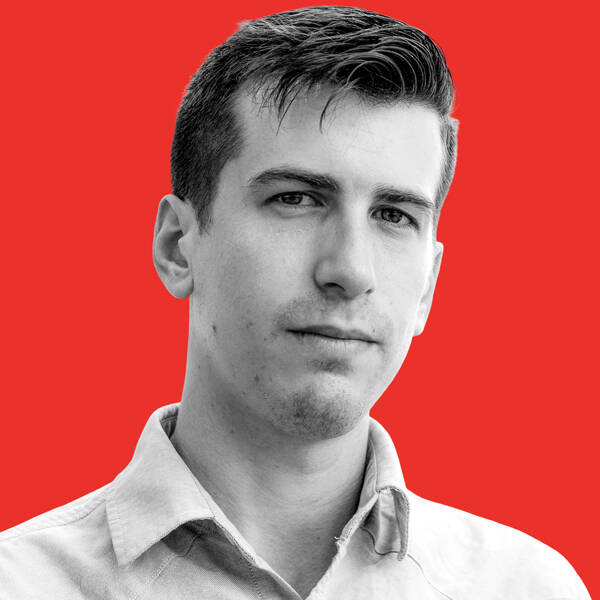 Branko Marcetic
is a staff writer at Jacobin mag­a­zine and a
2019
 – 
2020
Leonard C. Good­man Insti­tute for Inves­tiga­tive Report­ing fel­low. He is work­ing on a forth­com­ing book about Joe Biden.