Is Higher Ed the Next Target of Corporate 'Reformers'?
The proposed shuttering of City College of San Francisco bears unsettling parallels to K-12 school closings.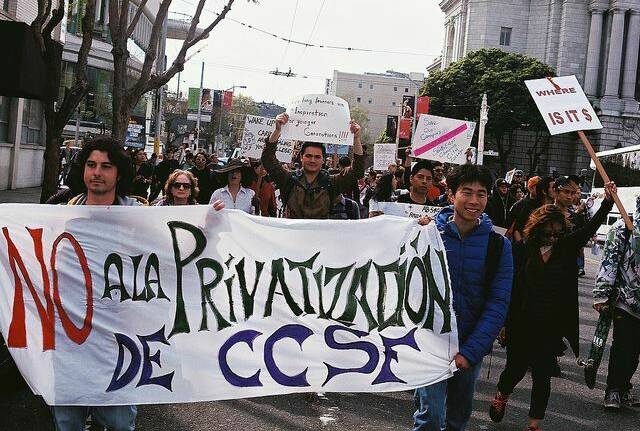 As stu­dents at City Col­lege of San Fran­cis­co (CCSF) reg­is­tered for fall class­es this month, they received an alarm­ing piece of news: The Accred­it­ing Com­mis­sion for Com­mu­ni­ty and Junior Col­leges (ACCJC), one of sev­en region­al accred­i­tors in the west­ern Unit­ed States tasked with ensur­ing the qual­i­ty of high­er edu­ca­tion pro­grams, announced that it would ter­mi­nate the school's accred­i­ta­tion in July 2014. Cur­rent­ly serv­ing more than 85,000 stu­dents, CCSF will be the largest school ever to lose its accred­i­ta­tion, which will effec­tive­ly ensure its clo­sure by dis­qual­i­fy­ing stu­dents from receiv­ing fed­er­al loans and grants and the col­lege from state funding.
Many community members see the closure of City College of San Francisco—a lifeline to low-income residents, immigrants, and ex-prisoners in the community—as an attempt narrow the mission of public education.
The pro­posed shut­ter­ing of one of the nation's largest com­mu­ni­ty and junior col­leges, labor and edu­ca­tion activists charge, bears unset­tling par­al­lels to the K‑12 school clos­ings that have wracked urban areas this year, and fore­shad­ows a cor­po­rate-backed reform move­ment come home to high­er education.
As many com­mu­ni­ty col­leges have turned their backs on open-door admis­sions poli­cies and moved towards more selec­tive enroll­ment amidst deep­en­ing bud­get cuts, City Col­lege has fought to pre­serve the mis­sion of open and acces­si­ble edu­ca­tion for all. It's the largest provider of Eng­lish as a Sec­ond Lan­guage (ESL) class­es in San Fran­cis­co and of free, non­cred­it adult edu­ca­tion cours­es in the state of Cal­i­for­nia. Through the ​"Sec­ond Chance" pro­gram, which recruits and sup­ports for­mer­ly incar­cer­at­ed stu­dents, it also pro­vides impor­tant ser­vices for dis­en­fran­chised mem­bers of the community.
But it's such ser­vices that accred­i­tors say have cast doubt on the college's sol­ven­cy. In a July 3 let­ter to col­lege admin­is­tra­tors, ACCJC pres­i­dent Bar­bara A. Beno said that com­mis­sion mem­bers had vot­ed to close the school in part because of its shaky fis­cal plan­ning, cit­ing ​"the lack of finan­cial account­abil­i­ty as well as insti­tu­tion­al defi­cien­cies in the area of lead­er­ship and gov­er­nance as the main obsta­cles to the col­lege's turn­around." In 2012, ACCJC had placed City Col­lege on ​"show cause" sanc­tion, the most severe of three lev­els of warn­ings reserved for insti­tu­tions found to be in sub­stan­tial non-com­pli­ance with eli­gi­bil­i­ty require­ments and stan­dards for accred­i­ta­tion. These require­ments are not reg­u­la­tions of state or local agen­cies, but instead are devel­oped by mem­bers of the accred­i­ta­tion commission.
Pri­or to June 2012, when the com­mis­sion slapped its most severe sanc­tion on City Col­lege, the school had nev­er received a sanc­tion in its 50-year his­to­ry. The commission's deci­sion was there­fore unex­pect­ed and ​"out­ra­geous," says Alisa Mess­er, pres­i­dent of the Amer­i­can Fed­er­a­tion of Teach­ers Local 2121, which rep­re­sents City Col­lege fac­ul­ty mem­bers. Since being ordered to ​"show cause" as to why it should retain its accred­i­ta­tion, the col­lege has cut staff and pay, rewrit­ten its mis­sion state­ment and reor­ga­nized its man­age­ment struc­ture in order to meet a list of 14 rec­om­men­da­tions made by ACCJC in 2012. But most of the rec­om­men­da­tions had lit­tle to do with edu­ca­tion­al qual­i­ty, asserts Mess­er, who is also an Eng­lish instruc­tor at the college.
Accred­i­tors Gone Wild?
At the heart of the bat­tle over City Col­lege lie ques­tions about the role that the fed­er­al­ly-rec­og­nized accred­it­ing body is play­ing in the con­tin­ued down­siz­ing of the Cal­i­for­nia Com­mu­ni­ty Col­leges, which make up the largest sys­tem of high­er edu­ca­tion in the nation. California's com­mu­ni­ty col­leges have been sanc­tioned at a far high­er rate than oth­er sys­tems — between June 2011 and June 2012, ACCJC gen­er­at­ed 35% of the sanc­tions issued to two-year col­leges nation­wide, though it over­sees just 5% of com­mu­ni­ty col­leges — and a quar­ter of the state's com­mu­ni­ty col­leges are cur­rent­ly on sanc­tions that could even­tu­al­ly lead to their closure.
Accred­i­tors must be autho­rized by the Depart­ment of Edu­ca­tion, but crit­ics empha­size that they are pri­vate bod­ies that lack sub­stan­tial over­sight and are open to influ­ence from out­side fun­ders and pri­or­i­ties. Instead of focus­ing on the cal­iber of instruc­tion and edu­ca­tion­al pro­grams, claims for­mer Cal­i­for­nia Fed­er­a­tion of Teach­ers Pres­i­dent Mar­tin Hit­tel­man in a brief­ing paper (PDF), the accred­it­ing body has attempt­ed ​"to micro-man­age the fis­cal and gov­er­nance process­es of the col­leges it accred­its through fear and intim­i­da­tion." Since the 2008 – 2009 aca­d­e­m­ic year, state fund­ing for the Cal­i­for­nia Com­mu­ni­ty Col­leges has been cut by 12 per­cent, and enroll­ment has decreased by near­ly three mil­lion stu­dents. Hit­tel­man charges that the rec­om­men­da­tions made by the ACCJC have ​"made hard times in the com­mu­ni­ty col­leges even hard­er," and forced schools to deep­en the aus­ter­i­ty mea­sures already imposed by state cuts to avoid los­ing gov­ern­ment fund­ing entire­ly. (ACCJC declined to com­ment for this article.)
Among the prob­lems iden­ti­fied in ACCJC's March 2012 eval­u­a­tion of City Col­lege, for exam­ple, is the pro­vi­sion of health­care ben­e­fits to part-time fac­ul­ty — an area that the union asserts is sub­ject to col­lec­tive bar­gain­ing and not under the purview of accred­i­tors. The clo­sure deci­sion rep­re­sents, in part, an attack on a pro­gres­sive fac­ul­ty union that has won ​"one of the best con­tracts for part-time fac­ul­ty in the nation," says Joe Berry, a labor edu­ca­tor and con­tin­gent fac­ul­ty organizer.
The eval­u­a­tion also took issue with the college's com­mit­ment to pro­vid­ing non­cred­it class­es, which bring in less rev­enue but allow the col­lege to serve a large num­ber of non-tra­di­tion­al stu­dents. The July 2012 let­ter plac­ing City Col­lege on sanc­tion asserts that an inad­e­quate num­ber of full-time admin­is­tra­tors and lack of cen­tral­ized deci­sion-mak­ing have ​"kept City Col­lege of San Fran­cis­co from adapt­ing to its changed and chang­ing fis­cal environment."
Fol­low­ing a new round of state bud­get cuts, City Col­lege had a $6 mil­lion deficit in 2012. But Mess­er con­tends that new state and local bud­get mea­sures, includ­ing one passed by San Fran­cis­co vot­ers in Novem­ber 2012 that directs an addi­tion­al $15 mil­lion in rev­enue to the col­lege annu­al­ly, have already helped shore up the school's finances. She says City Col­lege is the only com­mu­ni­ty col­lege in the state that has ​"returned to pre-reces­sion rev­enues," and dis­putes the state Fis­cal Cri­sis & Man­age­ment Assis­tance Team's pro­jec­tion of a $2.5 mil­lion deficit for the 2014 – 2015 year as inflated.
Instead, many com­mu­ni­ty mem­bers see the clo­sure of City Col­lege — a life­line to low-income res­i­dents, immi­grants, and ex-pris­on­ers in the com­mu­ni­ty — as an attempt to nar­row the mis­sion of pub­lic edu­ca­tion. ACCJC Pres­i­dent Beno pub­licly sup­port­ed the Stu­dent Suc­cess Act, a bill passed by the Cal­i­for­nia leg­is­la­ture in April 2012, meant to increase grad­u­a­tion rates at com­mu­ni­ty col­leges as part of a push for reforms known as the ​"com­ple­tion agen­da." But many stu­dents opposed the bill, say­ing that it would ration access to edu­ca­tion and restrict its scope by pri­or­i­tiz­ing new­er stu­dents for enroll­ment and requir­ing new stan­dard­ized tests to assess stu­dent learning.
Oppo­nents of City College's clo­sure cite the deci­sion as evi­dence of the accred­i­tor's cap­ture by cor­po­rate-backed edu­ca­tion ​"reform­ers." Last year the Lumi­na Foun­da­tion, an Indi­anapo­lis-based body estab­lished in 2001 by the pri­vate loan indus­try, award­ed ACCJC a grant to devel­op a new ​"Degree Qual­i­fi­ca­tions Pro­file Project" that will devel­op mea­sures for assess­ing stu­dent learn­ing at com­mu­ni­ty col­leges. (A fail­ure to ade­quate­ly doc­u­ment ​"stu­dent learn­ing out­comes" was one of the defi­cien­cies list­ed in the 2012 sanc­tion report.) The Lumi­na Foun­da­tion also fund­ed Cal­i­for­ni­a's Stu­dent Suc­cess and Com­ple­tion Task Force, whose rec­om­men­da­tions were used to author the Stu­dent Suc­cess Act, and the foun­da­tion has backed the ​"com­ple­tion agen­da" in oth­er states as well.
The New For-Prof­it Offensive
Many are wary of a new move­ment to cre­ate stan­dard­ized met­rics in high­er edu­ca­tion, pushed by fun­ders such as Lumi­na. Just as the clo­sures of schools deemed under­per­form­ing have paved the way for the expan­sion of char­ter schools — even though the per­for­mance of char­ters has been decid­ed­ly mixed — labor activists warn that a new push to impose rigid stan­dards on pub­lic col­leges and uni­ver­si­ties could increase the mar­ket share of for-prof­it col­leges that have often been accused of scam­ming stu­dents and tax­pay­ers alike.
Due in part to increased scruti­ny from fed­er­al reg­u­la­tors and con­sumer advo­cates, enroll­ment at for-prof­it col­leges has been in decline in recent years. A Decem­ber report from the Nation­al Stu­dent Clear­ing­house esti­mates that enroll­ment at for-prof­its fell by 7 per­cent from the fall of 2011 to the fall of 2012, com­pared with a 1.8 per­cent drop in high­er edu­ca­tion over­all. A hol­lowed-out pub­lic sys­tem could pro­vide fer­tile ground for the for-prof­it indus­try to re-group, how­ev­er, and there have been sev­er­al signs that it is doing so in California.
Last sum­mer, the West­ern Asso­ci­a­tion of Schools and Col­leges — the region­al body of which ACCJC is a mem­ber — grant­ed per­mis­sion to the com­pa­ny Uni­ver­si­tyNow to take over Pat­ten Uni­ver­si­ty, a strug­gling non-prof­it col­lege in Oak­land, Calif. This revived the pos­si­bil­i­ty for such con­tro­ver­sial non-prof­it to for-prof­it con­ver­sions, which until then had been large­ly dis­al­lowed by accred­i­tors, as Inside High­er Edu­ca­tion report­ed in July 2012. Uni­ver­si­tyNow has also won the back­ing of the may­ors of San Fran­cis­co, Oak­land and Sacra­men­to for a new, online uni­ver­si­ty sys­tem that will allow munic­i­pal work­ers to take online cours­es at no out-of-pock­et costs, sub­si­dized through the tuition reim­burse­ment funds that cities pay their workers.
It remains to be seen whether City Col­lege — or, some spec­u­late, its tax­pay­er-fund­ed aca­d­e­m­ic build­ings — might be sold off in whole or in part to a for-prof­it col­lege. But it's like­ly that the for-prof­it indus­try stands to ben­e­fit from City Col­lege's clo­sure by absorb­ing its stu­dents. A report released in Decem­ber 2012 by the U.S. Trea­sury Depart­ment found that state bud­get cuts to com­mu­ni­ty col­leges dur­ing the past decade cor­re­late with increas­ing enroll­ment at for-prof­it schools.
There are still sev­er­al avenues through which City Col­lege may escape clo­sure. The col­lege will remain open until July 2014, dur­ing which time the Cal­i­for­nia Com­mu­ni­ty Col­leges sys­tem plans to appeal the deci­sion. This option remains a long shot since "[the appeal process] goes direct­ly back to the same body that made this deci­sion," says Mess­er, but the union is also look­ing into what legal options it might possess.
In April, state and local unions filed a com­plaint with the Depart­ment of Edu­ca­tion call­ing for a rever­sal of the 2012 sanc­tions and accus­ing ACCJC of ​"seri­ous con­flicts of inter­est" and ​"dis­re­gard of the mis­sion of com­mu­ni­ty col­leges," among oth­er alle­ga­tions. Fac­ul­ty and stu­dent activists, orga­nized into the Coali­tion to Save City Col­lege, have also launched a cam­paign to pres­sure the Depart­ment of Edu­ca­tion not to renew its recog­ni­tion of ACCJC when it comes up for review in the fall of 2013.
The fate of City Col­lege will like­ly have impli­ca­tions far beyond the Bay Area. In Chica­go, ground zero for cor­po­rate-backed reform poli­cies, last fal­l's his­toric teach­ers strike cat­alyzed a move­ment to defend pub­lic edu­ca­tion. The fight to save City Col­lege is now ​"the Chica­go of high­er edu­ca­tion," says Joe Berry, who believes that fac­ul­ty, stu­dents and staff have a cru­cial oppor­tu­ni­ty to beat back the pri­va­ti­za­tion of high­er edu­ca­tion. But if the deci­sion to close City Col­lege stands, he warns, ​"the race to the bot­tom will proceed."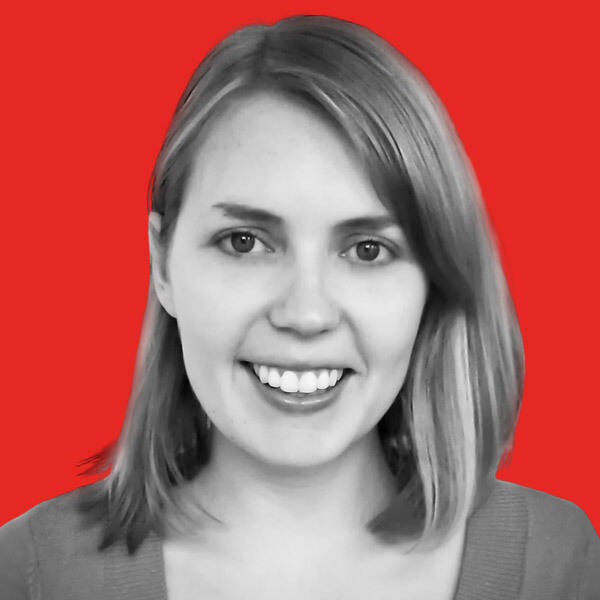 Rebec­ca Burns
is an award-win­ning inves­tiga­tive reporter whose work has appeared in The Baf­fler, the Chica­go Read­er, The Inter­cept and oth­er out­lets. She is a con­tribut­ing edi­tor at In These Times. Fol­low her on Twit­ter @rejburns.