New Eden, Old Devils
Occupy sites haven't yet transcended America's divisions—but voices of the whole 99% are becoming more audible.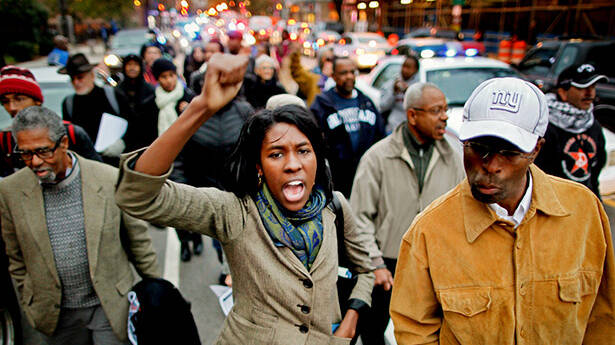 In late Octo­ber, Time​'s tech blog report­ed a star­tling fact: Only 30 per­cent of all peo­ple tweet­ing about Occu­py Wall Street were women. This, despite stud­ies show­ing Twit­ter users are 64 per­cent female. The post ​"Why Aren't Women Tweet­ing About Occu­py Wall Street?" reached for some con­clu­sions. Maybe women aren't tweet­ing about their involve­ment; maybe female Twit­ter users aren't inter­est­ed in protest­ing; or maybe they aren't there.
Any radical movement is responsible for breaking down the barriers to participation for marginalized groups. And the Occupy movement is, of course, responsible for breaking down more than one set of barriers.
In fact, women are present at Occu­py Wall Street, and in Occu­py sites every­where. And they are doing a tremen­dous amount of work. For starters, they are try­ing to pro­vide the basic con­di­tions that make it fea­si­ble for more women to participate.
"There have already been sex­u­al assaults in Zuc­cot­ti Park," Amy Klein of the Per­ma­nent Wave col­lec­tive told me in an email, ​"and many women do not feel safe sleep­ing there. I've heard that women have trou­ble mak­ing announce­ments at the Gen­er­al Assem­bly because peo­ple inter­rupt them or shut their dis­sent­ing opin­ions down. … At this point, Occu­py Wall Street is so large, it is a micro­cosm of the out­side world – with all of its con­di­tions of inequality."
Women at Occu­py move­ments have been set­ting up ​"safe sleep­ing spaces," edu­cat­ing, in their GA speech­es, fel­low pro­test­ers about the mean­ing of con­sent; dis­trib­ut­ing zines that call out cer­tain men who, at the Gen­er­al Assem­bly, describe sex­u­al harass­ment a ​"per­son­al issue"; and cre­at­ing blogs that spot­light the con­tri­bu­tions of women with­in the movement.
These prac­ti­cal neces­si­ties – equal rep­re­sen­ta­tion; recourse for harass­ment and assault; a lead­er­ship that under­stands that harass­ment, assault, and objec­ti­fi­ca­tion are prob­lems; con­di­tions as basic as child­care for work­ing moth­ers, or the abil­i­ty to sleep with­out fear of being harmed – are easy to over­look. But they're a cru­cial part of what makes Occu­py spaces functional.
Any rad­i­cal move­ment is respon­si­ble for break­ing down the bar­ri­ers to par­tic­i­pa­tion for mar­gin­al­ized groups. And the Occu­py move­ment is, of course, respon­si­ble for break­ing down more than one set of barriers.
Many argue that not only Occupy's par­tic­i­pants, but also its basic assump­tions and lan­guage, have been over­whelm­ing­ly white. Man­is­sa McCleave Maharaw­al writes of hav­ing to con­vince a man not to include the line ​"one race, the human race" in an offi­cial state­ment: "[It's] ​'sci­en­tif­i­cal­ly true' he told us … we need­ed to tell him about priv­i­lege and racism and oppres­sion and how these things still existed."
Ernesto Aguilar of Peo­ple of Col­or Orga­nize told me: ​"Hubris – the notion that Occu­py has some­how organ­i­cal­ly undone racial dis­par­i­ty, patri­archy and class divi­sions after six weeks of camp-outs – is a greater dan­ger than any­thing exter­nal to Occu­py. Most peo­ple came to this dri­ve with a life­time of white priv­i­lege taught to all races, and even the great­est gen­er­al assem­bly ever isn't going to break down those lessons overnight."
Groups like Occu­py The Hood and the Peo­ple of Col­or Occu­py Wall Street Work Group have formed in response. They high­light how much the real­i­ties of class are tied to race. Jamarhl Craw­ford, of Occu­py the Hood in Boston, has point­ed out that police repres­sion and bru­tal­i­ty expe­ri­enced by white Occu­py pro­test­ers have been ​"a drop in the buck­et" com­pared to the vio­lence inflict­ed against com­mu­ni­ties of col­or, and that pover­ty is hard­ly a most­ly-white issue.
Aguilar says Albuquerque's move­ment changed its name, to (Un)Occupy Albu­querque, in def­er­ence to Native Amer­i­can com­mu­ni­ties who feel that the ​"Occu­py" lan­guage reflects the his­to­ry of colo­nial­ism. The Per­ma­nent Wave col­lec­tive in New York car­ried a ban­ner at one protest read­ing ​"Eco­nom­ic Jus­tice Is A Fem­i­nist Issue, Too" – ref­er­enc­ing, Klein tells me, the threats to tra­di­tion­al­ly female pub­lic-sec­tor jobs such as nurs­ing and teach­ing, and threats to vital orga­ni­za­tions such as Planned Par­ent­hood made under the cov­er of cut­ting spending.
As Occu­py moves for­ward, the voic­es of the whole 99% – peo­ple of col­or, women, LGBTQ com­mu­ni­ties, the work­ing-class and poor – are becom­ing more audi­ble. That they have had to agi­tate for accep­tance points out one cru­cial fact: When we talk about ​"occu­py­ing," we can't ignore that for mar­gin­al­ized peo­ple to take up any pub­lic space at all is a polit­i­cal act, and often a dan­ger­ous one. For these groups to take up that space with their own voic­es, rather than being spo­ken for, is a tri­umph in itself.