New ILO Convention Gives Domestic Workers Historic Labor Rights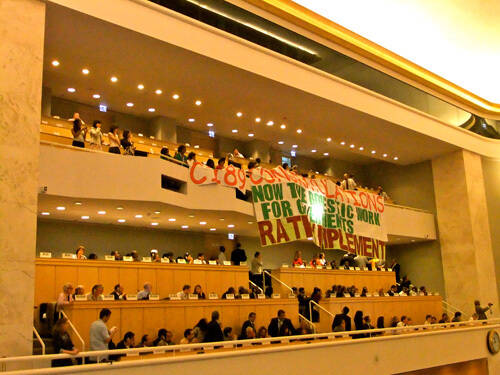 Labor groups around the world cel­e­brat­ed last Thurs­day after the Unit­ed Nations' Inter­na­tion­al Labour Orga­ni­za­tion adopt­ed a his­toric treaty that increas­es pro­tec­tions for mil­lions of domes­tic work­ers.

House­hold ser­vice employ­ees, many of whom are migrant women or girls from under­priv­i­leged areas, are now pro­vid­ed fun­da­men­tal labor rights that were pre­vi­ous­ly not guar­an­teed due to the nature of their infor­mal work.

The mea­sure pro­vides a frame­work for coun­tries to offi­cial­ly rec­og­nize domes­tic work­ers, who were his­tor­i­cal­ly exclud­ed from labor laws and sub­ject to var­i­ous forms of exploita­tion and discrimination.
The bind­ing leg­is­la­tion is pend­ing rat­i­fi­ca­tion by ILO mem­ber coun­tries, but labor groups around the world are view­ing the land­mark mea­sure as a sig­nif­i­cant step for­ward. And in the Unit­ed States, a coun­try that has been hes­i­tant to rat­i­fy ILO con­ven­tions on the fed­er­al lev­el, unions and domes­tic work­ers are focus­ing on states to enact sim­i­lar bills.

The con­ven­tion passed after years of orga­niz­ing and cul­mi­nat­ed with del­e­gates rep­re­sent­ing unions, employ­ees and gov­ern­ments con­ven­ing at the ILO's head­quar­ters in Gene­va, Switzer­land as part of the 100th annu­al con­fer­ence. The 189th con­ven­tion, offi­cial­ly titled the Con­ven­tion on Domes­tic Work­ers, was passed over­whelm­ing­ly with 396 vot­ing in favor, 16 against, and 63 abstain­ing. A Rec­om­men­da­tion, which out­lines how to imple­ment the con­ven­tion, was also approved 434 to 8, with 42 absten­tions.

Work­ers employed by pri­vate house­holds such as nan­nies, house­keep­ers and cooks now have the abil­i­ty to orga­nize into unions. Oth­er pro­vi­sions include reg­u­la­tions on work­ing hours, mater­ni­ty leave and min­i­mum wage, among oth­ers, that essen­tial­ly gives domes­tic work­ers the same rights as oth­er work­ers.

The ILO esti­mates there are rough­ly 50 mil­lion domes­tic work­ers, but experts say many are unreg­is­tered and actu­al num­bers could top 100 mil­lion. In the U.S., there are more than 2.5 mil­lion, accord­ing to Domes­tic Work­ers Unit­ed.

Human Rights Watch not­ed the U.S. as among the nations who spear­head­ed the con­ven­tion, which was on the con­fer­ence agen­da for at least three years. But Amer­i­can offi­cials are not like­ly to rat­i­fy the con­ven­tion at the fed­er­al lev­el. Liz Schuler, AFL-CIO Sec­re­tary-Trea­sur­er, calls the con­ven­tion a ​"major vic­to­ry" on the union's blog. But she also adds cur­rent U.S. labor law still falls short of pro­tect­ing domes­tic work­ers and notes the dif­fi­cul­ties of adopt­ing inter­na­tion­al stan­dards on a nation­al scale. She writes:


Domes­tic work­ers are exclud­ed, along with farm work­ers, from the pro­tec­tions afford­ed to oth­er work­ers under the Fair Labor Stan­dards Act, the Nation­al Labor Rela­tions Act. Today the glob­al com­mu­ni­ty defin­i­tive­ly declared that such exclu­sions under­mine the basic human rights of domes­tic work­ers.

For domes­tic work­ers in the Unit­ed States, the prac­ti­cal con­se­quences of the pas­sage of this con­ven­tion and rec­om­men­da­tion are not imme­di­ate­ly clear. Inter­na­tion­al law does not take effect in a coun­try unless that nation's gov­ern­ment agrees to rat­i­fy the law, and the Unit­ed States very rarely does so.


Busi­ness­es also echoed Shuler's sen­ti­ments. Adam Greene, Vice Pres­i­dent for Labor Affairs and Cor­po­rate Respon­si­bil­i­ty at the U.S. Coun­cil for Inter­na­tion­al Busi­ness rep­re­sents employ­ers at the annu­al ILO con­fer­ence. He told ABC News that there is ​"zero chance" the con­ven­tion will be rat­i­fied at the fed­er­al lev­el because it would cre­ate new stan­dards. He adds mea­sures ​"can only be rat­i­fied by the U.S. Sen­ate if the con­ven­tions do not change exist­ing U.S. law."

To date, the U.S. has rat­i­fied only 14 con­ven­tions. Nev­er­the­less, there has been sig­nif­i­cant progress on the state and local lev­el. Last year, New York became the first in the coun­try to pass a Bill of Rights for domes­tic work­ers. Cal­i­for­nia and Col­orado are also con­sid­er­ing sim­i­lar leg­is­la­tion, and work­ers across the world are push­ing their gov­ern­ments too.