New ILO Convention Gives Domestic Workers Historic Labor Rights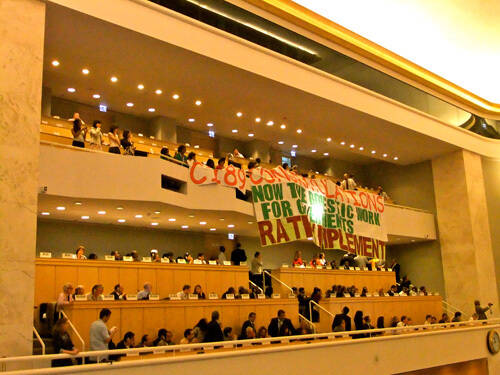 We wanted to make sure you didn't miss the announcement of our new Sustainer program. Once you've finished reading, take a moment to check out the new program, as well as all the benefits of becoming a Sustainer.

Labor groups around the world celebrated last Thursday after the United Nations' International Labour Organization adopted a historic treaty that increases protections for millions of domestic workers.

Household service employees, many of whom are migrant women or girls from underprivileged areas, are now provided fundamental labor rights that were previously not guaranteed due to the nature of their informal work.

The measure provides a framework for countries to officially recognize domestic workers, who were historically excluded from labor laws and subject to various forms of exploitation and discrimination.
The binding legislation is pending ratification by ILO member countries, but labor groups around the world are viewing the landmark measure as a significant step forward. And in the United States, a country that has been hesitant to ratify ILO conventions on the federal level, unions and domestic workers are focusing on states to enact similar bills.

The convention passed after years of organizing and culminated with delegates representing unions, employees and governments convening at the ILO's headquarters in Geneva, Switzerland as part of the 100th annual conference. The 189th convention, officially titled the Convention on Domestic Workers, was passed overwhelmingly with 396 voting in favor, 16 against, and 63 abstaining. A Recommendation, which outlines how to implement the convention, was also approved 434 to 8, with 42 abstentions.

Workers employed by private households such as nannies, housekeepers and cooks now have the ability to organize into unions. Other provisions include regulations on working hours, maternity leave and minimum wage, among others, that essentially gives domestic workers the same rights as other workers.

The ILO estimates there are roughly 50 million domestic workers, but experts say many are unregistered and actual numbers could top 100 million. In the U.S., there are more than 2.5 million, according to Domestic Workers United.

Human Rights Watch noted the U.S. as among the nations who spearheaded the convention, which was on the conference agenda for at least three years. But American officials are not likely to ratify the convention at the federal level. Liz Schuler, AFL-CIO Secretary-Treasurer, calls the convention a ​"major victory" on the union's blog. But she also adds current U.S. labor law still falls short of protecting domestic workers and notes the difficulties of adopting international standards on a national scale. She writes:


Domestic workers are excluded, along with farm workers, from the protections afforded to other workers under the Fair Labor Standards Act, the National Labor Relations Act. Today the global community definitively declared that such exclusions undermine the basic human rights of domestic workers.

For domestic workers in the United States, the practical consequences of the passage of this convention and recommendation are not immediately clear. International law does not take effect in a country unless that nation's government agrees to ratify the law, and the United States very rarely does so.


Businesses also echoed Shuler's sentiments. Adam Greene, Vice President for Labor Affairs and Corporate Responsibility at the U.S. Council for International Business represents employers at the annual ILO conference. He told ABC News that there is ​"zero chance" the convention will be ratified at the federal level because it would create new standards. He adds measures ​"can only be ratified by the U.S. Senate if the conventions do not change existing U.S. law."

To date, the U.S. has ratified only 14 conventions. Nevertheless, there has been significant progress on the state and local level. Last year, New York became the first in the country to pass a Bill of Rights for domestic workers. California and Colorado are also considering similar legislation, and workers across the world are pushing their governments too.
Be a Sustainer
We surveyed thousands of readers and asked what they would like to see in a monthly giving program. Now, for the first time, we're offering three different levels of support, with rewards at each level, including a magazine subscription, books, tote bags, events and more—all starting at less than 17 cents a day. Check out the new Sustainer program.