New Poll Supports Female Workers' Discrimination Claims, as 'OUR Walmart' Pushes for Change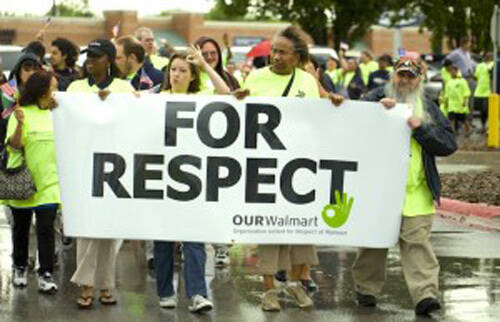 A new poll pro­vides more fod­der for dis­crim­i­na­tion claims by female Wal­mart work­ers. The poll, released by the Orga­ni­za­tion Unit­ed for Respect (OUR) at Wal­mart on July 6, shows wide­spread dis­sat­is­fac­tion among women, who say they fare worse than men at the com­pa­ny when it comes to receiv­ing ade­quate take home pay, hours, train­ing and respect­ful treat­ment. The polling took place from late May to ear­ly June, weeks before the Supreme Court's deci­sion to decer­ti­fy the class-action law­suit in Dukes v. Wal­mart Stores, which sought bil­lions of dol­lars in dam­ages for 1.5 mil­lion female Wal­mart employ­ees who alleged dis­crim­i­na­to­ry man­age­ment practices.
Of the 501 non­salaried asso­ciates sur­veyed, 65 per­cent of men said their take home pay is poor or fair, while 75 per­cent of women respond­ed sim­i­lar­ly. More women respond­ed that Wal­mart scored ​"just fair" or ​"poor" to ques­tions about ade­quate staffing, dis­ci­pline pro­ce­dures, lis­ten­ing to employ­ees, fair­ness and health­care ben­e­fits among many top­ics. Large per­cent­ages of both men and women respond­ed neg­a­tive­ly about Walmart's prac­tices overall.
The poll was con­duct­ed by Lake Research Part­ners, a nation­al­ly rec­og­nized polling firm, with no input from Wal­mart man­age­ment. Of the respon­dents sur­veyed, 62 per­cent were women, with 46 per­cent of them age 40 or above. Six in 10 women have chil­dren less than 18 years of age. By con­trast, half the men have chil­dren, and 34 per­cent are 40-plus.
"It's sur­pris­ing to me that the per­cent­age points between men and women were so vast­ly dif­fer­ent in the way the com­pa­ny treats us," said OUR Wal-mart Asso­ciate Mag­gie Van Ness.
The poll is the lat­est effort by hourly employ­ees at Wal­mart to orga­nize for bet­ter treat­ment and work­ing con­di­tions. Because pre­vi­ous attempts to union­ize the dis­count retail giant have failed, the nonunion route has become a more promis­ing strat­e­gy for work­ers to make gains at the store.
But the strat­e­gy isn't entire­ly dis­con­nect­ed from orga­nized labor.
Unit­ed Food and Com­mer­cial Work­ers (UFCW) is large­ly back­ing OUR Wal­mart through its divi­sion, Mak­ing Change at Wal­mart, which is fund­ing much of the orga­niz­ing efforts of the asso­ciates. The union insists it can­not raise the stan­dards for work­ers in the retail indus­try with­out chang­ing Wal-mart first.
OUR Wal-mart orga­niz­er Erik Steinkamp knocks on the doors of Wal-mart asso­ciates to try to recruit them. He says many employ­ees he talks to are still fear­ful of join­ing any sort of labor-relat­ed orga­ni­za­tion, even if it's not a union, because of the threat of reprisal. Steinkamp got involved after a friend reached out to him at Raley's, the gro­cery store where he works in Cal­i­for­nia, and con­vinced him to join UFCW Local 8. Now he's look­ing to ​"pay that for­ward," by help­ing Wal­mart asso­ciates to orga­nize through the union. Steinkamp said that when he talks to Wal­mart asso­ciates who do the same job, they usu­al­ly make less than he does. ​"They are a bet­ter and stronger com­pa­ny, and they don't pay their employ­ees," he said.
On June 16, near­ly 100 OUR Wal-mart asso­ciates formed a del­e­ga­tion that trav­eled to the company's head­quar­ters at Ben­tonville, Ark., to present a ​"Dec­la­ra­tion of Respect" to exec­u­tives. It was the organization's first action. Karen Casey, vice pres­i­dent of Walmart's glob­al labor rela­tions, came out of Walmart's Home Office, lis­tened to their con­cerns and pledged that there would be no retal­i­a­tion against employ­ees work­ing for change.
The Dec­la­ra­tion of Respect uses the phi­los­o­phy of Sam Wal­ton to appeal to the exec­u­tive lead­er­ship to change the cor­po­rate cul­ture that dom­i­nates the store. At the very least, the group's mem­bers want their cowork­ers to sign the declaration.
Van Ness, who works with her hus­band as an overnight stock­er at a Wal­mart in south­ern Cal­i­for­nia, said that work has got­ten hard­er since the com­pa­ny imple­ment­ed a pro­gram called Task Man­ag­er which times employ­ees for the amount of freight they han­dle in a shift.
"I've watched the way man­age­ment treats us dete­ri­o­rate from respect for the indi­vid­ual to just only car­ing about the amount of freight we can han­dle," Van Ness said. Van Ness told In These Times she feels a cau­tious opti­mism about the group's meet­ing with Casey. ​"It's a wait-and-see game," she said.
Jobs With Jus­tice (JwJ) is also involved in strength­en­ing the new orga­ni­za­tion through sol­i­dar­i­ty work and orga­niz­ing. Nation­al Field Direc­tor Tre­ston David-Saulkn­er said JwJ is also work­ing with com­mu­ni­ty coali­tions in cities where the com­pa­ny is look­ing to expand into pre­vi­ous­ly untapped mar­kets, such as Chica­go, New York, San Fran­cis­co, Boston and Wash­ing­ton D.C. to push for dia­logue with Walmart.
Some of those coali­tions are push­ing the com­pa­ny to sign com­mu­ni­ty ben­e­fit agree­ments that spell out the demands of work­ers and activists: ensure good jobs and ensure Wal­mart stores do not neg­a­tive­ly impact local communities.
"We're excit­ed because OUR Wal­mart is part of a broad­er cam­paign," David-Saulkn­er said. ​"We're real­ly try­ing to hold this cor­po­rate behe­moth, the largest pri­vate-sec­tor retail­er, account­able as a cor­po­rate citizen."
Can­dice Bernd
is an edi­tor and staff reporter at
Truthout
. Her work has also appeared in sev­er­al oth­er pub­li­ca­tions, includ­ing
The Nation
,
In These Times
, the
Texas Observ­er
,
Salon
, Rewire.News,
YES! Mag­a­zine
and
Earth Island Jour­nal
, as well as in
Truthout
​
'
s anthol­o­gy on police vio­lence,
Who Do You Serve, Who Do You Pro­tect?
She received two awards from the San Fran­cis­co Press Club in Novem­ber
2018
, and the Dal­las Peace and Jus­tice Cen­ter's annu­al jour­nal­ism award in Decem­ber
2016
. Fol­low her on Twit­ter:
@CandiceBernd
.