New Poll Supports Female Workers' Discrimination Claims, as 'OUR Walmart' Pushes for Change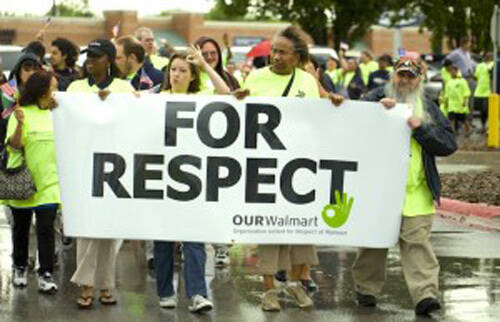 A new poll provides more fodder for discrimination claims by female Walmart workers. The poll, released by the Organization United for Respect (OUR) at Walmart on July 6, shows widespread dissatisfaction among women, who say they fare worse than men at the company when it comes to receiving adequate take home pay, hours, training and respectful treatment. The polling took place from late May to early June, weeks before the Supreme Court's decision to decertify the class-action lawsuit in Dukes v. Walmart Stores, which sought billions of dollars in damages for 1.5 million female Walmart employees who alleged discriminatory management practices.
Of the 501 nonsalaried associates surveyed, 65 percent of men said their take home pay is poor or fair, while 75 percent of women responded similarly. More women responded that Walmart scored ​"just fair" or ​"poor" to questions about adequate staffing, discipline procedures, listening to employees, fairness and healthcare benefits among many topics. Large percentages of both men and women responded negatively about Walmart's practices overall.
The poll was conducted by Lake Research Partners, a nationally recognized polling firm, with no input from Walmart management. Of the respondents surveyed, 62 percent were women, with 46 percent of them age 40 or above. Six in 10 women have children less than 18 years of age. By contrast, half the men have children, and 34 percent are 40-plus.
"It's surprising to me that the percentage points between men and women were so vastly different in the way the company treats us," said OUR Wal-mart Associate Maggie Van Ness.
The poll is the latest effort by hourly employees at Walmart to organize for better treatment and working conditions. Because previous attempts to unionize the discount retail giant have failed, the nonunion route has become a more promising strategy for workers to make gains at the store.
But the strategy isn't entirely disconnected from organized labor.
United Food and Commercial Workers (UFCW) is largely backing OUR Walmart through its division, Making Change at Walmart, which is funding much of the organizing efforts of the associates. The union insists it cannot raise the standards for workers in the retail industry without changing Wal-mart first.
OUR Wal-mart organizer Erik Steinkamp knocks on the doors of Wal-mart associates to try to recruit them. He says many employees he talks to are still fearful of joining any sort of labor-related organization, even if it's not a union, because of the threat of reprisal. Steinkamp got involved after a friend reached out to him at Raley's, the grocery store where he works in California, and convinced him to join UFCW Local 8. Now he's looking to ​"pay that forward," by helping Walmart associates to organize through the union. Steinkamp said that when he talks to Walmart associates who do the same job, they usually make less than he does. ​"They are a better and stronger company, and they don't pay their employees," he said.
On June 16, nearly 100 OUR Wal-mart associates formed a delegation that traveled to the company's headquarters at Bentonville, Ark., to present a ​"Declaration of Respect" to executives. It was the organization's first action. Karen Casey, vice president of Walmart's global labor relations, came out of Walmart's Home Office, listened to their concerns and pledged that there would be no retaliation against employees working for change.
The Declaration of Respect uses the philosophy of Sam Walton to appeal to the executive leadership to change the corporate culture that dominates the store. At the very least, the group's members want their coworkers to sign the declaration.
Van Ness, who works with her husband as an overnight stocker at a Walmart in southern California, said that work has gotten harder since the company implemented a program called Task Manager which times employees for the amount of freight they handle in a shift.
"I've watched the way management treats us deteriorate from respect for the individual to just only caring about the amount of freight we can handle," Van Ness said. Van Ness told In These Times she feels a cautious optimism about the group's meeting with Casey. ​"It's a wait-and-see game," she said.
Jobs With Justice (JwJ) is also involved in strengthening the new organization through solidarity work and organizing. National Field Director Treston David-Saulkner said JwJ is also working with community coalitions in cities where the company is looking to expand into previously untapped markets, such as Chicago, New York, San Francisco, Boston and Washington D.C. to push for dialogue with Walmart.
Some of those coalitions are pushing the company to sign community benefit agreements that spell out the demands of workers and activists: ensure good jobs and ensure Walmart stores do not negatively impact local communities.
"We're excited because OUR Walmart is part of a broader campaign," David-Saulkner said. ​"We're really trying to hold this corporate behemoth, the largest private-sector retailer, accountable as a corporate citizen."
Candice Bernd
is an editor and staff reporter at
Truthout
. Her work has also appeared in several other publications, including
The Nation
,
In These Times
, the
Texas Observer
,
Salon
, Rewire.News,
YES! Magazine
and
Earth Island Journal
, as well as in
Truthout
​
'
s anthology on police violence,
Who Do You Serve, Who Do You Protect?
She received two awards from the San Francisco Press Club in November
2018
, and the Dallas Peace and Justice Center's annual journalism award in December
2016
. Follow her on Twitter:
@CandiceBernd
.