Democrats Must Do More To Turn Out Latino Voters in 2020
This means dedicated voter outreach and a bold, progressive immigration platform.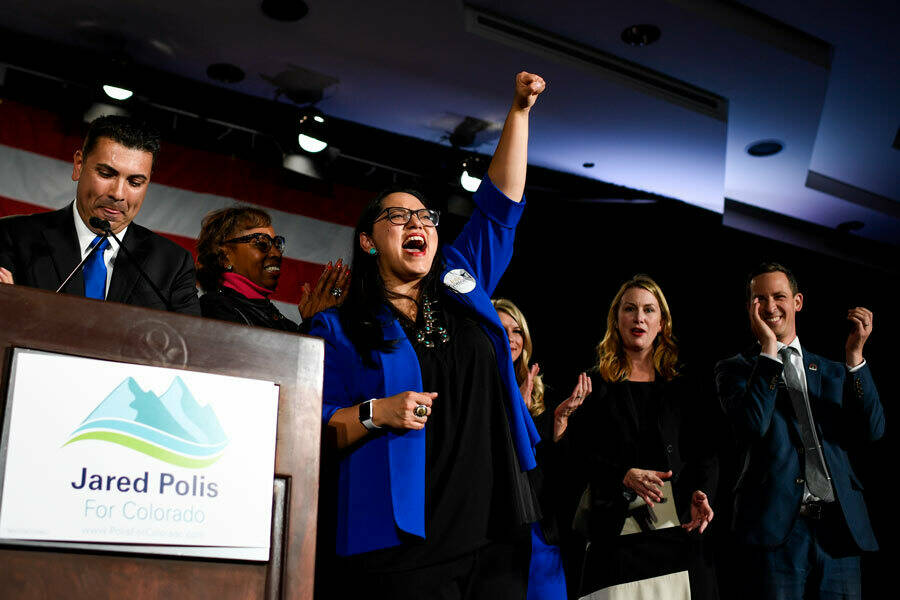 In the weeks before the elec­tion, Pres­i­dent Don­ald Trump tried to stoke fear over the so-called migrant car­a­van, a group of 3,000 dis­placed Cen­tral Amer­i­cans head­ing north through Mex­i­co toward the U.S. bor­der. It was part of a trans­par­ent­ly racist attempt to rile up his base. But Lati­no advo­ca­cy groups were ready to counter, using Trump's own views against him in the final push of un-prece­dent­ed vot­er mobi­liza­tion efforts: Lati­no ear­ly vot­ing par­tic­i­pa­tion increased by 174 per­cent com­pared to the 2014 midterm, and Lati­nos con­tributed to key vic­to­ries in sev­er­al states.
"I do think Democrats have to be bolder in defending immigrants."
Spokes­peo­ple for these advo­ca­cy groups tell In These Times that Democ­rats can­not take such turnout for grant­ed. Now, Demo­c­ra­t­ic leg­is­la­tors must advance and defend a pro­gres­sive immi­gra­tion agenda.
Lati­nos, many of whom live in bat­tle­ground states such as Flori­da and Ari­zona, rep­re­sent an increas­ing share of the elec­torate, 12.8 per­cent. And they tend to vote Demo­c­ra­t­ic: An esti­mat­ed 69 per­cent of Lati­nos vot­ed for the Demo­c­ra­t­ic House can­di­date in 2018.
Still, Lati­nos have his­tor­i­cal­ly had the low­est turnout rates of any demo­graph­ic. Lati­no engage­ment groups point to at least three caus­es: Polit­i­cal out­reach and invest­ment has been pal­try and cul­tur­al­ly inap­pro­pri­ate; many for­eign-born Lati­nos come from coun­tries where civic engage­ment is low, and often trans­fer their mis­trust of pre­vi­ous gov­ern­ments; and most U.S. Lati­nos are young, and young vot­ers tend to have low turnout rates.
An elec­tion-eve sur­vey of con­gres­sion­al bat­tle­grounds by the polling firm Lati­no Deci­sions found that, for white vot­ers, bor­der secu­ri­ty ranked as the sec­ond pri­or­i­ty behind health­care — per­haps reveal­ing why estab­lish­ment Democ­rats like Nan­cy Pelosi failed to respond bold­ly to Trump's xeno­pho­bia. For Lati­no vot­ers, how­ev­er, bor­der secu­ri­ty ranked low, while immi­gra­tion reform and pro­tect­ing Deferred Action for Child­hood Arrivals (DACA) were sec­ond behind healthcare.
Immi­gra­tion proved a pow­er­ful tool to dri­ve Lati­no turnout. Mi Famil­ia Vota, for exam­ple, released an Eng­lish and Span­ish ad cam­paign in five states cri­tiquing the president's ​"slaps in the face." The group reg­is­tered near­ly 90,000 vot­ers in Ari­zona, Cal­i­for­nia, Col­orado, Flori­da, Neva­da and Texas, and knocked on more than half a mil­lion doors. Accord­ing to Pew, Lati­no vot­er reg­is­tra­tion in Flori­da in 2018 rose 8.4 per­cent over 2016 — near­ly dou­ble the increase between 2012 and 2014. Mi Famil­ia Vota alone reg­is­tered 32,000 vot­ers in Flori­da — near­ly the same num­ber reg­is­tered dur­ing the 2016 pres­i­den­tial elec­tion, accord­ing to the group's exec­u­tive direc­tor, Ben Mon­ter­roso. It's not just reg­is­ter­ing Lati­nos that is cru­cial, he says, but also re-reg­is­ter­ing, since they tend to move often.
The Col­orado Immi­grant Rights Coali­tion (CIRC) Action Fund had more than 18,000 con­ver­sa­tions with low-propen­si­ty vot­ers of col­or in swing dis­tricts about Trump's immi­gra­tion poli­cies. Every can­di­date CIRC Action Fund endorsed was elect­ed, includ­ing the Demo­c­ra­t­ic chal­lenger against Rep. Mike Coff­man (R‑Colo.) in a race that many for­eign-born vot­ers con­sid­ered a ref­er­en­dum on the Trump administration's immi­gra­tion poli­cies. Coff­man had tried to dis­tance him­self from Trump's rhetoric and tout his con­nec­tion to the district's immi­grant com­mu­ni­ties, but had a con­sis­tent­ly anti-immi­grant vot­ing record. He lost by 9 points. ​"We kind of proved that hav­ing a hard­line stance against immi­grants does not work," says Juan C. Gal­le­gos, CIRC Action Fund man­ag­ing director.
There's evi­dence that the issue accel­er­at­ed turnout among Democ­rats more broadly.
In Penn­syl­va­nia, for instance, a sur­vey of rough­ly 1,000 reg­is­tered vot­ers showed that Repub­li­can guber­na­to­r­i­al can­di­date Scott Wagner's ad demo­niz­ing the migrant car­a­van not only failed to mobi­lize his sup­port­ers, but increased turnout for his oppo­nent among both lib­er­al-lean­ing and mod­er­ate women. Wag­n­er bare­ly gar­nered 40 per­cent of the vote.
Gal­le­gos and Mon­ter­roso agree that out­rage over fam­i­ly sep­a­ra­tions and deten­tion at the bor­der, along with the desire to pro­tect DACA, were key in mobi­liz­ing Lati­nos and will remain a focus of get-out-the-vote efforts for 2020.
Tania Unzue­ta, pol­i­cy direc­tor at Mijente, cau­tions that immi­gra­tion isn't the only issue that mobi­lizes Lati­nos. Mijente had con­ver­sa­tions with 150,000 Lati­no vot­ers in sup­port of Stacey Abrams in Geor­gia. For many, she says, state-based issues, such as penal­ties for dri­ving with­out a license, were critical.
Orga­niz­ers also encoun­tered Repub­li­can-vot­ing Lati­nos about a third of the time, accord­ing to Unzue­ta, and found it dif­fi­cult to engage with them. These vot­ers often denounced Abrams' posi­tions on abor­tion and mar­riage equal­i­ty while accus­ing her of being ​"social­ist." Unzue­ta says she heard repeat­ed­ly that Abrams is ​"not doing enough" to pro­tect young women from traf­fick­ing rings. ​"It sound­ed like a well-learned talk­ing point."
That being said, Unzue­ta tells In These Times, ​"I do think Democ­rats have to be bold­er in defend­ing immi­grants." She says that in 2020, Democ­rats should push the agen­da beyond what's pos­si­ble to do under Trump. ​"The calls to abol­ish ICE [Immi­gra­tion and Cus­toms Enforce­ment], for exam­ple, are not done naive­ly," she says, but advance a vision for a post-Trump immi­gra­tion policy.
This sort of bold­ness, how­ev­er, has not been the norm for Demo­c­ra­t­ic leg­is­la­tors. Even the Con­gres­sion­al Pro­gres­sive Cau­cus backed away from demands to abol­ish ICE less than a week after the elec­tion, with cau­cus lead­ers indi­cat­ing that they'll focus on jobs and health-care in their dis­tricts instead.
It's time for Democ­rats to grow a spine, and learn from the suc­cess­ful play­book of Lati­no vot­er engage­ment groups.
Can­dice Bernd
is an edi­tor and staff reporter at
Truthout
. Her work has also appeared in sev­er­al oth­er pub­li­ca­tions, includ­ing
The Nation
,
In These Times
, the
Texas Observ­er
,
Salon
, Rewire.News,
YES! Mag­a­zine
and
Earth Island Jour­nal
, as well as in
Truthout
​
'
s anthol­o­gy on police vio­lence,
Who Do You Serve, Who Do You Pro­tect?
She received two awards from the San Fran­cis­co Press Club in Novem­ber
2018
, and the Dal­las Peace and Jus­tice Cen­ter's annu­al jour­nal­ism award in Decem­ber
2016
. Fol­low her on Twit­ter:
@CandiceBernd
.