Organizers Say New Rule Speeding Up Elections Gives Bosses Less Time To Crush Union Drives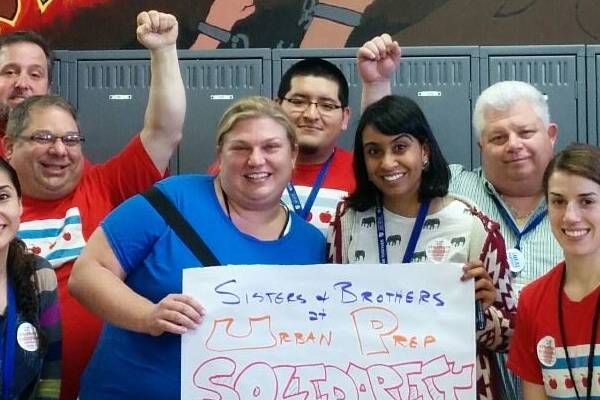 This post first appeared in Labor Notes.

The Nation­al Labor Rela­tions Board's new elec­tion rule—aimed at rein­ing in employ­ers' pow­er to stall union dri­ves — went into effect April 14. Orga­niz­ers say the rule has imme­di­ate­ly short­ened the wait between fil­ing a rep­re­sen­ta­tion peti­tion and voting.
Bill Zoda, for one, is impressed. Per diem nurs­es at Brooke Glen Behav­ioral Hos­pi­tal filed on May 20 to join the Penn­syl­va­nia Asso­ci­a­tion of Staff Nurs­es and Allied Pro­fes­sion­als. Bal­lots hit the mail June 9.
In the past, ​"you don't get an elec­tion that fast," said Zoda, an orga­niz­er with PAS­NAP. ​"In a week we had a hearing."
In the­o­ry, elec­tions can now hap­pen as fast as two weeks from filing.
In prac­tice, so far under the new rule, the medi­an wait between peti­tion and elec­tion is 24 days, accord­ing to an analy­sis cov­er­ing April 14-June 5 by the Nation­al Law Review. Com­pare that to 38 days in 2014.
A short­er wait helps work­ers hold out against management's anti-union tactics.
Time is of the Essence
Unions often wait to file an elec­tion peti­tion until they have the sig­na­tures of at least 60 per­cent of work­ers in the unit. But this sup­port can wilt under boss pressure.
In a typ­i­cal cam­paign, the employ­er forces work­ers to attend week­ly meet­ings and super­vi­sor one-on-ones — all on com­pa­ny time — to hear argu­ments against form­ing a union.
Often lead­ers are fired. Though retal­ia­to­ry fir­ings are ille­gal, win­ning jobs back in court can take years.
"Delay hurts," says Kate Bron­fen­bren­ner of the Cor­nell School of Indus­tri­al and Labor Rela­tions, ​"because they can fire one more work­er, or engage in five more cap­tive-audi­ence meet­ings or three more super­vi­sor one-on-ones per person."
Because of these aggres­sive tac­tics, there are far few­er NLRB elec­tions today than in the past. (Unions gen­er­al­ly don't file for elec­tions unless they expect to win.) The board held 1,407 elec­tions in its 2014 fis­cal year — down from over 7,000 a year through­out the 1970s.
What the Rule Does
The new rule elim­i­nates a num­ber of the steps employ­ers loved using to slow things down.
It gets rid of the manda­to­ry 25-day wait­ing peri­od between a Region­al Director's deci­sion on who's eli­gi­ble to vote (after a pre-elec­tion hear­ing) and the elec­tion itself.
Now, when­ev­er a rep­re­sen­ta­tion peti­tion is filed with sig­na­tures from at least 30 per­cent of the unit, the board will auto­mat­i­cal­ly sched­ule a hear­ing eight days later.
The employ­er is required to file a ​"State­ment of Posi­tion" by noon of the day before the hear­ing, lay­ing out any chal­lenges to the union's peti­tion — like which job titles should be includ­ed. Issues not raised in this state­ment can­not be brought up at the hearing.
Man­age­ment must also pro­vide a list of prospec­tive vot­ers by this same date, along with job clas­si­fi­ca­tions, shifts, and work locations.
Zoda says the board took these dead­lines seri­ous­ly at Brooke Glen. The hos­pi­tal chain's lawyers tried to post­pone the hear­ing, but the union and board refused.
"They didn't fill out the posi­tion state­ment in time. Then they tried to raise objec­tions dur­ing the hear­ing — but the hear­ing offi­cer over­ruled them."
A Big Relief
The rule also allows the board to post­pone until after the elec­tion any chal­lenges that affect less than 20 per­cent of the unit.
Under the old rules, these ques­tions had to be decid­ed before an elec­tion was sched­uled — a process employ­ers often used to drag their feet. In response, unions had to make the tough cal­cu­la­tion of whether to hold out on such ques­tions or give in just to get to an elec­tion faster.
"That was the biggest relief for me — that we didn't get tied up in the courts like before," said Leah Raf­fan­ti, an orga­niz­er with the Chica­go Alliance of Char­ter Teach­ers and Staff.
She helped teach­ers and sup­port staff at Urban Prep Acad­e­mies, who vot­ed 56 – 36 on June 5 to join Chica­go ACTS. (The results are still await­ing cer­ti­fi­ca­tion from the NLRB.)
"Before, we would have to con­vince the work­ers to hang in there while we set­tled these issues," Raf­fan­ti said, ​"but now we can get ready for con­tract nego­ti­a­tions, which is more exciting."
In Uti­ca, New York, 700 dietary aides, house­keep­ers, cer­ti­fied nurs­ing assis­tants, sec­re­taries, and oth­er non-pro­fes­sion­al staff at Fax­ton St. Luke's Health­care vot­ed to union­ize on May 28 with the Com­mu­ni­ca­tions Work­ers (CWA).
Some of the same work­ers had been involved in pre­vi­ous orga­niz­ing efforts there — includ­ing an elec­tion they lost, after the employ­er dragged out the process for months by appeal­ing the unit.
Some orga­niz­ing com­mit­tee mem­bers ​"had felt so beat­en down by that first cam­paign and how long it took," said Anne Luck, orga­niz­ing coor­di­na­tor for CWA Dis­trict 1, ​"but it helped know­ing that there was a dif­fer­ent process here…
"We had one com­mit­tee mem­ber who, when she heard about the time­line, got teary — because it was final­ly going to hap­pen, after decades of try­ing to form the union."
New Info
Anoth­er impor­tant change: a pend­ing unfair labor prac­tice charge will no longer auto­mat­i­cal­ly pre­vent a vote. When a union files the ULP, it must spec­i­fy that it wants the elec­tion blocked.
Employ­ers now have to pro­vide the list of vot­ers, known as the Excel­sior list, with­in two days after the board issues the notice of elec­tion. Besides the tra­di­tion­al names and address­es, the list will now also include per­son­al email address­es, and cell and home phone num­bers, if the employ­er has them.
Orga­niz­ers inter­viewed for this arti­cle said they received rel­a­tive­ly few emails, and many were out­dat­ed — but the phone num­bers were useful.
The board first passed sim­i­lar rule changes in 2011, only to see them over­turned when the D.C. Cir­cuit Court of Appeals found that the board (then only three mem­bers) lacked a quorum.
Boss­es Bite Back
Employ­ers are furi­ous, of course. They say the new rule pro­motes ​"ambush" elections.
A coali­tion includ­ing the Cham­ber of Com­merce, Nation­al Asso­ci­a­tion of Man­u­fac­tur­ers, and Nation­al Retail Fed­er­a­tion has filed a law­suit in the D.C. Cir­cuit, call­ing the rule an over­reach of board author­i­ty and con­tend­ing that it vio­lates boss­es' rights to free speech.
The rule has already sur­vived a sim­i­lar suit — dis­missed by a Texas fed­er­al judge on June 1 — and an effort by Con­gres­sion­al Repub­li­cans to over­turn it. The Texas rul­ing is being appealed.
Mean­while, orga­niz­ers expect employ­ers will start adjust­ing their tac­tics to the new procedures.
"Man­age­ment con­sul­tants have been lick­ing their lips, because they can go out and say, ​'Aha! You need us!'" said Bron­fen­bren­ner. ​"They're going to be telling them to do more meet­ings, to be more aggressive."
She empha­sized that the rule doesn't touch the absurd­ly weak penal­ties for unfair labor prac­tices. In pre­vi­ous research, she and Colum­bia pro­fes­sor Dori­an War­ren found that near­ly a third of ULPs are com­mit­ted more than 30 days before a peti­tion is even filed. Short­en­ing the time to elec­tions does noth­ing to stop those violations.
Car­los Fer­nan­dez, anoth­er Chica­go char­ter school orga­niz­er, spec­u­lates that employ­ers might also take advan­tage of the right to file chal­lenges with­in 14 days after the election.
"Rather than beat you on the front end," he says, ​"they can try to beat you on the back end."
The rule's future depends on the com­po­si­tion of the board and who's in the White House. A more pro-employ­er board could over­turn it.
For the time being, though, the elec­tion process is ​"very smooth, very quick, and very effi­cient," says George Waksmun­s­ki, a field orga­niz­er with the Unit­ed Elec­tri­cal Workers.
Ren­zen­berg­er dri­vers in Mans­field, Ohio — who pro­vide short- and long-dis­tance trans­porta­tion for rail­road work­ers — vot­ed 7 – 1 on May 15 to join the UE.
"This elec­tion was faster than I've ever seen," Waksmun­s­ki said, ​"about 30 days from the day we peti­tioned to the day we voted."
Luck, of the CWA, is telling oth­er orga­niz­ers: when you file, make sure you're prepared.
"You real­ly don't eat or sleep or do any­thing else for three weeks," she said. ​"You real­ly have to have all your ducks in a row. But it gives work­ers the best shot in the world to have a union."