New Rules for Radicals
How George Goehl is transforming community organizing.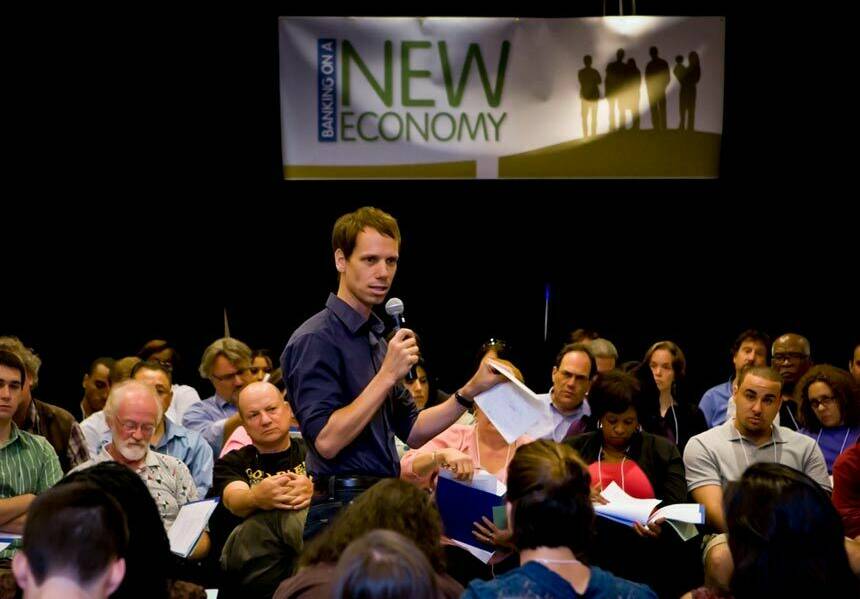 As a hun­gry young drifter who had only recent­ly (and bare­ly) fin­ished high school in the late 1980s, George Goehl (pro­nounced ​"gale") got by with a lit­tle help from a free soup kitchen in Bloom­ing­ton, Ind. A few years lat­er, that kitchen served as the launch­ing pad for his dynam­ic career as a com­mu­ni­ty orga­niz­er. For the past six years, as exec­u­tive direc­tor of the com­mu­ni­ty-orga­niz­ing net­work Nation­al People's Action (NPA), Goehl has spurred a rapid growth. More impor­tant, he is spear­head­ing a dra­mat­ic trans­for­ma­tion of NPA's strat­e­gy and goals — while help­ing to unleash more of the pro­gres­sive poten­tial of the large and unique­ly Amer­i­can com­mu­ni­ty orga­niz­ing movement.
The NPA is no longer satisfied with protesting the powerful and aims to help the powerless take the reins instead— through elections, and also through greater worker decision-making power in workplaces. And it is thinking not just in months or years, but in decades.
Goehl's first polit­i­cal awak­en­ing came after he had returned to the soup kitchen as a vol­un­teer in 1990. One day, it hit him that many of the patrons from years ear­li­er were still reg­u­lars: The kitchen, part of our country's tat­tered safe­ty net, had kept them alive, but it had not reduced pover­ty, gen­er­al­ly or indi­vid­u­al­ly. He began dis­cussing the root caus­es of pover­ty with the kitchen's patrons. Then, with tips from a men­tor he met at a ten­ants' orga­niz­ing con­fer­ence, he trans­formed the talk­fest into the Coali­tion of Low-Income and Home­less Cit­i­zens. His work caught the atten­tion of Shel Trapp, an orga­niz­er and a dis­ci­ple of Saul Alin­sky, the founder of mod­ern com­mu­ni­ty organizing.
Trapp recruit­ed Goehl to study the craft in Chicago's hard-pressed West Side neigh­bor­hoods in 1996. Goehl duti­ful­ly learned the com­mand­ments of tra­di­tion­al Chica­go-style com­mu­ni­ty orga­niz­ing: Don't talk ide­ol­o­gy, just issues. No elec­toral pol­i­tics. Build orga­ni­za­tions, not move­ments. No coali­tions: Pro­tect orga­ni­za­tion­al turf. Focus on neigh­bor­hoods and on con­crete, winnable goals. Goehl quick­ly recruit­ed hun­dreds of new mem­bers to Blocks Togeth­er, then an allied orga­ni­za­tion of Nation­al People's Action, his first asso­ci­a­tion with the mul­ti-state net­work of com­mu­ni­ty groups found­ed in 1972 by Trapp and the bril­liant neigh­bor­hood leader Gale Cincotta.
NPA won wide­spread admi­ra­tion for its 1977 suc­cess in get­ting Con­gress to pass the Com­mu­ni­ty Rein­vest­ment Act, which pre­vent­ed banks from engag­ing in the prac­tice known as redlin­ing: dis­in­vest­ing in poor­er, seem­ing­ly riski­er neigh­bor­hoods. But Goehl grew frus­trat­ed with the lim­its to his com­mu­ni­ty orga­niz­ing work. He thought that NPA had become too pre­oc­cu­pied with enforc­ing its land­mark leg­isla­tive vic­to­ry and had failed to press onward to big­ger goals, such as break­ing up the banks or fur­ther reg­u­lat­ing the industry.
And Goehl grew frus­trat­ed, too, with Alin­sky-style orga­niz­ing. Com­mu­ni­ty orga­niz­ing was dom­i­nat­ed by sev­er­al large net­works, each with its own train­ing cen­ters, styles and goals, which had accom­plished a lot: help­ing mem­bers deal with local prob­lems and some­times tack­ling big­ger issues such as home­own­er­ship, ener­gy poli­cies or health­care. But Goehl, like many oth­er crit­ics, thought that these com­mu­ni­ty orga­ni­za­tions lacked the ambi­tion, vision, strat­e­gy and full arse­nal of polit­i­cal weapons need­ed to roll back decades of cor­po­rate con­ser­v­a­tive vic­to­ries and to cre­ate a more demo­c­ra­t­ic econ­o­my and gov­ern­ment. One big flaw in tra­di­tion­al orga­niz­ing was that it was ​"designed to win the best things pos­si­ble for a land­scape we had not cre­at­ed," Goehl says.
Goehl left NPA in 2004 for a stint as an orga­niz­er for the Fair Immi­gra­tion Reform Move­ment (FIRM). There, he had a sec­ond polit­i­cal awak­en­ing: ​"A lot of peo­ple came in [to immi­grant rights orga­niz­ing] with a polit­i­cal analy­sis first, then [learned] orga­niz­ing," Goehl says. ​"For me, my pol­i­tics devel­oped after my orga­niz­ing skills. I would be in a room like this" — he ges­tures to the spar­tan base­ment of the NPA's nation­al head­quar­ters in Chica­go — ​"and almost all of the orga­niz­ers were immi­grants, and their ideas around move­ments, strat­e­gy and polit­i­cal analy­sis were so dif­fer­ent from any­thing I'd expe­ri­enced in the Chica­go school of orga­niz­ing— so much more expan­sive, broad and com­pli­cat­ed." At FIRM, Goehl began to under­stand the val­ue of flex­i­bil­i­ty in adopt­ing new tac­tics and strate­gies, as well as col­lab­o­rat­ing with dif­fer­ent groups to build movements.
When Goehl returned to NPA six years ago as exec­u­tive direc­tor, he found most of his staff and com­mu­ni­ty lead­ers open to a bold­er strat­e­gy. That ambi­tion inspired new affil­i­a­tions and new orga­niz­ing, help­ing NPA's mem­ber­ship leap to about 90,000 mem­bers in 30 groups across 14 states, he says. But Goehl doesn't think growth alone will enable com­mu­ni­ty groups to rival the net­works built by the cor­po­rate Right. To win game-chang­ing vic­to­ries they also need more alliances (with pro­gres­sive issue groups, unions and oth­er com­mu­ni­ty orga­niz­ing net­works, for exam­ple) and a stronger pro­gres­sive infra­struc­ture (more var­ied and potent com­mu­ni­ca­tions strate­gies and fund­ing sources, includ­ing more mem­ber dona­tions to end over­re­liance on foundations).
At the same time, Goehl stress­es that the NPA must retain what he sees as the soul of its tra­di­tion: ​"the will­ing­ness to chal­lenge cor­po­rate pow­er and both par­ties, [to take] direct action to trans­form pow­er and trans­form the human spir­it, and to orga­nize from the bot­tom up."
With these ideas in mind and with assis­tance from Richard Healey, a con­sul­tant with the non­prof­it Grass­roots Pol­i­cy Project, Goehl and the NPA spent the last six years devel­op­ing a new strat­e­gy that the group adopt­ed at its April 2013 con­ven­tion. The crux: The NPA is no longer sat­is­fied with protest­ing the pow­er­ful and aims to help the pow­er­less take the reins instead— through elec­tions, and also through greater work­er deci­sion-mak­ing pow­er in work­places. And it is think­ing not just in months or years, but in decades.
The orga­ni­za­tion now com­mits itself to a vision of a ​"new econ­o­my": demo­c­ra­t­ic and pub­lic con­trol of finance, and coop­er­a­tive and alter­na­tive forms of busi­ness own­er­ship. Beyond using coop­er­a­tives to show how work­er-run eco­nom­ic alter­na­tives are viable, NPA also envi­sions giv­ing work­ers real deci­sion-mak­ing pow­er with­in cor­po­ra­tions and giv­ing the pub­lic the right to revoke the char­ters of cor­po­ra­tions that pro­vide too lit­tle social value.
NPA wants to direct­ly chal­lenge the con­ser­v­a­tive ideas that lim­it the Amer­i­can polit­i­cal imag­i­na­tion, such as hyper-indi­vid­u­al­ism, mar­ket fetishism and hos­til­i­ty not only to social­ism and oth­er alter­na­tives to cap­i­tal­ism, but to gov­ern­ment itself. It also empha­sizes the need to elim­i­nate the struc­tur­al racism that impedes any strat­e­gy to address inequal­i­ty. Although ​"NPA has always worked to advance racial jus­tice," Goehl explains, it must erad­i­cate any bar­ri­ers to lead­er­ship by peo­ple of col­or with­in NPA.
​"If we fail to win the bat­tle of big ideas, we fail," Goehl says.
To spread these big ideas and pave the way for a new future, the group plans to advo­cate con­crete struc­tur­al reforms that shift pow­er from cor­po­ra­tions to peo­ple. These might include, for exam­ple, ​"democ­ra­tiz­ing mon­ey" by estab­lish­ing state banks like North Dakota's or reform­ing the rules of elec­toral pol­i­tics — ​"peo­ple in, mon­ey out" — as some statewide affil­i­ates are try­ing to do. The idea is that, as these struc­tur­al reforms accu­mu­late, they will lead to a trans­for­ma­tion of soci­ety, ush­er­ing in a new social and eco­nom­ic egal­i­tar­i­an­ism. A major upcom­ing NPA cam­paign will focus on rais­ing tax rev­enue for local, state and fed­er­al gov­ern­ments through a finan­cial trans­ac­tion tax. When anti-tax cru­saders claim the coun­try can't afford high­er tax­es, Goehl's rejoin­der is, ​"We found the mon­ey, and it's not in Grandma's pen­sion or our children's class­rooms, but on Wall Street."
While tra­di­tion­al com­mu­ni­ty orga­ni­za­tions eschewed elec­toral pol­i­tics — unless it was sim­ply to con­front an elect­ed offi­cial — many have now ven­tured into direct elec­toral waters, even endors­ing can­di­dates and mobi­liz­ing vot­ers for them (as the pro­gres­sive coali­tion USAc­tion does). The NPA has estab­lished a sep­a­rate non­prof­it 501©4 arm, called the Nation­al Peo­ple's Action Cam­paign (NPAC), to engage in every­thing from leg­isla­tive advo­ca­cy to reg­is­ter­ing vot­ers, and even run­ning candidates.
Take­Ac­tion Min­neso­ta, an NPA affil­i­ate with an active elec­toral pol­i­tics arm, pro­vides an exam­ple of how NPAC may oper­ate. Like many pro­gres­sive groups, NPAC hopes to be inde­pen­dent of the two big par­ties but has no plans to form a third par­ty. Being polit­i­cal­ly inde­pen­dent, says Dan McGrath, exec­u­tive direc­tor of Take­Ac­tion Min­neso­ta, means that can­di­dates for office must be account­able to grass­roots mem­bers instead of par­ty lead­ers. Take­Ac­tion also has been inde­pen­dent­ly nur­tur­ing its own can­di­dates to run in pri­maries or gen­er­al elec­tions. Ulti­mate­ly, Goehl says, the Demo­c­ra­t­ic Par­ty will be ​"the field of strug­gle" for most of NPAC's polit­i­cal can­di­dates, since the Repub­li­can Party's ter­rain is so far right.
Take­Ac­tion Min­neso­ta won a big vic­to­ry in 2012 when it helped defeat a sup­pos­ed­ly slam-dunk ref­er­en­dum that would have required vot­ers to show a pho­to iden­ti­fi­ca­tion card. This fall, a city coun­cil mem­ber and long­time Take­Ac­tion Min­neso­ta activist, Bet­sy Hodges, was elect­ed may­or of Min­neapo­lis. Her cam­paign stressed the need for racial and eth­nic equal­i­ty, and used com­mu­ni­ty orga­niz­ing tac­tics to defeat for­mer Hen­nepin Coun­ty Com­mis­sion­er Mark Andrew, the can­di­date favored by many Demo­c­ra­t­ic Farmer Labor Par­ty lead­ers (even though the par­ty made no endorse­ment) and by most of the city's labor unions (except SEIU). That split under­scores why a leader in anoth­er net­work, who spoke off the record, thinks that NPA needs to learn how to work more close­ly with the labor move­ment to forge com­mon strate­gies as ear­ly as possible.
The ambi­tious and long-range strat­e­gy of Goehl and NPA could great­ly alter the pro­gres­sive move­ment as a whole, both by adding heft to exist­ing cam­paigns — for a finan­cial trans­ac­tion tax, for exam­ple — and by ini­ti­at­ing new ones.
How­ev­er, the NPA has its work cut out for it. NPA's intent to shift pow­er through a series of reforms is appeal­ing, but it is often dif­fi­cult to devel­op cam­paigns that meet all the ide­al cri­te­ria of struc­tur­al reform. The nation's big cor­po­ra­tions had a decades- long approach not only to chang­ing pol­i­cy but also to win­ning the ​"bat­tle of big ideas," in Goehl's terms. It was cer­tain­ly eas­i­er for cor­po­ra­tions with great pow­er to launch a 40-year cam­paign to regain what lit­tle they lost in the pro­gres­sive reforms of the 1960s and the 1930s, than it will be for pro­gres­sives to exe­cute a long-term strat­e­gy to dethrone the cor­po­ra­tions and oth­er con­cen­tra­tions of pow­er and mon­ey. But NPA's work on such plans offers both a coun­ter­point to the short-term think­ing that too often shapes the pro­gres­sive agen­da, and a tem­plate for how pro­gres­sives can make greater gains — per­haps on the scale of the New Deal — as oppor­tune moments arise, whether they are crises like the Great Reces­sion (when many oppor­tu­ni­ties were missed) or the grow­ing reac­tion now against extreme inequality.
​"The biggest chal­lenge is also the biggest oppor­tu­ni­ty," Goehl says. ​"So many peo­ple — black, white, Lati­no, Asian — are being pushed down by the cur­rent eco­nom­ic order. If there was ever an oppor­tu­ni­ty for peo­ple to get on the same page and go after the real cul­prits, this is it." Goehl hopes the orga­ni­za­tion­al grand­chil­dren of Alin­sky will move from neigh­bor­hoods to nation­al chal­lenges. ​"Now com­mu­ni­ty orga­ni­za­tions not only can win pol­i­cy cam­paigns," he says. ​"They can change the country."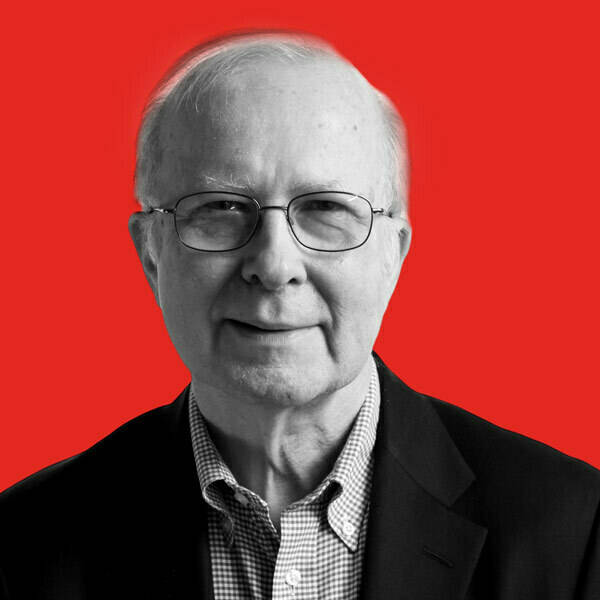 David Moberg, a senior edi­tor of In These Times, has been on the staff of the mag­a­zine since it began pub­lish­ing in 1976. Before join­ing In These Times, he com­plet­ed his work for a Ph.D. in anthro­pol­o­gy at the Uni­ver­si­ty of Chica­go and worked for Newsweek. He has received fel­low­ships from the John D. and Cather­ine T. MacArthur Foun­da­tion and the Nation Insti­tute for research on the new glob­al economy.