New Study Reveals Just How Brutal Meat and Poultry Work Is for Workers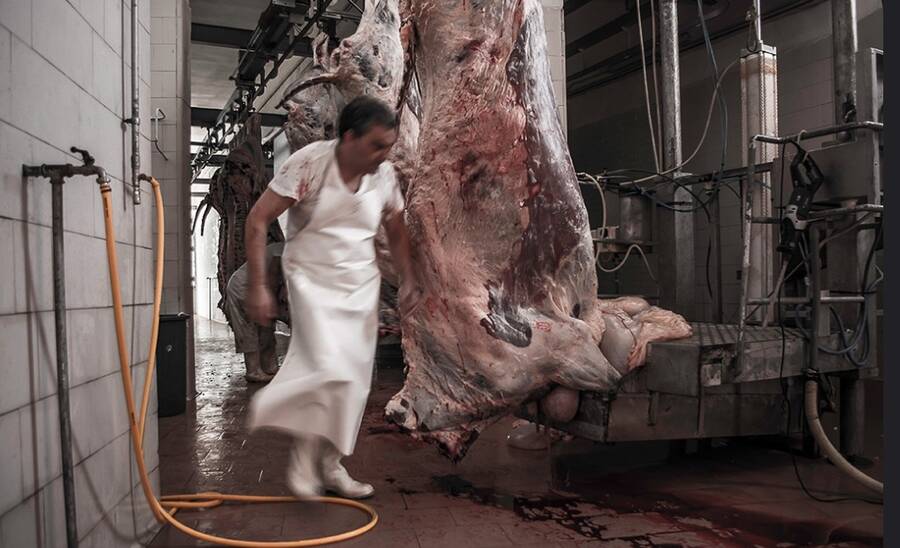 The meat and poul­try indus­try remains excep­tion­al­ly dan­ger­ous, despite a decline in report­ed injuries and ill­ness­es over the past 10 years, accord­ing to a new Gov­ern­ment Account­abil­i­ty Office (GAO) report. Fur­ther, says the report, the injury and ill­ness rates reflect­ed in Depart­ment of Labor num­bers are sig­nif­i­cant­ly under­re­port­ed. As a result, these fig­ures do not ful­ly rep­re­sent what is actu­al­ly hap­pen­ing with­in this indus­try that employs about 526,000 — includ­ing many recent immi­grants and nonci­t­i­zens. The report also found evi­dence of work­ers being denied prop­er med­ical treat­ment on the job and that they often fail to report injuries for fear it will cost them their jobs.
Released Wednes­day by Sen­a­tor Pat­ty Mur­ray (D‑WA), Sen­a­tor Bob Casey (D‑PA) and Con­gress­man Bob­by Scott (D‑VA), the report notes that work­ing con­di­tions in the indus­try have not improved sub­stan­tial­ly since the GAO exam­ined the indus­try in 2005. Work­ers in poul­try and meat pro­cess­ing plants, says the report, ​"con­tin­ue to face the haz­ardous con­di­tions the GAO cit­ed in 2005, includ­ing tasks asso­ci­at­ed with mus­cu­loskele­tal dis­or­ders, expo­sure to chem­i­cals and pathogens and trau­mat­ic injuries from machines and tools."
"Today's report makes clear that work­ers still face haz­ardous con­di­tions that put their health and safe­ty in jeop­ardy," said Sen­a­tor Mur­ray on a call with reporters. ​"In our coun­try every work­er should be able to earn a liv­ing with dig­ni­ty and with­out wor­ry­ing that their work will make them sick or injured," she said.
"The pain nev­er real­ly went away. It just went up my arms and elbows," said for­mer Nebras­ka meat­pack­ing work Jose Gay­tan on the call. ​"The work speeds of the plant were so fast that my hands would swell up and lock up," he said. Gay­tan described how the plant processed 1500 to 1800 head of cat­tle a day, so that each work­er processed 250 to 300 ​"loins" per day — each about 80 pounds of ​"frozen cow meat and bones" —or almost one per minute. There were ​"falls slips, burns and cuts and crip­pling injuries to co-work­ers," said Gay­ton. ​"I saw two dif­fer­ent saw oper­a­tors cut off fin­gers because the line was com­ing too fast," he said.
Line speed is a huge prob­lem in these plants where poul­try work­ers typ­i­cal­ly han­dle 30 or more turkeys and 100 or more chick­ens a minute.
Omar Has­san, who worked at a Jennie‑O turkey plant in Min­neso­ta for over two-and-a-half years described how when he came back to work after a fin­ger and shoul­der indus­try with a doctor's note say­ing he could not do the same lev­el of work as before, the com­pa­ny refused to accom­mo­date him. ​"I tried talk­ing them into plac­ing me on light duty," he said. But the com­pa­ny refused, ​"and they fired me after that," said Has­san, speak­ing on the call through an inter­preter who trans­lat­ed from Somali.
Also con­tribut­ing to the injury under­count, says the GAO, is that injuries and ill­ness­es suf­fered by work­ers hired through labor con­trac­tors may not be prop­er­ly account­ed for. Con­tribut­ing to these prob­lems is the industry's high turnover rate — ​"often 100 per­cent or more annu­al­ly," said South­ern Pover­ty Law Cen­ter staff attor­ney Sarah Rich.
Poul­try and meat plant work­ers often include ​"refugees, undoc­u­ment­ed immi­grants and pris­on­ers," said Rich. These work­ers, she said are ​"often fired and treat­ed as dis­pos­able by these com­pa­nies." And all this con­tributes to ​"a cli­mate of fear that pre­vents work­ers from speak­ing out," she said.
Mus­cu­loskele­tal dis­or­ders ram­pant in meat and poul­try pro­cess­ing but underreported
The GAO also reports that injuries includ­ed in offi­cial records cov­er only those for which work­ers took time off. This means they fail to account for many of the mus­cu­loskele­tal dis­or­ders that are wide­spread through­out the industry.
Accord­ing to the Occu­pa­tion­al Safe­ty and Health Admin­is­tra­tion (OSHA), the U.S. Bureau of Labor Sta­tis­tics has found that mus­cu­loskele­tal dis­or­ders account for many of the injuries that cre­ate a seri­ous injury rate for the meat and poul­try pro­cess­ing indus­try that is more than 3 times high­er than oth­er U.S. indus­tries. In a 2015 report, the Nation­al Insti­tute of Occu­pa­tion­al Safe­ty and Health (NIOSH) found 81 per­cent of the poul­try plant jobs it eval­u­at­ed exceed­ed rec­om­mend­ed lim­its for hand activ­i­ty and that 34 per­cent of employ­ees had symp­toms qual­i­fy­ing as carpel tun­nel syndrome.
"We should have no con­fi­dence about industry's asser­tions about their injury rates," says Celeste Mon­for­ton, pro­fes­so­r­i­al lec­tur­er in occu­pa­tion­al and envi­ron­men­tal health at George Wash­ing­ton University's Milken Insti­tute School of Pub­lic Health. She describes a NIOSH inves­ti­ga­tion find­ing that a Mary­land poul­try plant log­books showed only four cas­es of carpel tun­nel syn­drome over four years while NIOSH found 18 work­ers with those injuries at the same plant.
She also described an OSHA Alaba­ma poul­try plant inves­ti­ga­tion that found a work­er who was seen 94 times by a com­pa­ny nurse before being referred to a physi­cian for treat­ment. ​"The indus­try games the sys­tem," says Mon­for­ton, explain­ing that first aid is not record­ed in com­pa­ny logs.
Well-doc­u­ment­ed his­to­ry of high hazard
"The GAO report rein­forces and val­i­dates reports released by inde­pen­dent groups for over ten years," says Rich, list­ing reports by the South­ern Pover­ty Law Cen­ter, Oxfam Amer­i­ca, by Alaba­ma Apple­seed, North­west Arkansas Work­ers Jus­tice Cen­ter and oth­ers as well as inves­ti­ga­tions by NIOSH and OSHA.
"We uncov­ered many of the same issues the GAO has now con­firmed. Work­ers have told us about the same con­di­tions that the GAO detailed in their report today," Oxfam Amer­i­ca senior advo­ca­cy advi­sor Oliv­er Got­tfried told reporters. In addi­tion to denial of med­ical care, fear of retal­i­a­tion, and lack of report­ing on indus­try logs, Oxfam Amer­i­ca has recent­ly report­ed on how poul­try plant work­ers' are denied ade­quate bath­room bath­room breaks.
Speak­ing in Hmong, through an inter­preter, a Tyson foods poul­try plant work­er called May, explained that the com­pa­ny only allows her to use the bath­room twice per night. ​"That is not enough for peo­ple," says May, who works cut­ting meat. She also described how peo­ple who work close to meat get chem­i­cals sprayed on their hands and face.
In stark con­trast to the report's details, the meat indus­try seized on the GAO report's note of the decline in report­ed injury rates — from 9.8 cas­es per 100 work­ers in 2004 to 5.7 cas­es per 100 work­ers in 2013.
The report, ​"high­lights the great­ly improved work­er safe­ty record of the meat and poul­try indus­try over the last 10 years," said the North Amer­i­can Meat Insti­tute (NAMI) in a state­ment. ​"There is always room for improve­ment and we will look close­ly at the GAO rec­om­men­da­tions to see how they can best be imple­ment­ed in the indus­try," said NAMI pres­i­dent and CEO Bar­ry Carpenter.
"We are pleased to see the report empha­sizes the fact that injuries and ill­ness­es have decreased dra­mat­i­cal­ly in the poul­try pro­cess­ing indus­try over the past sev­er­al years," said the Nation­al Chick­en Coun­cil in its state­ment. ​"Per­haps more than any oth­er indus­try, the poul­try indus­try has focused its ener­gies on the pre­ven­tion of work­place injuries and ill­ness­es, espe­cial­ly mus­cu­loskele­tal dis­or­ders (MSDs) like carpal tun­nel syn­drome," said the council.
So what hap­pens next?
Sen. Mur­ray voiced sup­port for OSHA's new rule that will pro­vide work­ers with more pro­tec­tion from retal­i­a­tion against injury report­ing and improve OSHA's access such records. ​"In our coun­try every work­er should be able to earn a liv­ing with dig­ni­ty and with­out wor­ry­ing that their work will make them sick or injured," said Murray.
"We're tak­ing it to the pub­lic," Berkowitz tells In These Times. ​"Con­sumers have a tremen­dous influ­ence on this indus­try," she says. ​"We are hop­ing con­sumers are start­ing to take a look … at the inhu­mane con­di­tions of work­ers and that indus­try has to respond by lift­ing standards."
And Got­tfied says report­ing on indus­try con­di­tions is already prompt­ing work­ers to seek help in speak­ing out about work­place health and safety.
Eliz­a­beth Gross­man
is the author of
Chas­ing Mol­e­cules: Poi­so­nous Prod­ucts, Human Health, and the Promise of Green Chem­istry
,
High Tech Trash: Dig­i­tal Devices, Hid­den Tox­i­cs, and Human Health
, and oth­er books. Her work has appeared in a vari­ety of pub­li­ca­tions includ­ing
Sci­en­tif­ic Amer­i­can
,
Yale e

360
,
Envi­ron­men­tal Health Per­spec­tives
,
Moth­er Jones
,
Ensia
,
Time
,
Civ­il Eats
,
The Guardian
,
The Wash­ing­ton Post
, Salon and
The Nation
.