The New Yorker's Blind Shooting at Bernie Sanders
Sanders' appeal to millennials isn't "retro"—it's because eight years after the Great Recession, young people are still feeling the squeeze.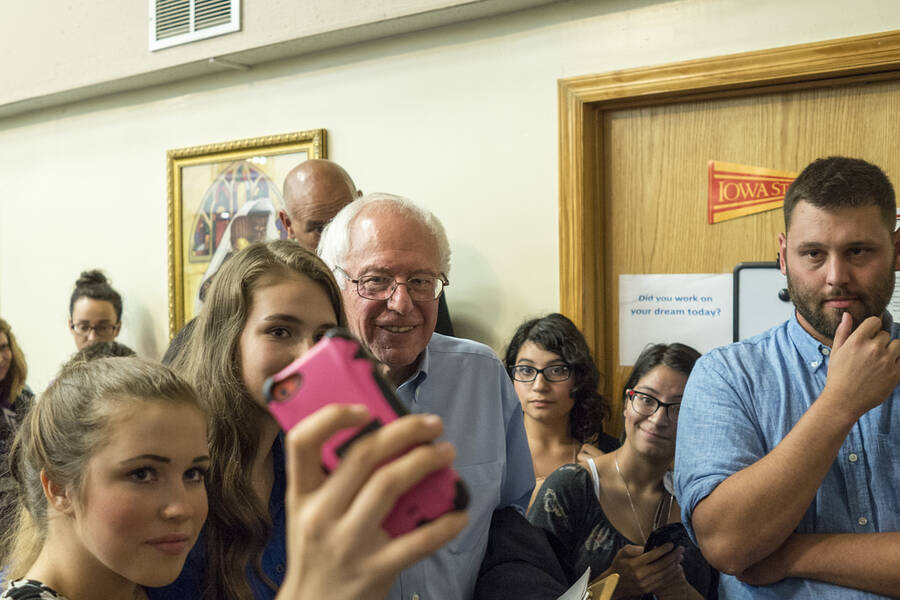 This post first appeared at FAIR​.org.
It's clear that Bernie Sanders has got­ten many main­stream types upset. After all, he is rais­ing issues about the dis­tri­b­u­tion of wealth and income that they would pre­fer be kept in aca­d­e­m­ic set­tings, cer­tain­ly not pushed front and cen­ter in a pres­i­den­tial campaign.
In response, we are see­ing end­less shots at Sanders' plans for finan­cial reform, health­care reform and expand­ing Social Secu­ri­ty. Many of these pieces raise per­fect­ly rea­son­able ques­tions, both about Sanders' goals and his route for achiev­ing them. But there are also many pieces that just shoot blind­ly. It seems the view of many in the media is that Sanders is a fringe can­di­date, so it's not nec­es­sary to treat his posi­tions with the same respect award­ed the views of a Hillary Clin­ton or a Mar­co Rubio.
The New York­er is clear­ly in this attack mode. It ran a piece by Alexan­dra Schwartz ask­ing, ​"Should Mil­len­ni­als Get Over Bernie Sanders?" You can guess the answer.
But the piece runs into seri­ous prob­lems get­ting there. It tells readers:
[Sanders'] obses­sion with the banks and the bailout is itself phrased in weird­ly retro terms, the stuff of an invi­ta­tion to a

2008

-elec­tion theme par­ty. As my col­league Ben Wal­lace-Wells points out, we vot­ers under

30

have come of polit­i­cal age dur­ing the eco­nom­ic recov­ery under Pres­i­dent Oba­ma. When I grad­u­at­ed from col­lege, unem­ploy­ment was close to

10

per cent; it's now at

5

. Sanders' atten­tion to socioe­co­nom­ic jus­tice is stir­ring and nec­es­sary, but when his cam­paign tweets that it's ​

"

high time we stopped bail­ing out Wall Street and start­ed repair­ing Main Street," you have to won­der why his youngest sup­port­ers, so attuned to stal­e­ness in all things cul­tur­al, are let­ting him get away with polit­i­cal rhetoric that would have seemed old even in

2012

.
Those famil­iar with eco­nom­ic data know the labor mar­ket, which is the econ­o­my for the vast major­i­ty of the pub­lic, is very far from recov­er­ing from the reces­sion. While the unem­ploy­ment rate is rea­son­ably low, this is large­ly because mil­lions of work­ers have dropped out of the workforce.
And, con­trary to what is often assert­ed, these are not retir­ing baby boomers or peo­ple with­out the skills need­ed in a mod­ern econ­o­my. The employ­ment rate of prime-age work­ers (ages 25 – 54) is still down by 3.0 per­cent­age points from its pre­re­ces­sion lev­el. Fur­ther­more, this drop is for work­ers at all lev­els of edu­ca­tion­al attain­ment. Employ­ment rates are even down for work­ers with col­lege and advanced degrees. Oth­er mea­sures of labor mar­ket strength, like the per­cent­age of peo­ple invol­un­tar­i­ly work­ing part-time, the quit rate and the dura­tion of unem­ploy­ment spells, are all still at reces­sion levels.
Fur­ther­more, the huge shift from wages to prof­its that we saw in the down­turn has not been reversed. As a result, wages are more than 6.0 per­cent low­er than they would be if the labor share had not changed.
If this stuff is hard for New York­er edi­tor-types to under­stand: If work­ers lose 6.0 per­cent of their wages to prof­it, it has the same impact on their liv­ing stan­dards as if they faced a 6.0 per­cent­age point increase in the pay­roll tax. Would the New York­er think that today's young peo­ple have any­thing to com­plain about if they had seen an increase in the pay­roll tax in 2009-10 of 6.0 per­cent­age points, which still remains in place today?
If the answer to that one is ​"yes," then its edi­tors should be able to under­stand why mil­len­ni­als in 2016 are unhap­py about the state of the econ­o­my, and why they might find a fig­ure like Sen­a­tor Sanders attractive.