Union Rights Were the Difference Between NFL Players Kneeling for the Anthem and Bowing to Trump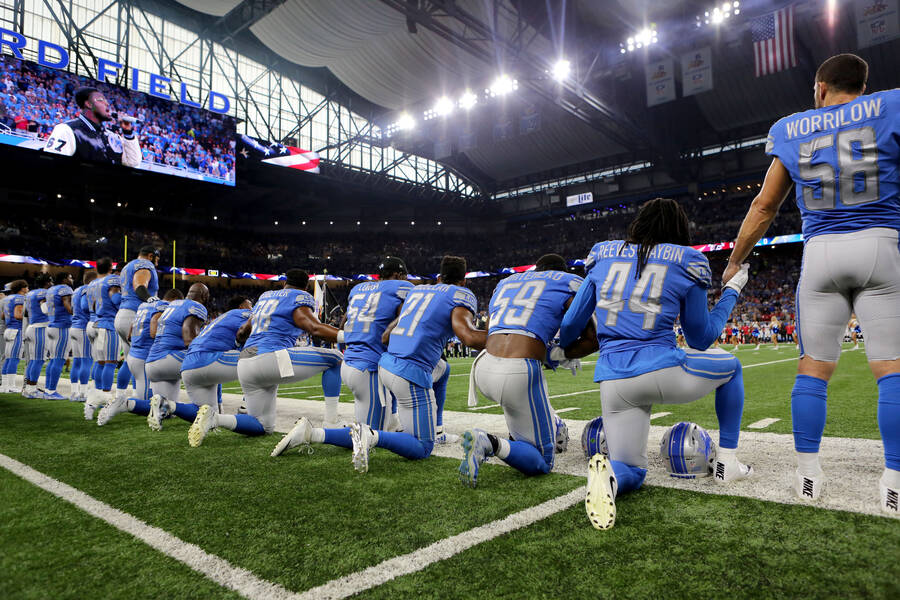 At a Sep­tem­ber 22 polit­i­cal ral­ly, Pres­i­dent Don­ald Trump kicked off a ker­fuf­fle by call­ing on the Nation­al Foot­ball League (NFL) to fire play­ers tak­ing a knee dur­ing the Nation­al Anthem. ​"Wouldn't you love," said the pres­i­dent, ​"to see one of these NFL own­ers, when some­body dis­re­spects our flag, to say, ​'Get that son of a bitch off the field right now, out, he's fired. He's fired!'"
The NFL and the NFL Play­ers Asso­ci­a­tion (NFLPA) respond­ed imme­di­ate­ly in sup­port of the play­ers. As protests con­tin­ued, Trump kept blast­ing away. Debate raged on for weeks about free speech, race, social jus­tice, patri­o­tism and more. Alto­geth­er over­looked, how­ev­er, were the play­ers' union rights that effec­tive­ly ren­der Trump's demand worthless.
Ground rules
The NFL and the NFLPA are co-equal par­ties to a col­lec­tive bar­gain­ing agree­ment (CBA) that sets wages, rules and work­ing con­di­tions. The union is the work­ers' accred­it­ed rep­re­sen­ta­tive, while the employ­er man­ages the work­place with poli­cies that don't vio­late the CBA or the law.
In gen­er­al, union work­ers are not ​"at will" employ­ees like nonunion work­ers. If dis­ci­plined (warned, sus­pend­ed or ter­mi­nat­ed), they may resort to the CBA's griev­ance pro­ce­dures, includ­ing neu­tral and bind­ing arbi­tra­tion. The employ­er must show just cause for dis­ci­pline by prov­ing that the work­er breached a pol­i­cy that was rea­son­able, known and con­sis­tent­ly applied — and that dis­ci­pline was rea­son­able and proportional.
There is no way Club own­ers could do that. Nei­ther the CBA nor employ­er poli­cies pro­hib­it protest, and there is no egre­gious con­duct at issue — such as theft or attack­ing anoth­er work­er — that would war­rant dis­ci­pline on its face. Con­se­quent­ly, amid swirling con­tro­ver­sy, the NFL and NFLPA met and agreed to uphold exist­ing pol­i­cy in the NFL's game oper­a­tions man­u­al that play­ers ​"should" stand dur­ing the Anthem. In oth­er words, it's optional.
The deal stopped any ques­tion of dis­ci­pline in its tracks and promised mutu­al efforts toward address­ing the sociopo­lit­i­cal issues that gave rise to the protests. Dal­las Cow­boys own­er Jer­ry Jones, who had threat­ened play­ers after con­sult­ing with Trump, had no ​"just cause" for dis­ci­pline based on rules, poli­cies or conduct.
Make no mis­take. This is all about col­lec­tive bar­gain­ing. The par­ties affirmed a ​"past prac­tice," which, in a union work­place, can be just as bind­ing as a CBA rule. If the NFL had uni­lat­er­al­ly changed the pol­i­cy — and espe­cial­ly if a protest­ing play­er got fired, as Trump insist­ed — the door would swing wide open to a union griev­ance and poten­tial arbi­tra­tion, drag­ging out more con­tro­ver­sy the par­ties want­ed to avoid.
Union defense
Con­tract lan­guage lim­its dis­ci­pline even more. A review of the cur­rent CBA, found online and con­firmed with an NFLPA spokesper­son, sig­nals game over for the Trump-Jones threat.
Arti­cle 42, Sec­tion 2(a):
All Clubs must pub­lish and make avail­able to all play­ers at the com­mence­ment of pre­sea­son train­ing camp a com­plete list of the dis­ci­pline that can be imposed for both des­ig­nat­ed offens­es …and for oth­er vio­la­tions of rea­son­able Club rules.
The Cow­boys' train­ing began July 24, weeks before Trump's demand and Jones' sub­se­quent capit­u­la­tion. The Cow­boys pro­vid­ed no con­fir­ma­tion that a Club rule about protest had been duly listed.
Arti­cle 46, Sec­tion 4:
The Commissioner's dis­ci­pli­nary action will pre­clude or super­sede dis­ci­pli­nary action by any Club for the same act or conduct.
The CBA and past prac­tice indi­cate that the NFL Com­mis­sion­er has the final say on what dis­ci­pline a Club may pur­sue. Com­mis­sion­er Roger Good­ell was not dis­posed — before or after the joint meet­ing — to dis­ci­pline protest­ing play­ers. All but one Club own­er, Jer­ry Jones, agreed.
Arti­cle 49, Sec­tion 1:
There will be no dis­crim­i­na­tion in any form against any play­er by the NFL, the Man­age­ment Coun­cil, any Club or by the NFLPA because of race, reli­gion, nation­al ori­gin, sex­u­al ori­en­ta­tion, or activ­i­ty or lack of activ­i­ty on behalf of the NFLPA.
Giv­en rules, pol­i­cy and prac­tice, it could be argued that curb­ing protests ini­ti­at­ed by play­ers of col­or over gov­ern­ment mis­treat­ment of peo­ple of col­or vio­lates this sec­tion. Fur­ther­more, the ref­er­ence to NFLPA ​"activ­i­ty" reflects long­stand­ing labor law pro­tect­ing work­ers' rights to par­tic­i­pate (or not) in ​"con­cert­ed activ­i­ties for the pur­pose of col­lec­tive bar­gain­ing or oth­er mutu­al aid or protection."
Trump repeat­ed­ly pres­sured own­ers to fire pro­test­ers in vio­la­tion of the CBA. ​"Con­cert­ed activ­i­ties" have blos­somed with dis­plays of sol­i­dar­i­ty among play­ers — and even some man­age­ment. They take a knee, lock arms, or raise a fist. And some, as they always have, choose to stand, which is their right.
Hold­ing the line
On Octo­ber 29, protest reached the ​"boil­ing point," Dead­line report­ed.
Hous­ton Tex­ans own­er Bob McNair's com­ment com­par­ing play­ers to ​"inmates run­ning the prison" instant­ly ​"caused an uproar in a league where 70 per­cent of play­ers are black and already protest­ing per­ceived injus­tice," Dead­line observed. In response, play­ers planned the biggest protest yet.
Word cir­cu­lat­ed that joint meet­ings to address social jus­tice con­cerns had been cancelled.
Jones — still agi­tat­ed and agi­tat­ing — had report­ed­ly orga­nized a Club own­ers' con­fer­ence call to dis­cuss oust­ing Good­ell. He also cut line­man Damon­tre Moore, who had raised his fist dur­ing the Anthem. The Cow­boys said it was mere­ly a ros­ter move.
Moore joins Col­in Kaeper­nick, the San Fran­cis­co 49er who start­ed the protests and then got zero job offers after becom­ing a free agent. Kaeper­nick­'s lawyer filed a griev­ance alleg­ing col­lu­sion between the Clubs and the NFL in vio­la­tion of CBA Arti­cle 17, appro­pri­ate­ly titled, ​"Anti-Col­lu­sion."
As it stands now, no play­er has been offi­cial­ly dis­ci­plined for protest­ing, and the pol­i­cy, prac­tice and CBA are intact.
Kathy Wilkes
is an award-win­ning labor writer and edi­tor, and a for­mer union orga­niz­er, co-founder, offi­cer, nego­tia­tor, and com­mu­ni­ca­tions direc­tor. She is based in Madison.